Commentary
TMQ's 12 Days of Christmas!
The question has been out there for generations: Why would anyone want a partridge in a pear tree for Christmas? Explaining that the famous song refers to the red-legged French partridge, genus Alectoris, doesn't help. Now if the nine ladies dancing are NFL cheerleaders, no further explanation is required.
Which got me to thinking about what the lyrics would be if football were substituted. The result is the song and video here -- TMQ's NFL 12 Days of Christmas, my holiday gift to Tuesday Morning Quarterback readers. The song is about the storylines of the 2011 NFL season, not about what happened this Sunday (or may happen next).
The song was performed in Central Park on Sunday -- drawing a crowd -- by the State Street Singers, an a cappella group consisting of alumni of Yale's Whiffenpoofs and of the singing clubs of Cornell and Duke universities. The visuals were produced by ESPN.com Digital Video Group and editor Jeremy Edney. Special thanks go to artist Kurt Snibbe, whose imaginative drawings populate the screen.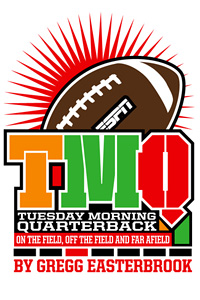 To appreciate the original 12 Days of Christmas ballad, sing it beginning on Christmas Day. Traditional observance of the 12 Days of Christmas began on Dec. 25 and concluded on Jan. 5, known as Twelfth Night, as in the play title. Interspersed around the traditional 12 Days are the Feast of the Epiphany, the Feast of the Innocents and the Feast of St. Stephen. They did a lot of feasting in bygone years: Now we just eat constantly, but it's never special.
Why the many repeating verses? It's thought the original 12 Days of Christmas song was sung in France -- hence the red-legged partridge -- in the 18th century, as a challenge song. The leader would keep adding verses, which the audience had to repeat in order. When a mistake was made, the game was lost; if you sang all 12 verses without forgetting any, the game was won. Of course had there been Internet marketing in the 18th century, the original song would have contained sponsored product placements.
I hope the video puts a smile on your face. The State Street Singers can be reached here.
In football news, the sole undefeated team might benefit from losing, while the sole winless team might wish it hadn't won.
For the Colts the equation is simple: They want the first choice in the 2012 draft. Now, at 1-13, Indianapolis might see the 2-12 Vikings, or as a long shot the 2-12 Rams, sneak into pole position. With just two games remaining, Colts, don't mess up and win again!
For the Packers, a 13-1 record ends the pressure to reach 19-0. Best to get this over with now! If Green Bay goes on to win the Super Bowl, no one outside Missouri will ever remember the Packs' loss at Kansas City. In 2007, New England went all out to try for 19-0, and was doorlined in the Super Bowl. In 2009, the Colts essentially deliberately lost after reaching 14-0, and the negative vibrations sabotaged the remainder of the season. At Kansas City, the Packers tried to win and simply failed. That's healthy, considering their situation.
The Packers needed a warning shot. Several teams with precision passing games that seemed unstoppable in the regular season, most recently the 2007 and 2010 Patriots, faltered in the playoffs when the pressure cranked up. Green Bay faithful will say the problem at Kansas City was injuries to Greg Jennings and three of the team's offensive tackles. It's more than that -- the Chiefs found some Packers weaknesses.
Sacks threw Aaron Rodgers off his ultra-precision approach. Once Kansas City held a lead, it was able to power-rush against the (relatively) lightweight Green Bay front seven, the Chiefs often using trap pulls to spring a runner outside. On the goal-line play that gave the hosts their 19th point (they won 19-14), Kansas City fielded a jumbo set with three tight ends. Green Bay could not reply, because the Packers don't have the personnel to go jumbo on defense. Green Bay fielded four defensive linemen, plus two linebackers in the submarine stance. Kansas City won that confrontation easily.
The Green Bay defense is built on the assumption the Packers will jump to a quick lead and then need to stop the pass as opponents try to come back. What if the Packers don't jump to a quick lead? Green Bay carries only seven defensive linemen on its roster, versus the NFL norm of eight or nine. The Packers often show a pass-focused 2-3-6 or 2-4-5 defensive alignment. Faced with a power rushing strategy in the second half, they looked unprepared.
Considering Green Bay has already won a bye, the Packers now will enjoy two consecutive home games, a week off, then another home game. That's a formula for getting healthy and fixing flaws. Kansas City showed there are flaws to be fixed.
Now that the final undefeated team has fallen, I will reproduce from my AutoText, changing only a few specifics, the item TMQ runs annually when the final undefeated falls -- and will continue to run annually, since I believe no NFL team ever will finish 19-0. My heirs will be using this item!
At 4:06 p.m. ET on Sunday, as the Packers left the field in Kansas City mumbling "#@%*!" under their breaths, corks popped. In one of the sweetest traditions in sports lore, on opening day of every NFL season, each surviving member of the 1972 Miami Dolphins, the sole perfect team in modern pro football history, sets aside a bottle of champagne to cool. And it's genuine champagne from the French province of Champagne, not the boysenberry-infused sparkling-gewurztraminer wine-like substance that passes for bubbly these days. At the moment the stadium clock hits all-naughts for the vanquishing of the season's last undefeated team, the 1972 Dolphins pull the corks, secure in the knowledge that they will reign as the sole perfect team for at least one more year. Gentlemen of 1972, enjoy your annual draught. TMQ feels confident you will continue to sip champagne each season until you are called to meet the football gods, and greeted by song and feasting.
Nobody's ever going to finish 19-0. But then I also said nobody's going to break the Dan Marino record of 5,084 passing yards in a season, and that prediction appears headed down the memory hole.
Drew Brees needs 305 passing yards in his final two games to set the mark. The new record could happen the day after Christmas on "Monday Night Football," when the Saints face Atlanta. Maybe, just maybe, you will hear something about the potential record in the run-up to this game. Tom Brady has a decent chance of passing Marino, too.
Brees basically toyed with the Vikings on Sunday, compiling a near-perfect stat line of 32-for-40 for 412 yards, five touchdowns, no interceptions and no sacks, then departed early in the fourth quarter. Brady basically toyed with the Broncos, compiling a stat line of 23-for-34 for 320 yards, two touchdowns, no interceptions and two sacks. Brady's efficiency had Tim Tebow so flustered that he lost 28 yards on one down.
Before the season began, TMQ predicted a Super Bowl of New England versus New Orleans. Of course this column's motto is All Predictions Wrong or Your Money Back. But that forecast is looking better than my forecast about the Marino record.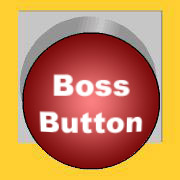 In seasonal news, Tuesday Morning Quarterback sends holiday good wishes to all space aliens, megababes and football enthusiasts. Bells are ringing all across the local star cluster!
Stats of the Week No. 1: Drew Brees became the first quarterback to throw for at least 300 yards 11 times in the same season.
Stats of the Week No. 2: Denver and New England are on a combined 12-1 streak, their only loss coming when they played each other.
Stats of the Week No. 3: The Minnesota defense is on a streak of 27 touchdown passes allowed versus no interceptions.
Stats of the Week No. 4: Stretching back to last season, the Buccaneers have gone 14-8 and then 0-8.
Stats of the Week No. 5: The Eagles are 9-0 all-time versus the Jets.
Stats of the Week No. 6: Dan Orlovsky, winning quarterback starter for the Colts, is now 1-9 as an NFL starter.
Stats of the Week No. 7: Matt Ryan is 25-4 as a starter in home games.
Stats of the Week No. 8: Since Jay Cutler was injured, the Bears have gone 0-4 with 10 interceptions by their backup quarterbacks, plus 19 sacks allowed.
Stats of the Week No. 9: New England has won at least 10 games for nine consecutive seasons.
Stats of the Week No. 10: San Francisco at 36 and Pittsburgh at 34 have the most playoffs appearances in the last three decades -- and both will get at least one more playoff game.
Cheerleader of the Week: Becky of the Eagles, who according to her team bio started dance lessons when she was 7 -- that's way too late! -- and does not use Twitter. Increasingly, TMQ suspects Twitter is employed mainly by people over age 40, because Twitter is the only thing happening in social networking that they can understand.
Sweet Play of the Week: With the Vikings leading 3-0, New Orleans reached first-and-goal on the Minnesota 5. Lance Moore lined up as the sole wide receiver left, fullback Jed Collins lined up as a slotback left. As Drew Brees came to the line, he saw Minnesota in a standard 4-3 cover with a Cover 2. That seemed to rule out the quick slant that Brees likes to throw at the goal line -- after all, there was a safety on each side.
But Brees saw something and quickly audibled. What he saw was that all three Minnesota linebackers lined up on the offensive right, which meant the safety on the offensive left would have to come forward to cover the fullback in the flat, which in turn meant Moore would be one-on-one into the end zone on the slant, a perfect situation. Brees audibled to a slant to Moore; at the snap, safety Mistral Raymond came forward to cover the fullback; easy touchdown to Moore, with four count 'em four Vikings defenders standing in the end zone doing nothing, covering no one.
Why was there no Minnesota linebacker on the offensive left? That's the Vikings' problem. Brees recognized it immediately and made the opponent pay. He is a mature quarterback at the top of his game, with a good offensive line and smart receivers: a nice Super Bowl combination. Remember that when Brees struggled in his first two seasons, many touts called him a bust. Brees worked, worked, worked to improve, and his hard work paid off.
Sour Call of the Week: Denver pulling to an early 13-7 lead -- hey, that wasn't in the game plan! -- the Broncos reached third-and-6 on the Flying Elvii 13. Tim Tebow ran 5 yards, making it fourth-and-1 on the 8, but Denver was flagged for holding. Bill Belichick had this choice: accept the penalty, pushing Denver back to third-and-16 on the 23, or decline and leave it fourth-and-1 on the 8. Belichick pushed them back, right? He declined, because he knew John Fox would do the "safe" thing and send out his field goal team -- exactly what Fox did.
That was so sour it qualifies for a Sour Warhead. Coming into the game, Denver had the league's No. 1 rushing offense, while New England had the league's last-ranked defense. The Patriots were averaging 30 points per game, meaning you've got to put up points to defeat them. Denver's top-ranked rushing offense and strong offensive line needed to gain just 1 yard, at home, to position the Broncos for a commanding lead. But Fox did the "safe" thing, which of course turned out not to be safe. Belichick was so sure Fox would do something dumb, he practically bowed and said, "Be my guest."
Fox was so out of it, he failed to realize Belichick declined the penalty because he wanted Denver to kick a field goal, rather than go for it against the Patriots' weak defense. (Once Belichick declined the penalty, he could not have decided to accept it had Denver kept its offense on the field.) Reader Nick Madden of Weston, Mass., a former Yale football player, writes, "I propose this proxy for deciding whether to go for it on fourth down: if the other team is relieved to see your kicking team take the field, then you should go for it." Belichick was relieved when Fox sent out the kicking team -- which is the proof the Broncos should have gone for it.
After the Broncos scored to pull within 34-23 with nine minutes remaining, the stage seemed set for yet another Tebow comeback. Instead the Flying Elvii flew down the field. On second-and-6, Denver big-blitzed. Tom Brady threw to Rob Gronkowski, who ran to the area a blitzing safety vacated -- 38-yard gain as no one attempted to cover the league's most productive tight end. A few snaps later it was second-and-14. This time tight end Aaron Hernandez was not covered by anyone on a simple short crossing pattern -- 22-yard gain. The game-icing New England drive looked way too easy.
Sour Overtime Plays: Game in overtime at Arizona, a Browns busted coverage left Larry Fitzgerald, one of the league's best players, uncovered for the 32-yard reception that positioned the Cardinals for a short game-winning kick. That was pretty sour. But the sourest play came when Cleveland, stopped on the first possession of overtime, punted directly to Patrick Peterson -- who leads the league with four punt return touchdowns. Peterson ran the kick back 32 yards, positioning the Cardinals for their throw to the uncovered Fitzgerald.
This season TMQ has been noting the math showing that deliberately punting out of bounds makes a lot more sense in field position terms than booming a punt to a hot return man such as Peterson or Devin Hester. The Browns have a coach with the title of special teams coordinator -- not just coach, coordinator -- and he has a full-time assistant. These two men do nothing all year long but NFL special teams. Yet neither of them knows it's not a good idea to boom an overtime punt directly to the guy who leads the NFL in punt return touchdowns.
As for the Cardinals, I don't wish to alarm you, but after losing six straight, Arizona has won six of seven. The Cardinals' defense has allowed only eight touchdowns in those seven games. Arizona finishes with Cincinnati and Seattle, both winnable games. The Cardinals have at least a slim hope of the playoffs.
Sweet 'N' Sour 98-Yard Last-Second Drive: Oakland held a 13-point lead with five minutes remaining at home: The Raiders surrendered 71- and 98-yard touchdown drives to the Lions, and lost.
With 2:32 remaining and Oakland ahead by six, facing third-and-3, Carson Palmer threw deep to an open receiver; a completion would have iced the contest. But Palmer badly missed on the pass, despite good protection. Since the Raiders surrendered a king's ransom in draft choices for Palmer, they are 3-5.
Trailing 27-21, Detroit faced first-and-10 on its 39-yard line with 1:13 remaining, down to one timeout. In that situation, the Lions must score a touchdown; that means they must go long. Now, could the pass possibly, just perhaps maybe, be directed toward Calvin Johnson? The Lions called a "max protect" action with seven blockers back; Oakland rushed four. That meant seven defenders to guard three receivers, yet Johnson got behind the defense for a 48-yard catch. No one jammed him, no one dogged him for the first 20 yards or so of his route. As Johnson made the reception, safety Jerome Boyd and Rolando McClain, a linebacker, were attempting to catch up to him; Johnson had to dive for the ball, or would have gone the distance. He got up grinning as if to say, "It shouldn't be this easy."
Then on the winning touchdown, again to Johnson, he was single-covered by corner Stanford Routt, who didn't jam him and got no safety help though every fan in the stands knew the play would be to Megatron. Sweet for the Lions, whose postseason zodiac is now favorable. Sour for the Raiders, close to elimination.
TMQ Error: Last week's column contained an item that said in part, "During the runback of an interception by the Lions, linebacker Stephen Tulloch was called for unnecessary roughness for hitting Minnesota quarterback Christian Ponder. Until this year, during a change of possession, the quarterback could not be hit unless he was attempting to make the tackle. Ponder was, on this down, attempting to make the tackle. But as of the 2011 season, the quarterback cannot be hit on a change-of-possession down under any circumstances. Lions' coach Jim Schwartz went nuts protesting the call. Maybe Detroit would draw fewer personal fouls if the Lions knew NFL rules."
It turns out my description of the new rule was wrong, ESPN's earlier article about the new rule was wrong, and Schwartz might have been right. Here is the rule for 2011 with the new portion in italics, and thanks to Michael Signora of NFL headquarters for researching this:
(Article 13, Rule 7). PASSER OUT OF THE PLAY. A passer who is standing still or fading backwards after the ball has left his hand is obviously out of the play and must not be unnecessarily contacted by the defense through the end of the play or until the passer becomes a blocker, or until he becomes a runner upon taking a lateral from a teammate or picking up a loose ball, or, in the event of a change of possession on the play, until the passer assumes a distinctly defensive position.
However, at any time after the change of possession, it is a foul if (a) an opponent forcibly hits the quarterback's head or neck area with his helmet, facemask, forearm, or shoulder, or (b) if an opponent lowers his head and makes forcible contact with the top/crown or forehead/"hairline" parts of his helmet against any part of the quarterback's body. This provision (b) does not prohibit incidental contact by the mask or the helmet in the course of a conventional block.
Tulloch did not hit the quarterback's head, neck or helmet -- the hit was hard but clean. Was Ponder out of the play? The league ruled yes, and fined Tulloch $10,000. Ponder first moved to try to make the tackle, then was blocked from the front, then seemed to give up and become "out of the play," then one second later was hit from the side by Tulloch. It was what officials call a bang-bang situation, happening very fast. Tulloch could not have been sure that Ponder had given up on the play.
Generally, football players at all levels should be aware that really hard hits far from the ball tend to be flagged. Officials may see such hits as "unnecessary," and unnecessary roughness is a penalty. But my description of the rule last week was wrong. My apologies to Jim Schwartz.
Good News on the Rulebook: The NFL now posts both its rulebook and the officiating casebook -- game-based examples of how zebras should call plays. At 113 pages, the NFL rulebook is too long. TMQ continues to believe football rules should be simplified and standardized across the prep, collegiate and pro levels. But it's good news that the rulebook and casebook are on the Web in scan-able format.
Can't Make This Sort of Thing Up: You would doubt this if it were an "Oprah" episode. In 500 years, everyone in New Zealand will be descended from this man.
Unified Field Theory of Creep: Terry Kelly of Albuquerque, N.M., reports, "My fiancÚ was at the Pier One in Albuquerque, which had Valentine's Day stuff for sale on December 13. It's right in the heart of Christmas shopping season, yet they've already moved on to the next holiday. Only men in jewelry commercials are thinking about Valentine's Day already."
Sweet Play No. 2 Leading Houston 14-0, Carolina reached the Moo Cows' 7 just before intermission. A trick play had the Panthers appearing disorganized, as if about to call timeout. The ball was snapped to Cam Newton but none of the linemen moved, as if nothing was happening; the linemen were all standing, as if waiting for the "ready" command to take their stances. Newton handed the ball forward between the legs of seldom-used blocking back Richie Brockel. Newton and tailback DeAngelo Williams took off right as if running an option. Brockel stood for an instant watching Newton run, trying to disguise that he had the ball. Then Brockel ran left for an untouched touchdown. Not only a cute trick play -- the crowning touch was that the ball ended up in the hands of a guy who never gets the ball.
TMQ supposed earlier in the season that Wade Phillips becoming Houston's defensive coordinator was the most important NFL coaching change of the 2011 offseason. This seemed the case, with the Texans going from low-ranked to top-ranked defensively, and finally making the playoffs. Sunday, starting defensive coordinator Phillips was in the hospital; backup defensive coordinator Reggie Herring held the clipboard. Check the results. If I were Phillips' agent, I would tell Houston management my client is outperforming his contact.
What Should Rocky Get for Christmas? Recent columns covered the ever-expanding dining choices available to Rocky the dog. Tyler Locke of Jersey City, N.J., suggests that when Rocky steps out, he should wear Les Poochs V.I.P., a dog perfume that retails for $3,000 for four ounces. The marketer claims "lively fresh notes for the male dog to lovely white florals for female dogs," plus aromas of "rare Osmanthus flower."
After Rocky dons his $3,000 fragrance, Jon Douglas of Seattle suggests Rocky attend Dogs Night Out at Seattle Repertory Theater, a performance at which pooches were permitted in the audience -- if ticket holders, of course.
Just don't give him any expensive pâté for Christmas, since Rocky won't be able to distinguish it from dog food. Steve Keeley of Naperville, Ill., notes this research paper shows 83 percent of people can't tell pâté from dog food, either.
Sports Illustrated Follow-Up: Last May, TMQ objected to a Sports Illustrated/CBS News investigation that presented as shocking the contention that 7 percent of major-program college football players have "criminal records." It turned out that in many cases, Sports Illustrated and CBS meant the players had been arrested, which is very different from being convicted. In May, I noted studies showed that 16 percent of Americans in the college football age group have been arrested, concluding, "Such data suggest that Top 25 football players are less likely to be arrested than similar-aged American males."
Monday, Erica Goode of The New York Times reported on a new government study showing fully 30 percent of Americans aged 23 or below have been arrested. This new study suggests that the Sports Illustrated/CBS findings are seriously distorted: Top 25 football players are not just less likely to be arrested than similar-aged American males, they are much less likely to be arrested.
Pardon Me Boys, Is That the $67 Billion Choo-Choo? Barack Obama continues to talk about a big commitment to federally funded high-speed rail. California Gov. Jerry Brown just said that despite his state's budget meltdown, he wants California to build a bullet train between San Francisco and Los Angeles.
Bullet trains in California sure would be nice -- but there are a lot of expensive things that would be nice. Your columnist is a train lover. Getting around France is most fun on the TGV. I live near D.C., and when I go to New York City, I'd much rather take the Acela than fly. When I lived in Brussels, I took the snazzy Eurostar. One of the happy days of my life was when my father came to visit and I treated him to a first-class Eurostar ride to London. During World War II, my dad crossed the English Channel under less auspicious circumstances.
But though I love trains, I think most high-speed rail proposals for the United States are white elephants. The main issue is the distance between city pairs. For short to medium distances a train makes sense; for long distances, flying becomes attractive. Many major European and Asian cities are closer together than American cities.
Paris, for example, is 135 miles from Lille. The high-speed train between these cities is the way to go, since it arrives faster than a plane would, especially when weather and airport vagaries are taken into account. But Paris is 285 miles from Lyon. There are lots of flights on the Lyon-Paris route, because even ecologically trendy Euros prefer flying this route. Brussels is 200 miles from London; trains are the way to go. London to Berlin? Europeans fly.
Except in a few places in the United States, mainly the Washington-Boston corridor, cities are too far apart for fast trains to be the ideal form of travel. Los Angeles is 400 miles from San Francisco. Chicago is 500 miles from Kansas City. Investments in improving Washington-Boston rail service make sense. Because much of the track on that route is in poor shape, or rights-of-way need straightening, the Acela, designed for 150 mph, averages 83 mph from Washington to New York. But because of city-to-city distances, building bullet train routes in California, Florida or Texas may not make sense.
Cost must be considered -- spending public money lavishly on rail means the money can't be spent on other needs. Recently the California Legislative Analyst's Office projected that construction expense for the proposed bullet train could rise to $67 billion, or $134 million a mile. With all manner of budget problems, California doesn't have an extra $67 billion burning a hole in the state's pocket. And why should federal taxpayers who live in Iowa or Tennessee be compelled to fund transportation exclusively for California?
The $67 billion is just for construction; operating subsidies would be added. Suppose a Los Angeles-San Francisco bullet train drew half as many riders per year as the Washington-New York-Boston Acela; this is an optimistic assumption. At Amtrak subsidy rates, over 25 years, the California bullet train would cost taxpayers about $4,000 per trip. That's three times first-class airfare on the route -- a ridiculous use of public money, even if we assume (this point is debated) that trains have environmental advantages over planes.
The less obvious reason high-speed trains make more sense in Europe than in the United States is that trains are fixed while aircraft are flexible. As population and economic trends change, aircraft simply fly to different places: a jet that was flying Philadelphia-Chicago one year may be flying Portland-Salt Lake City the next. Europe's population situation seems fairly stable, so building fixed rail lines between its cities is not much of a risk. But America is young and still in flux; it's lunchtime in America. A decade ago, Phoenix was growing like mad. Now it's not. If government built an extremely expensive bullet train line from, say, Phoenix to San Diego, the line would already be a dinosaur. But planes that were flying Phoenix to San Diego are now simply flying Atlanta to Dallas.
Unless you are certain large numbers of people will want to travel between two cities for at least several generations -- you can be certain of that for New York to Boston, can you be certain for Orlando to Tampa? -- high-speed rail investments pale before improving air travel.
Then there's the politics. Republicans dislike trains because they are almost always union-staffed. Liberals dislike airlines because they are run by profit-seeking corporations, while praising trains run by government offshoots like Amtrak. The current love affair with high-speed rail in Washington and Sacramento seems mainly driven by a desire to generate new union jobs that would be controlled by Democratic office holders.
Spending $134 million a mile is an extremely inefficient way to create jobs. Urban and suburban bus rapid transit, which costs $5 million to $15 million a mile to build, would be a much more cost-effective way to create jobs, would be running in far less time than bullet trains and would serve average people.
Disclaimer of the Week Reader Andrew Herman of Des Moines, Iowa, notes the Ancestry.com commercials which disclaim at the bottom, "Santa portrayal." He writes, "So it's not the real Santa!" Maybe the movie "Elf" should have come with a disclaimer too, warning that it was only "elf portrayal," not actual chuckling immortal magic elves. In a few days the real Santa will appear, except in Rhode Island.
Who Looks This Stuff Up? T.J. Yates is "the first rookie quarterback to lead his team to victories in the fourth quarter or overtime in his first two starts since Chicago's Virgil Carter in 1968." ESPN's crawl reported that Tim Tebow is the first quarterback since 1970 to lead six fourth-quarter comebacks in his first 11 starts. The Washington Post noted that New Orleans tight end Jimmy Graham came into Sunday with 80 receptions, while New Orleans tailback Darren Sproles came in with 74 and "no pair of TE-RB teammates in NFL history have had at least 80 receptions apiece in one season." Who looks this stuff up?
Tebow News: Tim Tebow has signed to play the Jimmy Stewart role, across from Charlize Theron, in a big-budget remake of "It's a Wonderful Life." The action will shift from a savings-and-loan in Bedford Falls to Fannie Mae headquarters. Also, last week he entered a chemistry lab at 9 a.m. By 2 p.m. he had broken all the test tubes, accidentally let loose Ebola virus and set the building on fire. Seconds before the power failed at 11:59 p.m., he had discovered the cure for cancer.
Stop Me Before I -- Hey, It Worked! Having given Skins defensive coordinator Jim Haslett flak for big blitzing too much, TMQ admits this tactic worked at Snoopy Stadium, two of Eli Manning's interceptions coming off the big blitz. The football gods chortled as Rex Grossman threw a touchdown on third-and-8 against an ill-advised all-out Giants blitz.
The Washington upset of the Giants produced the day's most amusing play. Redskins leading 10-0, Washington reached the Jersey/A 6. Little-used fullback Darrel Young entered as an extra blocker. The Skins showed a wide receiver sprinting from the offensive right to left in an apparent end-around action. Giants defensive end Jason Pierre-Paul, on the offensive left, would be required to "stay home" to stop an end-around. Pierre-Paul did this, and pushed Young out of his way in order to position himself to make the tackle on the end-around. Except -- Young had the ball, and Pierre-Paul pushed him toward the end zone, where he scored. Here as in the Carolina play, the crowning touch was that the ball ended up with a guy who never gets the ball.
Disclaimer That Isn't Funny: It is disturbing to learn the account of bravery for which the Medal of Honor was awarded recently to Sgt. Dakota Meyer of the Marines may be "embellished." When Meyer received the medal at the White House, he asked why he should be honored for "the worst day of my life." At the time, this comment struck me as refreshing honesty. From a distance it is easy to romanticize war. Those who fight experience terrible fears and suffering; few find it glorious or uplifting to gun down other human beings, even if in just cause.
In most cases, medals for personal courage (as opposed to unit citations) are not awarded unless an investigation shows that claimed events are true. Now the Marines have put a weird disclaimer at the top of the account of Meyer's battlefield actions.
Rex Ryan Will Respond to This Loss by Boasting: Since the Eagles have never lost to the Jets, perhaps Sunday's outcome was foreordained by the football gods. Still, Jersey/B might at least have given the old college try.
Game scoreless, Santonio Holmes carelessly fumbled; Eagles defensive end Juqua Parker, who had shown hustle by getting downfield, picked up the rock and ran it 47 yards for a touchdown as most Jersey/B players made no attempt to chase a lumbering lineman. Then on a busted play -- Mark Sanchez turned one way, LaDainian Tomlinson went the other -- Sanchez carelessly fumbled. Throughout the contest, LeSean McCoy gained yards by cutting back against a Jets defense that was playing for the flashy big sack and not bothering to "contain." Then Holmes drew a celebration penalty after he scored a touchdown -- which made the score Philadelphia 28, Jersey/B 10. Celebrate when you are ahead, not when down by 18 points!
As for the Eagles, how their fans wish the season were starting right now.
Concussion Watch: There are two simple points to be made about James Harrison not even showing remorse for hitting Colt McCoy helmet-to-helmet, and then the Browns sending McCoy back into the game despite obvious concussion symptoms.
The first is that, if the Browns claim, sideline conditions were too confused from them to realize McCoy was showing concussion symptoms -- then the NFL in-game medical protocols simply don't work. An entirely new standard is needed. That standard should include an independent neurologist on the sideline during games. My kids' public high school has a highly credentialed neurologist on the sideline during football games. A public high school can arrange this, but not the made-of-money NFL?
Second, James Harrison seems determined to make people dislike him. He keeps leading with his helmet despite league warnings. He posed with his shirt off and holding pistols for Men's Journal. There's nothing wrong with posing shirtless, and Harrison owns the guns legally. But even a child would know that pose would be interpreted as badass strutting. An undrafted free agent who became a Pro Bowl performer, Harrison is the sort of player TMQ is inclined to like. But football made Harrison a millionaire -- why is it that he responds by trying to harm opponents, and by expressing anger to the fans who make football so lucrative? He needs to take a good, long look at the man in the mirror.
Bears Sink Slowly Into the Sunset: Game scoreless, Seattle lined up for a field goal. The Bears' Corey Graham was called for leaping onto a teammate's back trying to block the kick, and the foul was obvious. Granted a first down, the Blue Men Group scored a touchdown on the possession. That's a pure boneheaded play by Chicago.
Later Caleb Hanie, while being hit, threw the ball directly into the chest of a defender, who ran it back for a touchdown. Ryan Fitzpatrick, being hit by a Miami player, threw the ball directly into the chest of a defender for an interception. Sometimes the smart thing to do is just take the sack and line up for the next play.
A month ago, the Bears looked like they could steamroll through the second half of the season. Now they are tied with several teams for the last-gasp postseason position. If somehow Seattle ends up in the playoffs while Chicago ends up out, Sunday's dispiriting home loss to the Seahawks will be rued as a dark day in team annals.
TMQ Readers Know Too Much: I wrote that Kevin Sumlin has joined the ranks of weasel coaches who walk out on their promises the instant dollar bills are waved; then listed Nick Saban, Rich Rodriguez, Randy Edsall and Bobby Petrino as other prominent weasels.
Justin Bauserman of Indianapolis writes, "Brady Hoke belongs among the ranks of weasel coaches. First he walked out on his own alma mater, Ball State, without even coaching in the 2008 International Bowl after the team's terrific 12-1 season. His walkout essentially doomed his team to a loss in the bowl. Hoke broke his promises to Ball State in order to sign a lucrative five-year contract at San Diego State. When more money was waved by Michigan, Hoke walked out on his SDSU deal after just two seasons. How long before Michigan fans rue the day some NFL team offers him more, and he breaks his promises and bolts again?"
Shawn Badlani of Pittsburgh opines, "Todd Graham is even worse. First he walked out on his promises at Tulsa for more money at Pitt. He stayed at Pitt just one season before breaking all his promises for even more money at Arizona State. He oozes such class that he informed his Pitt players -- including those he recruited by lying to them -- of his quitting via text message."
Indeed, Mark Schlabach christened Graham "the new president of the Liars Club." Arizona State obviously knew it was hiring a promise-breaker. Arizona State, could your standards be any lower? Potential football recruits -- if you sign with Arizona State knowing the coach is a liar, you'll have only yourself to blame.
Unhappy Hour in Hell's Sports Bar: At Unhappy Hour in hell's sports bar, traditional fruitcake and mince pies were set out amidst festive lumps of coal. But patrons were forced to eat the fruitcake, which, according to British tradition, was hellishly bad.
Hell's sports bar did not see any of the Arizona-Cleveland overtime or the fantastic fourth quarter of Detroit at Oakland. But over and over again, hell's sports bar saw 2-11 St. Louis kicking a field goal on fourth-and-inches from Cincinnati's 25. When Lucifer tried to fiddle with the cable box to get bootleg reception of the New England-Denver game, God hurled a lightning bolt that frizzed out all reception in hell's sports bar. Now all hell can get on TV is an endless loop replay of "The Best of Woody Harrelson."
AFC North Takes California Vacation: Division leaders Baltimore and Pittsburgh went to San Diego and San Francisco, respectively, both for night games, and both tanked. The Ravens entered the weekend with the better position. They made the playoffs Sunday afternoon by virtue of losses by other teams, then celebrated Sunday night by losing as well. They'd started Sunday with the division edge over the Steelers via tiebreaker, then gave the edge back to Pittsburgh with their loss. Then on "Monday Night Football," Pittsburgh celebrated by losing the division edge back to Baltimore. When it was over, the AFC North had returned to the status quo of the previous week -- Baltimore and Pittsburgh tied in the standings with Baltimore holding the tiebreaker and also the inside track (via another tiebreaker) for an AFC bye.
Against the erratic Bolts, the Ravens seemed complacent. Joe Flacco is now 42-20 as a starter, which is hard to argue with. But he continues to wilt in road games, and his teammates don't give him much help. Left tackle Jared Gaither, cut by the Ravens in the preseason and then cut by the Redskins midseason, had a terrific game as the vaunted Ravens rush was held without a sack. Antwan Barnes, cut by the Ravens, put up four sacks against them. The Ravens looked bored -- nothing like a playoff team. Philip Rivers is 25-2 as a starter from Dec. 1 on, and the Bolts, who have followed six straight losses with three straight wins, cling to an outside chance at the postseason. San Diego management should start the season by telling the players it's Thanksgiving.
Pittsburgh faced a more serious opponent in San Francisco, which has won its division and holds a tiebreaker edge for the second NFC bye. It had been too long since a monster nationally televised game at Candlestick Park, and the crowd was raucous, especially when the power was on. PG&E, the northern California utility whose transformer kept fritzing out, makes stringing Christmas lights sound like a death-defying act. During a delay, a headline writer headlined the main ESPN.com photo of scoreless darkness at San Francisco DIM SUM, a double pun.
The Forty Niners looked like an average team on offense, but four takeaways and three sacks kept the Steelers out of the end zone. Ben Roethlisberger struggled and perhaps should not have played -- considering Pittsburgh's final two regular-season games, versus St. Louis and Cleveland, look like a red carpet. When Roethlisberger fumbled deep in Pittsburgh territory early in the fourth quarter with the Niners ahead 13-3, the crowd began groping its way to the exits. Candlelight may have been out for safety reasons. But they should have ringed the field with cars and played by headlights, like a touch game at a picnic.
Another Argument Against Punting: Four years ago Tuesday Morning Quarterback began touting Pulaski Academy of Little Rock, Ark.,, a prep team that almost never punts, including routinely going for it on fourth down deep in its own territory. Of course some of those attempts fail, but almost always going for it allows Pulaski to score more often than it otherwise would while reducing the number of possessions allowed to opponents.
Pulaski's coach, Kevin Kelley, also almost always onside kicks. The same obtains -- some of the onsides fail, but the result is more possessions for Pulaski, fewer for its opponent. As TMQ endlessly notes of onside mathematics, the onside kick wagers a 30-yard gain in field position for the opponent versus a takeaway for your team. That's a nice wager. Topping it off, Pulaski almost always deliberately punts out of bounds, which TMQ advocates. In TMQ's book Kevin Kelley is the leading innovator in football, at any level.
Pulaski just won another Arkansas 4A state title. The Bruins did not punt, and onside kicked after every score, until attaining an insurmountable lead. Kelley showed sportsmanship by pulling his starters midway through the third quarter. Surely big-college and pro coaches think, "These are gimmick tactics that could never work at the next level." What they really mean is, "I am too worried about my job security to try this."
Worst Crowd Reaction: When the Texans fell behind 21-3 at home, the Reliant Stadium crowd began to boo. Sure last week the Texans made the playoffs for the first time in franchise history. But what have you done for us lately?
Cold Coach = Victory: Snow swirling in Buffalo, Dolphins backup head coach Todd Bowles -- replacing starting head coach Tony Sparano, who was waived during the week -- came out in a fleece pullover. No heavy parka, no Everest-ascent-style gloves. Seeing him on the sideline before the game yours truly said, "He's not overdressed. Miami will win." And yea, verily, it came to pass.
Eleven penalties by Buffalo, three interceptions thrown at home, C.J. Spiller gains 8 yards per rush in the first half then gets only four carries in the second half -- ye gods. On Matt Moore's first touchdown pass, Buffalo safety Byron Scott simply stood like a piece of topiary and watched tight end Anthony Fasano roar past, uncovered into the end zone. The Bills, who haven't made the playoffs in a league-worst dozen years, look like they've learned nothing in that span and yet again require a total housecleaning. Buffalo needs an aggressive young general manager who wants to make a career reputation for himself. Instead the Bills have had a succession of aging general managers (currently 72-year-old Buddy Nix) who seem content to pick up a few extra years of big paychecks before retiring, and don't mind low-profile losing since they'll never look for another job anyway.
Bucs Take Early Vacation: Dallas leading City of Tampa 7-0, the Cowboys faced third-and-goal on the 8. The Bucs were in a traditional 4-3 with a Cover 2. The point of a Cover 2 is that it's easy to get a short gain but hard to make a big play against. Yet Dez Bryant, Dallas' best receiver, was uncovered in the end zone. Mason Foster, Sean Jones and E.J. Biggers just stood there near Bryant making no attempt to cover him, or anyone. Nickelback Elbert Mack simply stood watching as Laurent Robinson caught a later touchdown pass. Anybody can lose a game. The Buccaneers quit on this game, and did so at home.
Obscure College Score of the Week: Wisconsin Whitewater 13, Mount Union 10 (Division III championship). The two schools met in the Amos Alonzo Stagg Bowl for the seventh consecutive year. The cumulative score of those contests is Wisconsin Whitewater 183, Mount Union 181. Located in Whitewater, Wis., the University of Wisconsin-Whitewater just added a Japanese major.
Bonus Obscure College Score: Pittsburg of Kansas 35, Wayne State 21 (Division II championship). Located in Pittsburg, Kan., Pittsburg State University had this image on its home page just 10 minutes after the contest concluded.
Manly-Man Obscure College Play: Reader Kevin Lasota of Rochester, N.Y., noted that in the Division 1AA semifinals, Sam Houston State, leading Montana 31-28 with 2:06 remaining, faced fourth-and-1 on its own 47. Coach Willie Fritz went for it: the first down iced the contest. True, Sam Houston star tailback Tim Flanders finished with 287 yards rushing on 26 carries, so deciding to hand him the ball did not require a timeout to consult the National Academy of Sciences. Still, in the same situation with the same rushing stats, most NFL and Division I coaches would have sent in the punt unit because that's "safe."
A Cosmic Thought: At this time of year, TMQ likes to remind readers that the cosmos is both very old and yet glistens with morning dew -- having existing at least 14 billion years, yet expected to continue to exist for hundreds of billions of additional years, if not forever. Stars are still forming, including "nearby" in our own galaxy. Here are some graphical interpretations of what the sky would look like if we could see, from Earth's surface, the colors visible in space.
A while ago the little probe Voyager 1, launched in 1977, entered the "heliosheath," the outermost region of the sun's solar wind. Right now Voyager 1 is about 120 times as far from Earth as Earth is from the sun. In 2014, the probe will become the first manmade object to exit the solar system and enter interstellar space. Though now moving faster than anything else built on our world, Voyager 1 has attained only about 6/100,000ths the speed of light. At its speed, 400,000 years would pass before Voyager 1 reached the closest star system to ours, while a billion years would be required to cross the Milky Way.
And the Milky Way is but one of at least 100 billion galaxies, perhaps many more. The age, size, grandeur and likely longevity of the universe cannot be overstated. Who can say what the ultimate purpose of the cosmic enterprise may be? Happy holidays.
Next Week: They went undrafted, or were let go, or both. Tuesday Morning Quarterback's annual All-Unwanted All-Pros.
In addition to writing Tuesday Morning Quarterback for Page 2, Gregg Easterbrook is the author of "Sonic Boom" and six other books. He writes a politics column for Reuters, and is a contributing editor for The New Republic, The Atlantic Monthly and The Washington Monthly. His website can be found here, and you can follow TMQ on Twitter.