Commentary
Uni Watch details NBA uniform changes
Originally Published:
December 21, 2011
By
Paul Lukas
| Page 2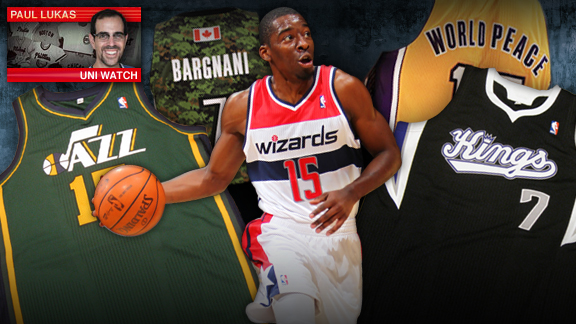 ESPN.com Illustration
Better late than never, right?
Actually, it's kinda cool to have the NBA season opening on Christmas Day. It's like Santa's bringing us all a bonus present (well, unless you're a Timberwolves fan, in which case you're just getting another lump of coal).
Strained holiday metaphors notwithstanding, we have a lot of ground to cover here in Uni Watch's annual NBA season preview. Let's start with what you can expect to see while sipping eggnog Sunday. As has been the case for several years now, all teams playing on Christmas Day will wear a snowflake-patterned version of the NBA logo patch -- except for the Mavericks, who'll mark their championship by wearing an O'Brien Trophy patch and gold lettering.
In addition, expect several players to wear Christmas-themed shoes -- lots of red and green. And then there's Kobe Bryant, whose Christmas shoes appear to be Grinch-inspired.
As for the rest of the season, here's Uni Watch's team-by-team rundown of what you can expect to see on the court (if a team isn't listed, it has no changes):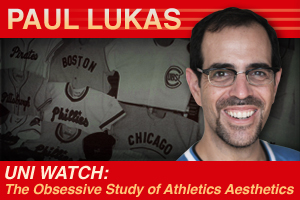 • The Bobcats have made some small alterations to their logo portfolio. And remember the team's NASCAR uniforms? Those have been scrapped and replaced by a jersey patch, which will be worn Feb. 10. Also, the Bobcats are one of nine teams that will be unveiling ABA throwbacks later this season. The good news is that most of them -- including the one the Bobcats will be wearing -- are very, very good. The bad news is that they're all NOPE, which stands for Not Open for Public Exposure. In other words, nobody's allowed to talk about them yet. Further details when the gag order is lifted.
• The Bulls will wear their red road uniforms at home on Feb. 14, for Valentine's Day.
• The Cavaliers will have another "CavFanatic" uni design, which they'll wear for a handful of games, beginning on Jan. 25. Just like the throwbacks, this design is NOPE for now.
• Another team waiting to show off a new throwback uni: the Clippers. For now it's NOPE, but it's worth noting that video gamers have been circulating this Los Angeles Stars screen shot lately. Draw your own conclusions.
• The Grizzlies are another team with a NOPE throwback. And once again, the video gamers have given us a hint. That appears to be a Memphis Tams throwback (and yes, the Tams really did wear mismatched shorts and jerseys back in the day). Could that design really be coming to an NBA court? We'll have to wait and see.
• The Heat are back in black. This design concept dates back to the spring of 2004, when the team handed out black-on-black T-shirts as promotional giveaways, which became a big hit among the fan base during the playoffs. Unlike the team's regular uniforms, this one uses old-style nylon dazzle fabric instead of the new-style mesh, so the black surface should really shimmer. The plan is for the team to wear it for six "big" or "important" home games, beginning with the game against the Lakers on Jan. 19.
• The Hornets will wear their Mardi Gras uniform for six consecutive games in February, running from Feb. 10 to Feb. 21.
• Great news out of Utah, where the Jazz have a beautiful new green alternate (which is similar but not identical to what the team wore 30 years ago). They'll wear it for their home opener Dec. 30.
• The Kings have a new black alternate uniform. Uni Watch doesn't much care for the old-school chest script being paired with the new-school number font, but whaddaya gonna do? The Kings will wear this design for their home opener Dec. 26.
• In a welcome move, the Knicks have removed the black trim from their primary logo. Now if they'd just do the same with their uniforms.
• No changes for the Lakers, but it's worth noting that they'll have a very interesting-looking jersey on the court this season.
• You know that P. Diddy design that the Mavericks have variously worn in green and blue? This season they're adding a navy blue version, which will be worn as an alternate. On-court debut: Dec. 30.
• The Nets are bidding adieu to New Jersey with an anniversary logo, a stripped-down version of which is being worn as a jersey patch. Also, the Nets are another team that will be unveiling a throwback later this season. Officially: NOPE. Unofficially: This video game screen shot has been making the rounds.
• Add the Nuggets to the list of teams that will have throwbacks this season. Uni Watch has seen the design and can confirm that it's a beauty. But for now, NOPE.
• Another team with a NOPE throwback in the works: the Pacers.
• You might not even notice that the Raptors have made some minor changes to their logos. But you'll definitely notice what's happening on March 21, when they plan to salute the Canadian military by wearing the NBA's first-ever camouflage uniform. Uni Watch is generally opposed to camo uniforms, in part because they look ridiculous and in part because they raise some difficult issues (if you're curious, there's a full discussion here), but Raptors ownership has a long history of military support -- COO Tom Anselmi has even visited Canadian troops in Afghanistan -- so this is obviously a sincere gesture, not a gimmick. Still, does anyone else think it's a bit weird to have a team of mostly American players wearing a uniform that honors another country's army?
• The Rockets have a rather clunky-looking 45th-anniversary logo, although it isn't appearing on their uniforms or court design. Expect to see it used in various promotional capacities.
• The 76ers have a new blue alternate uniform. Simple but nice. Uni Watch wouldn't mind one little bit if they made this the road uniform and changed the red uni to the alternate. (As an aside, the Sixers have also scrapped their mascot and are letting fans vote on the new one.)
• The Spurs will have one of the nicest throwbacks of the season, but for now it's all NOPE.
• Interesting move in Phoenix, where the Suns are commemorating the Arizona state centennial with a patch -- but only on their warm-ups.
• The Timberwolves are yet another team with a throwback in the works, and you know what that means. (Hint: Rhymes with dope.)
• The Trail Blazers will wear their "Rip City" alternate uniform on March 18.
• The Warriors have added a very nice anniversary patch.
• Makeover of the Year Award goes to the Wizards, who've channeled their franchise history with a very Bullets-esque redesign. So much to like here -- well done. (Also of note: Because of the design's horizontal stripes, Washington is the only team in the league that is not using adidas' Revolution 30 mesh pattern throughout their regular home and road jerseys.)
• The league will once again market itself to the Hispanic community with a series of "Latin Nights" uniforms, which will be worn for selected games in March. As you can see, the one new team in the program is the Orlando Magic. They're replacing the Mavs, who will no longer be part of this promotion.
• Several teams will once again wear special uniforms for St. Patrick's Day. In addition to the three shown there, the Jazz will wear their new green alternates. The Raptors, who had previously been part of this promotion, will not participate this year.
• The All-Star Game will be played Feb. 26. Want to see the uniforms? NOPE. But at least the logo is available.
• Can't keep track of all the NBA's collar and neckline styles? Here's a handy guide (click to see a larger version):
• While we're at it, here's a breakdown of this season's uniform number fonts (click to enlarge):
• Here's a guide to the lettering used by each team for player names on the back of the jersey (click to enlarge):
• The most prominent detail of this season's warm-up attire is that the NBA logo is getting rather large. A more subtle detail is this dot-matrix pattern on the fabric. It's officially called the "Run with the Pack" pattern (if you can say that out loud with a straight face, you're way ahead of Uni Watch), which supposedly refers to a team playing as one, there's no "I" in "pack," something like that. Eh, whatever, we all know it really just refers to merchandising. You can see all 30 warm-up sets here.
• Uni Watch doesn't care too much about practice shirts. But in case you do, here's the full breakdown of practice logos (note the lack of a geographical signifier for the Nets, who already have one foot out the door on their way from New Jersey to Brooklyn; click to enlarge):
• Turning to non-apparel aesthetics, the Blazers, Pistons, Raptors, Rockets, Thunder and Wizards have made adjustments to their court designs. The most intriguing one is the new court in Toronto -- see those "Raptors" placards under the backboards? They look convincingly three-dimensional, but that's actually an illusion. This 3-D signage was pioneered by a company called LogoPaint and has been going on for years in soccer, cricket, Aussie football and so on, but this is the first time it's been done in a major North American sporting venue. Expect other teams to follow soon.
And there you have it, a full season's worth of NBA uniformities (well, except for the NOPE designs). Only a coupla shopping days left before tip-off, and Uni Watch, for one, can't wait.
Paul Lukas always enjoys making new friends during his visits to the NBA offices. If you liked this column, you'll probably like his daily Uni Watch website, plus you can follow him on Twitter and Facebook. Want to learn about his Uni Watch Membership Program, be added to his mailing list so you'll always know when a new column has been posted, or just ask him a question? Contact him here.