Commentary
The 2011 sports social media superstars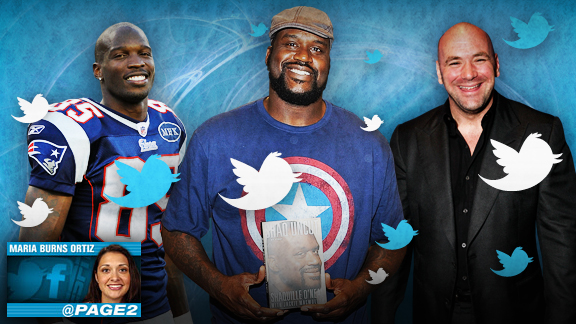 ESPN.com Illustration
There's no question that sports and social media are indelibly intertwined. Of course, you could say that for social media and just about anything in society these days. But while Facebook, Twitter and various other platforms have been around for a few years, 2011 seemed to be the tipping point.
Almost every athlete, save for a few reluctant holdouts, is on social media along with a growing number of general managers, coaches and owners. In the past year, Twitter has welcomed Rafael Nadal, Wayne Rooney, the Cleveland Indians' bullpen and very briefly Kobe Bryant.
Social media is no longer just an outlet for sharing stories, but as Shaquille O'Neal, Arizona athletic director Greg Byrne and a growing number of sports personalities illustrated in the past 12 months, social media also is creating news on regular basis.
Beyond Twitter spats and among an ever-updating array of trending topics, social media has become a go-to source for breaking news as well as a forum where fans can celebrate, commiserate or connect with players and fellow and opposing fans.
With all that in mind, @Page2 looks back at the biggest sports and social media moments of 2011.
The Twitterverse turns on Jay Cutler
After the Chicago Bears' quarterback left the NFC title game on Jan. 23 against the Green Bay Packers with a knee injury, fans, media and fellow NFL players took to Twitter -- and it wasn't to express their concern. "Jay Cutler" went viral as a trending topic, and the signal-caller was widely criticized on social media for watching the second half of the Chicago's 21-14 loss from the sideline.
Fans expressing their outrage and disapproval is nothing new, but "Knee-gate" took the criticism to a whole other level. Players like Darnell Dockett, Maurice Jones-Drew and Kirk Morrison didn't mince words when offering their thoughts on Cutler's injury (later revealed to be a sprained MCL) and sideline presence. Hall of Famer and TV analyst Deion Sanders even went so far as to question Cutler's heart.
Super Bowl XLV
The "big game" was also one of the biggest sporting events in social media. The NFL title contest between the Packers and Pittsburgh Steelers on Feb. 6 was the second-most mentioned topic on Facebook in 2011, topped only by news of Osama bin Laden's death. Super Bowl XLV was the lone sports story to crack Facebook's global top 10.
The game also generated plenty of discussion on Twitter. The No. 7 hashtag of 2011 was #superbowl, and four of the five most mentioned NFL terms on Twitter -- Dallas (host of Super Bowl XLV), Green & Yellow, Super Bowl MMXI and Pittsburgh Steelers -- had tie-ins to the NFL's biggest event of the year.
Ochocinco named second-most influential person on Twitter
Given how frequently the receiver made headlines for his social media use, news that Chad Ochocinco was the most influential athlete in the Twitterverse didn't come as much of a shock. The receiver has used social media to do everything from meet his fiancée to take dozens of fans out to dinner to search for a roommate.
However, many users might have been surprised to learn that No. 85 was named No. 2 when it came to the most influential people among the site's roughly 100 active million users. That was the finding of social media research firm Twitalyzer in March. The firm looked at not just the number of followers but also the frequency of mentions (including retweets) to determine who was influencing the social space.
Although Ochocinco has scaled back his social media use a bit since joining the New England Patriots, he's still an All-Star in the Twitterverse. The receiver recently persuaded teammates Wes Welker and Aaron Hernandez to join the microblogging network and is determined to persuade Tom Brady to take the social media plunge as well. But even the second-most influential person on Twitter's influence has limits. One person it's safe to say Ochocinco will never sway: coach Bill Belichick.
The sports world reacts to bin Laden's death
Rarely is a story so huge that it dominates virtually every segment of news, but the death of Osama bin Laden on May 2 did just that. The story generated more than 5,000 tweets being posted per second and ultimately became the No. 1 topic on Facebook in 2011, so it's no surprise the story permeated the sports world in a way that only social media allows. Chants of "U-S-A" swept Major League Baseball stadiums as fans heard the news -- many through the social media networks -- and athletes weighed in on Twitter and Facebook.
As with any politically charged story, this event did not go without controversy, even in sports. The Steelers' Rashard Mendenhall found himself caught up in a media storm with his tweets on the event. The running back questioned people's positive reactions to the news and referenced Sept. 11. As a result of the fallout, Champion dropped Mendenhall's endorsement deal.
UFC offers Twitter bonuses
The UFC -- led by president Dana White -- has been among the leaders for professional sports organizations and social media. The UFC solidified its standing as the most progressive of the bunch by announcing at the annual UFC Fighter Summit in May not only that social media use was encouraged but also that fighters who effectively used the medium would be compensated.
All UFC and Strikeforce fighters are eligible and divided into groups determined by the number of followers they currently have. Fighters from each group are eligible for a $5,000 bonus based on growth in number and percentage of followers. The UFC also gives an award in each category for the most creative tweets. The first quarterly bonuses were awarded in November.
Shaq retires
Shaquille O'Neal took sports and social media to the next level when the basketball superstar announced his retirement online on June 1. O'Neal sent Twitter users into a frenzy when he posted "im retiring Video: http://bit.ly/kvLtE3 #ShaqRetires," but he put Tout, a video sharing site, on the map. One of sports' early adopters of social media, O'Neal received a small stake in Tout and a spot on the company's advisory board after his 15-second announcement. The move also set a precedent of what has become a growing trend of athletes and teams making major announcements via social media.
MLB hits social media home run
From a social media standpoint, Major League Baseball hit one out of the park during the 2011 Home Run Derby on July 11. With athletes actually tweeting from the field, the event generated 4,995 tweets per second (enough to rank as one of the 15 most tweeted moments of 2011). In all, MLB players involved saw an increase of more than 121,000 combined Twitter followers in the hours surrounding the event. Robinson Cano came away the big winner. The Yankees second baseman won the Derby crown and saw his Twitter following nearly double (surging 84 percent) during the All-Star festivities.
International soccer sets records
July 17 was a huge day for soccer -- and Twitter. In just a matter of hours, the Women's World Cup final and Brazil's elimination from Copa America play became the No. 1 and No. 2 most tweeted moments in history on the same day. Japan's shootout win over the U.S. women's national team generated 7,196 tweets per second, setting a record for most tweeted event. (It now sits in the No. 3 spot behind the MTV Video Music Awards/Beyonce's pregnancy announcement and the execution of Troy Davis.)
Just minutes later, perennial men's soccer power Brazil was eliminated from the Copa America quarterfinals, falling to Paraguay on penalty kicks. For the second time in an hour, social media exploded. The event generated 7,166 tweets per second.
NBA, its players use social media to reach fans during lockout
When it comes to major professional sports organizations, the NBA has established itself as the social media king. The NBA alone has more than 15 million combined Twitter followers and Facebook fans. The combined likes/follows for the league, its players and its teams topped 100 million this past spring. So it should come as no surprise that social media not only provided a major source of news but also served as a main line for both the league and its players to connect with fans (and try to leverage those connections) during the 149-day lockout.
Among the notable social media-related lockout news:
• While management and coaches could continue to follow players on social media, a retweet or mention of a player would reportedly result in a $1 million fine.
• In early October, Derek Fisher sought to present a unified front among players, encouraging his peers to take to Twitter with a message of "LET US PLAY" and the hashtag #standunited. The message was tweeted by dozens of players and went viral among fans. This organized effort was just one example of players using social media to share their thoughts on the nearly five-month labor dispute.
• On Oct. 31, the NBA established an official NBA Labor Twitter account to directly address and refute what it saw as inaccuracies and incorrect information on the Web, particularly on social media, regarding the lockout and labor negotiations.
• Also reportedly on Oct. 31, the league fined Miami Heat owner Micky Arison $500,000 for comments he made on Twitter regarding the lockout.
Soccer dominates social media
It's easy to get caught up in the big four U.S. sports and forget that there's a whole other world out there -- literally. When it comes to social media, there's no question that (like in much of the rest of the world) soccer reigns supreme. Just how much does soccer rule the social sphere?
Behind the aforementioned soccer moments, the third-most tweeted sporting event of the year was the UEFA Champions League final, generating 6,303 tweets per second. But that doesn't even begin to cover it.
The top three sports teams on social media (Twitter and Facebook combined) are FC Barcelona (26.5 million), Real Madrid (25.5 million) and Manchester United (20.9 million). Even more impressive, Manchester United doesn't even have a Twitter account. By comparison, the Los Angeles Lakers, the next-most popular sports team, has 13.3 million combined Facebook and Twitter followers.
Nine of the 10 most liked teams on Facebook are soccer clubs. The Lakers are the lone exception. Six of the 10 most liked athletes on Facebook are soccer stars. Argentina and Barcelona forward Lionel Messi leads the way with more than 28 million likes and set a record when he garnered 7 million likes in the first seven hours of establishing his page in April.
With the social space evolving almost as quickly as you can type 140 characters, we've only begun to scratch the surface of the relationship between sports and social media. Expect even more engagement and innovation with athletes and the Web in 2012.
Which sports stories made your social media top 10 for 2011? Sound off on Twitter and let us know.
Got a story we should feature? Have a site we should check out? Who's on your must-follow list? Tweet me at @BurnsOrtiz. If your idea gets mentioned in this column, so will you. Follow Page 2 on Twitter at @Page2.