Commentary
Eliminate bowl week? Player says yes
Updated:
January 2, 2012, 2:34 PM ET
By
Collin Carroll
| Special to Page 2
For many college football players, going to a BCS bowl game is the be-all, end-all of human existence. It's the perfect blend of business and pleasure -- competing for a championship on a national stage after enjoying a weeklong vacation in a pulsating city.
But as the fifth-year senior long-snapper on Virginia Tech's football team, I have held my tongue far too long -- bowl games are way more pleasure than business.
Allow me to preface this by expressing my deepest appreciation to the Sugar Bowl committee for the countless efforts it has made to give us an unforgettable experience. And it has. However, our culture has made bowl games more about rewarding players for a magical season than bringing home a victory -- a conundrum head coach Frank Beamer is well aware of.
"You want it to be a reward," Beamer told the Norfolk Virginian-Pilot, "but really, what happens in the big picture is, it's important to win these bowl games."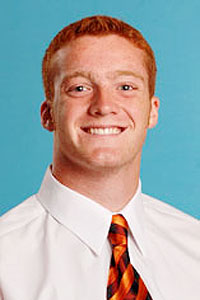 Courtesy of Virginia TechCollin Carroll is a long-snapper for Virginia Tech and wrote a column on his bowl experience.
Beamer's bowl season doctrine is not unlike efforts to "keep Christ in Christmas," even though materialism is far sexier. Without the wisdom of a seasoned coach like Beamer, it would be easy to lose sight of the true meaning of bowl season amid innumerable distractions.
Take, for example, the myriad gifts we receive for participating in the game. We're pampered with a smorgasbord of sweat suits and a shopping spree in the Graceland of electronic devices. We kick back in a four-star hotel on the Mississippi River, in one of the most vibrant towns this side of the "Old Man."
For the seven days we spend in New Orleans, we received a per diem check totaling $450.71. That equates to $64.39 in daily spending cash, when we already receive roughly two meals and two snacks from the team per day. The Sugar Bowl committee also brought us to a bowling alley, New Orleans' finest steakhouse and a Mardi Gras float parade that included a visit from the Saints' cheerleaders. What on Earth could we possibly need all this money for?
Here's the scary part: I can think of a few options.
Across the street from our digs is a 115,000-square-foot casino. Six blocks northwest of our hotel is the most decadent stretch of pavement known to man; trust me, men know it all too well. Bourbon Street boasts 10 gentlemen's clubs along its eight blocks. I'm not saying our players have succumbed -- I'm simply shedding light on the gravity of our temptations.
And yet we're giving 18- to 22-year-old testosterone factories $64.39 per day to spend as they wish? Have we lost our minds?
My first night on the town, a scantily clad young lady approached me and asked, "Hey Ginger, want a ride?" Being a redhead, I was disturbed yet flattered -- we don't get that question too often -- then relieved to discover she was promoting a mechanical bull-riding contest. Only in the Big Easy …
Even if we aren't enticed by the pleasures of this world, the aforementioned lavish spoiling of players still breeds complacence and a sense of entitlement -- attitudes detrimental to the hunger of a team.
In fact, diversions and temptations are so rampant during bowl week that the game itself hinges not so much on which team prepares better but which team gets less distracted. This isn't just a Sugar Bowl thing, either -- this has been a constant struggle at each of the four other bowls I have attended.
The notion that coaches enforce a curfew during bowl week baffles me -- not because I've contracted night fever but because players actually need to be told to get home at a reasonable hour the week of the biggest game of their lives.
My advice: Do away with bowl week. Schools should practice at their respective universities just as they would any other game week, arriving at the bowl destination the night before the game. No coeds on campus, no strip joints, no casinos, no extravagant gifts or cash rewards, and no creepy bull-riders with redhead fetishes. Just film, practice, more film, meals and some more film.
I don't care how many tourists bowls draw by hosting teams for an entire week. If these players don't show up ready to play on game day -- after a long layoff and a weeklong reprieve -- fans won't come, period.
Most importantly, there is simply no way that players could be at their best -- mentally or physically -- for bowl week practices and film sessions when they're given the opportunity to treat it more like beach week.
Bowl games should be about representing your university with excellence by winning -- forsaking all the debauchery that is so prevalent during bowl season. Let the fans show up a week early if they want. Hey, maybe even give the victorious team a free weeklong vacation at the bowl destination after the game; at least it would put the emphasis back on winning.
"All the fun and the time you have here, if you lose the football game, instantly it wasn't a successful trip," linebacker Jack Tyler said.
Please don't hear me making excuses for the ACC's abysmal 2-11 record in BCS bowl games, the conference's 2-4 performance this bowl season or Virginia Tech's 2-5 mark in BCS bowls since 1995; we take full responsibility for our lackluster showings.
Whether or not distractions have played a part in our struggles, I have to give bowl week some credit -- it certainly tests teams' ability to rise above the garbage and remain focused. I'm hoping Tuesday's tango with Michigan will illuminate our conference's repentance from an enchanted view of bowl games. But regardless of the outcome, it will have been determined the week prior to the game -- not the night of.
We need to beat Michigan. I'm not saying we will beat Michigan -- I don't have the cojones, athletic ability or charm to make a statement quite so Namath-esque. I'm saying we need to beat Michigan.
We need to represent the ACC. We need to justify the Sugar Bowl committee's decision to offer us a BCS at-large bid -- the first such invitation extended to an ACC school. We need to resurrect our program from the shellacking Clemson gave us in the ACC title game. We need to validate Virginia Tech as a national power.
The media have been ruthless since our Dec. 4 selection to the Sugar Bowl, and the criticism is well-deserved.
"We've been on big stages several times in the last couple years that I've been here, and we haven't shown up to play and perform the way we can," running back David Wilson said. "So I want to go out in this Sugar Bowl against another top-tier program and perform and come out with a win."
But top-tier doesn't even begin to describe Michigan's empire. They've won 11 national championships and eight Rose Bowls. Their .735 all-time winning percentage is the highest of any college football program. They've produced 37 College Football Hall of Famers, three Heisman Trophy winners and seven NFL Hall of Fame inductees.
This year has been no different. Quarterback Denard Robinson is the most dynamic playmaker in the country, and both Robinson and tailback Fitzgerald Toussaint rushed for more than 1,000 yards this season -- the school's first 1,000-yard tandem since 1975. Michigan's defense has held opponents to 17.2 points per game, good for the seventh-best scoring defense in the country.
Michigan is the type of program Virginia Tech has been striving to be since Coach Beamer took over in 1987. We've made progress, but we'll never be a national power unless we beat national powers like Michigan -- regularly.
My prayer is that we've rejected any and every distraction that bowl week has to offer, because nothing short of perfection will yield what we traveled to New Orleans to accomplish.
"If we lose this game," Wilson said, "I think we wasted our time coming down here."
Collin Carroll is the long-snapper for the Virginia Tech Hokies. He also is a writer for the school newspaper. You can follow him on Twitter at collinjcarroll.