Commentary
The NFL's few, proud -- the gloveless
Originally Published:
January 5, 2012
By
Paul Lukas
| Page 2
ESPN.com Illustration
Chargers safety Eric Weddle had seven interceptions this season -- tied for the most in the NFL -- so he obviously has good hands. It's all the more surprising, then, that Weddle is a football rarity: He doesn't wear gloves.
As you can see in those photos, Weddle wears tape on his fingers -- usually white, occasionally black. But that's something he started doing only this season. Prior to 2011, he always wore gloves. Interestingly, his change in handwear coincided with a big uptick in his interception stats. His seven picks this season exceeded his career total over the previous four years combined (six). Coincidence?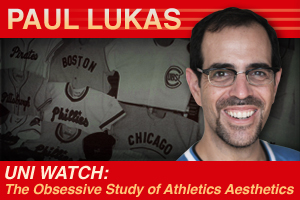 Weddle declined to be interviewed for this article, so we'll never know for sure. But one thing's for certain: Nearly everyone in the NFL now wears gloves. The primary exceptions are punters (usually), kickers (almost always, except for Jay Feely), quarterbacks (usually, although more and more of them are wearing gloves on their nonthrowing hands, and sometimes on both hands) and centers (although many of them now wear gloves). Remove those specialists from the equation, and pretty much everyone wears gloves except for a small cadre of bare-handed holdouts, such as Weddle. To Uni Watch's knowledge, this elite gloveless group -- let's call it the Hands Team -- has only four other full-time members: Colts tight end Dallas Clark, Vikings running back Toby Gerhart, and Bucs defensive linemen Tim Crowder and Gerald McCoy. The Hands Team roster also includes part-time bare-handers, such as Adrian Peterson, Chris Johnson and Peyton Hillis -- guys who usually wear gloves but occasionally want that particular feel of skin against pigskin. (Do you know of additional Hands Team members? Send info and photos here.)
THE BARE (-HANDED) FACTS

Next Tuesday marks the 30th anniversary of what is probably the most famous NFL reception of the past half-century: Dwight Clark making The Catch. As you can see, Clark was playing bare-handed at the time -- everyone was, because football gloves hadn't become common yet. By today's standards, frankly, The Catch doesn't seem particularly remarkable. But it was amazing for its time, in large part because leaping fingertip grabs were a lot harder in the gloveless era.
What would qualify as a modern version of The Catch? Santonio Holmes' game-winning reception in Super Bowl XLIII? Something else? Send your nominations here, but good luck finding any likely candidates that don't include gloves.
Meanwhile, if you want to see a really interesting breakdown of the famous photo of The Catch, look here.
It's almost startling to see those guys carrying the ball bare-handed, no? That's a measure of how universal gloves have become on the gridiron (a situation mirrored in baseball, where Jorge Posada, Coco Crisp and Vlad Guerrero are among the last of the bare-handed batters). It might not seem like much, but the rise of gloves might be the biggest and most underappreciated NFL development over the past generation. If you've ever worn a pair of modern football gloves, you know what Uni Watch is talking about. Nike doesn't call its gloves Magnigrip for nothing -- the surface is so tacky, it makes catching a football almost like catching a bug on flypaper. You just stick up your hand and thwack -- there's the ball. This has completely changed the passing game, because all those one-handed grabs and fingertip catches we routinely see each Sunday simply weren't possible two or three decades ago. That's not a knock on today's receivers, who clearly are more athletic than those of yesteryear (and yes, the players of yore could simply load up on stickum, which now is banned), but don't underestimate the effect that gloves have had on the game.
So why would any player choose to play bare-handed? "Sometimes you just want a better feel for the ball," Giants equipment manager Joe Skiba says. "Especially in the rain, those silicone Magnigrip gloves become jelly-like, so some players will either switch to leather gloves or go without gloves. I remember when we played the Dolphins in London in 2007, the weather was terrible, so Brandon Jacobs took off his gloves." Of course, that doesn't explain why Weddle goes gloveless in sunny San Diego, but he presumably just feels more comfortable that way.
As for the tape on Weddle's fingers, Skiba says that's likely functional, not a fashion statement. "It helps to provide a bit of traction on the ball," he says. Lots of players have done this over the years, including Tim Brown and Sean Taylor. (Again, there's a corollary to be found on the baseball diamond, where some players -- most notably Dave Parker -- used to wear finger tape instead of batting gloves to get a better grip on the lumber.)
Incidentally, there's a notable gloveless player in the NCAA, too: LSU running back Michael Ford (who also went gloveless in high school). He's only a sophomore, so it's too soon to know whether he'll make it to the NFL's Hands Team, but keep an eye on him in the BCS title game Monday night. While everyone else is doing the open-palm salute, Ford likely will be the only player on the field with the old-school bare-handed look.
New Year's Roundup
So what did you think of Oregon's Rose Bowl costumes uniforms? The main reaction here at Uni Watch HQ was, frankly, indifference. Like, they still looked reasonably Oregon-ish -- not a whole lot better or worse than the blur of other looks the Ducks have sported in recent years. Just the latest in a long line of variations that are all roughly equivalent.
The Ducks now have reached the point where it no longer matters how they look. All that matters is the anticipation of what they'll wear next. They've essentially become a comic book. Each game is like a new issue with a flashy cover design (i.e., a new uni) promising all sorts of hype and excitement. So you get all amped up and tear into the new issue, but about halfway through, you realize, "OK, so it's just another issue of this comic book -- not bad, but nothing special." And then you get all excited again as the next issue approaches. Wash, rinse, repeat.
There's nothing wrong with that, of course. But at some point, we all outgrow comic books.
Here are a few other uni-related tidbits that might have gotten lost in the holiday shuffle:
• One fun aspect of bowl season is that some schools have particular uniform protocols that they observe only for bowl games. Notre Dame, for example, normally goes NNOB (that's "no name on back," for those of you who don't speak uni), but the Irish routinely add player names to their jerseys for bowl games, including last week's Champs Sports Bowl. Similarly, Oklahoma State adds little captaincy patches shaped like sheriff badges for bowl games. Here's how this season's version looked.
• Even if you're not an NHL fan, the annual Winter Classic game (which was played Jan. 2), offers a rare glimpse at something really cool: hockey players -- and officials! -- wearing eye black.
• Now that the NBA season has started, a small but telling detail has emerged -- one that wasn't covered in the recent Uni Watch NBA season preview. Although no formal announcement was made, it turns out the Pistons' "Mr. D" memorial patch for former team owner Bill Davidson has disappeared from the team's back collar. When the patch was added in 2009, the Pistons said it would be permanent (much like the Bears' "GSH" sleeve memorial for George Halas), but new team owner Tom Gores apparently reversed that policy. Davidson's signature on the Pistons' court has been removed as well. Uni Watch can understand the move with the signature, but the little collar patch? Come on -- that just seems petty to Uni Watch.
• NFL fun fact: For the first time in the Super Bowl era, no white-helmeted team made the playoffs.
Uni Watch party next week in Cleveland
Want to meet other Uni Watch readers, along with your friendly Page 2 columnist? You can do just that next Tuesday night, Jan. 10, in Cleveland. We'll be gathering at Prosperity at 7 p.m. Hope to see you there.
Paul Lukas thinks quarterbacks shouldn't be allowed to wear gloves on their throwing hands, but that's another argument for another day. If you liked this column, you'll probably like his daily Uni Watch website, plus you can follow him on Twitter and Facebook. Want to learn about his Uni Watch Membership Program, be added to his mailing list so you'll always know when a new column has been posted or just ask him a question? Contact him here.