Commentary
Va. Tech player: Kicker showed courage
Originally Published:
January 4, 2012
By
Collin Carroll
| Special to Page 2
I'm well-armed to rattle off a boatload of excuses as to why we choked the bunny Tuesday night in the Allstate Sugar Bowl against Michigan -- and none of them involve Justin Myer.
In fact, the senior kicker from Manheim, Pa. didn't just keep us in the game. The guy carried us. Myer was four-for-four on the night, including a 25-yard field goal with two seconds remaining in regulation to force overtime.
But the only one he'll remember was the 37-yarder in overtime that he pushed wide right.
"It didn't come down to a field goal," wide receiver Danny Coale told the Washington Post. "There were so many plays in that game. We should have capitalized on some points early on. [Myer] gave us points with those field goals when we should've had touchdowns. He played a helluva game stepping in there and nailing those field goals. It shouldn't have been a field goal game."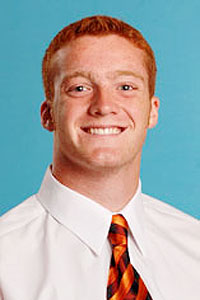 Courtesy of Virginia TechCollin Carroll is a long-snapper for Virginia Tech and wrote a column on his bowl experience.
While there are plenty of "shouldn't's" our players and fans will forever remember about that game, perhaps the most glaring was Myer's presence on the field during fourth downs. After the first two kickers on our depth chart were ruled ineligible due to disciplinary issues, Myer was thrust into the spotlight -- a place he would normally just as soon forgo.
As one of Myer's closest friends on the planet -- at least, that's what I consider him -- I can personally testify to his humility, unselfishness, and borderline diffidence. Knowing this, I don't consider Myer's performance a failure by any stretch of the imagination. To me, it was the most divine example of courage I've seen in my five years as a college football player.
Over the course of this week, I saw Myer go from a strong but shaky kicker who had missed his only two attempts ever, to the most poised kicker the BCS will see this year.
Myer -- known by Coach Beamer as "The Mule" for his freakishly robust leg -- led the ACC in touchbacks this season with 31, but accuracy issues kept him out of the field goal rotation for most of his four years at Tech. The fitting alias has grated on the unassuming Myer since its inception earlier this season, and his modesty has only led to further ribbing from his teammates.
As the week in New Orleans progressed, I watched the weight of his lot beginning to settle on Myer. When the media wasn't swarming him, he was vigilantly perfecting his technique. But as Myer and I grabbed a bite to eat on Saturday night, I sensed a burden being lifted from his shoulders.
Earlier that day, Coach Beamer had told Myer he had confidence in him, would never yell at him, and simply asked that Myer try his best. From the mouth of a coach, no words more empowering can be spoken to a kicker.
After that, Myer didn't miss another field goal the rest of the week. That is, until overtime.
In the locker room after the game, I was amazed at the overwhelming compassion shown to Myer by members of the media. They were encouraging, delicate and gracious. But more impressive than their empathy was the patience and poise with which Myer responded to their panoply of questions.
I saw our players and coaches embolden him with hugs and affirmations, but what could we possibly say to heal his dejection? It got to the point where I was more devastated over my dearth of encouraging words than the outcome of the game. In that moment, I witnessed the embodiment of what it means to be a team, and was overcome with pride.
While [Tuesday] night may not have gone the way we had hoped, we bonded more through sharing one another's pain than we ever could have in celebrating a victory.
This week pushed Myer far beyond his normal limits as a kicker and a human being. He rose above the pageantry of bowl week and devoted himself to serving his team to the best of his ability. When our team was plagued with self-inflicted adversity, Myer rose above the pressure of kicking in the Sugar Bowl and paid our ransom when his number was called.
I couldn't be more proud of Myer as a teammate and as a friend. While the anguish is real, at the end of the day, he knows that his worth as a person is rooted far more deeply than the outcome of one silly kick in overtime.
Collin Carroll is the long-snapper for the Virginia Tech Hokies. He also is a writer for the school newspaper. You can follow him on Twitter at collinjcarroll.