Commentary
SEC supremacy likely to continue in '12
Originally Published:
January 5, 2012
By
Sarah Phillips
| Special to Page 2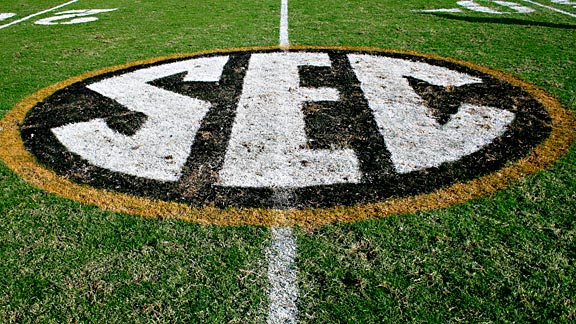 Icon SMIIf the oddsmakers are correct, the SEC is poised for yet another season of dominance in 2012.
If you've had enough of the SEC this season, you might want to avoid college football altogether next season.
That's because the SEC is primed to reign supreme again. Four of the favorites to win the 2012 BCS championship are from the SEC, according to the oddsmakers at Caesars Palace.
At 7:2 odds, LSU is the overall favorite to win it all. Star cornerback Tyrann Mathieu is among the starters who will return, and as LSU fans will tell you, "The honey badger takes what it wants."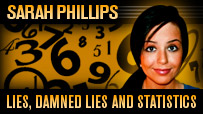 LSU is followed closely by Alabama at 6:1 ... which means the Game of the Century III will take place on Nov. 3, 2012, in Baton Rouge.
Some pundits are calling Arkansas and Georgia, both 12:1, potential dark horses in the SEC race next season. Only in the SEC can a team be 12:1 to win the national championship and still only be considered a sleeper to win the conference.
Nestled between the SEC teams are USC and Oregon from the Pac-12. At 6:1, the Trojans will be bolstered by the return of starting quarterback Matt Barkley. Oregon, at 8:1, will hope for a similar boost from LaMichael James. But even if James opts to enter the NFL draft, De'Anthony Thomas will be ready to fill the void.
Florida State (18:1), Virginia Tech (18:1), Oklahoma (20:1) and Michigan (20:1) round out the top 10 -- odds which seem to be based more on history and the size of the fan bases than actual merit.
Traditionally overrated Notre Dame is listed at 25:1, while newly overrated Texas checks in at 40:1. Perennial BCS buster Boise State is 50:1.
Other SEC notables include Auburn (28:1) and South Carolina (30:1).
Sure, it might be way too early to be discuss next season. But if the past six years are any indication, the oddsmakers are prepared for another season of SEC dominance.
So, you know the drill -- cue the chant.
This week's college pick


Allstate BCS National Championship Game
No. 2 Alabama vs. No. 1 LSU, Monday, 8:30 p.m. ET, ESPN
Fans who didn't want to see this rematch have been using the snide remark, "I want to see touchdowns, not field goals," as a means of downplaying the electricity of this matchup. But after watching BCS matchups with defenses better suited for two-hand touch, I'm going to be happy to be watching a tackle football game. Even if the score is low, LSU and Alabama will provide drama and tense moments. Numbers are largely irrelevant when teams are this evenly matched. The revenge factor tips the scale. Roll Tide.
Pick: Alabama (-1)
This week's NFL picks


Bengals at Texans, Saturday, 4:30 p.m. ET, NBC
Cincinnati is 0-6 against playoff teams this season. Fortunately for the Bengals, the Texans haven't resembled a playoff team since Matt Schaub was lost to injury. Houston is 0-3 against the spread during its current three-game losing streak. The Bengals should be able to keep the margin close in a low-scoring game and might even win outright. The under is 6-2 in Houston's past eight home games.
Pick: Bengals (+3)
Pick:
Under 39


Lions at Saints, Saturday, 8 p.m. ET, NBC
What do you get when you combine explosive offensive playmakers, such as Drew Brees and Calvin Johnson, against mediocre defenses? The highest projected total in playoff history: 60 points. But the under is 8-3 in New Orleans' past 11 games against teams with winning records. Expect the Saints to win outright, but fail to cover the spread in a (relatively) low-scoring game. New Orleans is 2-5 against the spread in its past seven playoff games.
Pick: Lions (+11)
Pick:
Under 60


Falcons at Giants, Sunday, 1 p.m. ET, Fox
Earlier this week, Giants defensive end Justin Tuck said most people would call Atlanta's offensive linemen "dirtbags" for playing through the whistle. So maybe this is the triumphant return of the Dirty Birds! New York is 1-4-1 against the spread in its past six games as a favorite. The under is 6-1 in the Giants' past seven playoff games. New York is on upset alert.
Pick: Falcons (+3)
Pick:
Under 47


Steelers at Broncos, Sunday, 4:30 p.m. ET, CBS
Broncos president John Elway has seemingly had a love-hate relationship with Tim Tebow this season. Elway has gone from openly criticizing his quarterback to saying that Tebow would definitely be under center next season for the Broncos. However, this past week, Elway said Tebow shouldn't be afraid to "pull the trigger." Don't listen to him, Tim -- run the ball. Denver is 5-1 against the spread in its past six games as an underdog, and the under is 5-1 in the Broncos' past six games on grass.
Pick: Broncos (+9)
Pick:
Under 35
Last week's picks: 10-9
Season record: 80-65-2 (55.2 percent)
You can follow Sarah Phillips on Twitter @SarahPhilli.