Commentary
NBA unveils ABA throwback uniforms
Originally Published:
January 6, 2012
By
Paul Lukas
| Page 2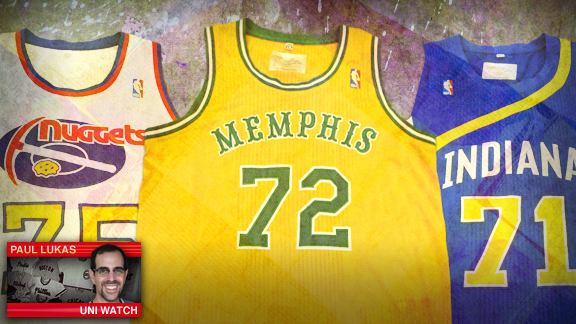 ESPN.com Illustration
When the annual Uni Watch NBA season preview was published last month, the uniforms for this season's throwback program were listed as NOPE, which stands for Not Open for Public Exposure.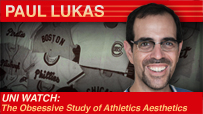 In other words, the throwback designs were being kept under wraps. Happily, NOPE has become yup, as the throwback designs are now ready for their close-up examinations.
The throwback theme this season is the old American Basketball Association, because 2012 marks the 45th anniversary of the ABA's founding. Some teams are wearing old designs from their own storied past; others are wearing uniforms originally worn by now-defunct ABA franchises in their geographic region. Here's the full slate of designs, all of which will be worn for selected games beginning on Jan. 21 (you can check out the full schedule here), along with Uni Watch's thoughts on each one:
Charlotte Bobcats, dressing as the Carolina Cougars
Uni Watch says: Just about any cartoon animal looks cool holding that old ABA ball, no? … Vanilla design, but very nice textured stitching on the chest insignia. … And look at those chenille patches on the shorts. Really have to give the NBA credit for going the extra mile on these details. … Uni Watch doesn't usually get excited about shooting shirts, but this one is really cool. … Uni Watch Grade: B+
---
Denver Nuggets
Uni Watch says: Simple rule: Anything that gives you an excuse to say "pickaxe" is generally a plus. … When people think of old Nuggets uniforms, the first thing that comes to mind is usually the rainbow design. But don't overlook this beauty. … Love the team name going down the side of the shorts. Bring back that typeface! … Uni Watch Grade: A-
---
Indiana Pacers
Uni Watch says: Ah, the racing stripe design -- a classic! Someone should revive this concept as a contemporary uniform, no? … The racing stripe was also worn by the Hawks, natch, but it always made more sense for team with a racing-based name, in an auto racing town. … Is Uni Watch the only one who thinks the old Pacers logo looks like a hand holding a tennis ball? … Uni Watch Grade: A
---
Los Angeles Clippers, dressing as the Los Angeles Stars
Uni Watch says: Very odd typography on that chest logo. … Plus the red type kinda vibrates on the light blue background. … Pretty slick logo on the shooting shirt. … Uni Watch Grade: B
---
Memphis Grizzlies, dressing as the Memphis Tams
Uni Watch says: Love it or hate it, you sure can't ignore it. … The Tams wore green and gold back in the day because they were owned by Charles O. Finley, who used that same color scheme for the Oakland A's and the NHL's California Golden Seals. … And yes, the Tams really did wear mismatched jerseys and shorts. … Too bad they're not reviving the Tams' old warm-up pants. … Uni Watch Grade: A, just for the spectacle of it.
---
Miami Heat, dressing as the Miami Floridians
Uni Watch says: The Heat wore Floridians throwbacks back in 2004, but that was the black road version. This is the first time they're reviving the white design. … Just keep telling yourself, "That stripe isn't pink, it's magenta." … One of the coolest basketball uniforms ever, but the original Floridians uni included these super-groovy socks, which the Heat presumably won't be wearing. A pity. … Uni Watch Grade: A-
---
Minnesota Timberwolves, dressing as the Minnesota Muskies
Uni Watch says: Never liked this logo. No pizzazz, no juice. … Such a simple design. Not a lot to say, except that the color combo is nice enough. Go, fish! … Uni Watch Grade: B-
---
New Jersey Nets, dressing as the New York Nets
Uni Watch says: The photo showing "York" overlapping on the red stripe is wrong, but that's just a sample jersey. The real jerseys will have the type positioned correctly. … Classic design, but I always thought the home whites looked a lot better than the road blues. … Still, have Dr. J suit up in this one and he could probably still make the Nets' starting lineup (and drop 30 besides). … Check out the close-up of the chain-stitching on the stars -- a very nice touch that they didn't have to include. Kudos, NBA! … Uni Watch Grade: B+
---
San Antonio Spurs, dressing as the Texas Chaparrals
Uni Watch says: Best. Logo. Ever. … Look at the ribbed chain-stitching on that chest logo -- magnificent. … First fan to refer to Tim Duncan as a "jolly good chap" in a British accent gets a gin and tonic courtesy of Uni Watch. … Uni Watch Grade: A
---
Warm-ups
Uni Watch says: Love those cardigans. … Not sure about the pants, though. Stretch faux-jeans? Interesting concept, dicey reality. … Again with the very nice chenille patches. Uni Watch will say this much for the NBA: They didn't skimp on the little extras. … Uni Watch Grade: B
---
All in all, a very nice set. Now if they'd just play these throwback games with the red, white and blue ABA ball -- that would be the crowning touch.
Looking to purchase these new designs? They're not available at retail yet, but they should be for sale on the NBA's web site in February.
Paul Lukas figures almost everyone else will hate the Tams throwbacks. If you liked this column, you'll probably like his daily Uni Watch web site, plus you can follow him on Twitter and Facebook. Want to learn about his Uni Watch Membership Program, be added to his mailing list so you'll always know when a new column has been posted, or just ask him a question? Contact him here.