Commentary
Iconic Blue Dog shows LSU colors
Originally Published:
January 9, 2012
By
Cam Martin
| Special to Page 2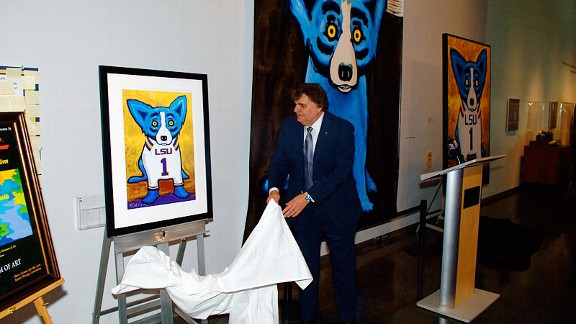 Courtesy George Rodrigue FoundationGeorge Rodrigue unveils the "A Number One Tiger Fan" print at the LSU Museum of Art.
When he was in high school in Louisiana, artist George Rodrigue -- renowned worldwide for his Blue Dog series, which was immortalized in an Absolut Vodka campaign and is now the centerpiece for an LSU football fundraising campaign -- was kicked out of class by a teacher because he wouldn't stop drawing. Rodrigue chuckles now at the memory, because that same teacher was also a local baseball coach, one who happened to tell Ron Guidry, aka, "Louisiana Lightning," to pack it up because he'd never amount to anything on the field.
"Those were his two claims to fame," says Rodrigue, 67, adding that the teacher, Ray Blanco, is now a friend of his.
Rodrigue was born and raised in New Iberia, La., the heart of Cajun country and the backdrop to many of his paintings. The iconic native oak trees of his home state have often been a centerpiece of his works (and serve as the logo for his educational foundation). But it was his take on the Cajun legend of the loup-garou (or werewolf dog, a boogeyman tale imported from France) that made his career. A new variation called "A Number One Tiger Fan" features Blue Dog wearing an LSU jersey. More than 3,000 copies of this $500 item have been sold, with all proceeds benefitting the Tiger Athletic Foundation (TAF), the George Rodrigue Foundation of the Arts (GRFA), the LSU Museum of Art (LSUMOA) and Louisiana State University.
[+] Enlarge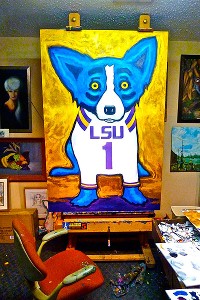 Courtesy George Rodrigue FoundationThe "A Number One Tiger Fan" painting rests on George Rodrigue's easel in his studio just after completion.
"It's been very successful... wonderful," Rodrigue says.
A huge Louisiana sports fan, Rodrigue was in the stands when LSU beat Oklahoma for the 2003 national championship and also when the Saints beat the Colts in the Super Bowl two years ago.
"That was a great game. We sat in the middle of a bunch of Colts fans, and we're doing all our Saints cheers. We got the Who Dats and the What Dats. And I turn to a Colts fan and say, 'Whaddya got?' And he's like, well, all we got is 'Go Colts.'"
Rodrigue first drew the Blue Dog for a book of Cajun ghost stories in 1984. The enchanting image was immediately popular, and over the following decades the dog has appeared in more than 5,000 incarnations. Though based on the aforementioned tale of the loup-garou, Blue Dog's features -- in particular, its uniquely angled ears -- were inspired by Rodrigue's late beloved dog, Tiffany, whose dog bowl is immortalized in a popular 1992 Absolut Vodka ad. Rodrigue and Andy Warhol were among the few artists honored with inclusion in the campaign.
Blue Dog typically has yellow eyes and, of course, a blue coat. But Rodrigue often creates variations that reflect national news or pop culture. Following 9/11, for instance, Blue Dog was turned white with stark red eyes, a reflection of the horror and sadness of the event. Proceeds from sales went to the American Red Cross. After Hurricane Katrina, Blue Dog was drawn partially submerged, a piece Rodrigue titled "We Will Rise Again." Sales helped raise more than $2 million for hurricane disaster relief, as did silk-screens that Rodrigue painted of Blue Dog alongside Saints' quarterback Drew Brees.
Rodrigue has been going to LSU games for more than 40 years, and in 2003 his painting of LSU mascot Mike the Tiger sitting in an oak tree helped raise more than $1 million to build the animal a new habitat.
"Giving back -- it's great if you have the power to do that," Rodrigue says.
An exhibit of his work at LSU last year prompted him to create "A Number One Tiger Fan." The football team began the season ranked No. 4 nationally, and sales of the artwork took off when the team rose to No. 1 in the rankings, beating hated rival and BCS title game opponent Alabama along the way.
The rematch between the two teams is taking place Monday night at the Superdome in New Orleans, but Rodrigue won't be able to make it. He has commitments he can't break in California, where he also has a home and a studio. But he's definitely going to be watching. And he'll be doing it in grand New Orleans style. "I got a big party planned for it," he says.
Cam Martin is a contributor to Page 2. He previously worked for the Greenwich (Conn.) Time and The (Stamford, Conn.) Advocate, and has written online for CBS Sports and Comcast SportsNet New England. You can contact him at cdavidmartin@yahoo.com or follow him on Twitter: @CameronDMartin.