Commentary
Tim Tebow spawns eight brainy theories
Originally Published:
January 9, 2012
By
DJ Gallo
| Page 2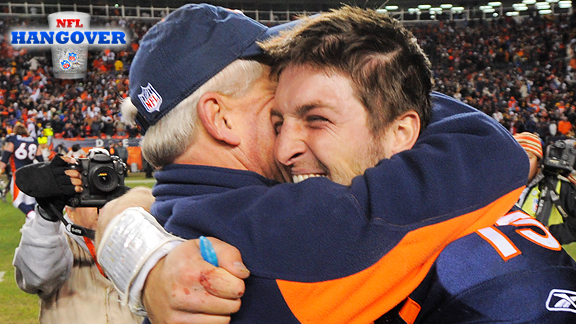 AP Images
Yet again, we were somehow all caught off guard by Tim Tebow. Not only is he winning, but he's winning in the playoffs and putting up eye-popping numbers through the air. Tebow is unlike any other NFL quarterback we've seen before. What are we to make of him? Who is he?
Here are eight theories:
Tim Tebow: Football Troll
The image of your average Internet message-board troll is that of a weak, pasty basement dweller whose life is focused on getting people riled up in comments sections. Now imagine if such a troll was a muscled 6-foot-3, 236-pounder who decided to troll the entire country on national television every week? You'd have Tim Tebow.
He started the season as the third-stringer, and everyone freaked out. Then he got a start and won, and everyone freaked out. Then in his second start, he played horribly and got crushed, and everyone freaked out. Then he went on a winning streak, and everyone freaked out. Then he went on a losing streak, and everyone freaked out. Then he won a playoff game, and everyone freaked out.

Victim count: football scouts, football media, Tebow haters, Tebow supporters, John Fox, John Elway, his teammates, me, you. At some point along the way, he's made everyone look stupid. Well played, Tebow. Well played. If the NFL were a message board, Tebow would be typing "FIRST!" in the playoffs thread.



Tim Tebow: Football Chess Master
Everyone else in football thinks play to play and game to game. But Tebow is much wiser than that. He is several moves ahead of the rest of the NFL.

Three weeks ago, Tebow saw how the playoffs were lining up. The Patriots had the inside track on the No. 1 seed in the AFC and the Broncos were the likely No. 4 seed -- setting up a first-round matchup with the Steelers and their top-ranked defense. So Tebow went out and lost to the Patriots, then played so horribly against the Bills and the Chiefs that he tricked the Steelers into playing 11 guys at the line of scrimmage. Trap set. With Pittsburgh convinced he was incapable of completing a pass, Tebow set about torching Pittsburgh's secondary with long passes -- when the Steelers easily could have contained him with a simple base defense used against every other quarterback in the NFL. Now Tebow rolls into New England to face a Patriots team that believes they already know how to stop him. How naive. Broncos by 50.



Tim Tebow: Publicity Expert
It's a slightly more refined version of the Football Troll. Tebow dominates the news cycle no matter what. When you think the Tebow story can't get any bigger, it just does. He's the Lady Gaga of football. His throwing motion is his meat dress. Doubt me? Ms. Gaga tweeted the following about her fellow traveler: "Giants fan but wow. #Tebow Thats (sic) what the f--- a champion looks like."



Tim Tebow: Sociological Experiment
We know that Tebow was a Family, Youth and Community Services major at Florida. But does anyone know if he is doing any postgraduate or Ph.D. work there? A thesis titled "Religious Quarterbacks with a Unique Throwing Motion and the Cultural Response" would be quite a read.



Tim Tebow: Media Savior
Brett Favre used to be the go-to name for members of the sports media in need of a column or segment topic. But he went away, and the collective football media panicked. Fortunately, in stepped Tebow. This alone could turn thousands of grateful sports media members to religion. And I'm as guilty as anyone else. In the past two months, I've written approximately 127 Tebow columns. But I've also started tithing. Thanks Tim!



Tim Tebow: Spiritual Icon, Motivational Speaker, Future President
Does God care about the outcome of football games? Does it matter? Tebow is making millions of people believe that God does. Just check out Twitter after any Broncos win. Or look at all the hysteria over his throwing for 316 yards against the Steelers. OMG! Like John 3:16! It's a sign! Yes, even a coincidental stat has become evidence of Tebow's heavenly favor. And 316 yards is specifically a reference to John 3:16, of course, not any of the 3:16s in the other 66 books of the Bible, such as Leviticus 3:16: "And the priest shall burn them upon the altar: it is the food of the offering made by fire for a sweet savour: all the fat is the LORD'S." Nope. Totally John 3:16.

Do standard motivational sports clichés like "doing your best" and "never giving up" and "being positive" actually inspire anyone? Apparently.

Will a wholesome, handsome ex-football star who can draw the religious vote and appeal to the tens of millions of Oprah-loving pop psychologists win 51 percent of the vote in the 2024 presidential election? No, he will win 91 percent of the vote in the 2024 presidential election. The 9 percent who don't vote for him will just be hard-core Raiders, Chargers, Chiefs, Alabama, LSU, Georgia and Ron Paul fans.



Tim Tebow: Zombie
He can't be stopped. He can't be killed. He just keeps coming for you. Coming for us all. He doesn't want to kill you. He doesn't want to eat your flesh. He just wants to win. He's the world's first wholesome, positive zombie. The only screams you'll hear are his ... celebrating another touchdown.
Tim Tebow: Good, Young Developing Quarterback
Now stay with me on this one. It's the craziest theory yet. Here we go: Tim Tebow is a young NFL quarterback who has started only 15 games in his career. As such, he is still getting acclimated to the pro game. So sometimes he plays very well, sometimes not so well, and other times he does his job and contributes to a win equally alongside his defense, running backs, etc. I know. I know. Psychotic. The rambling, incoherent thoughts of a madman. But maybe so insane that it's sane?
Quote of the Week
"I was really just trying to put my hands up and get in the way of the passing lane. It happened to kind of stick. I realized I had the ball so I just ran to the end zone just trying not to fall down."
-- Texans defensive end J.J. Watt, on his pick-six of Andy Dalton
In a humble-off between Watt and Tebow, I'm giving the nod to Watt. Now try not to fall down while accepting the award, you big, clumsy 6-foot-5, 288-pound oaf who runs a 4.7 40.
Stat of the Week
5-1
Since 2004, playoff teams that enter the postseason at .500 or worse are 5-1 in the wild-card round. Touché, NFC West and AFC West. It seems everyone else has been being good during the regular season for absolutely nothing. Fools!
Pictures of the Week
"You realize I already signed all the balls, right?"
"Yes! I love it! Noise! Make it! Make it! WOOOOOO!"
"I remember back in training camp you were this tall."
"I'm currently leading the polls in the New Hampshire primaries."
MORE GALLO PHOTO CAPTIONS!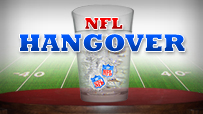 Wild-card weekend isn't complete without bonus photo captions!
DJ Gallo's NFL Hangover photo gallery

"Well, at least I'll have a good excuse for blowing a lot of calls."
"This would be a lot funnier if I was fat."
"Well, it's better than how I started the season."
"Yeah! Do it! Don't stop! Never stop!"
"We have to be careful. The longer the season goes, the greater the risk that we could over-train."
"By the way, 5,038 yards is pathetic."
"Looks like I'm Optimus Prime, loser."
"Could you please spot the ball here? Please? Then we wouldn't have to go for it on fourth down."
"Shumtimes when I hab a bad day I just wanna shtuff ma face."
"Five downs. Can you please give us five downs?"
"Sup, man. You helping me out today? Cool."
"They totally fell for the setup. Bombs away."
"I'm not Tebowing. I think I just broke my knee."
"I hear what you're saying. I'm sure we'll blow a call later that will totally make up for that one. So don't worry about it."
"God, if you're listening ... ah, come on. Busy signal again."
"Holy crap! I lost 50 grand on this game and I couldn't be happier!"
News Conference Questions Someone Should Have Asked
To Texans coach Gary Kubiak: "When your team flies to Baltimore this week, will you have the plane stop in Dallas so you can all mock everyone there?"
To Falcons coach Mike Smith: "Will you trade your entire draft away this year to draft one short-yardage back?"
To Broncos coach John Fox: "Were you going to pull Tebow for Brady Quinn if he failed to complete the first pass of overtime for an 80-yard touchdown?"
Five Things I Think I Meant to Think
1. Andy Dalton had a very good rookie year. Yet he played his worst game of the season in the playoffs. He is now 0-1 in the postseason. It's only one game, but just in case this trend continues throughout his career, I would like to be the first to propose that Dalton's nickname be A-Red. (Note: The preceding sentence serves as a de facto copyright. All future uses of "A-Red" require that I be paid $50. The price goes up to $500 if Dalton ever plays in the New York market.)
2. The Packers are an early nine-point favorite on Eli Manning and the Giants. The weather forecast for Green Bay on Sunday calls for temperatures in the 20s. This could be bad. Very, very, very bad. If the Giants get crushed, Eli Manning Face could freeze in place, that frown never to be turned upside down.
3. Mike Smith will not go down as one of history's great football coaches. He might not ever even win a playoff game. But his tenure, and specifically his 2011 season, will be hugely significant in NFL history. Head coaches are very conservative. Failed opportunities and leaving points on the board lead to losses, they believe, and losses lead to getting fired. Fourth-and-short in field-goal range? They'll always take the points. Going for it isn't worth the risk!
Except it is worth the "risk." Statistics say a team has a better chance of winning by going for it in such situations. The fear most head coaches show on fourth-and-short is the biggest pet peeve of football's growing sabermetrics community. Then Smith comes along. And goes for it on fourth-and-short in overtime in his own territory in the regular season and fails. Then again and again, the Falcons fail on fourth down in the playoffs on national television. Now no matter what the number crunchers tell him, no coach will have the guts to keep his offense on the field on fourth-and-short ever again, and the football sabermetrics movement might die in the cradle. An entire industry killed by Atlanta's backward-inclined offensive line and Matt Ryan's weak, churning legs. Tragic.
4. Houston Texans, New Orleans Saints, LSU, Alabama. You can try to act a little less smug, Gulf Coast. But you won't. S-E-C! N-F-L! S-E-C! N-F-L!
5. The new postseason overtime rules are better, but it's still pretty unfair to have your season end without ever getting to touch the ball. Well, unless you get burned for an 80-yard touchdown on the first snap. Then it's totally fair. But other than that: not fair. Not fair at all!
DJ Gallo is the founder of SportsPickle.com. He has written a book and written for Comedy Central, The Onion and ESPN The Magazine. He co-hosts the Page 2 Podcast and has appeared on ESPNews. You can follow him on Twitter at @DJGalloESPN.