Commentary
A half century of memories in baseball
Originally Published:
January 11, 2012
By
Jim Caple
| Page 2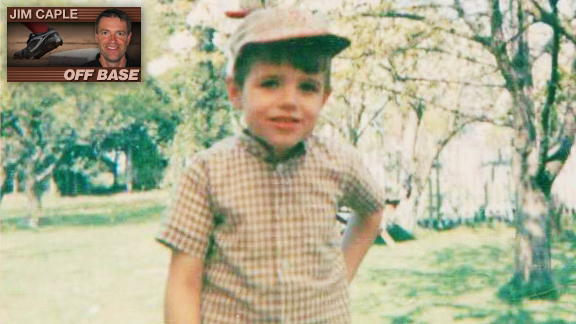 Courtesy of Jim CapleFrom his backyard baseball days to the present, Jim Caple reflects on a half century of memories.
I turn 50 years old this month, which means I no longer know what music is popular unless baseball teams play it over the ballpark speakers. (I predict big things for that "Coldplay'' guy. I may write about him on MySpace.)
No active major leaguer is older than me, though whippersnapper Jamie Moyer was born the same year (will some team please sign him?!?!?!). Good Lord, I'm older than the Hall of Famers I now elect (Barry Larkin is two years younger). I am older than every stadium except Fenway Park and Wrigley Field. And if it seems odd to use baseball as an age barometer, it isn't. That's because the game has been an integral part of my life for as far back as I can remember …
Age 5-6: I begin learning to read by studying baseball cards. While others read "See Spot Run," I struggle over phrases such as, "In the winter, Carl Yastrzemski works for a Boston printing firm."
Age 7: My dad drives us to Seattle's Sicks Stadium where my family and 6,696 other fans watch Jim Bouton and the expansion Pilots lose to Cleveland. Bud Selig will hijack the team and move it to Milwaukee the next year. I still think about this whenever I interview him.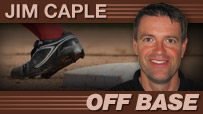 Age 8: My career in organized ball begins when I play T-ball for the Pirates, who go 0-15 with an outfielder who missed a fly ball while picking dandelions and a first baseman who missed my throw from second base because he literally fell asleep standing up. In other words, we were a lot like the 1993 to 2011 Pirates.
Age 9: I get up in front of my class and tell my fellow third-graders that my favorite player, Willie Mays, hit a home run for the fourth game in a row to start the San Francisco Giants' season. Thus starts my sports reporting career.
Age 10: I wake up to read the Giants traded Mays. I do not understand this at the time, but 40 years later and with a quarter-century of experience covering the ins and outs of game … I still do not remotely understand it.
Age 11: I get promoted to the "major" level in Little League, where I get to wear a real uniform, with a button-up jersey, pants and stirrup socks. No other promotion will ever feel so good. Unfortunately, we will wear these uniforms the next year.
I also beg my parents to drive us to San Francisco for vacation so we can watch my beloved Giants play before they trade away Willie McCovey, and also stop in Santa Rosa to see the studio of "Peanuts" cartoonist/genius Charles Schulz. My mother says no, if we visit San Francisco there will be an earthquake.
Age 12: I read "Ball Four" for the first of an estimated 20 times, then decide to keep a diary of my Little League season. The diary lasts just two days, so there is no written record of the day when I am NOT elected to our All-Star team that eventually wins the state championship. Not that I need it. I retain a vivid memory of climbing a tree and sobbing for several hours until my brother tells me to come in for dinner. This remains one of my life's biggest disappointments.
Nevertheless, my parents drive us 1,100 miles to San Bernardino in a car with no air conditioning to see the team play for the western Little League championship where it falls one win shy of advancing to Williamsport, Pa. I keep score, take notes, compile stats and spill mustard on my shirt, just like a baseball writer. We also visit Disneyland in what is the greatest vacation our family ever takes. Except for one thing: On the way back, my parents refuse to stop in San Francisco to see the Giants. My mom is certain there will be an earthquake.
Age 13: I make the jump from Little League to Babe Ruth, where the field increases to major league dimensions. My body does not make the jump.
Age 14-15: My body still does not make the jump.
Age 16: With my body still Little League-sized, I foolishly tell my junior varsity coach that I know how to keep score. So I keep score on the bench the entire season. This begins a brief period when baseball and I explore other relationships.
Age 17: Late in the year, my girlfriend lets me get to second base in the parking lot of my old Little League park.
Age 18: My girlfriend lets me get to third base in the parking lot of my old Little League park.
Age 19: In the same 30-day span, my girlfriend lets me go all the way and cross home plate, then moves two time zones away. I get fired from a lucrative summer job. Baseball goes on strike. This remains the worst summer of my life.
Age 20: I work my way through the University of Washington as a night watchman, passing time by playing Statis Pro Baseball and writing up summaries on the office typewriter, then copying them off for my co-workers. It's like a blog, only with paper.
Age 21: I write my first story for the UW paper, an essay on the retiring Carl Yastrzemski. When I see my byline, I give up any thoughts of attending law school to instead become a sports writer. That fall, I visit my sister, Kathy, in Boston and see a game in Fenway Park. After the game, Kathy helps me pick up three dozen discarded plastic Red Sox beer cups that I bring home to Seattle. They will serve as my glassware until I get married.
Age 22-23: I start covering games as a newspaper intern/freelancer. A Dallas paper asks whether I can fill in for their beat writer at a Rangers-Mariners series for $100. To file my stories, I buy a used TRS-80 Model 100 computer, which has 8K memory and shows eight, 40-character lines of text at one time and is considered state of the art for reporters. It requires acoustic couplers that attach to a phone receiver and don't work when there is any background noise or vibration, which means it rarely works inside a loud stadium, but is just fine for a 1980s Mariners game.
Age 24: I begin a job editing copy for Bill Mazeroski's Baseball Preview, where I read (and edit) Jayson Stark's work for the first time. I have a new hero in journalism.
Also, the Mets beat Boston in the World Series, and my old girlfriend, now living in New York, calls to rub it in. I hang up, wondering how we could have drifted so far apart that she doesn't realize how painful the loss was. We won't speak again for three years.
Age 25: I take a job at the Bellevue Journal-American newspaper, covering the Mariners when I'm not reporting on prep swimming and horse racing and working the desk. In one of my first game stories, I misspell Todd Stottlemyre's name 27 times.
Age 26: The Cubs install lights at Wrigley Field. I stay up all night at the office writing a story, then call when tickets go on sale at 5 a.m. for the first night game. Somehow, my call gets through, and I buy tickets for myself and my friends Sarge and Boog. We fly to Chicago for the big night and get soaked in the heaviest rainstorm I've ever experienced. The game is called before the fifth inning. I still have my giveaway cap, and I'm not sure it has dried out yet.
I also fly to New York and visit Yankee Stadium for the first time. My friend, Steve Buckley, calls the airline without asking me and changes my flight to a day earlier so I can play in his media baseball game with other New York writers. Yes, you really could do such things with an airline ticket in those days.
[+] Enlarge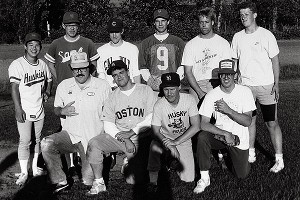 Courtesy of Jim CapleHere's the Widowmakers softball team that captured the University of Washington championship in 1988.
Age 27: Weeks after my IMA softball team wins the UW championship -- the highlight of my athletic career -- the St. Paul Pioneer Press hires me to cover the Twins, my first job as a traveling beat writer for a major metro paper. During a trip to New York at the trade deadline, I reconnect with my old girlfriend. We are heading up to my room at the Grand Hyatt when the elevator opens and the Twins' traveling secretary tells me the team has just traded Frank Viola minutes before the midnight deadline. I frantically call in a story, but feel so anxious afterward that I just lie in bed next to my ex-girlfriend, not even attempting to reach first base because I'm worried my editor will fire me for not knowing about the trade earlier.
He doesn't, and that fall I cover the World Series and finally attend a game at Candlestick Park. I get tickets for my dad, brother and brother-in-law. Naturally, the worst earthquake since 1906 strikes San Francisco just before the first pitch. Watching at home, my mother says, "I warned them."
Age 28: While covering the World Series, I stupidly decide to proofread my preview story while eating a bowl of French onion soup. Naturally, I spill the soup over the keyboard of my TRS-80. The tiny screen immediately goes blank, but I am able to fix it by drying out the keyboard with a hair dryer. Those TRS-80s were limited, but they were resilient.
Age 29: I cover the Twins when they go from worst to first and win the World Series. I bang out three stories on Jack Morris' 10-inning Game 7 shutout on a TRS-80 Model 200 that shows 16 lines of copy and has an attachable disk drive that allows me to store text!
The year's highlight, however, occurs months earlier in the Metrodome press box, after I complain (again) to columnist Bob Sansevere that I can never meet any women in my job. He picks up the phone, dials a number, hands me the receiver and says, "This is just the woman for you." Which is how I met my wife. (I'll know we are truly meant for each other when she invites me to play on her softball team, the Flyballs, and unlike my old t-ball teammate, remains awake to catch my every throw from short to first base. We even turn doubleplays. I'm so impressed, I tell Twins manager Tom Kelly about her but he simply grunts and takes another dip of chew.)
Age 30: My rival on the Twins beat, Jeff Lenihan of the Minneapolis Star-Tribune, gets a cell phone. Players, coaches, management and writers mock him. A cell phone? Really? Who needs a cell phone?
Age 31: I interview Charles Schulz over the phone for a feature on baseball in St. Paul (his hometown). He invites me to drop by his studio if I'm ever near Santa Rosa. I do so when the Twins have an off day in Oakland. It is risky to interview your heroes, because you will often be disappointed. But not in this case. Schulz was one of the nicest men I've ever met, and the afternoon we talked baseball for more than an hour remains the greatest experience of my career.
Age 32: I leave the full-time Twins beat (replaced by the superior Scott Miller), which allows me time for such things as coaching a Little League team with my friend Jeremy. It's the first time I've coached since I was 17, when one of the 12-year-olds asked me during batting practice what sex was like (as if I knew). I leave our first practice thinking how incredibly difficult baseball is. A few hours later, I rush to the Metrodome to watch the final inning of Scott Erickson's no-hitter and think how a pitcher can make baseball look so easy.
Age 33: During an owners meeting in Minneapolis, I meet an odd, long-haired writer filing reports to something he calls the World Wide Web. I have never heard of it. Jerome Holtzman and I look at his screen as he describes how this World Wide Web works, and we are utterly baffled. I think: Is this guy absolutely nuts -- or is this the future?
Age 34: It was the future. I start filing freelance reports on the Twins for Paul Allen's new startup, Starwave. I am writing for that World Wide Web thing, though I still do not understand where the carbon paper goes.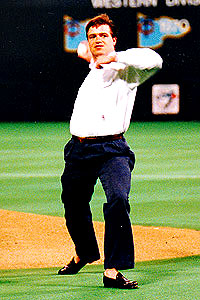 Courtesy of Jim Caple Our humble correspondent throws out a first pitch before a Twins game at the Metrodome.
Age 35: I meet St. Paul Saints co-owner Bill Murray in the clubhouse and he says something I wrote in that day's column was very funny. I live on this compliment for months until Murray calls my editor and demands my firing for another column that was mildly critical of the team.
Age 36: I start writing my weekly Off-Base column for Starwave, which is now owned by Disney and will soon become ESPN.com. This means I am soon writing for the company I worshipped as a child, the one that produced Donald Duck comic books and "101 Dalmatians."
Age 37: After 10 years in the Baseball Writers' Association of America, I receive my first Hall of Fame ballot. Almost immediately, I start receiving criticism for my Hall of Fame votes.
Age 38: I return to Seattle to become the national baseball writer and backup Mariners writer to the excellent John Hickey for the Seattle Post-Intelligencer. During a company softball game, I stupidly don't back off when another outfielder calls for a fly. We collide, and I break my foot, essentially ending my softball career. My wife and I struggle to find an affordable house. My laptop is stolen at Shea Stadium. Then the Newspaper Guild goes on strike. In the midst of this stupid, infuriating strike, I receive a call from ESPN.com asking whether I would like to work full-time for them.
Age 39-42: I begin writing full-time for ESPN, the four magic letters that open doors for me everywhere, including the Fenway Park scoreboard. I cover baseball everywhere from Athens to Hiroshima to Wrigleyville, touring every big league ballpark as well as townball sandlots in Minnesota while learning that baseball diamonds are dazzling no matter their location.
Age 43: My lifelong hatred for the Yankees pays off with the publication of my first book, "The Devil Wears Pinstripes." Red Sox fans, however, are more interested in the approximately two dozen books about their recent world championship than the Yankees. So once again, New York screws me, this time by losing! Damn Yankees!
Age 44-45: I achieve a baseball writer's most coveted honor: lifetime platinum status in Marriott's rewards program.
Age 46: Bert Blyleven hits me with a pitch at Twins fantasy camp, and R.A. Dickey pitches to me in spring training. Now I just need to hire Scott Boras.
Age 47: I cover the last Twins game at the Metrodome, saying good-bye to the stadium where I listened to Kirby Puckett's laugh, suffered Tom Kelly's angry, profanity-filled shouts and first heard my wife's voice. Snowflakes drift down when I exit, as does a single tear.
[+] Enlarge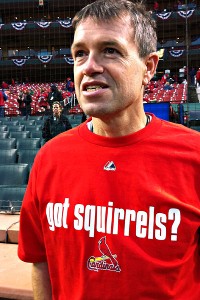 Marty Bernoski/ESPN.com Few get to experience the sport
of baseball as personally as Jim Caple. Fortunately, he brings us along for the ride each week.
Age 48: The Giants, my boyhood team whose games I listened to through the static of weak radio reception, win their first World Series since moving to San Francisco. The winning pitcher of the final game is Tim Lincecum, who grew up a couple of miles from where I now live, frequented the same card shop I do, was smaller than me in high school and lived on the same floor of my college dorm (albeit years after I covered the walls with "Star Wars" posters). And I'm there to see it.
Age 49: My parents sell their home of 50 years, and I say good-bye to the ballpark where I played so much baseball and dreamed about a career in the game, a dream that came true.
Age 50: I've reached the half-century mark. I have seen both my boyhood teams win the World Series, batted off an All-Star (Matt Thornton), caught a first-round draft pick and been hit by a pitch from a Hall of Famer. Charles Schulz drew a cartoon for me. Jim Bouton ran a quote from me on the book jacket of his latest edition of "Ball Four." Bill Murray tried to get me fired. Off-Base is the longest-running column on ESPN.com. Jayson Stark and I record videos together which are then posted on this thing called the World Wide Web.
In the words of Chico Escuela, baseball has been berry, berry good to me. I owe it my career, my friends and my wife.
But I'm not done. I want to cover the Mariners in Japan this year. I want to write a book about baseball around the world. I want see a no-hitter from beginning to end. I want to be in Cooperstown when Jayson and Scott Miller receive the Spink Award. I want to see a World Series game at Wrigley (though it probably would be better for fans if the Cubs lose). I want to cover the Mariners in the World Series and get tickets for my family to watch them win it.
I want to live many more years and have baseball be as wonderful and rich a part of that life as it has been for my first 50.
Except this time, I would like to make an All-Star team.
CSI: BOX SCORE
You know the drill. Each week I provide a fragment from an old box score and challenge you to determine what game it is from and why it's significant. I give this one a difficulty rating of 4.0. Answer below.

BASEBALL CARD OF THE WEEK
[+] Enlarge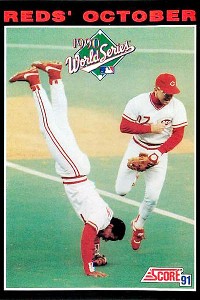 Score/Pinnacle Welcome to Cooperstown, Barry.
Congratulations, Mr. Larkin. Go crazy. (1991 Score No. 795)
YEAH, WELL, THAT'S JUST LIKE YOUR OPINION, MAN
If He Does Reach Cooperstown, We'll Know Which Cap He'll Wear: Will Jorge Posada end up in the Hall of Fame? It will be close, but his numbers compare favorably with Bill Dickey, Gary Carter and Gabby Hartnett, all Hall of Fame catchers. Posada was the backstop for five World Series champion teams -- no small feat -- and he should have been the MVP in 2007 when he had a .426 OBP and a .970 OPS, which is incredible production for a catcher (Johnny Bench had an OPS of .932 and .920 in his MVP years -- Joe Mauer's was 1.031 in his MVP year). ...
Now, If Only Seattle Can Sign Someone Who Can Hit: The Mariners made a potentially terrific deal when they signed Hisashi Iwakuma. The Rangers paid $51 million to negotiate with Yu Darvish, who likely will cost them another $50 million. Darvish has been a great pitcher, but that's still a lot of money. The Mariners, meanwhile, got Iwakuma for a base salary of $1.5 million, one year after Oakland was unable to sign him after his posting cost nearly $20 million. When the Athletics are willing to spend $20 million just to negotiate with a player, you know there must be some value there. Iwakuma was 55-31 with a 2.67 ERA and a 1.130 WHIP in Japan, including last season when an arm injury limited him to 119 innings. The risk is low, and the potential upside is high.
By the way, the Mariners are owned by Nintendo, but as Larry Stone wrote in the Seattle Times last week, the perception they have signed a lot of Japanese players isn't exactly accurate. The Mariners have signed three major players from Japan. Kaz Sasaki was a solid closer for a couple of seasons, though his well-compensated departure angered some players. Ichiro's signing brought them a future Hall of Famer. Kenji Johjima was an expensive disappointment, but he was still better than the catchers Seattle has employed since he left. The Mariners also signed Shigetoshi Hasegawa, but he was already an established major leaguer when he came to Seattle, so he doesn't count. Mac Suzuki and Maso Kida were minor additions who cost the team as little as they contributed. Infielder Munenori Kawasaki agreed to a minor league contract this year, so he was signed with zero risk. ...
Meanwhile, The Lifetime Title For Baseball Writers Is "Mr. %$#@*&!" Have you noticed how media and fellow candidates personally address Newt Gingrich as "Mr. Speaker," even though he hasn't been Speaker of the House since Cecil Fielder was still in the majors? This honorific "Mr. Speaker" for life title is a bit like football coaches who are referred to as "Coach" for the rest of their lives no matter how long they coached or at what level. Major league managers don't receive this honor, because they are never referred to by their title. No one ever directly addresses them as "Manager" and they bristle when called "Coach." About the best title they can get is "Skip," which lacks a certain dignity. ...
CSI: BOX SCORE ANSWER
There are two clues. One is the 1-0 score you can see in the totals for each team. The other clue is the recognizable names of players from Atlanta and Minnesota. Yes, this the 10-inning, 1-0 Game 7 shutout Jack Morris threw to win the 1991 World Series just miles from his boyhood home in St. Paul.
Jack received 66.7 percent of the Hall of Fame vote this year, a leap of 13 percent and 71 votes. But he still needs to jump another 8.3 percent (around 50 votes) and has only two years left on the ballot. It will be interesting to see how the addition of Barry Bonds, Roger Clemens, Sammy Sosa, Curt Schilling, Mike Piazza and Craig Biggio to the ballot will affect Morris. Steroid-associated players might help his cause, but the addition of so many players could just as likely hurt (writers can vote for only 10 players). If he doesn't make it next year, his chances might decline the year after that, when Greg Maddux and Tom Glavine -- better pitchers than Morris -- become eligible.
Jim Caple is a senior writer for ESPN.com. You can follow him on Twitter at jimcaple.