Commentary
Peyton Manning alters XLVII future odds
Originally Published:
January 19, 2012
By
Sarah Phillips
| Special to Page 2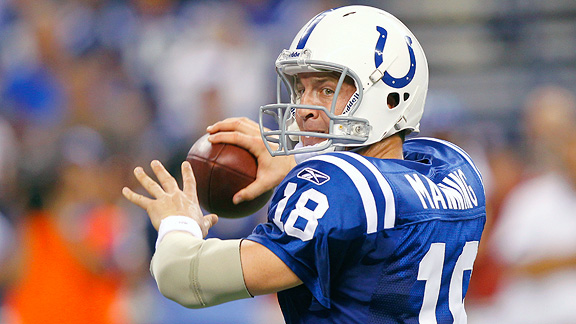 Joe Robbins/Getty ImagesPage 2 examines how the future of Peyton Manning could shape the odds on Super Bowl XLVII.
Peyton Manning represents the largest variable for the 2012-13 NFL season.
This past Monday, the Las Vegas Hotel and Casino sports book released early Super Bowl XLVII futures odds. The usual suspects are among the favorites: Packers (5:1), Saints (6:1), Patriots (8:1), Steelers (12:1), Eagles (12:1) and Ravens (12:1). Perennial long shots are also lined up in familiar spots: Browns (100:1), Jaguars (100:1) and Rams (100:1).
Nestled somewhere in the middle are the Colts at 40:1 -- odds which reflect issues from this season's failures, significant changes in the front office and myriad questions surrounding Manning's status.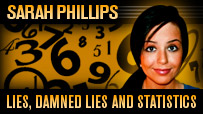 Assuming Manning receives a clean bill of health, rumors of his potential destinations include Washington, Denver and the New York Jets. Of course, there's also the possibility that Peyton could remain in Indianapolis. A healthy Manning starting at quarterback for any of the aforementioned teams would greatly alter next season's championship odds, according to oddsmakers who spoke to Page 2.

Indianapolis Colts
Projected 2012-13 starting quarterback: Andrew Luck
Current odds: 40:1
Is it possible that Indianapolis will hold on to Manning and draft Stanford star Andrew Luck? Sure, but a mentor-pupil scenario doesn't seem viable with Manning due $28 million in March. If Indy decides to retain Manning, then it would make the most sense to draft for immediate gratification -- a running back, linebacker or cornerback. Or, Indy could trade the top pick for veteran talent to fill its multiple gaps on defense. However, Colts owner Jim Irsay has said publicly that he's planning to draft Luck with the No. 1 overall pick.
Still, according to oddsmakers, the Colts' best chance to win it all next season definitely comes with Manning under center.
Odds to win Super Bowl XLVII with Peyton Manning: 25:1

Washington Redskins
Projected 2012-13 starting quarterback: Rex Grossman
Current odds: 100:1
The Redskins are listed at 100:1 to win Super Bowl XLVII with Grossman at the helm. In Vince McMahon terms, Las Vegas is giving the Redskins no chance in hell to become champions next season. Grossman's quarterbacking ability has been characterized as inconsistent at best.
Oddsmakers believe Grossman's poor play has often magnified the lack of talent on Washington's roster. So adding Manning could help mask some of the Redskins' talent deficiencies -- similarly to what he did in Indianapolis. After all, Manning elevated Pierre Garçon and Blair White into legitimate offensive threats during seasons in which pundits claimed Indianapolis was depleted at wide receiver.
The most glaring aspect of this scenario might be cosmetic: Can you imagine Manning on the Redskins?
I can't.
Odds to win Super Bowl XLVII with Peyton Manning: 50:1

Denver Broncos
Projected 2012-13 starting quarterback: Tim Tebow
Current odds: 50:1
Broncos president John Elway has had commitment issues with Tebow. This past week, Elway took a step forward with Denver's polarizing quarterback. Or maybe it was more of a PR move? Elway named Tebow the starting quarterback going into next season's training camp, which is basically the equivalent of receiving a gold star in kindergarten -- it means nothing. The big question for Denver: Who will be the Broncos' starter on Opening Day?
It's possible Denver will stick with Tebow. But if the Broncos decide to make a change, Denver will need to be cognizant of public backlash. Acquiring Manning might be too good an idea to resist, though. According to oddsmakers, Manning's greatest contribution would be providing the Broncos with a prototypical pro-style quarterback to complement a steady running game and stout defense.
Even with the addition of Manning, there would be room for Tim in special packages. At a minimum, Tebow could still lead the team prayer.
Odds to win Super Bowl XLVII with Peyton Manning: 25:1

New York Jets
Projected 2012-13 starting quarterback: Mark Sanchez
Current odds: 20:1
During Sanchez's time with the Jets, he has led the team to two AFC Championship Games. Still, many fans have been unimpressed with his play. Those sentiments are apparently shared by at least a few unnamed Jets players as well, according to recent reports.
If Manning replaced Sanchez as the Jets' starter, New York would tentatively become the co-favorite to win the AFC, alongside the Patriots. Although the Jets had their share of chemistry problems this past season, they still have arguably the best roster among the potential Manning destinations. Oddsmakers believe Manning would provide the stability and leadership New York clearly lacked last season.
Perhaps most importantly, if Manning joins the Jets, we might finally give some credibility to Rex Ryan's annual Super Bowl guarantee.
Odds to win Super Bowl XLVII with Peyton Manning: 8:1
This week's NFL picks


Ravens at Patriots, Sunday, 3 p.m. ET, CBS
New England's best player in last week's win over Denver was quarterback Tom Brady. The best player for Baltimore last week was Texans wide receiver Jacoby Jones. That doesn't bode well for the Ravens' chances to win Sunday. Still, New England is 1-6 against the spread in its past seven playoff games, including 1-5 against the spread in its past six playoff games at home. Expect New England to win, but look for Baltimore to cover the large spread.
Pick: Ravens (+7½)


Giants at 49ers, Sunday, 6:30 p.m. ET, Fox
Eli Manning is two wins away from surpassing big brother Peyton in Super Bowl wins. If Eli > Peyton, I'm convinced the Mayans are right about 2012. San Francisco is 9-0 against the spread in its past nine home games. The 49ers are going to the Super Bowl. And Peyton > Eli.
Pick: 49ers (-2)
Last week's picks: 4-4
Season record: 87-75-2 (53.7 percent)
You can follow Sarah Phillips on Twitter @SarahPhilli.