Commentary
Duke attendance problem easy to solve
Originally Published:
January 26, 2012
By
DJ Gallo
| Page 2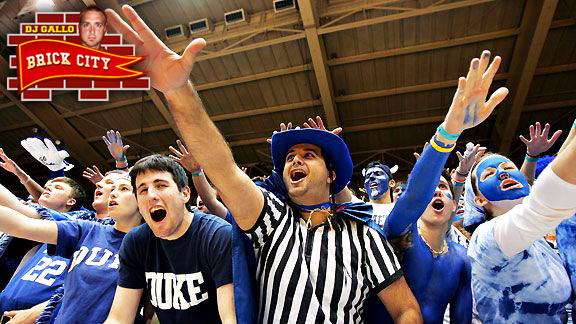 AP Photo/Gerry Broome
The craziness of the Cameron Crazies is down significantly. According to the student-run Duke newspaper, The Chronicle, attendance for the 1,200-seat Section 17, where students sit, has dropped consistently over the past five years, forcing the Duke athletic department to sell unclaimed seats to non-students.
The article touched on six problems that have led to the drop in attendance. But as any freshman Duke business major knows, problems are nothing but opportunities. Here is how Duke can fill Section 17 again:
Other events
Problem: When Duke played Wake Forest last week, 400 tickets were made available to non-students due to the game's competition with fraternity and sorority rush.
Opportunity: Joining a fraternity or sorority and going to a Duke basketball game are not mutually exclusive things. You can recite a sorority's motto from memory ... at a basketball game. You can drink a glass of water with a goldfish in it ... at a basketball game. All it does is raise the stakes. It's not as if Duke students have shown an unwillingness to humiliate themselves at games.



WatchESPN.com
Problem: WatchESPN and other online viewing options have convinced some students to watch Duke games from the comfort of their dorms.

Opportunity: Mobile viewing is outstanding. But it doesn't replace the atmosphere at Cameron Indoor Stadium. There's no rule banning smart phones from the arena, so streaming video content can still be accessed at the game. Having the game running live on your mobile device is a great companion to being in the gym. Watching a cat playing the piano on YouTube during a timeout is even better.



In-game entertainment
Problem: "Every other school in the country is playing canned music during timeouts, doing cheesy promotions," Mike Forman, director of marketing relations for Duke basketball, says in the Chronicle article. "We try to stay away from that."

Opportunity: What would you say you do here, Mike? Attendance is down among our students and there's really nothing that can be done about it because that's not how we do things here. Oh, well. Another exhausting day at the marketing relations office.



In-game expectations
Problem: "It does take a lot to go to K-Ville and wait outside, sometimes in the cold and in the rain, and then go into Cameron where you have to stand and jump up and down," said co-head line monitor Ellie Garrett.

Opportunity: America has a fitness problem. Duke is part of America. There must be hundreds, even thousands of students who will not attend a Duke game because they are incapable of standing and jumping up and down for two hours. That's OK. Just divide Section 17 down the middle -- half for fit Duke students and half for the unfit. Instead of standing up and jumping, they can sit and wheeze. Duke just needs to get bodies in the seats, no matter the size of the bodies.



Krzyzewskiville
Problem: As Ms. Garrett said in her quote above, many students don't want to camp out in Krzyzewskiville.

Opportunity: Duke education or not, there currently aren't a ton of high-paying jobs available for 22-year-old college graduates. It wouldn't hurt to get used to living in a shanty town.



Opponents
Problem: As the ACC has declined in recent years, from a good top-to-bottom conference to a top-heavy conference, there is less allure for students to come see the Blue Devils drub teams such as NC State, Miami and Maryland.

Opportunity: That the inferiority of Duke opponents is somehow a negative shows that the marketing arm of Duke basketball has truly been asleep at the wheel. Students attend Duke because they want to be and feel elite. What is a better way to do that than watch your basketball team crush a state school? Anytime Duke is favored at home by double digits, it shouldn't have an attendance problem -- it should be turning students away from Cameron. "Come. Celebrate Duke superiority."




Sweet 16

1. Kansas fans impressively tried to make Texas A&M players "Cundiff" their free throws on Monday night. It worked: The Aggies shot just 7-for-11 -- 63 percent -- from the line, as the Jayhawks won 64-54. Wait. Sixty-three percent is actually above Texas A&M's free throw percentage for the season. Wow. They shoot only 62 percent from line on the season. Billy Cundiff is way better than that. Making 6-of-10 from 15 feet is Gramatica bad.

2. Speaking of free throws, Missouri forward Ricardo Ratcliffe is shooting 67.9 percent from the line this season. That's not extraordinary. However, he's shooting 75.4 percent from the field, which A) puts him on pace to break Steve Johnson's 31-year-old Division I record for field goal percentage in a single season and B) makes absolutely zero sense.

3. This week's Brick City coaching tip: Foul Ratliffe every time he tries to shoot. We'll call it the Hack-o Ricardo approach. It's a terrible nickname, but the stats say it could be effective. Success will cause the name to eventually catch on.

4. In attendance at Monday's Kansas-Texas A&M game was one Tommy Lasorda. If any Jayhawks students use Twitter -- and why wouldn't you when 83-year-old retired baseball managers do? -- Mr. Lasorda would like to know what that nonsense is that you're saying all game.

5. Maryland named its home court after retired coach Gary Williams on Wednesday night. But former Maryland head coach Lefty Dreisell, who coached at Maryland for 17 years prior to Williams' arrival, doesn't care for the new name: "It's not fair to my players that they would put Gary Williams' name on the court," he told The Baltimore Sun. "It's a disservice to players such as Tom McMillen, John Lucas, Len Elmore, Brad Davis, Greg Manning, Adrian Branch and Steve Sheppard." Hmm. Seems like a bit of a quandary. Ooh! I know. They should name the court after former coach Flucie Stewart (27-50 record from 1947-50) or even Frank Fellows (16-34 record from 1967-69). Then no good players will feel overlooked. How about Frank Fellows Court at Flucie Fieldhouse? There. Everyone wins.

6. Williams did his trademark fist pump one last time on Wednesday night when he took the court to the delight of the Terrapins faithful. Thankfully, Tiger Woods and Jeff Fisher are back. Otherwise, the sports world would be running dangerously low on fist pumps.
7. Nike is rolling out a series of gray uniforms for some of its college basketball teams. I'm not a fan of gray uniforms, but the players probably like the look. But I bet they change their mind when Liam Neeson tries to kill them.

8. Old Dominion will be wearing blue uniforms at home and on the road for the rest of the regular season, because their home whites and some basketball shoes were stolen from the team locker room over the weekend. That's a smart thief. Millions of people wear authentic Old Dominion jerseys around the country, so sporting one won't make anybody suspicious.

9. Towson extended its record losing streak to 41 games this week with a 12-point loss to George Mason, a 19-point loss to Delaware and a 25-point loss to VCU. How bad are the Tigers? When interviewed at the half against Towson, George Mason head coach Paul Hewitt said: "We're in a little bit of a funk." The Patriots were up 17 at the time.

10. But it is the Brick City vow to always mention something positive about Towson each week. So here we go: A year ago, the Towson football team went 1-10 and 0-8 in its conference. This season, the team went 9-3 and became the first program in NCAA history to make the playoffs at the Division III, Division II and Division I levels. That's a quick turnaround. So you might want to go ahead and write in the Tigers as your 2013 NCAA tournament Final Four team out of the CAA. (But probably just in pencil for now.)

11. This week's Name of the Week honor goes to Hawaii guard Pi'i Minns. His full given name is Carl Pi'iali'i Minns. But "Carl" is obviously a bit tough to pronounce.

12. Oh, no. The SEC's football superiority is seeping into basketball. Here's Kentucky's John Calipari: "What happens is we don't promote each other enough. Part of it is us coaches. We've got to brag about [the other teams]. Like mention the other guy's name. We have to brag about each others' programs. Even if you lose or win, you brag about the other guy. ... But this league is as good as any league in the country, and road games are hard to win." Calipari then went on to say that as many as eight or nine SEC teams could make the NCAA tournament. Oh. OK. He must not be talking about basketball. He's talking about a theoretical NCAA football tournament.

13. Buffalo point guard Jarod Oldham has 110 assists this season and only 80 shot attempts. That's a selfless point guard. Best of all, he shoots just 27 percent from the floor, so almost three-quarters of his shots still give his teammates an opportunity to get involved.

14. Syracuse center Fab Melo is still out of action because of academic issues. His Syracuse bio says he is enrolled in the College of Arts and Sciences. There's the problem. Melo is Brazilian. He should have majored in Portuguese. It's almost as if he was trying to fail.

15. Only 45 days until Selection Sunday! If you believe that San Diego State deserves anything worse than a No. 4 seed out of the Midwest, you, sir, are a dirty liar!


16. The biggest game of the weekend is Sunday at 1:00 p.m., when No. 22 Michigan visits No. 3 Ohio State. The Buckeyes and Wolverines are tied atop the Big Ten standings, with Michigan State at 6-2. It's a huge game for Ohio State, for obvious reasons: There could be some football recruits in attendance. Urban Meyer needs to impress them.
DJ Gallo is the founder of SportsPickle.com. He has written a book and written for Comedy Central, The Onion and ESPN The Magazine. He co-hosts the Page 2 Podcast and has appeared on ESPNews. You can follow him on Twitter at @DJGalloESPN.