Commentary
Prop bets reveal Super Bowl outcome
Originally Published:
January 26, 2012
By
Sarah Phillips
| Special to Page 2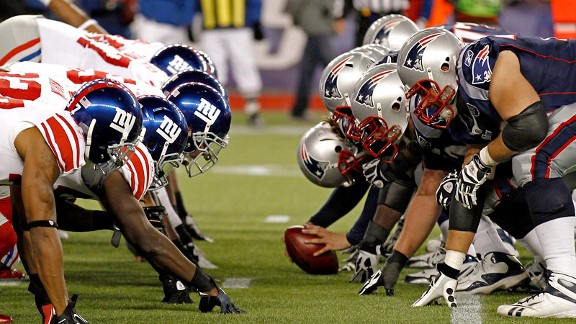 AP Photo/Winslow TownsonWhat will transpire at Super Bowl XLVI? Page 2 predicts the happenings through the lens of prop bets.
Spoiler alert!
By making predictions off a variety of proposition bets found around the Internet, Page 2 reveals everything that's going to happen when the Patriots face the Giants in Super Bowl XLVI.
Kelly Clarkson will start the festivities by singing the national anthem -- and will do so wearing NFL merchandise (3-2 odds). Fortunately, you won't be able to see Clarkson's bare midriff during her performance (1-3 odds). It will take Clarkson a little more than 1½ minutes to belt out the entire anthem (over/under 1-34), and she won't pull a Christina Aguilera by omitting a word during her rendition (1-2 odds).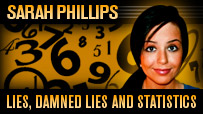 President Barack Obama might be asked to predict which team will win, but it's unclear whether he will choose New England or New York (even odds). The same can be said for each of the Republican candidates (even odds). It's likely all politicians outside of New York and Massachusetts will bail on making a prediction altogether (1-2 odds). Being wishy-washy is par for the course in politics, after all.
With the possibility looming of Eli Manning surpassing big brother Peyton in Super Bowl wins, Peyton will be shown on camera at least four times during the telecast (over/under 3½ appearances). Obviously, a conversation related to Peyton Manning isn't complete without mentioning Colts owner Jim Irsay (over/under one reference) and Stanford quarterback Andrew Luck (over/under 1½ references).
Moving on to the actual game, the Giants will receive the opening kickoff (1-2 odds). According to Mike Pierce of Sportsbook.com, the last time New England won a coin toss and elected to receive was Sept. 7, 2008 -- Tom Brady suffered a severe knee injury and was lost for the season in that game. Since then, the Patriots have played 65 games, playoffs included, and won the coin toss 28 times. Each time, New England has elected to defer its option.
With Eli taking the field first, Manning's wife, Abby, will be shown on camera before Brady's wife, Gisele Bundchen (2-3 odds). But don't worry, boys, Bundchen will be shown at least once during the telecast (2-3 odds), along with son Benjamin (2-3 odds), who will be rocking his dad's jersey (1-2 odds).
Although the Giants will have the first possession, New England will score the first touchdown (2-3 odds) on a romp by tight end Rob Gronkowski (11-2). As usual, Gronkowski will "Get Gronk'd" and celebrate with his patented monster football spike (2-3 odds).
A Patriots score is often followed by scenes of owner Robert Kraft celebrating in his luxury box. Kraft will appear on camera at least four times Sunday (over/under 3½ appearances). If he attempts any celebratory high-fives, he won't experience the failure he suffered Week 16 against Miami (1-5 odds).
New England will lead 14-13 at the half (Patriots minus-1, over/under 27½ points).
During the halftime show, don't expect a crazy fashion statement from Madonna. Her hair will be blonde (1-4 odds). She won't be wearing NFL gear (1-4 odds) or a hat (1-2 odds). However, she will be wearing fishnet stockings at some point during her show, if you're into that (even odds).
The Patriots are favored by only three points, so a tight game is expected. Cue the 2008 video of David Tyree's miracle helmet catch during the telecast -- but just once (over/under 1½ replays). That will surely add to the drama and push the Nielsen Ratings to at least 48 (over/under 47½ rating). Viewership in New York will peak in the fourth quarter, as the Giants will hold a lead with less than 15 minutes remaining in the game (2-3 odds).
In the end, with more than 115 million people watching (over/under 115 million), New England will avenge its Super Bowl XLII loss. Tom Brady will throw a fourth-quarter touchdown pass (1-2 odds), lifting the Patriots to a 29-26 victory over the Giants (Patriots minus-3, over/under 55 points).
Bill Belichick will receive a Gatorade bath, as defensive players dump the cooler on their coach (1-2 odds). The celebratory Gatorade will be yellow (7-4 odds).
Brady will be named MVP of the game (13-10 odds). During his acceptance speech, Brady will thank his teammates first (2-1 odds) -- before God (7-2), Kraft (7-2), Bundchen (5-1) and Belichick (5-1). There's no way Brady would take the stage and fail to thank anyone at all (12-1 odds).
Super Bowl parties will conclude, and the 2011 NFL season will be over.
But don't worry, football fans: ESPN will rank next season's top NFL contenders on "SportsCenter" within 12 hours of the conclusion of Super Bowl XLVI (1-4).
You can follow Sarah Phillips on Twitter @SarahPhilli.