Commentary
Zach Randolph inspires trend: Z-BoING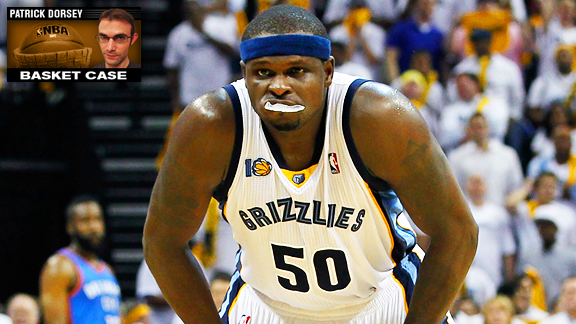 Getty Images
Tebowing. You might have heard of it. Maybe you've even done it. But with the Denver Broncos long gone from the NFL playoffs, what will fill the gap until the 2012 season?
Easy: Z-BoING.
That's right. Created by a Memphis man and named for Grizzlies forward Zach Randolph -- long known as Z-Bo -- this act jumps right in where Tebowing (and planking and owling, for that matter) left off.
What is it? The definition, per the official site:
Z-BoING (noun)
The act of mimicking Z-Bo's defensive stance, preferably while wearing a headband … and you get style points by utilizing your surroundings for a mouthpiece.
What does it look like in practice? Some examples, also found at z-boing.com: This guy, who is defensive-stancing on a bar with a burger for a mouthpiece. Also: this kid, who's wearing a yellow helmet instead of a headband and guarding his teeth with a hammer (call it Z-Bob-the-Buildering). Justin Bieber and Tim Tebow have even Z-BoED, although something tells us those are Photoshopped. Then there's this guy, who does the Z-Bo in a bakery -- powdered sugar donut as mouth guard, of course.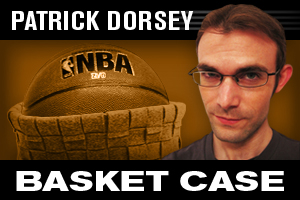 Where does it come from? That guy in the bakery, Nick Tutor.
You see, Tutor is a Memphis native, University of Memphis graduate and longtime Grizzlies supporter -- someone who calls last year's Randolph-fueled run to the second round of the playoffs "nothing short of magical."
He's also a 28-year-old web entrepreneur -- someone who is used to "coming up with crazy ideas and just doing them without asking and seeing what happens."
Enter Tebowing. Which, naturally, inspired Z-BoING. Which was easy to define since Randolph's iconic defensive stance/headband/mouthpiece image this year adorns billboards all over Memphis.
So by mid-December there was a website, plus a few photographic examples from Tutor and friends.
"It instantly had a few thousand hits," Tutor said, "which I know is nothing on a national scale … but so far everybody loves it."
Traffic is up some these days, although certainly not to Tebowing's unreachable levels. Currently Tutor is rolling out a photo or two per day, many submissions now coming from strangers. T-shirts exist, too, with Tutor saying he plans on donating any profits to a TBD charity (Randolph, the Grizzlies and other players are welcome to get involved, he says). He's even offering a Grizzlies ticket giveaway for the best ones; currently he's handing out cheap seats, but might give more expensive rewards if this thing hits.
And yes, Tutor does expect Z-BoING to hit. Not remotely on the scale of Tebowing, of course -- for one thing, Randolph is injured right now and will likely miss another month; not to mention the fact that Tebow is, well, Tebow -- but with Randolph's blue-collar style and All-NBA production winning fans over last year, Tutor is optimistic about his hometown getting its own sports-and-social-media meme.
"I don't know nationally how much love it can bring," Tutor said. "But on the flip side, I think pretty much everyone [here] appreciates the consistent numbers that he puts up."
In other words …
"America has Tebowing, but Memphis has Z-BoING."
So how 'bout it, Memphis -- and, while we're at it, Grizzlies/Randolph fans elsewhere: Are you Z-BoING yet?
TWEETS SPELLING LESSON OF THE WEEK
Say what you will about JaVale McGee, but the guy is entertaining -- and not completely self-serious. Case-in-point: On Tuesday, the Washington Wizards fired coach Flip Saunders, which led to this:
Then this:
And, best of all, this:
Don't stop being you, JaVale.
IN PICTURES. AND WORDS.
Has anyone seen my Chinese finger puzzle? It's about yay big."
"Wow, the Knicks are even harder to watch than my show!"
"I cut out sugar and look! Two whole sizes smaller! I'm coming for you, Barkley."
"Psssh. Diamond Dallas Page. Who does he think he is with that hand gesture?"
(Shudder) "I just had this nightmare that I used to work here."
"Wait, who are you? Actually, just spell your name and I'll write it down so I remember."
"I didn't pick these out! Our guy forgot to do laundry and this is all we could find!"
"No, son, I can't amnesty you from the Nets. We already used it on Travis Outlaw."
"Yesssss! A win, and 'Titanic 3D' is coming in April! I'm king of the world!"
"I'll never let go. I'll never let go. You know, like 'Titanic 3D,' coming in April!"
"I'm king of the world! Like in Titanic 3D, coming in April!" "Dude, you're doing it wrong."
JOKE OF THE WEEK
"It's like an episode of 'Hoarders.' All you did was remove one item."
-- an NBA source, to The Washington Post's Michael Lee, on how the aforementioned firing of Saunders affects the downtrodden Wizards.
CRYSTAL (BASKET)BALL
Predicting the week ahead, like a guy who predicts things.
After Celtics at Magic, Friday: Told Dwight Howard would "listen" to an offer from the Celtics, Danny Ainge texts the big center to meet him at the airport before his team leaves town. Howard agrees and lets Ainge buy him lunch, but firmly asserts that he sees Boston as more of a friend. But he really wants to be friends. They definitely should be friends.
Wizards at Bobcats, Saturday: Matt Carroll and Cory Higgins lead Charlotte in scoring for the second time in three games -- further proving that they are basketball players, not cast members of the British show "Downton Abbey."
Sometime Monday, Monday: Ainge doesn't show at Celtics practice; meanwhile, witnesses spot a guy at an open mike in Somerville singing sad acoustic songs about Superman.
Pistons at Knicks, Tuesday: Still not ready to make his New York debut, Baron Davis remains in street clothes. But his beard plays 15 minutes off the bench, giving the Knicks their best production from the point guard position all season.
Heat at Bucks, Wednesday: The never-not-injured Andrew Bogut -- "Someone has a voodoo doll and is putting pins in me" -- returns from his latest ailment, then becomes the first NBA player to actually lose a limb mid-game. But the never-not-tough Bogut quickly reattaches his arm, and finishes with a respectable 13 points and seven boards.
Wizards at Magic, Wednesday: Magic wins 86-78. Key stat -- Dwight Howard 0-0 FG, 86-184 FT.
Patrick Dorsey is a Page 2 editor. He averaged 12 points per game as a second grader in YMCA hoops; all other basketball court records have been sealed. He can be reached at bypatrickdorsey(at)gmail(dot)com and is also on Twitter (@DorseyPatrick).