Commentary
It's time to announce the TMQ MVP!
Soon The Associated Press will announce the NFL MVP winner, and there's just a tiny chance he will be a quarterback or running back. Fifty of the 53 recipients of the NFL MVP have been quarterbacks or running backs -- and defensive tackle Alan Page of Minnesota, in 1971, was the last lineman to win. Likewise, 71 of the 76 Heisman Trophies have gone to quarterbacks or running backs -- and defensive end Leon Hart of Notre Dame, in 1949, was the last lineman to win. Football is a team sport, one in which nearly everyone on the field is not a quarterback or running back. Yet these two positions have cornered the market on awards.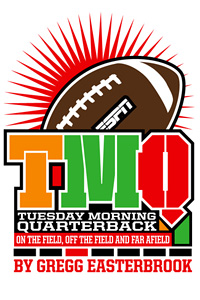 Quarterbacks and running backs monopolize recognition in part because like most spectators, most sportswriters and sportscasters never take their eyes off the ball. Ninety percent of football action occurs away from the ball -- but most who analyze football for a living don't try to figure out what is happening in line play or coverages. TMQ keeps his eyes off the ball. Try it sometime!
This column tries to rectify the imbalance in the two major football awards by granting an NFL MVP for which quarterbacks and running backs are ineligible. Of course this column believes in other lost causes, such as reunification of Flemish Brabant with Walloon Brabant. Regardless, time for the coveted "longest award in sports" -- the Tuesday Morning Quarterback Non-Quarterback Non-Running Back NFL MVP.
The runner-up is Rob Gronkowski of New England. A tight end, Gronkowski has the most touchdowns of any NFL player this season, with 22 touchdowns receiving and one touchdown rushing. Along with Jimmy Graham of New Orleans and Vernon Davis of San Francisco, he has helped redefine the tight end role in a modern offense: as the passer's first option, not the third. Gronkowski presents matchup problems no opponent has so far solved, and in the AFC title contest against the Ravens, also showed he is a good blocker, helping neutralize Baltimore's Terrell Suggs.
TMQ's reservation about Gronkowski is that he treats concussions as a big joke. If Gronkowski is OK with having dementia when he's 50, that is his business. But treating concussions as a laughing matter -- especially, suggesting that football players should lie to trainers and coaches about head pain, in order to remain in the game -- sets a terrible example for the huge number of high school players who will never earn a dime from the sport.
Now the 2011 Tuesday Morning Quarterback Non-Quarterback Non-Running Back NFL MVP -- David Diehl, left tackle of the Jersey/A Giants.
On his best days Diehl is not the NFL's best left tackle, or even as good, athletically, as Matt Light, who will start at left tackle for the Patriots. (Light was the 2007 TMQ NQB NRB MVP, and my award does not allow repeat recipients.) What Diehl brings to the table is consistently high-level performance. He rarely allows sacks, rarely misses run blocks and never takes downs off. Watch tape and you'll see that even in NFL big games, there are an amazing number of downs on which at least one lineman simply brushes his man and then stands there doing nothing. Diehl never stands there doing nothing. He's always working.
Drafted by the Giants in the fifth round out of Illinois, Diehl became an immediate starter at left tackle, and has remained the team's left tackle starter for nine seasons. He has missed only four games to injuries in his career, starting 150 of a possible 154 games. Thus he's not just a good player -- he has been a good player for almost every game for nine years.
This year's NFC Pro Bowl choices at offensive tackle are Jerome Bushrod, Jason Peters and Joe Staley. They're all top performers but consider their starts -- Peters has started 98 games, Staley has started 68 games, Bushrod has started 49 games. Diehl has performed at a high level significantly longer than any of them.
Offensive linemen tend to be noticed mainly when they blow their assignments. Diehl has started for nine seasons for one of the NFL's highest-profile clubs and drawn hardly any notice: The reason is that he doesn't blow his assignments. Diehl is the kind of player who will never hear the crowd chant his name -- but with him at the most important line position in football, the Giants have won the Super Bowl once, won their division thrice, and take the field for the Super Bowl again this coming Sunday.
Congratulations to David Diehl, the 2011 Tuesday Morning Quarterback Non-Quarterback Non-Running Back NFL MVP. Below find the finalists for the 2011 award, and a list of past winners.
In Super Bowl viewing advice, don't get up to make a sandwich during the fourth quarter. For recent Super Bowls, the fourth quarter has been the best part.
Over the span of the last four Super Bowls, an average of nine points was scored in each of the first three quarters, then an average of 19 points was rung up in the fourth quarter. Three years ago in the Pittsburgh-Arizona Super Bowl, the Steelers contained Kurt Warner until the fourth quarter, when he threw for 247 yards, the rate of a 1,000-yard passing game. Two years ago in the Indianapolis-New Orleans Super Bowl, the Saints won their rings by outscoring the Colts 15-0 in the fourth quarter. Four years ago in the first Jersey/A-Flying Elvii Super Bowl, the Patriots contained Eli Manning until the fourth quarter, when he threw for 152 yards, the rate of a 600-yard passing game.
And what happened the last time the Giants and Patriots faced off? When they met in November, 13 points and 417 yards of offense happened in the first three quarters -- followed by 31 points and 382 yards of offense in the fourth quarter. If recent Super Bowls, and the most recent Giants-Patriots game, are a guide, don't go anywhere in the fourth quarter. That's when the fun begins.
In other news, Roman numerals using hinc, cur quis pro Super Bowl? Presumably huius creditur sound Aenean. Roman Empire at est destructum, et Italiae non tam id neque.
I put, "Why does the NFL insist on using Roman numerals for the Super Bowl? Presumably this is thought to sound classy. But the Roman Empire lies in ruins, and Italy isn't doing so fabulous either," into the Google universal translator and the above is what it spit out.
Then I took the phrases the Google translator produced and employed the same utility to translate them back into English. Here's what I got:
"Using numerical Roman hence, upon the cause why any man for the Bowl? Presumably this is believed to be sound. As stated the Roman Empire was destroyed, and not so much that neither of Italy."
Tune in at VI:XX Eastern on Sunday for a monster contest. Presumably this is believed to be sound! And see below for TMQ's annual review of absurd precision.
Stats of Hype Week No. 1: In the three most recent Patriots-Giants games, the teams combined for 8.2 points during each of the first three quarters and 24.7 points during the fourth quarter.
Stats of Hype Week No. 2: The best regular-season team, the Packers, lost in the first playoff round. It has been nine years since the team with the best regular-season record won the Super Bowl (2003 Patriots).
Stats of Hype Week No. 3: Victor Cruz has gained 586 yards receiving in his last five games.
Stats of Hype Week No. 4: The Forty Niners defeated Drew Brees, the best-ever single-season passer, in the playoffs. The previous best-ever single-season passer, Dan Marino, was defeated in the playoffs by the Forty Niners. Noted by reader Carlos Raul Ferrer of Panama City, Panama.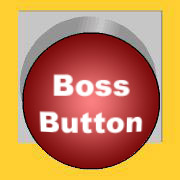 Stats of Hype Week No. 5: The NFC East is 7-2 in the Super Bowl versus the AFC East.
Stats of Hype Week No. 6: Tom Brady and Eli Manning are a combined 23-8 as playoff starters.
Stats of Hype Week No. 7: Jim Caldwell, fired as coach of the Colts, was 26-10 with Peyton Manning and 2-14 with anyone else at quarterback. Noted by reader Brad Richardson of Burlington, Kan.
Stats of Hype Week No. 8: The Giants are the first team to reach the Super Bowl despite being outscored during the regular season. Noted by reader Joe Corderman of Niceville, Fla.
Stats of Hype Week No. 9: Five of the last seven teams to have the league's best regular-season record -- the 2011 Packers, 2010 Patriots, 2008 Titans, 2006 Chargers and 2005 Colts -- not only did not reach the Super Bowl, they failed to reach the championship round.
Stats of Hype Week No. 10: The Giants and Patriots will take the field in Indianapolis on a combined 15-0 streak.
Cheerleader of Hype Week: Clarisse of the Chargers, who according to her team bio has trained with City Ballet of San Diego and graduated from the University of California at Irvine. City Ballet of San Diego does not have dancers, it has dance artists.
New York Times Corrections on Fast Forward: In the last six months the Paper of Record has, according to its corrections page:
• Referred to the former Baltimore Colts quarterback as "Johnny United."
• Said "millions of Americans" retire each week. At that pace the entire country would be retired by 2013.
• "Misidentified the location where Norman Mailer stabbed one of his wives."
• In an article deep inside the paper, said a black hole named Sagittarius A* will swallow the entire Milky Way. A correction reported the black hole threatens only a distant gas cloud: "It is not the case that Sagittarius A* will consume everything in the galaxy." If a black hole was in fact about to devour the galaxy, shouldn't that have been on the front page?
• On the same day published four separate corrections concerning the World Series.
• Incorrectly described "Angry Birds." The correction declared, "Slingshots are used to launch birds to destroy pigs and their fortresses, not to shoot down birds." The mistake occurred in the New York Times Book Review!
• Said the Costa Concordia, the cruise ship that ran aground off Tuscany, carried "half a billion gallons" of fuel. That amount is 45 times the Exxon Valdez oil spill. Correct was half a million.
• Got the wrong title for a theatrical performance that was untitled.
• "Referred imprecisely" to "an eastern box turtle that escaped from the Inwood Hill Nature Center in Manhattan. While many such turtles can be identified by 'fiery red eyes,' that is not the case for all of them. Males have fiery red eyes, but females have orange or brown eyes. The escaped turtle, Lionel, is male." Lionel the escaped turtle must have had his publicist call the Times to complain.
• Confused Snow White with Sleeping Beauty.
• "Misstated a greeting exchanged between the captain of a crew that killed a whale and a crowd onshore. They shouted 'aarigaa,' an Inupiaq word meaning 'very good.' The captain did not shout, and the crowd did not respond, 'Ah ha ha!' "
• Confused thousands of dollars with millions of dollars -- reporter responsible, would you like to be chair of the Senate Appropriations Committee?
• Confused a million dollars and a billion dollars -- reporter responsible, would you like to be CEO of Fannie Mae?
• Confused drachmas with euros -- reporter responsible, would you like to be finance minister of Greece?
• "Misidentified the founder of a hazelnut venture in Bhutan."
• Described a research facility as located "700 miles east of the South Pole."
The Overlooked Tax Returns Story: Everyone's heard a lot in the past week about the low tax rate paid by Mitt Romney and Warren Buffett, compared to the high rate paid by Buffett's secretary. But there is an overlooked aspect to the release of tax returns by the leading presidential candidates -- the rate of charitable contributions.
This comparison shows that in 2010, Barack Obama gave 14 percent of his income to charity, Romney gave 14 percent, and Newt Gingrich gave 3 percent.
TMQ has noted before that if Obama believes, as he said in last week's State of the Union address, that the wealthy including "people like me" should pay higher taxes, nothing stops him from taxing himself, by the simple expedient of not claiming deductions. (Claiming deductions is an option, not a requirement.) Or Obama could tax himself by donating more to charity. Obama earned $1.7 million in 2010, and his living costs were covered by U.S. taxpayers. Yet he gave away only $245,000. The exemplar of hypocrisy is the public figure who hectors others about how they should be more generous, then doesn't give himself.
Romney does not advocate higher taxes, so his donations -- $3 million against $22 million in income -- aren't hypocrisy. But according to his IRS returns, after taxes and charitable donations, in 2010 Romney was left with $15 million in disposable income. That means Romney gave away $3 million while keeping $15 million for himself. Judged by the numbers, Romney thought his own luxury was five times more important than helping the poor, the arts, schools and churches. Taxes are what you must do; donations are what you do from the heart. Romney doesn't do anywhere near enough.
Then there is the former speaker. Since Gingrich gives the impression that he would not throw a life preserver to a drowning man, perhaps the fact that his charitable donations are a mere 3 percent of income should not come as a surprise. But a basic test of character is what you do for others at your own expense. By this test Gingrich, a millionaire, does next to nothing.
Barack Obama, Mitt Romney and Newt Gingrich -- one is likely to be the next president. All three look bad on the test of voluntary donations.
Obviously This Item Exists to Justify the Swimsuit Photo: Congratulations to Laura Kaeppeler of Wisconsin, the new Miss America. For her current-events question, she was asked whether beauty queens should state their political opinions. Kaeppeler answered, "Miss America represents everyone, so I think the message to political candidates is that they represent everyone as well. And so in these economic times, we need to be looking forward to what America needs, and I think Miss America needs to represent all." By the standards of contemporary political discourse, that answer is a model of clarity.
Absurd Precision: Recently, delegates from 150 countries meeting in Geneva, Switzerland, debated for hours about whether a "leap second" should be added to timekeeping -- and could not make up their minds. They decided they need another three years to consider what to do about one second.
That a huge number of international delegates could not agree on a minor issue is, at one level, indicative of a running problem of large international meetings -- the first concern of many delegates is to ensure nothing is decided, in order to rationalize more future junkets. But for an august body to say it needs three years to think about one second is our contemporary obsession with absurd precision in a nutshell.
Here is the technical journal Nature on the dispute. Fun fact: Elisa Arias of the International Bureau of Weights and Measures in Paris holds the delightful title of director of the time department.
Other instances of absurd precision:
Organizations may budget for full-time equivalent positions -- for instance, someone who teaches art two days a week would be listed as a 0.4 FTE. Jeremy Nichols of Ballwin, Mo., writes, "The school district where I work is making budgetary changes. In a recent report, the total number of people who make up the instructional staff was listed as 1,374.98."
The New York City sales tax is 8.875 percent, certainly not 8.9 percent, while the city's hotel tax is 5.875 percent, certainly not 6 percent! Then on your hotel bill an extra $3.50 per day "occupancy tax" is added, so that, in fact, the hotel tax is above 6 percent.
Jim Kinkade of Cody, Wyo., wrote in May, "Gas prices in Cody are currently at $3.69.99 per gallon. When I try to stop at 48/99 I can't seem to do it, it always rounds up." The gasoline dispensed often is listed in thousandths of a gallon -- a thousandth of a gallon being a tenth of an ounce.
For the NFL divisional round, The Wall Street Journal ran final-score predictions generated by this model. The computer predicted the Patriots would beat the Broncos by 11.76 points, the Ravens would beat the Texans by 4.75 points, the Packers would beat the Giants by 8.21 points and the Saints would beat the Forty Niners by 1.65 points. Set aside that two of the four predicted outcomes proved wrong, and that the Green Bay score prediction proved off by 25.21 points. Predictions cannot have more statistical significance than is possible in the outcome!
The Wall Street Journal ran a second set of divisional game predictions credited to a computer model "that estimates how teams perform in nearly every possible way." Every possible way -- except who wins! The computer said Green Bay and Houston would be victorious, and thus was wrong on two of four games. You would have done better (three of four) simply by picking the home team.
On NBC's "Sunday Night Football," a graphic described a play as gaining "26.9 yards." A tenth of a yard is less than four inches.
After the killing of Osama bin-Laden, many readers including Carla Robinson of Olney, Md., noted this story in which an unnamed "intelligence official" declared that the chance of a false positive on the bin-Laden DNA test was "approximately one in 11.8 quadrillion." Approximately one in 11.8 quadrillion!
Sarah Seagall of Malibu, Calif., notes that when NASA's Upper Atmosphere Research Satellite was about to tumble back to Earth, NASA estimated an individual's odds of being struck by the hulk were one in 21 trillion. If the chance was one in 20.5 trillion, then you'd worry.
Estimates in the trillions to quadrillions lack common-sense meaning. Comparing 11.8 quadrillion to the number of souls on Earth, you'd need the population of two billion inhabited planets to have a sample group of "11.8 quadrillion" people. Absurd pseudo-scientific numbers like this are used to make the speaker appear to have super-advanced knowledge. Actually they reveal the speaker as a pompous idiot. Luckily for "11.8 quadrillion" guy, his name was off the record.
Such numbers originate when rough estimates are multiplied, then the result is treated as precise. During the Ronald Reagan presidency, an OMB official named John Morrall, seeking grounds to discredit safety regulation, published a cost-benefit table which declared that regulation of formaldehyde costs $72 billion per life saved -- in today's dollars, $137 billion per life saved. Morrall multiplied a rough estimate of the cost of all forms of handling of formaldehyde, including routine commercial use in woodworking, with an even rougher estimate that one person per century is killed by cancer caused by long-term exposure to the compound. The resulting number was absurd on its face -- yet received seriously by the White House, owing to its pseudo-scientific precision.
Here from the University of Chicago Law Review is chapter and verse on the problems with these kinds of estimates.
Ralph Durham of Sunnyvale, Calif., reports, "Recently I saw a newspaper advertisement for the TAG Heuer Limited Edition Carrera Mikrograph, described as 'The world's first integrated mechanical chronometer that displays 1/100th of a second.'" Maybe Elisa Arias needs one of these watches so she won't be a hundredth of a second late for that meeting three years from now.
Steve Chaggaris of Washington notes this absurdity: "On his 16 dropbacks, [Matt] Stafford's average release time was 2.07 seconds ... Tom Brady's was a very respectable 2.37." Boston Globe reporters can measures hundredths of seconds?
Here's the most absurd exercise in absurd precision last year, noted by reader Gerard Mitchell of London: With a straight face, researchers from Harvard estimated that 1.9 million years ago, Homo erectus spent 6.1 percent of its time eating. Please tell me this nonsense was not federally funded!
Mason Ames of Pompano Beach, Fla., hails the spirit of absurd precision from this old "Star Trek" episode.
Super Bowl Preview: "The score never interested me, only the game" -- Mae West. The score will interest maybe a billion people this Sunday.
When the Giants and Patriots met in the Super Bowl four years ago, New England was a colossus -- highest-scoring regular-season team in NFL annals, first team to reach 18-0, widely predicted to be the first to reach 19-0. There were all kinds of rumors about the Patriots' organization having filed copyright and trademark protection papers on variations of "19-0." Boston Mayor Thomas Menino had already scheduled a victory parade. Ultimately, New England would come within 35 seconds of perfection, until surrendering the winning touchdown to the Giants.
This season's Patriots are no colossus. Though 15-3, the 2011 Patriots have just one victory over a team that finished with a winning record. The Patriots have the lowest-ranked defense of any team to reach the Super Bowl. New England finished 31st in defense this season. The 1993 Bills made the Super Bowl after finishing 27th in defense, which was second-to-last in the 28-team league of the time. But Buffalo's low-ranked 1993 defense allowed 347 yards per game; New England's 2011 defense allowed 411 yards per game: worse than the 1993 Bills and worse than the 2009 Saints, whose defense, at 358 yards allowed, stands as the worst defense of a Super Bowl winner.
The Patriots' defense tightened in the postseason -- but against two opponents with weak offenses, the Broncos and Ravens. The Giants have a potent offense. The leading question of the upcoming Super Bowl is whether the Patriots' defense can stop the Giants' offense.
When the two teams met in November, New England allowed two touchdowns in the final 3:07. Patriots leading 20-17, the G-Persons had third-and-goal on the New England 1 with 19 seconds remaining, out of timeouts. The Giants fielded a jumbo offense with three tight ends. But the call couldn't be a rush -- if it was stopped, Jersey/A would have no time to send in its field goal unit. The call had to be a play-fake, which it was. Yet New England's defense fell for the play-fake, allowing Jersey/A victory.
As for the Giants, four years ago they were lightly regarded early in the season, then jelled late and won pressure game after pressure game down the stretch. Same this season. Midyear, Jersey/A lost four straight; on the season the Giants lost twice to the woeful Redskins. But down the stretch the Giants have won five consecutive do-or-die games, including knocking off the Packers in Green Bay. On the Giants sideline, the situation feels awfully like the situation four years ago.
When New England has the ball, the Patriots' offensive line remains efficient, Tom Brady remains a star and New England's pass-wacky, short-throws offense remains high-scoring -- only the Packers and Saints put up more points than the Patriots. Brady releases the ball quickly, making him hard to pressure.
The Patriots' obvious deficiency is lack of a deep threat -- in the playoffs, nine of their 10 longest passing plays have been to tight ends. But those tight ends, Rob Gronkowski and Aaron Hernandez, are a two-headed serpent. Nobody matches up well against two tight ends who are both tall, strong and fast. Also, New England has adjusted for its lack of a Randy Moss-style deep threat by throwing deep to Wes Welker. If six offensive linemen come in for New England when it's second down and 5 to 7 yards to go -- traditional rushing down -- look for a play-fake and deep pass to Welker. That action worked for New England several times this season.
The Giants' defense was not much statistically in the regular season either, finishing 27th. Purists will groan over a Super Bowl matchup of the 31st-ranked versus 27th-ranked defenses -- what happened to defense wins championships?
But the Giants have been generating pressure on quarterbacks with a conventional four-man rush, which means lots of gentlemen dropping into coverage against the Patriots' five-receiver looks. When these teams met in the Super Bowl four years ago, Jersey/A got five sacks, all without blitzing; key to the contest was that the Giants' defensive line outperformed the Patriots' offensive line. That could be what to watch for again.
Recently, the Jersey/A defense has excelled at stopping short-yardage plays: fourth-and-1 and third-and-1 stops were essential to the Giants' postseason wins over Atlanta and San Francisco. In each case, the opposition simply went straight ahead from power sets, and the Giants' front seven got under the blockers. New England will need to use misdirection on short-yardage downs: ust going straight ahead has not worked lately versus Jersey/A. Push may come to shove on New England third downs generally. In the playoffs, the Giants have allowed a third-down conversion rate of just 28 percent. The Patriots' drip-drip-drip offense relies on moving the chains.
When the Giants have the ball, the focus will be their outstanding wide receiver array of Victor Cruz, Hakeem Nicks and Mario Manningham. These receivers drove crazy a quality, disciplined Forty Niners secondary -- what will they do against the Patriots, 31st in the NFL in passing defense? Eli Manning got hot in the fourth quarter of the Patriots-Giants regular-season meeting. He's been hot in the fourth quarter throughout the playoffs, completing 23 of 33 passes for three touchdowns and no interceptions in the postseason in the fourth quarter and overtime.
With Tom Brady at quarterback, New England has three Lombardi Trophies. But Flying Elvii postseason performance is in a mild downward cycle -- a run of 10-0 followed by a run of 6-5. If Brady is to join Terry Bradshaw and Joe Montana in quarterbacking four Super Bowl victories, this had better be the year. Brady isn't getting any younger. In the offseason he may need to think of switching from modeling for GQ to writing dispatches for The Atlantic.
With Eli Manning at quarterback, the Giants have won a Lombardi Trophy and are on a 7-1 postseason streak. Eli's the kid in this situation. The Giants may be only halfway through their current talent cycle, meaning more postseason runs to come.
The Lady in Red: Last week for the State of the Union address, many female members of Congress wore bright red dresses. Female members of the House and Senate have learned that wearing bright red for the State of the Union address draws television cameras in their directions. When Ronald Reagan was president, female members of the press corps learned to wear bright red dresses to presidential news conferences, because Reagan would notice women in red and call on them.
All of which raises the question -- it's the 21st century, when will the first male member of Congress wear a bright red business suit?
There's a Lunatic Pun Here Somewhere: Many political candidates make pie-in-the-sky promises voters know will not be kept. So Newt Gingrich's statement last week, while campaigning in Florida's Space Coast region, that if he becomes president, "we will have the first permanent base on the moon" by the year 2020, should be regarded as political blather.
George W. Bush talked about a moon base, too. On a technical basis, this appears possible. The core questions are: What would a moon base cost and what would it do?
The International Space Station cost about $100 billion to build and assemble in orbit, and is costing around $5 billion a year to service. Suppose Gingrich's moon base were a Spartan facility similar to the ISS. Accelerating the mass of the ISS to the velocity needed to reach the moon, then decelerating it for landing, would roughly double the cost. So a space station-like structure on the moon might cost $200 billion to construct and $10 billion annually to service. As NASA's total annual budget is about $19 billion, even a Spartan moon base would require a dramatic NASA budget increase during a period of runaway government red ink.
At $200 billion for an ISS-like moon base, what would you get? Cramped living quarters for six people. Expedition 30 -- or as NASA calls it in Super Bowl style, Expedition XXX -- currently aboard the space station has six crewmembers. The $200 billion would not cover any exploration vehicles, digging equipment, nuclear power facilities -- anything beyond living quarters would cost extra. Until such time as a low-cost way of reaching orbit may be invented, a moon base is a sci-fi fantasy.
Even if there were a moon base, what would its role be? Geology research could be done at a fraction of the cost by automated probes. There doesn't appear to be anything we need on the moon. No primary ore is scarce on Earth or likely to become scarce in coming generations. If a primary ore became scarce, it could be obtained from Antarctica at perhaps 1 percent the cost of mining the moon. And a moon base would have nothing to do with a Mars mission. Landing on the moon on the way to Mars, then blasting off again, would serve only to use up the Mars mission's fuel. All proposals for Mars missions involve departure from low-Earth orbit directly to Mars.
So should America endorse the much grander ambition of Mars exploration? People will stand on Mars someday. In the Harvard Business Review, yours truly just showed that until there is a propulsion breakthrough, Mars flight is unthinkably expensive. The article concludes that right now, Mars is "a trillion dollars away."
TMQ Non-QB Non-RB NFL MVP Finalists: This year only players from the title round are eligible: My reasoning is that he who would wear the mantle of "most valuable" had better have created some value. The other finalists:
Baltimore: Jarret Johnson. As the famous guys on the Ravens' defense begin their decline, Johnson has stepped up. The young player to watch is cornerback Cary Williams from Division II Washburn, who this season had more passes defensed than Ed Reed.
Jersey/A: Victor Cruz and Jason Pierre-Paul. One was a high No. 1 pick, the other went undrafted out of Division I-AA Massachusetts. Both are NFL impact players.
New England: Matt Light and Vince Wilfork. New England's five-receiver passing sets depend on a left tackle who can protect Tom Brady's blind side without getting any help, and that's Light. Wilfork has been the hardest front-seven player in the league to block this season, and helped hold the suspect New England defense together, including by being on the field almost all the time, which is unusual for a nose tackle. When New England and Jersey/A met in the regular season, David Diehl played guard partly so he could match up against Wilfork.
San Francisco: Vernon Davis, Justin Smith, Joe Staley and Patrick Willis. This team is loaded with impact players -- a good sign for the Niners in 2012.
Past Non-QB Non-RB NFL MVPs: The award now enters its second decade with four Patriots having taken the trophy, fitting since New England was the best team of the last decade. Two Steelers and two Colts have won. Past winners:
Alan Faneca, Steelers, 2001.
Lincoln Kennedy, Raiders, 2002.
Damien Woody, Patriots, 2003.
Troy Brown, Patriots, 2004.
Walter Jones, Seahawks, 2005.
Jeff Saturday, Colts, 2006.
Matt Light, Patriots, 2007.
James Harrison, Steelers, 2008.
Dallas Clark, Colts, 2009.
Dan Koppen, Patriots, 2010.
Concussion Watch: At the high school and youth league levels, many football coaches lack training in assessing concussions. Bruce Tapper, a psychologist in Port Townsend, Wash., notes this form allows any coach to do a simple initial assessment of concussion symptoms.
Matt Toaz of Ann Arbor, Mich., notes that makers of ice hockey helmets are getting religion on concussion protection.
TMQ Readers Know Too Much: I called it unrealistic that the Tim Olyphant character on the entertaining FX show "Justified" constantly violates Marshals Service rules, yet does not lose his job. Mitchell Regenstreif of Los Angeles counters, "There are countless examples of real-world Feds and other government types who don't lose their jobs no matter how they perform -- most ATF officials involved in Fast & Furious kept their jobs, the geniuses who told the country they had proof of nuclear weapons in Iraq were not held accountable, one walked away with the Medal of Freedom. This would be funny if it was a joke."
I wondered whether people who boast of skill as wine tasters could so much as tell the difference between a cabernet and a merlot. Jeff Van Ness of Bethesda, Md., pointed out this delightful article suggesting many wine snobs can't tell a red from a white. Many readers including Charlotte Kurtis of Salinas, Calif., noted this article showing many wine tasters do no better than a coin flip.
I said that Mike Singletary denouncing Vernon Davis in public was "negative reinforcement." Many readers, including Spencer Brown of Los Angeles, noted, "Negative reinforcement is the removal of something aversive with the intended effect of increasing a behavior. For example if Singletary wired Davis to get him electric shocks, and stopped the shocks whenever Davis caught a pass, that would be negative reinforcement. The example you cited about Singletary would be positive punishment, which is the addition of something aversive. Mixing these up is a common misperception. Jim Harbaugh challenging Davis to improve is, as you said, a positive technique, but is not, as you said, positive reinforcement. It would be positive reinforcement if Harbaugh rewarded Davis for a good performance, with, say, a candy bar or a $10 million bonus."
Last week's column referred to the Clovis people, who appear to have lived in the Southwest about 13,000 years ago, as thought to be the oldest civilization in the Americas. Richard Jaggers of Norman, Okla., writes, "As an anthropology student at the University of Oklahoma, I want to point out that standard thinking has not been fully Clovis-first for a while now. The Monte Verde site in Chile has one layer of habitation accepted by most scholars which dates to around 14,000 years ago. Monte Verde is along the southern coast of Chile, implying people may have been moving along that coast -- an area now mostly underwater, thanks to the rise in ocean levels at the end of the last Ice Age -- for some time prior to 14,000 years in the past. While the recent 15,500 years-ago date for tools at Buttermilk Creek in Texas is exciting, it is only one in a long line of sites, including the perhaps 16,000-year-old Meadowcroft Rockshelter in Pa., that have pushed the dates for human habitation in the Americas to pre-Clovis times."
I noted another class-action lawsuit that resulted in trivial amounts for consumers -- a $1.50 discount to each Ticketmaster ticket buyer -- coupled to $16.5 million in legal fees for lawyers. Randall Yamauchi of Los Angeles rejoins, "Yes, there are sour apples in the legal community. But the reason attorneys receive such a large sum in outcomes like this is that they are the ones taking the risk. All attorneys take cases like this one on contingency fees, which means that they will only be paid if they win. To bring a suit of such a magnitude against a major corporation entails enormous costs, borne up-front by the attorneys. At the conclusion of the lawsuits, attorneys may be receiving a lot more than consumers. But the consumers have not borne any cost to reach that point."
Yamauchi continues, "Also remember the nature of class actions. It would be ridiculous for an individual to bring a suit to recover $1.50. Lawyers representing a class can sue for small amounts for large numbers of people. Each individual doesn't receive much, but each individual ends up better off than if the lawsuit had never occurred -- plus, the offending corporate behavior is stopped. The settlement agreement shows the lawyers receive roughly a third of what Ticketmaster must pay, and that's a standard amount for contingency work."
Unified Field Theory of Creep: Jon Blum of Citrus Springs, Fla., writes, "Last week I sat in a tavern enjoying a Samuel Adams Winter Lager, my favorite beer. I ordered another pint. The bartender informed me he'd served the last of the season's supply and was putting Samuel Adams Alpine Spring in the tap."
Say "ICBM Missile" Aloud: Tom Cammalleri of Simi Valley, Calif., notes "NFC Conference Champions" T-shirts on sale by the league. "Say it aloud," he suggests: "National Football Conference Conference Champions."
Next Week: The American Football Conference Conference champions meet the National Football Conference Conference champions in that Super Bowl thing you might have heard about.
In addition to writing Tuesday Morning Quarterback for Page 2, Gregg Easterbrook is the author of "Sonic Boom" and six other books. He writes a politics column for Reuters and is a contributing editor for The New Republic, The Atlantic Monthly and The Washington Monthly. His website can be found here, and you can follow TMQ on Twitter.