Commentary
Former Patriots mascot's story of regret
Originally Published:
February 2, 2012
By
Paul Lukas
| Page 2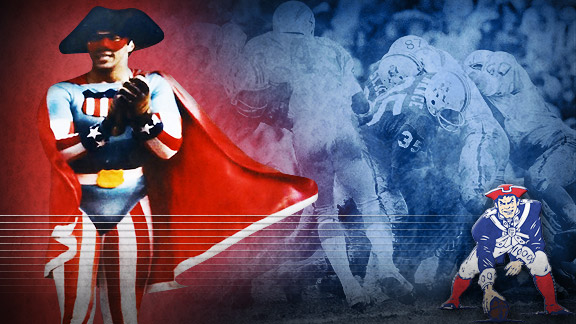 ESPN.com Illustration
Mark Occhipinti can still see it clearly in his mind's eye.
He'd spent the 1978 NFL season working for his beloved New England Patriots as SuperPatriot -- a superhero-ish live mascot who celebrated touchdowns by doing backflips and somersaults on the sideline. It was a fun gig, but he had something bigger planned for the Pats-Oilers game on Nov. 19: He was going to climb aboard a cherry red Harley-Davidson just before kickoff, scoop up a blonde cheerleader and ride onto the field while the TV cameras rolled and the crowd roared. Everything had been rehearsed, everything was set to go.
"You would still be seeing it today," says Occhipinti, his voice tinged with a thick Baahhhston accent and an even thicker veneer of regret. "I would've made that guy at the Snowplow Game look like nothing. They'd still be talking about it. They'd be showing it on NFL Films."
[+] Enlarge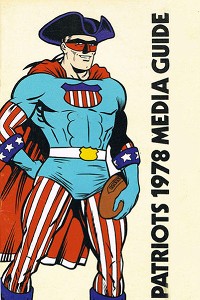 Courtesy of Mark Occhipinti SuperPatriot proudly adorns
the Pats' 1978 press guide.
Unfortunately, SuperPatriot's powers were no match for a Boston traffic jam. Occhipinti arrived late at Foxboro Stadium and was then intercepted by nervous team officials who said they hadn't been fully briefed on the motorcycle maneuver. His grand scheme was scuttled, and the team brass, unnerved by Occhipinti's plans for what they viewed as a potentially unsafe stunt, decided it was time to retire SuperPatriot forever.
More than three decades later, Occhipinti sees this as the turning point in a life gone sour. "When I left the Patriots, I was devastated," he says. "My life went downhill, and I got really depressed. To this day, I feel sad when I see a Harley go by."
Did you ever become obsessed with a "what might have been" moment? The pretty girl you saw across the room and then lost track of, the winning lottery ticket that the next guy on line ended up buying, the diving catch that came up just short -- the ride on the Harley represents all of that and more to Mark Occhipinti. If Tom Brady leading the Pats to yet another Super Bowl appearance this Sunday represents the classic American success story, Occhipinti is the flip side of that coin: a regular guy who got a taste of the big time and has never stopped thinking about how it all went wrong.
This is his story.
---
As the Patriots were preparing for the 1978 season, Pats marketing director Micéal Chamberlain was certain the team was on the cusp of a big year. And he wanted to promote it in a big way.
"The first Superman movie had just come out, so I wanted to create a character that would capture that excitement," says Chamberlain, who left the team in the 1980s and now works in real estate. "Superman, a super season, the Super Bowl -- SuperPatriot!"
That was the concept behind a cartoon character that NFL Properties created for Chamberlain. SuperPatriot, who looked like a cross between Superman, the Lone Ranger and Captain America, was promptly emblazoned onto ticket order forms, pocket schedules, the team's media guide, and just about any other flat surface. Promotional materials even started referring to the team as the SuperPatriots.
But Chamberlain didn't just want a cartoon character. He wanted a live mascot to get the crowd charged up during games.
"We had a contest -- it was all over the radio," he recalls. "We were looking specifically for someone who was built like Superman, had gymnastic ability and was really animated."
Enter Mark Occhipinti. The local 24-year-old had learned gymnastics in junior high, had played football at the University of Rhode Island and was a diehard Pats fan, so he fit the bill. He was also -- how shall we put this? -- enthusiastic to a fault.
"The thing about Mark was, he was unpredictable, so he had to be monitored," recalls Chamberlain. "He was such a likable guy, and he could definitely do all the gymnastics that the job called for. But I think his enthusiasm bubbled over and clouded his judgment sometimes."
Such reservations notwithstanding, Chamberlain chose Occhipinti out of a field of more than 1,100 applicants and then flew him to New York to be measured for a costume to match the one worn by the cartoon character. Occhipinti took to the role immediately.
"You felt larger than life wearing that costume," says Occhipinti, now 58. "The hat was kinda floppy, but aside from that I really liked it. And I even looked a bit like the cartoon guy. Once you're wearing a mask, you can be just about any character."
SuperPatriot made his live debut during the Pats' 1978 home opener against the Redskins. "They wheeled a phone booth onto the field, and I was inside it, all scrunched up," says Occhipinti. "They had another guy dressed up like Clark Kent. He went in, and I burst out of the top of the phone booth. Then I jumped onto a mini-trampoline and did a double somersault. The place was going nuts."
Opinions and memories differ regarding what happened next. Chamberlain says that first somersault resulted in Occhipinti landing on his butt; Occhipinti insists that he merely stumbled but never fell.
Either way, SuperPatriot was a hit. Fans loved his sideline antics, and the players enjoyed his easygoing manner around the team. Articles were written, promotional appearances were made and Occhipinti enjoyed his emerging status as a minor local celebrity.
But he wanted more. After college, he had unsuccessfully tried out for the Canadian Football League (rooming, he says, with bodybuilder and "Incredible Hulk" actor Lou Ferrigno, who had been brought in as a fan draw). That hadn't worked out, but he still had dreams of getting a shot to play for the Pats.
"My goal was to try out for the team, maybe make the team, like that movie about the guy who tried out for the Eagles, 'Invincible,'" he says. "It would be a real Rocky-type story."
The key to this, he was convinced, was the stunt with the Harley, which would catapult him to national attention. He persuaded a local motorcycle dealership to let him use a Harley free of charge ("It would be good publicity for them") and discussed the whole thing with the crew from NBC, which was televising the game ("They loved it"). Everything was ready to go.
Then it all went wrong. It's apparently been going wrong ever since. Occhipinti essentially views his life in two sections: before the Harley and after the Harley. BH and AH. He doesn't like to talk much about AH, except to drop hints about a mildly checkered past and a life story that hasn't worked out like he'd planned.
"Being SuperPatriot was fun, but I'm not proud of it," he says. "If one of my friends introduces me as the guy who was SuperPatriot, it makes me uncomfortable and brings up this feeling of sadness, because it didn't turn out like it was supposed to. I tell them, 'You would've known me a lot better, and I would've been a lot more famous, if I had pulled off my Harley-Davidson thing.' But I couldn't pull it off."
---
It's entirely possible -- maybe even likely -- that Mark Occhipinti's life would have turned out exactly the same even if he'd taken that ride on the Harley. And it's a fairly sure bet that he was never going to play in the NFL. It's easy enough to make fun of him, to label him a dreamer, or worse.
But here's something else about Occhipinti: You don't have to talk to him for very long to realize he's a total sweetheart. He has nice things to say about most of the people in his life -- in part, as he freely admits, because he's a sensitive guy and wants very much for people to like him, but also because he genuinely likes them back. Even his fixation on the Harley incident is sort of endearing, because he doesn't blame anyone but himself for his missed opportunity.
WHAT ABOUT THE UNIFORMS?


Super Bowl XLVI isn't just a rematch of the teams from Super Bowl XLII -- it's also a rematch of the uniforms from four years ago, as the Patriots will once again wear their home blue jerseys, and the Giants will wear their road whites.
The problem there is that the Giants' road uni features red lettering and red socks, which clashes with the team's blue helmet. This didn't make sense the last time the Giants were in the Super Bowl, and it still doesn't make sense now. For further details, check out what Paul Lukas had to say four years ago this week.
And here's another thing: After the team fired him from the mascot gig, it would've been easy for Occhipinti to say, "Screw the Patriots -- I'm through with them!" But for all his dashed hopes, however unrealistic they may have been, Occhipinti remains a huge Pats fan. He's enjoyed the Brady/Belichick era as much as anyone else in Boston, and he'll be cheering along when the Pats take on the Giants this Sunday. "I was SuperPatriot, but [team owner] Bob Kraft is like a real superhero to me, because he saved our team and kept them here in New England when it looked like we might lose them," he says.
So it's easy to root for Occhipinti when he says he still has some dreams. "For one thing," he says, "I wish they'd let me be part of the team's history down there at the Patriots Hall of Fame." (As it turns out, Hall curator Brent Hensel says a photo of Occhipinti was on display from September 2009 through February 2010, as part of a temporary exhibit on the team's cheerleaders and mascots. "Really?" says Occhipinti. "Wow, that's great, I didn't know that! But I'd still prefer something permanent.")
As we wrap up our interview, Occhipinti asks when this article will run, how he'll be able to find it on the Internet, and so on. "Do you think Bob Kraft will see it?" he asks.
"I don't know, Mark. I think he's probably pretty busy this week, you know?"
"Yeah, yeah, you're probably right," he says. Then, his voice brightening with hope: "If he sees it, maybe I can still get that Harley on the field. What do you think?"
Special thanks to Trevor Williams for research assistance.
Paul Lukas will spend Sunday rooting for the Giants but will be happy for Mark Occhipinti if the Patriots end up winning. If you liked this column, you'll probably like his daily Uni Watch web site, plus you can follow him on Twitter and Facebook. Want to learn about his Uni Watch Membership Program, be added to his mailing list so you'll always know when a new column has been posted, or just ask him a question? Contact him here.