Commentary
NBA All-Star Game uniforms unveiled
Originally Published:
February 2, 2012
By
Paul Lukas
| Page 2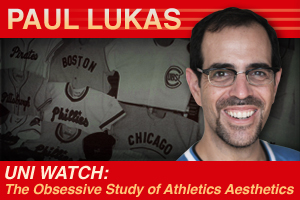 The rosters for this season's NBA All-Star Game will be announced later Thursday, but you can start getting excited about the game now, because Page 2 has been given exclusive access to the All-Star uniforms.
The visual theme for this year's game, which will be played in Orlando on Feb. 26, is a series of heathered tones in the pattern of a basketball floor, as you can see in this logo and close-up:
---
This pattern, which the league and adidas are calling "hardwood heather," repeats throughout the All-Star uniforms and warm-ups. It's a really nice design motif, and it works well just about everywhere it's been applied. Look how it adds a sense of warmth to the Eastern and Western Conference uniforms:
Not bad, right? The dark-to-light-to-dark gradation -- which is being referred to as a "dip-dye" effect -- is nice, too.
Just like last year, players will have the option of wearing a snug-fitting compression version of the jersey instead of the conventional model. The thinking behind this is that many players already wear a compression shirt under their jersey, so why not just eliminate one layer by making a compression jersey? Sounds logical enough, but only one player tried it out in last year's All-Star Game (Dwight Howard, and even he only did it for the second half). The snug-fits will be hanging in each player's locker, though. Here's how they look:
This year's warm-up gear is a mixed bag. The pants are the same faux-denim "jeans" being used for this season's throwback games -- not a good look. But the jackets and shooting shirts aren't bad, aside from adidas' ubiquitous three-stripe branding, which gets to be a bit much:
Most of this gear is now available for sale at NBAstore.com, but there's one accessory that isn't being made available to fans: After the game, each player will get to relax in an All-Star robe. Let's hope none of them decide to wear it to the postgame interview room.
Of course, no NBA All-Star Game is complete without a bumper crop of new sneaker styles. You can see of the designs that some of the adidas-affiliated players will be wearing in the slideshow below; expect to see plenty of additional new designs being worn by players who have endorsement deals with other companies.
Paul Lukas wonders if they'll try a parquet floor pattern on next season's All-Star jerseys. If you liked this column, you'll probably like his daily Uni Watch web site, plus you can follow him on Twitter and Facebook. Want to learn about his Uni Watch Membership Program, be added to his mailing list so you'll always know when a new column has been posted, or just ask him a question? Contact him here.