Commentary
Legacies impacted by Super Bowl XLVI
Originally Published:
February 6, 2012
By
DJ Gallo
| Page 2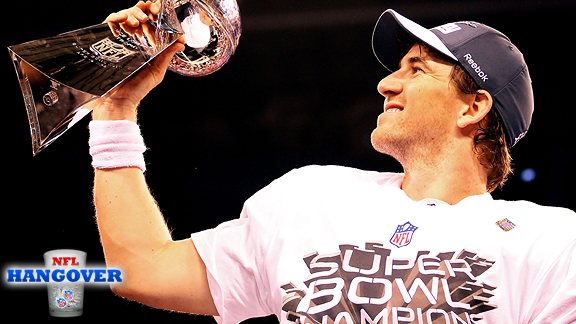 Getty Images
The Giants won the Super Bowl. The Patriots lost the Super Bowl. Congratulations to the Giants. But as we all heard in the two-week Super Bowl pregame show, there was more than a trophy on the line in this game. Super Bowl XLVI was all about "legacies."
Would Bill Belichick and Tom Brady secure their legacies? Would Tom Coughlin and Eli Manning make theirs?
Well, what was the result? Let's take a look.
Eli Manning
Before the season he was mocked by idiots like this guy for even meekly suggesting that he was in the same league as Tom Brady. Now it could be said that not only are they in the same league, but on the same team. Only Brady would be Eli's backup on that team.
Does the youngest Manning still often look, sound and play awkward? Sure. But he's a winner. Between the seasons that Eli and Tim Tebow had, teams are going to be trading up to draft the most uncomfortable looking quarterbacks available. There's a method to Andrew Luck's neck beard madness and aw-shucks interviews.
Tom Coughlin
Most coaches burn to death on the hot seat. Coughlin uses it more as one of those heated massage chairs. "Aaaaaah. That was relaxing. Thanks. I feel so much better. I guess I'll go out and win another Super Bowl now."
Tom Brady and Bill Belichick
It's apparently impolite to mention this, but many sports fans outside of New England do anyway, so here we go: The Patriots -- supposedly the "model franchise" and NFL dynasty of our age -- have not won a Super Bowl in seven years, a winless streak that synchs up with the SpyGate revelation. Brady has either played poorly, or been outplayed, in every New England playoff defeat since 2004. The Patriots are also now tied with the Vikings, Broncos and Bills for the most losses in Super Bowl history with four. If ethical and postseason failure make a franchise great, then the Patriots and Ohio State -- not the Giants and Alabama -- are the envy of the football world.
Of course, I'm cherry-picking information. The Patriots have won a lot of games post-SpyGate. No one can make the claim that their success was due all to cheating. Yet until New England wins another Super Bowl, the Patriots have provided free, unlimited refills of haterade to all haters.
While Brady's "clutch winner" reputation has taken a hit, Belichick only secured his true legacy in Super Bowl XLVI. Cutting a player from the team the day before the game and not dressing Patriots legend Kevin Faulk? Well-played, Mr. Belichick. Well-played. And to think the media was tricked by your new I'm-actually-a-nice-cuddly-guy routine. The fools!
Adam Vinatieri and Bridget Moynahan
Brady and Belichick? Pfft! They did nothing for New England. Ever since Vinatieri and Moynahan were gone, the Patriots have won nothing. By the way, prepare for a series of "artsy" nude photos of Brady and Gisele to come out.
Mario Manningham
Welcome to the Memorable Super Bowl Catch Club! Yet it's doubtful Manningham's catch will hold up to history with such recent grabs such as David Tyree's helmet catch or Santonio Holmes' game winner against the Cardinals. Manningham's grab didn't win the game, nor was it off of a piece of equipment. It was just an incredibly acrobatic and athletic, full-speed sideline grab off of his fingertips. Lame. Seen it.
Wes Welker
Everyone has bad games. But bad games in the Super Bowl damage a player's legacy. Welker said all the right things after the game, but he also shaved off his mustache in the postgame locker room -- as though his tickler was somehow to blame for his performance. How dare you, Welker? Your hands made many mistakes in Super Bowl XLVI, but their greatest mistake was when they picked up a razor after the final gun sounded.
David Beckham
His reputation in America as a dandified soccer player? Forever secured! Good job, Becks.
You have to start wondering if Beckham's arrival in America -- where he has met most every negative American stereotype of European soccer players via injury and fashion -- was actually a plot by the English Premier League to destroy soccer in the world's richest country. They saw the MLS as a future threat and dispatched Beckham in an attempt to kill the sport here. A brilliant plan.
Madonna
IT WAS THE WORST PERFORMANCE EVER! Maybe. And, you know, not counting last year's. Or probably the one before that. Has there ever been a great Super Bowl halftime show? I have no idea. The point of Super Bowl halftime performers is apparently to give Americans something to unite in hatred against for 24 hours.
Indianapolis
Boring city in the middle of flyover country? Apparently not. Most reviews of Indianapolis as a host city were quite positive. Tip for future Super Bowl cities: Get a zip line in the middle of downtown. And really, this should be done in all American cities, towns and villages, Super Bowl host or not.
Ad execs
Reputation for being out of ideas? Secured!
Typical ad agency meeting:
"Our client wants to advertise in next year's Super Bowl."
"Great!"
"Any ideas?"
"I'm thinking an animal doing something funny and/or cute. Maybe both!"
"I love it. We start filming tomorrow."
---
Quote of the Week
"Fun Fact: I have more rings than LeBron. Lmao! #NYG STAND UP!!!!" -- New York Giants linebacker Spencer Paysinger, via Twitter.
Ha-HA! In your FACE, LeBron. And not only does this Paysinger have more rings than LeBron, he also has 12 -- count 'em: 12! -- more career tackles than LeBron does. BOOM! This guy I never heard of > LeBron.
In fairness, Paysinger quickly followed up that tweet by saying that he was only joking around. See? It was all in good fun. So don't anyone get all stressed out and lose hair over this, OK LeBron?
Super Bowl pictures
GALLO'S SUPER BOWL CAPTIONS!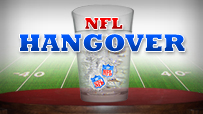 Don't let the NFL season quietly fade away. Enjoy 10 more Gallo captions!
DJ Gallo's Super Bowl photo gallery

"Go to my quiet place. No one can hurt me there."
"I expected an Oscar for 'The Iron Lady,' but I'll take this, too."
"Looks like someone just got a larger share of the inheritance."
Stat of the Super Bowl
2 points
Tom Brady opened the Super Bowl scoring on New England's first play from scrimmage by taking an intentional grounding penalty in the end zone. Because the first score of the game was a safety, some guy won $50,000 on a $1,000 bet. Hate him all you want and it's not smart to give points away in the Super Bowl, but it was pretty classy of Brady to do that for Tiquan Underwood.
Press Conference Questions Someone Should Have Asked
To Bill Belichick: "Does it feel good to be angry again?"
To Tom Coughlin: "The Giants haven't won a game in almost 47 minutes. Are you worried about your job security?"
To Tom Brady: "Do you doubt the power of prayer, Tommy?"
To Eli Manning: "Why did you wait eight years to start throwing with pinpoint accuracy?"
V Things I Thought We'd Thoughtfully Think To Think
Following a regular season dominated by Tim Tebow and his higher power, the Patriots could have used a higher power on the final play of the game. New England kept (listed) 5-foot-8 Danny Woodhead in to block and sent the following players streaking toward the end zone: (listed) 5-foot-9 Deion Branch, (listed) 5-foot-9 Wes Welker, 6-foot-1 Aaron Hernandez and 6-foot-6 Rob Gronkowski, who was sporting a 2-inch vertical for the Super Bowl. On the sideline was 6-foot-1 Chad Ochocinco. Off the team was 6-foot-1 Tiquan Underwood. And don't forget that Underwood also provides an extra seven inches of hair. Who's to say that in a rematch of a game that was won by a helmet catch, this one wouldn't have been decided by the ball softly nestling deep inside a high-top fade?
Maybe it's time someone said it: New England's offseason acquisitions of Ochocinco and Albert Haynesworth didn't really pay off.
Congratulations to Ahmad Bradshaw on scoring the most awkward touchdown in Super Bowl history. But you really can't blame him for nearly having a seizure while trying to not score. It's an unnatural act for a football player -- and no one grows up dreaming of NOT scoring in the Super Bowl. Although maybe most of us should. It would be more realistic and less heartbreaking. [Wipes single tear.]
As we heard repeatedly during the Super Bowl broadcast, Brady said he would rather have the ball in his hands late in the game and be trailing than be on the sidelines late the game with the lead. As it turned out, he got neither. The Patriots had the ball late in the game and were trailing, yes, but the ball wasn't in Brady's hands so much as bouncing off of the hands of New England's receivers. I don't know how the Giants' defense got the Packers' and Patriots' receivers to drop so many passes during their playoff run, but other teams will be looking to copy it next year. I'll have to watch more film to be sure, but I suspect their system is just playing loose coverage and then yelling "BOOGIDA-BOOGIDA!" right before the ball reaches the receiver.
Of course, leave it to the SEC to win even the Super Bowl. The Giants, a 9-7 team that lost twice to the Washington Redskins -- the maximum amount of times a team is legally allowed to lose to the Redskins -- won the NFL championship. May the BCS computer's reign over humanity be merciful.
DJ Gallo is the founder of SportsPickle.com. He has written a book and written for Comedy Central, The Onion and ESPN The Magazine. He co-hosts the Page 2 Podcast and has appeared on ESPNEWS. You can follow him on Twitter at @DJGalloESPN.