Commentary
Sports and music collide at Rock Hall
Originally Published:
February 11, 2012
By
Paul Lukas
| Page 2
"You're here from ESPN?" Terry Stewart said. "That's perfect, because every athlete wants to be a rock star, and every rock star wants to be an athlete."
Stewart should know -- he's president and CEO of the Rock and Roll Hall of Fame and Museum in Cleveland, which has a surprising number of sports-related artifacts in its collection. Or maybe it isn't so surprising, since sports and pop music have a long tradition of overlap, from Phil Rizzuto's play-by-play in the background of Meat Loaf's "Paradise by the Dashboard Light" to Janet Jackson's wardrobe malfunction during the halftime show of Super Bowl XXXVIII.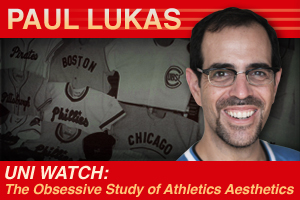 Neither of those moments is enshrined at the Rock Hall, but there are lots of other goodies to pique a sports fan's interest, many of them uni-related. So with the Hall's main curator, Howard Kramer, serving as a guide, Uni Watch recently went to Cleveland to explore the line where sports and music meet. (You can see a video of Uni Watch's visit at the top of this page.)
The Hall's most unexpected sports-related items -- or maybe the Hall's most unexpected items, period -- are some college football drawings done by none other than a 15-year-old Jimi Hendrix. Uni Watch would have guessed Hendrix had spent most of his teenage years practicing guitar and getting high, but it turns out he was a serious college football fan, a very competent illustrator and a bit of a uniform geek -- not necessarily in that order. Check out these images from the Hall's Hendrix exhibit (you can click on each to see a larger version):
Are those great or what? Uni Watch's favorite part: the note that says, "EXACT COLORS," at the top-right corner of each page -- an endearingly nerdy little touch.
Nothing else can touch those Hendrix drawings, but a few things come close. Here are some highlights from the rest of the tour:
• Remember how The Who wore football helmets that spelled out "ROCK" on the cover of "Odds & Sods"? Here's the helmet Roger Daltrey was wearing for that photo shoot:
• The Beach Boys have had several stage outfits patterned like baseball uniforms over the years:
=
The one on the right, which has a Dodgers feel, was used for a 1987 tour of Japan, as you can see by this sleeve patch -- a nice detail.
• Speaking of the Beach Boys, look at the groovy little league uniform Brian Wilson was wearing back in 1954:
In case you're wondering, Selma Davis Realtor is no longer in business. A pity.
• Remember MTV's celebrity softball series, "Rock N' Jock"? Here's the jersey Alice in Chains guitarist/vocalist Jerry Cantrell wore when he appeared on the show back in the 1990s:
Looks like they took a throwback Pirates vest from Mitchell & Ness, removed the lettering, and added their own chest insignia and graphics.
Meanwhile, is it true that athletes are all stricken with rock star envy, and vice versa? Come on, guys, you're already on top of the world -- leave a few fantasies for the rest of us.
(Special thanks to Jeff Katz for research assistance.)
Paul Lukas was a rock critic before he was a uniform columnist, so he knows all about the intersection of music geekery and sports geekery. If you liked this column, you'll probably like his daily Uni Watch website, plus you can follow him on Twitter and Facebook. Want to learn about his Uni Watch Membership Program, be added to his mailing list so you'll always know when a new column has been posted or just ask him a question? Contact him here.