Commentary
Tongan luger part of marketing ploy
Originally Published:
February 10, 2012
By
Jim Caple
| Page 2
Warning: If a female luger from Tonga named Victoria Seacrett competes in the 2014 Olympics, be suspicious. Why? Read on.
Bruno Banani is scheduled to represent Tonga at this weekend's world luge championship in Altenberg, Germany, hoping to continue his path toward becoming the South Pacific island nation's first winter Olympian in 2014. By the most amazing coincidence, Bruno Banani also happens to be the name of the German underwear company sponsoring him.
[+] Enlarge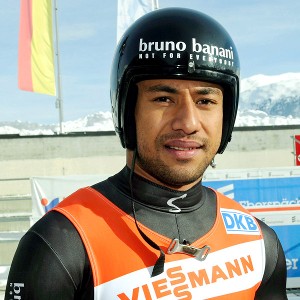 AP Photo/Keystone/Karl MathisTongan luger Bruno Banani is attempting to become Tonga's first winter Olympian.
The Bruno Banani company's website has a page prominently devoted to the luger, with a video link headlined: "Meet the Real Bruno Banani.'' The video begins with the luger saying, "I am Bruno Banani, and I'm from Tonga.'' It then shows clips of him sliding down a luge track, posing with lingerie models and climbing a coconut tree (his marketing slogan is "coconut powered''). He also has a Facebook page.
There is just one problem. It turns out that in a most non-amazing non-coincidence, Bruno Banani is not the luger's real name. Or, at least, not his given name.
The German magazine Der Spiegel reported last week that while Banani is from Tonga as advertised, his real name is Fuahea Semi. The German marketing firm Makai paid him to change his name and managed to get a Tongan passport issued in the Banani name. The Vancouver Sun also reported in December that Banani had changed his name.
The Local, an English-language website for German news, reported details from Der Spiegel's report:
While he is now sponsored by the Bruno Banani underwear firm, Semi is actually the son of a cassava farmer and was recruited during a casting session in Tonga after which the PR firm convinced the Tongan government to issue a passport for him in his "new name." He was then shipped off to Germany to begin training for this February's Luge World Championships in Saxony, Der Spiegel reported.
At the same time the Bruno Banani underwear company promoted him on their website, and got great PR, including a recent report on the ZDF television network.
Mathias Isle, one of Makai's executives, told Der Spiegel that the idea came about because the company was desperate for customers and wanted to do something to get them on the map.
"We wanted to prove to the world that we have good ideas," he said.
On his Facebook page, Banani wrote this week that he is training at the track where he first learned to luge.
"I did what i could and am doing what i can,'' he wrote recently. "With the support of my Family, my home country Tonga, my coach Isabel, the German Luge Team, my sponsors, the FIL and of course my fans. I achieved more than I could ever imagine. I always remind myself to train hard and to work on things every day that bring me closer to my dream -- carrying the Tongan Flag at the Olympic Games.''
Well, good luck this weekend, Bruno, whatever your real name. Hope to see you in Sochi in 2014. Although I hope you don't wind up paired with any lugers named Calvin Klein, Jock E. Brand or L.A. Perla.
Jim Caple is a senior writer for ESPN.com. You can follow him on Twitter @jimcaple.