Commentary
Dwight Howard leads All-Star parties
Updated:
February 25, 2012, 10:57 PM ET
By
Kelley Carter
and
Zach McCann
| Page 2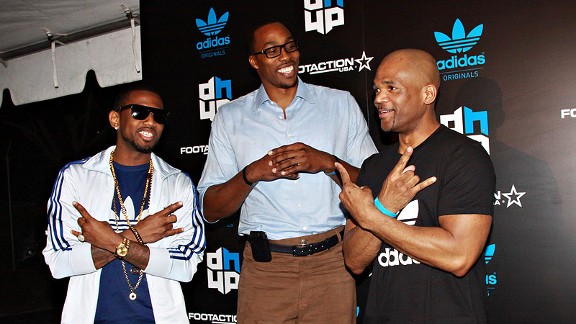 Johnny Nunez/Getty ImagesFabolous, Dwight Howard and Darryl "D.M.C." McDaniels attend Howard's All-Star party.
ORLANDO, Fla. -- On the second day of All-Star partying, the party patrol brought to (us): supersized athletes and tons of other celebrities sprinkled about the party scene. And all in 80-plus-degree weather.
And the famous-people watching was ripe. If they were famous and in Orlando, they were at a pre-All-Star party, you better believe.
So, naturally, your Page 2 Party squad was out on the scene capturing all of the great moments -- we now know that Charles Barkley and Chris Webber can cut a mean rug. Especially if it's line dancing. Yes. Line dancing.
The Adidas Footaction ASW party with Dwight Howard
Why that title: The Orlando Magic superstar and the athletic apparel for which he serves as a pitchman teamed up to host one of the most talked-about parties of the night.
Where: At an executive airport hangar about 20 minutes away from downtown Orlando.
Performers: Atlanta and New York were in the building! Young Jeezy, Fabolous and DMC (of Run DMC) took the stage at this popular annual ASW event. Before the live show began, the DJ rocked the house with all of the good danceable hip-hop that makes us move. Anytime you play LL, Jay-Z and, of course, Run DMC (their '80s hit "My Adidas" is like the theme song at this party), you're asking for a good time to be had by all. And if music wasn't your thing -- but looking at the crowd, it was -- there were tons of large flat-screen TVs decorating the space all throughout. Most of the moving images featured Howard, sometimes Snoop Dogg and, of course, his adidas.
Celebrities we saw: Howard, Fabolous, DMC and Jeezy.
Food and drink: Cute waitresses passed around spinach pockets, sticks of cheese with veggies and meat and goat cheese covered crostinis -- you know, all of the food you'd expect to be served at a party in an executive airport hangar. We weren't complaining.
Swag: A party's just not a party unless there's a photo station there. And there was. And the people loved it. One was set near a cool display of citrus-colored gym shoes, appropriate considering we're in the Sunshine State.
All-Star Rating: Five tangelos, because this event was a nice hybrid of everything we love for a party to have -- good food, free-flowing open bars (with free-flowing Grey Goose) and awesome music.
Kenny "The Jet" Smith party hosted by Mary J. Blige
Why that title: The TNT analyst is famous for this party every year during ASW. This year, he reached out to his friend Mary J. Blige to help host, and the Queen of Hip-Hop Soul didn't disappoint. She didn't perform, but she set up a nice, long set of her most famous medleys.
When and where: Ballroom in downtown Orlando, a cool venue that is near the popular Church Street party section. The chances were good that we were going to have a good time: If for some reason the party wasn't up to our expectations inside, there was a party happening out in the streets made up of out-of-luck fans who were making the best out of not getting into some of the private (or top-dollar) parties happening up and down the block.
Performers: Blige hosted, Kid 'n' Play performed and MC Serch freestyled -- it was the dream of every kid who roller-skated in the '80s and '90s. If you missed any of them on the stage, then you surely saw Chris Webber dancing to the "Cupid Shuffle" remix. Nothing like seeing a big guy with rhythm get down.
Celebrities we saw: We saw tons of athletes here: Robert Horry, Swin Cash, Barkley, Webber and Kenny Anderson partied with Blige, Serch and Stephen A. Smith.
Food and drink: A cash bar didn't derail partiers from indulging -- one of our favorite images was seeing a guy double-fisting two rather large bottles of Hennessy.
Best moment: Quite frankly, we loved seeing Barkley out on the dance floor. So did the DJ who continually shouted him out, which drew even more attention to him.
All-Star Rating: Four grapefruit, because this was a healthy mix of some of our favorite athletes and great, throwback hip-hop music. You pretty much had to take a reservation to get on the dance floor all night long -- the good music just kept coming.
XPensive Habits hosted by Kevin Durant and Daymond John
Why that title: The party served as the official birthday party for John, who's the creator of FUBU, star of the ABC show "Shark Tank" and a mega-millionaire willing to treat himself to the finer things in life.
When and where: A hangar at the Orlando Executive Airport transformed into an open-spaced, massive lounge area that boxed in the booming bass from the impressive DJs. One side of the hangar was open, allowing party patrons to see a collection of propeller planes and ensure they never forget they were indeed partying in an airplane hangar. There were white leather couches in the center of the floor and a crowded stage in the front filled with more couches, the DJ station and a couple dozen people.
Performers: The party really began breathing around 2 a.m. when Fabolous took the stage. His quick-moving set featured his hits and a couple of popular covers, culminating with his biggest hit, "Make Me Better." After Fab's performance, Lil Jon took over the music and took the atmosphere to another level with his banging mix and rousing hype. DJ Irie kept people's heads bobbing earlier in the night.
Celebrities we saw: Durant, John, Fabolous and Lil Jon were the biggest celebs in the building, although we also spotted actor Boris Kodjoe and Orland Magic forward Glen Davis in the building, er, hangar.
Food and drink: Red Bull and Hennessy both sponsored the event, and if you weren't fortunate -- read: rich -- enough for a VIP bracelet, you could get plenty of either at several booths across the hangar for a not-outrageous price. There was a vegetable setup in the back of the room, which was a nice diet-friendly touch.
Swag: Not much, although there were some Hennessy-themed plastic chains that were cool to play with, provided it's 2:30 a.m. and you're partying in an airport hangar.
All-Star Rating: Three watermelons. Not only did this party have some sweetness -- with the best moment coming with a Shark-themed cake for John late in the night -- it was huge. Like, literally -- airplane-hangar huge.
Best of the Best hosted by Floyd Mayweather and Dwight Howard
Why that title: Mayweather routinely calls himself the best boxer in the world, and Howard received more All-Star votes than any other player. This one sort of named itself.
When and where: Downtown Orlando's VAiN nightclub, which also hosted Dwyane Wade's kickoff party on Thursday night. VAiN prides itself on being Orlando's largest club, and it makes use of the size with an array of indoor and outdoor VIP spots. There's a Miami feel to Vain, especially if you venture onto the rooftop patio, which is lined with trees and provides a nice view of downtown Orlando's taller buildings.
Performers: DJ Prostyle of "106 & Park" fame highlighted a list of DJs who kept everyone dancing and rapping along all night. It was pretty standard club fare, but we're certainly not complaining. The stilts-wearing dancers from D-Wade's party were back for another night, wearing different colors but still doing their thing on the dance floor while looking down at professional basketball players.
Celebrities we saw: This one was stacked, even beyond its two headlining stars. 50 Cent, Vinny from "The Jersey Shore" and Jermaine Dupri were spotted in addition to a cast of NBA players including Russell Westbrook, John Wall, LaMarcus Aldridge, Ricky Rubio, DeMarcus Cousins, Glen Davis and DeJuan Blair.
Food and drink: Mayweather's handlers flaunted around a remarkable cake that read, "The Money Team." Not sure who ate the cake, but it was money just looking at it.
Swag: A VIP table would garner you some themed sunglasses with Mayweather's slogan -- "The Money Team" -- covering one of the eyes. A pretty cool souvenir if you're never fortunate enough to join Mayweather's real, massive entourage.
All-Star Rating: Four oranges. Of all the citrus fruits, the orange is clearly the most well known and popular. Seems like a fitting description considering all of the celebs on hand Friday night.
Kelley Carter and Zach McCann are Page 2 writers working the party scene in Orlando this weekend.
Page 2
Kelley L. Carter is an Emmy-winning entertainment journalist who has written for publications including USA Today, the Chicago Tribune, the Detroit Free Press, Vibe and Essence magazines. She also regularly provides expert pop culture and entertainment commentary for outlets including CNN, E! and the TV Guide Channel.