Commentary
Diddy, Fab highlight Saturday parties
Updated:
February 26, 2012, 10:34 AM ET
By
Kelley Carter
and
Zach McCann
| Page 2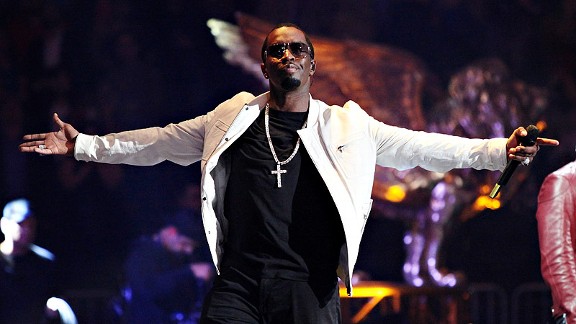 Taylor Hill/Getty ImagesDiddy showed up in Orlando on Saturday for All-Star Weekend after performing in NYC on Friday.
ORLANDO, Fla. -- On the eve of Sunday's big East-West showdown, the All-Star Weekend partiers were in full force.
Once again, fans spilled out into the streets of downtown Orlando, all happy to toast the NBA, spot famous folks and drink while being merry.
And if there's a party near a major sporting event, your Page 2 party squad is on the case.
DIDDY ALL-STAR WEEKEND PARTY
Why that title: Interestingly, some promotional fliers called it the "P. Diddy All-Star Weekend Party," but everyone knows whose party this was: Diddy's. Puffy -- or Puff Daddy, or whatever you want to call him -- can bring out a crowd.
When and where: The Cheyenne Saloon is a classic spot at the once-prosperous Church Street Station in downtown Orlando. The Saloon has survived multiple renovations to the area and still can play host to a party as large as Diddy's.
Performers: The Runners, an Orlando-based hip-hop duo, did a nice job with the massive crowd, and the DJs spun beats that kept everybody moving.
Celebrities we saw: None, although Diddy was apparently in the house somewhere.
Food and drink: A cheese-and-cracker table was set up in the back. It was destroyed by the end of the night, but still, nice touch. The drinks were strong and not as expensive as some other celebrity parties in the area. The party was sponsored by Ciroc vodka.
Swag: Nothing. For the triple-digit cover charge, you'd expect something, right?
All-Star Rating: Two grapefruits. The party looked sweet from the outside, and certainly much of the crowd was having a good time. But it was hard to function because of the crowd that had to be pushing the fire capacity.
HENNESSY ALL-STAR WEEKEND TAKEOVER FEATURING FABOLOUS AND CARMELO ANTHONY
Why that title: Anthony and the rapper Fabolous hosted the event at Vain, which proved to be one of the most populated nightspots the entire ASW.
When and where: We arrived sometime after 1 a.m. at Vain, just in time to see some of the biggest names hanging around this weekend to arrive.
Performers: Fab -- who was a popular party guest and host this week -- once again took the mike. Before he arrived -- which was closer to 2 a.m. -- we counted four DJs in various spots around the nightclub, which actually was a nice touch. If you wanted to hear the good salty language hip-hop that gets sold out of car trunks, you likely were hanging out on the rooftop, where a DJ spun ATL-sounding hip-hop. If you wanted more mainstream pop, dance and hip-hop music, you tried to muscle your way to the main floor. And if you wanted to hear Drake, Lil Wayne and made-for-radio hip-hop music, you may have stayed in some of the private VIP rooms.
Celebrities we saw: Kobe Bryant walked in just as we were walking in, which caused ripples of excitement throughout the crowd in the street. Kevin Durant, Andrew Bynum, Anthony, Lala Vasquez, Fabolous, Russell Westbrook, Ne-Yo, LaMarcus Aldridge, Kamerion Wimbley and Evan Turner.
Overheard: "He's much shorter than I thought!" we heard one guy shriek when Bryant walked by him to go inside. We're guessing he didn't say the same thing when Anthony walked in moments later.
Swag: All weekend long, the party promoters were offering up these sunglasses designed especially for whomever was hosting the event. After three days of hanging out there, we were able to snag a couple of pairs.
All-Star Rating: Three tangerines -- all of the celebrities made the party sweet, the music was incredible but we would have liked it if we could have actually made it to the dance floor without having to walk closely behind a big-bodied security officer. The dance floor was that crowded.
Kelley Carter and Zach McCann are Page 2 writers working the party scene in Orlando this weekend.
Page 2
Kelley L. Carter is an Emmy-winning entertainment journalist who has written for publications including USA Today, the Chicago Tribune, the Detroit Free Press, Vibe and Essence magazines. She also regularly provides expert pop culture and entertainment commentary for outlets including CNN, E! and the TV Guide Channel.