Commentary
Joe Ayoob sets paper airplane record
Former Cal QB headed into Guinness World Records for achieving longest throw
Joe Ayoob has enjoyed an athletic career most of us would envy.
He played quarterback for two seasons at Cal, succeeding Aaron Rodgers and competing alongside future NFL stars DeSean Jackson and Marshawn Lynch. Prior to that, he went 23-1 as a starter at City College of San Francisco and guided his high school team to two section championship games. He also played arena football professionally for three years.
Not a bad body of work.
Still, Ayoob, who now works as a sales rep for Anchor Brewing Company in San Francisco, wasn't content. He wanted to etch his name into Guinness World Records.
On Sunday, inside a hanger at McClellan Air Force Base outside Sacramento, Ayoob threw a paper airplane 226 feet, 10 inches -- shattering the previous record of 207 feet, 4 inches.
"We made all 10 [official] throws. The record came on the fourth throw," Ayoob told Page 2. "I probably made 50 throws on the day. My body is still sore."
Verification for Ayoob's throw would seem to be a mere formality, especially since one of the official judges on hand was Stephen Kreiger, the previous record holder.
[+] Enlarge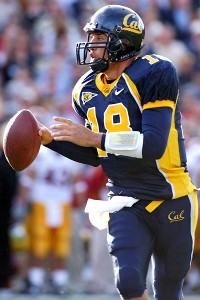 Kirby Lee/Getty ImagesJoe Ayoob, who played at Cal
from 2005-06, set the world
record for throwing a paper airplane 226 feet, 10 inches.
The plane was designed by John Collins, a producer at KRON-TV in San Francisco, who's designed airplanes since childhood and also has studied the Japanese art of paper folding, origami. Collins, known as The Paper Airplane Guy, said he has been pursuing the record in earnest for three of four years. He's studied aerodynamics, trajectories and the all-important verification process for Guinness World Records.
Collins said he knew he didn't have the arm strength to challenge the record, so he sought help from former Cal QB Mike Pawlawski and former Portland State QB Jimmy Collins. Both participated, but Pawlawski had to bow out after neck surgery, and Jimmy Collins stepped away because of schedule conflicts with his coaching position at CCSF.
Enter Ayoob, who had worked with KRON's Vern Glenn as an arena football broadcaster. Glenn introduced Ayoob to John Collins, and after about a year of working together the duo captured the world record.
"I grew up making paper airplanes," Ayoob said. "I used to make paper airplanes and throw them all the way home from school when I was little. So it was kind of up my alley. I thought it was a cool idea.
"Some people might think, 'What's the big deal? It's just a paper airplane.' But it's a world record. It took a lot of time for John, and it took a lot of time for me working with John to achieve this. ... It's very rewarding, and I'm very proud of this record."
Ayoob said proper quarterbacking mechanics, such as balance and arm angle, were crucial to getting the record.
"A lot of people could throw this plane and get some pretty crazy distance out of it," Ayoob said. "But in order to achieve the distances we were trying to reach, it took a pretty precise throw, and it took a lot of strength. ... There's a lot of finesse involved, so it's kind of blending power, balance and control while you're throwing this fragile, little paper airplane."
Collins said Ayoob has thrown his glider design as far as 240 feet in practice, and he thinks much greater distances are possible.
"There's way more potential with this design," Collins said. "I don't know how far it can go. It might be capable of 300 feet. We still haven't been in a space big enough to truly test it. ... Now we've got the world record. If someone wants to drag us out to a great big venue and let us [try to improve on the record], we'd probably go for it."
Collins foresees a challenge from Kreiger, the previous record holder, which could ultimately lead to a friendly arms race in pursuit of greater distances.
"Stephen is gonna get back in the game," Collins said. "He's going to make a challenge, I'm sure. If he starts up in a serious way, Joe and I will have to make a comeback. I think it's on. Game on!"
All of which brings us back to Aaron Rodgers.
Sure, Rodgers has won a Super Bowl with the Packers and is riding a wave of endorsements. But how jealous will he be when he finds out about Ayoob's world record?
"He may be a little jealous, because I know he's a very competitive guy," Ayoob said. "I'd encourage him to fold a plane and see what he can do. I'm sure, as I am jealous of him, he will be jealous of me. He does things on a much grander scale these days, so it's very cool to see him have all that success.
"But I do have an airplane record on him. I can say that, at least."
Thomas Neumann is an editor for Page 2. You can follow him on Twitter @tnn95.