Commentary
It's a NASCAR social media meet-up!
Updated:
February 28, 2012, 7:37 PM ET
By
Bill Speros
| Special to Page 2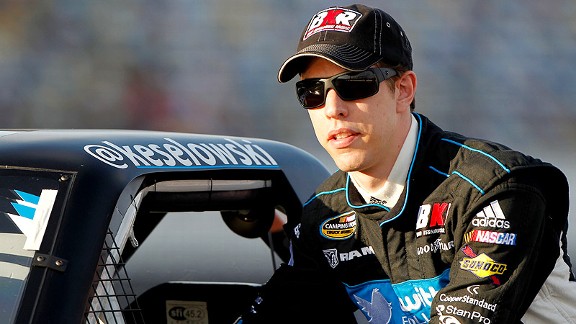 Tyler Barrick/NASCAR/Getty ImagesBrad Keselowski (@keselowski) has been social-media savvy, but took it to a new level Monday night.
Among the greatest moments in social media history, we have Shaq's first tweet, the Hollywood conversation between Sean Parker (Justin Timberlake) and Mark Zuckerberg (Jesse Eisenberg) when Parker advised the Facebook founder to "drop the 'The,'" and Monday night's Daytona 500 -- specifically this photo tweeted by Brad Keselowski.
The photo blew up on Twitter after the jet dryer truck blew up when it was rammed by Juan Pablo Montoya. The race, which finished at about 1 a.m. ET, was red-flagged for two hours as NASCAR and Daytona International Speedway officials worked to extinguish burning jet fuel and clean up the charred asphalt surface. Matt Kenseth won the race, but Keselowski emerged as the star of the night, despite crashing late and finishing 32nd.
The delay forced the drivers to get out of their cars and, with some substantial time to kill, Keselowski took to Twitter -- responding to various queries from fans. Twitter handles were a staple of the Fox broadcast both during Sunday's rainout and Monday's delayed race. Each time a driver, announcer or official was mentioned, those who were on Twitter had their handles listed below their names. Keselowski began the night with about 60,000 followers and had topped the 212,000 mark by Tuesday afternoon.
NASCAR zoomed up the social media ladder throughout Speedweeks. According to figures from TweetReach, which were provided by NASCAR to ESPN.com, the hashtag #DAYTONA500 reached 34,801,653 people for a total exposure of 610,822,169 impressions since its introduction in December. And Monday's hashtag #NASCARprimetime, created after the race was moved from noon to 7 p.m., reached 2,175,823 people with a total exposure of 19,025,375 impressions. And 12,189 tweets featuring it were sent out by a total of 7,182 users.
[+] Enlarge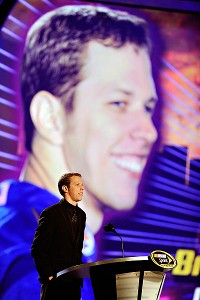 Ethan Miller/Getty ImagesBrad Keselowski is a social media pro, as proven in the Daytona 500.
On Tuesday, NASCAR issued a statement, via its @NASCAR twitter feed, stating that Keselowski would not be punished because he was tweeting during a red-flagged portion of the race and not during competition.
"We encourage our drivers to use social media to express themselves as long as they do so without risking their safety or that of others," the @NASCAR tweet read.
"We wanted to clarify that in case people had any questions about it," said David Higdon, managing director of integrated marketing communications for the racing body.
Higdon (@hignascar) said the night was a "watershed moment" for NASCAR's development of social media and fan interaction. "It shows the wide impact of the Daytona 500 and its fanbase. We're in a major stretch with social media that's blowing up. Our TV partners get it. Our athletes get it. We don't want to be trailing. We want to be leaders in this."
At one time Monday night, NASCAR claimed seven of the top 10 topics trending on Twitter, including #JuanPabloMontoya, #daytona500, #Tide and #DaveBlaney -- who was leading at the time and did not even have his own Twitter feed. As far as the detergent goes, it was the biggest boost for Tide during a NASCAR race since Darrell Waltrip won the 1989 Daytona 500.
Keselowski has been a leader among NASCAR drivers when it comes to social media. His No. 19 truck in last week's Camping World Truck Series race featured a paint scheme with more than 2,600 Twitter handles of fans selected in a contest.
Monday night's national NASCAR tweetup was "totally spontaneous," Higdon said. "There's no way we could have planned this. Brad is one of the young kids in our sport. This is part of who he is. He's very engaged in social media. I'm not surprised he was at the front of this."
Higdon said NASCAR is making a concerted effort to expand its social media and audience engagement as part of a broader, five-year action plan to increase its fan base.
"We encourage the drivers to tweet and not just to tell people what they are doing, but to also interact back and forth with the fans and not take them for granted," he said.
[+] Enlarge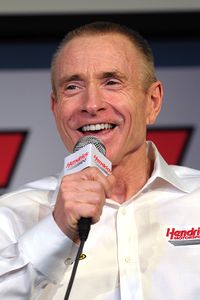 AP Photo/Mike McCarnNASCAR driver (and longtime holdout) Mark Martin now talks to fans via Twitter.
One of NASCAR's greatest social media accomplishments, Higdon said, was the creation of the @55markmartin feed.
"NASCAR's oldest driver was one of the holdouts," Higdon added. "But now he's having a lot of fun with it."
Among the highlights from the @keselowski feed during Monday's delay:
@LewisFranck said, "Only an alien invasion could be a topper tonight." To which @keselowski responded, "Maybe the Mayans were right about 2012."
@mest_girl99 wanted to know if any of the other drivers were tweeting. "Nope. They all think I'm crazy," @keselowski replied.
@mjackson918 messaged, "The only thing better would be tweeting from Victory Lane!" @keselowski answered, "That's the plan!"
CNBC sports business reporter Darren Rovell, using the handle @darrenrovell, asked if Keselowski was tweeting from his Dodge. The driver responded, "Yup At least I'm not in the port-a-Jon :)"
And this one was especially prophetic, considering Keselowski's night ended with a multi-car wreck on Lap 187: @stephensoileau asked "How crazy?" did Keselowksi think it was going to get during the last 40 laps following the red-flag restart. "U ain't seen nothin yet!" was the driver's answer.
Just a minute or so after his wreck on Lap 187, Keselowski tweeted: "Nothing we could do there … Never [saw] the wreck till we were windshield deep."