Commentary
Excerpt: 'Madden' as parenting guide
Originally Published:
March 7, 2012
By
Scott Steinberg
| Special to Page 2
Scott Steinberg is the author of "The Modern Parent's Guide," a technology-themed parenting series, which will be free to download at www.parentsguidebooks.com/ when it is released March 13. This is an excerpt from the section of the book, titled "Everything I know about parenting, I learned from 'Madden NFL.'"
Like countless sports fans worldwide, I boast a secret superhuman power, i.e. the Pavlovian ability to suddenly and inexplicably tune out reality when the game -- real, video or otherwise -- comes on. But as the author of "The Modern Parent's Guide" high-tech parenting series, I also get to exhibit these Herculean talents five times more often than the average male.
Still, as frequently explained to angry wife and upset kid (note: some names have been changed to protect the innocent), there are benefits to being "bad daddy," as the kiddo affectionately refers to my secret alter-ago. Case in point: The regular opportunity to study at the feet of the world's greatest father figure, John Madden, by way of "Madden NFL," his signature football game. Say what you will about Drs. Oz and Phil, or famed philosophers (philanderers?) like Benjamin Franklin. Well-publicized fear of planes aside, as much time as contemporary Dads have spent worshipping at his altar, trust me: The former NFL coach and broadcast legend has nonetheless taught more generations to fly.
[+] Enlarge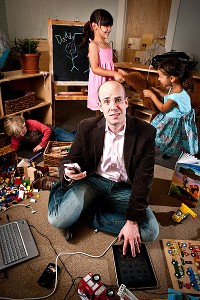 Scott SteinbergScott Steinberg, the author of "The Modern Parent's Guide."
Passing his lessons down to legions of virtual football-loving pops through plastic cartridges, CDs, DVDs and Blu-ray discs, don't be fooled by the title's increasingly glitzy graphics or fancy suite of multiplayer options. At its core lie the following life lessons, which every current or prospective parent can take to heart, or the living room big-screen, as the mood strikes.
Good Sportsmanship Pays
So much for maturity … Grown man or no, after landing a last-minute Hail Mary on an opponent, it's hard to resist talking smack, even if means watching your little precious' face crumble. But know this, champ: Like the stale jock strap that Junior inevitably won't resist telling you to suck right back when he affects a turnaround, the grapes of wrath are painfully sour. So regardless of how slick your moves are, remember to put a sock in it, or risk your eight year-old claiming revenge by suddenly scoring a 90-yard sprint to win the game on a botched conversion. Hey, you know what they say: On the field, simulated or otherwise, everyone's a winner -- except, perhaps, the father of the kid who taught your kid to speak in four-letter words and sassy one-liners.
A Real Man Leads by Example
Or at least that's what he tells himself when teammates ignore the game plan in favor of mindlessly rubbing up against rivals or idly sitting around staring at the 3D-rendered grass. Lesson learned: Sometimes, you've just got to go for it -- doubly so when the jackasses guarding your flank decide it's a good idea to play fast and loose, suddenly transforming long bombs into desperate running plays. As experience with the title's haphazard artificial intelligences teaches, relying on others is often necessary, but not an ideal solution. At some point, every man must get in touch with his inner wide receiver, and take control of the proverbial wheel. Whether you ultimately choose to meet impending challenges head on, or learn from failures and transform crushing defeat into a "Dancing with the Stars" cameo-level career turnaround, well … that's your call.
You Can't Fake Your Way Through Life
Hell, until you perfect your poker face, or the Wii U ships (letting you potentially choose plays on a second screen), chances are, you can barely even do it through the first quarter. Sometimes, no matter the trials that lie ahead, you've just got to man up, and push through the pain, earning turf yard by excruciating yard as 300-pound linebackers fly headfirst at your kneecaps. Don't get me wrong: Like any street-savvy grade-schooler knows, cheaters can prosper once in a while, slipping the odd faux move through. But cry wolf too many times, and like your poor QB, you'll either be forced to retreat in shame, hounded off the field, or -- worse -- run straight into the waiting stiff-arm. Owie.
Everything in Moderation
Why doesn't Big John grace the cover of his own game anymore? Could be the ample cash, present off-duty status or fact kids don't generally idolize portly old men. (Or, for that matter, the so-called "Madden Curse," even more frightening to those who've been carrying an AARP card since Reagan was president.) But after more than 25 games, nearly as many years and an NFL career so decorated it deserves its own HGTV special, you've got to admire a guy who knows when to take a step back. Not only do his generosity and humility (it's not everyone who'll bow out to let Cris Collinsworth, Tom Hammond or Gus Johnson handle in-game broadcast duties while they cash the royalty check) speak for themselves. Having since retired to spend more time with his family, it's inspired millions to do the same from virtual stardom nightly … after just "one more" game, natch.