Commentary
Padres outfitting Little Leaguers
Originally Published:
March 8, 2012
By
Paul Lukas
| Page 2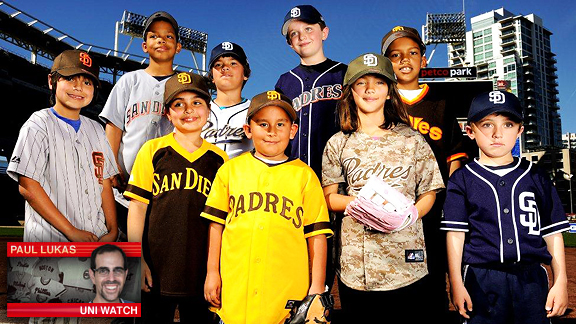 Courtesy of San Diego PadresThe Padres supplied more than 11,000 authentic uniforms to local Little League teams.
As the Little League season got under way in San Diego last weekend, the game on one field featured the Padres playing the Padres. On the next field over, it was another Padres-Padres matchup, and again on the field next to that one. In fact, throughout most of San Diego's Little League diamonds, it was Padres as far as the eye could see.
But that's not to say that the kids were all dressed the same. Some of them were wearing uniforms based on the big league Padres' current home whites. Others were wearing the team's camouflage jerseys. And others were wearing Padres throwbacks (yes, Little League throwbacks!) from the team's storied uniform history -- the brown-and-golds from the Dave Winfield era, the blue-and-oranges from the Tony Gwynn era, and even a 1948 design from the days when the minor league Padres played in the Pacific Coast League.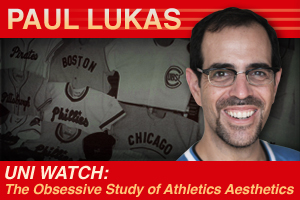 This is all part of a clever promotional initiative that makes so much sense, you have to wonder why nobody thought of it sooner. Here's the deal: All Little League chapters within a 10-mile radius of Petco Park were given the opportunity to choose from 20 past and present Padres jerseys and matching caps, all at no cost. Most of the leagues jumped at the chance. When the dust settled, the Padres had supplied 11,600 jerseys and caps to over 800 local T-ball, baseball and softball teams. Even better, the kids get to keep the gear when the season's over.
The uniform program is the brainchild of Padres president and COO Tom Garfinkel, who came up with the idea last year during a Little League promotion at Petco Park. "We had about 8,000 Little Leaguers doing a parade around the warning track before the game, and it occurred to me that almost none of them were wearing Padres jerseys," he recalls. "They had jerseys sponsored by local businesses, jerseys from other teams. And I thought, 'Wouldn't it be great if they were all Padres?'" So Garfinkel and his staff made it so.
You don't have to think very long to realize that this is a win-win for everyone involved: The kids get sharp-looking new uniforms; their parents get to reconnect with old Padres uniforms they remember from years past; the leagues can repurpose their uniform budgets toward other objectives (many of them have used the savings to improve their fields, upgrade their scoreboards, and so on); and last but not least, the Padres generate a huge amount of goodwill while forging an early bond with their next generation of customers.
Even local sponsors, who are represented on the jerseys by sleeve patches, are pleased. They're getting more exposure than ever, because a kid will wear his Padres jersey to school or around town a lot more than he'd wear, say, a Chico's Bail Bonds jersey.
It all makes for a lot of happy San Diegans of all ages, as you can see in this video clip:
Of course, it helps that the Padres have, shall we say, a somewhat richer visual history to draw upon than most other MLB teams, which makes the whole project more fun. "That's one of the interesting things about our brand, so we thought we'd embrace that," says Garfinkel. "This program allows us to connect our future and our present with our past."
Most likely nobody would have complained if Garfinkel and his crew had simply provided T-shirts with screen-printed Padres logos. Instead, they poneyed up for real jerseys with button fronts and sewn-on graphics (manufactured by Majestic, the same company that makes the uniforms for all 30 MLB teams), and they paid attention to period-appropriate details. The 1984-style jerseys, for example, even have an "RAK" memorial patch for former team owner Ray Kroc, similar to what the real Padres wore in '84.
I'LL TRADE YOU '84 FOR '73
Each youth league participating in the Padres' uniform program was offered a menu of 20 different uniform choices. The idea was that no two teams in a given league would wear the same uni, so each league came up with its own system for deciding which team would choose first, which one would choose second, and so on. And that occasionally led to problems.
"The grandson of [former Padres owner] Ray Kroc plays in one of the leagues," says Padres president Tom Garfinkel. "His father -- Ray Kroc's son-in-law -- had requested the 1984 whites for his team, because that's the year we went to World Series while wearing Ray's initials on the sleeve. But one of the other coaches had already claimed that design. So Ray's son-in-law asked that coach if he'd be willing to give it up, and the guy said, 'Nope. That's the year I started being a Padres fan, and I'm keeping it.'" So much for rank having its privileges.
Interestingly, four of the six most popular uniform choices were the Padres' four current uniform designs (home whites, road grays, blue alternates, and camouflage alternates). And the top choice? "The camouflage," says Garfinkel. "Everybody wanted that one."
So did Garfinkel play Little League himself? "Yes," he says. "I grew up in Kansas City, but my team was called the Orioles. And the main thing I remember about our uniforms is that they were really itchy and uncomfortable." Maybe that explains his crusade to bring high-quality uniforms to the kids of San Diego. Whatever the reason, he deserves to take a bow for coming up with the feel-good uni story of the year so far.
But does any of that matter to kids who weren't even born when these throwback designs were first worn? "I was wondering about that myself, but the kids are probably more excited about the older designs than about the new ones," says Ned Kern, a coach and administrator for one of the local youth leagues. "Personally, I've been to every single home playoff game in Padres history, so it's kind of surreal to see the kids running around in these old uniforms, but it brings back so many memories."
Kern isn't the only coach who's embraced the program. "The response has been incredible," says Garfinkel. "I was talking to one of the league presidents, and he said that he normally has to go out to the coaches' houses and deliver the uniforms each season. But this year he sent out an email and the coaches all showed up at his house within half an hour."
It all sounds great, except for one thing: When all the teams in a given league are the Padres, how do you refer to them? "You can't just say, 'The Padres are playing the Padres,'" says Bruce Bourdon, another local league administrator. "And we didn't want to name the teams after the coaches -- Bruce's Padres against Paul's Padres, or whatever. So instead we're saying, 'It's 1972 home against 1984 road.'"
By any names, the teams all look great to Garfinkel, who has two Little League-age kids of his own. "My 8-year-old is wearing the '84 brown road uniform, and the 6-year-old is wearing the '73 mustard road design, from Dave Winfield's rookie year," he says. "But they all have one thing in common -- the 'SD' on the cap. When you see 11,000 kids wearing that, there's a definite civic pride element."
The Padres plan to keep the program going next season, and Garfinkel says they'll probably expand it to go beyond the 10-mile Petco radius. The idea seems like a no-brainer for most MLB teams, but Garfinkel says he hasn't heard about any other clubs trying out a similar program. Too bad, especially since there's one team in particular that would be a natural for it -- a team whose uniform history rivals San Diego's. Astros owner Jim Crane, call your local Little League, pronto!
Paul Lukas played four years of Little League but, surprisingly enough, can't remember anything about his uniforms. If you liked this column, you'll probably like his daily Uni Watch web site, plus you can follow him on Twitter and Facebook. Want to learn about his Uni Watch Membership Program, be added to his mailing list so you'll always know when a new column has been posted, or just ask him a question? Contact him here.