Commentary
Messages found in team anagrams
Originally Published:
March 16, 2012
By
DJ Gallo
| Page 2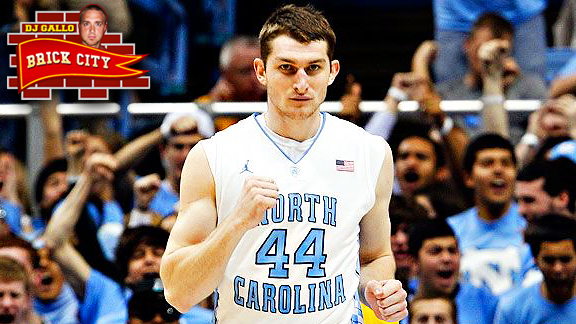 AP Photo/Gerry BroomeTyler Zeller and the Tar Heels just need to have fun out there, according to their team anagram.
If we learned anything about sports in the past few months, it's that wordplay trumps all.
We were told that you can't spell "elite" without ELI. And what happened? Eli Manning won another Super Bowl.
Jeremy Lin gave us "Linsanity" -- a long winning streak that insanely devolved into his coach resigning.
It's obvious that talent, athleticism, intelligence and determination can't match the impact that wordplay has on sports. With that in mind, let's take a look at all of the NCAA tournament favorites -- the No. 1 through No. 8 seeds -- via anagrams.

University of Kentucky = Funky rut keys eviction
Obvious message: A bad stretch of play could be the cause of Kentucky getting bounced from the tournament.

UNC Tar Heels = Can the rules
Obvious message: The Tar Heels need to stop overthinking, set the rules and structure aside, and just go out there and play.

Michigan State = A match ignites
Obvious message: Once the Spartans get rolling in the tournament, they will be tough to stop.

University of Missouri = Sirs, your vomit unifies
Obvious message: If each player exerts himself to exhaustion, the Tigers will come together like never before.

University of Kansas = A freaky vision stuns!
Obvious message: Don't be surprised if Kansas shocks its fans again with another earlier tournament elimination.

The Ohio State = Oh, to hesitate
Obvious message: Ohio State must be aggressive in order to win. Hesitation will cost them.

Baylor Bears = Alas, robbery
Obvious message: Baylor has to create turnovers in order to fuel its fast break.

Duke Blue Devils = Lubed, Duke lives!
Obvious message: A program like Duke always plays under intense pressure to perform. They need to play loose in order to succeed.

Indiana Hoosiers = Araise hid onions!
Obvious message: To succeed in the tournament, the Hoosiers must dig deep and show that they have … onions, as Bill Raftery might say.

Marquette = Quartet 'em
Obvious message: Buzz Williams must consider playing a box-and-one against his opponents' star player.

Louisville Cardinals = A silica devil unrolls
Obvious message: Rick Pitino must roll out the hardest, most devilish press he has ever conceived in order for Louisville to advance.

FSU Seminoles = Felines. Sumos.
Obvious message: Florida State must play with cat-like quickness, yet they also must be big and immovable.

Wisconsin = Sonic wins
Obvious message: The Badgers need to abandon their slow, plodding style and replace it with a fast, up-tempo approach.

Georgetown Hoyas = Thorny sewage goo
Obvious message: Georgetown must stay above the fray or risk getting drawn into foul trouble or player ejections.

Michigan Wolverines = A chewing vermin silo
Obvious message: Michigan must embrace its Wolverine status and be poised to attack.

Wichita State = A twist I teach
Obvious message: Shockers head coach Gregg Marshall must add a twist to Wichita State's offense to keep opponents off balance.

UNLV Runnin' Rebels = Never burn ill nuns
Obvious message: Staying out of trouble off the court can pay dividends on the court.

Notre Dame = On red meat
Obvious message: Notre Dame will have success by sticking to what got it here.

Iowa State = Waste iota
Obvious message: The Cyclones must make every possession count.

New Mexico Lobos = Excise now. Bloom!
Obvious message: New Mexico must cut out its mistakes in order to achieve its potential.

Murray State = Amateurs, try!
Obvious message: Head coach Steve Prohm must remind the Racers that none of them are guaranteed professional careers. Now is the time for them to achieve basketball greatness.

Florida = Do flair
Obvious message: Florida needs to make big, showy plays in order to get the momentum on its side.

Memphis Tigers = Peer might miss
Obvious message: The Tigers should be wary about over-passing. They should take open shots if they have them instead of forcing the ball to a teammate in an inferior position.

Vanderbilt University = In. A blurted, nervy visit?
Obvious message: Vanderbilt is in the tournament. But it must play with composure or its stay won't last for long.

Cincinnati Bearcats = Nice cannabis critic
Obvious message: Head coach Mick Cronin needs to kindly remind his team that now is not the time to cave to temptation.

Gonzaga University = A graying, venous zit
Obvious message: The blemish on Gonzaga's program is that it has yet to make a Final Four. It's time to pop that zit.

Kansas State = Satan steaks
Obvious message: If Kansas State doesn't play well, Frank Martin will personally send his players to hell to roast forever.

Temple Owls = Swell tempo
Obvious message: Temple must increase the speed of its games in the second half.

San Diego State = Stagnate so. Die.
Obvious message: If San Diego state's offense gets bogged down, they will lose.

St. Mary's = Try Mass
Obvious message: Praying can't hurt.

Creighton Bluejays = A chub jogs entirely
Obvious message: Creighton must play up-tempo to wear down opponents who are not in good shape.

Syracuse = Say curse
Obvious message: Syracuse is [expletive deleted].
DJ Gallo is the founder of SportsPickle.com. He has written a book and written for Comedy Central, The Onion and ESPN The Magazine. You can follow him on Twitter at @DJGalloESPN.