Commentary
Page 2's Sweet 16 rooting guide
Updated:
March 22, 2012, 3:31 PM ET
By
DJ Gallo
| Page 2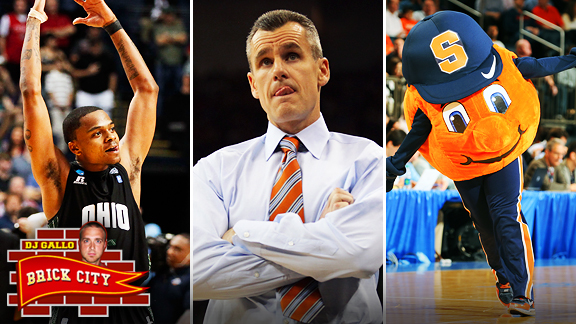 Getty ImagesOhio? The Gators? Syracuse? It's so hard to pick a team to root for with just 16 left in the tournament!
There are 345 teams in Division I basketball. Only 16 are still playing (excluding those unfortunate enough to still be alive in the NIT, CBI and CIT tournaments). Chances are your favorite team's season is long over.
So whom should you root for in the NCAA tournament? This guide should help you figure that out.

No. 13 -- Ohio
Root for them: As the lowest remaining seed in the tournament and one of only two non-BCS schools remaining, the Bobcats are the biggest underdogs. Everyone loves an underdog. Plus, since your bracket is likely in bad shape by now, it's good for the soul to root for Ohio to destroy other people's brackets. That's basic sports karma 101.
Root against them: Ohio is one of four teams in the Sweet 16 from Ohio. At least one is already guaranteed to advance to the Elite Eight, since Cincinnati and Ohio State are meeting in the Sweet 16. Do we really want more than one Ohio team in the Elite Eight? Do we really want to hear Ohioans gloating about how great their sports teams are? The world is volatile enough already. People might not be able to handle Ohio having good sports teams.

No. 11 -- NC State
Root for them: The longer NC State stays in the tournament, the more chances we get to see clips of Jim Valvano running around the court trying to hug people. Plus, if you're a Duke hater, the lowly, state-school-educated advancing while the 2-seed Blue Devils sit at home should bring you great joy.
Root against them: If you are a Duke fan, the more NC State keeps winning, the more likely your servants and employees will forget their place and rise up against you.

No. 10 -- Xavier
[+] Enlarge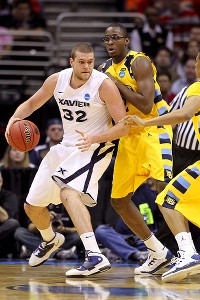 Andy Lyons/Getty Images"This one's called the Scalabrine."
Root for them: The Musketeers are one of only three double-digit seeds remaining in the tournament and they have Kenny Frease. If you enjoy watching Brian Scalabrine play basketball, Frease is a larger, neck-bearded version. Yes, he's outstanding.
Root against them: Were you OUTRAGED by the Xavier-Cincinnati fight earlier this season and by Tu Holloway's postgame comments? Then you probably won't be rooting for Xavier. Also, you should see a doctor about your blood pressure and your proclivity to get outraged easily. Oh, and don't forget about the natural American instinct to root against Ohio.

No. 7 -- Florida
Root for them: A long tournament run would raise Billy Donovan's stock again, and with Stan Van Gundy's future uncertain in light of the Dwight Howard situation, maybe Donovan takes the Magic job. That was very entertaining last time. When looking for a team to root for, entertainment is very important.
Root against them: Florida is like hot Ohio.

No. 6 -- Cincinnati
Root for them: Cincinnati is coached by an adorable, tiny and precocious 10-year-old boy. The children are our future. Go Bearcats!
Root against them: See the "Root against them" section for Xavier and remove the Tu Holloway part. OK. Finished? Back? Let's move on …

No. 4 -- Wisconsin
Root for them: They don't play highlight-reel basketball. And that's why they're good. They play with solid fundamentals. They play basketball the way it is SUPPOSED TO BE PLAYED!
Root against them: Stop boring-ing up college basketball, Wisconsin!

No. 4 -- Louisville
Root for them: If Louisville advances it can possibly meet Kentucky in the Final Four. Again, you always want to consider entertainment value. A Kentucky Civil War would be entertaining to the rest of America, so long as the only weapons used are nuclear sports radio callers.
Root against them: Yuck. Do I have to say it? No? Thank you. I don't want that mental image. Oh. Too late. Gah! My brain. I want to scratch out my brain!

No. 4 -- Indiana
Root for them: A good Indiana program is good for college basketball. Need another reason? OK, maybe you can identify with the Hoosiers because your wardrobe is so outdated it can also be considered "classic."
Root against them: The sports world is currently experiencing another, stronger dose of Tebowmania. Do we really want more stories about "wholesomeness"?

No. 3 -- Baylor
[+] Enlarge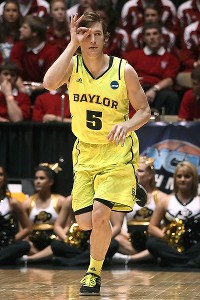 Christian Petersen/Getty ImagesBaylor's unis: Easy on the eyes?
Root for them: You're 18 or younger and think their uniforms are awesome and, in fact, just tweeted that out.
Root against them: You're over 50 and think their uniforms are Satan's undergarments and plan to write a strongly worded letter to the NCAA about appropriate dress!

No. 3 -- Marquette
Root for them: You find Buzz Williams entertaining.
Root against them: You are sick of the reach of advertising into sports and resent the fact Curly was installed as Marquette's coach as part of a promotion for the new "Three Stooges" movie.

No. 2 -- Ohio State
Root for them: Maybe you're sick and tired of people not enunciating the word THE enough. It is a problem.
Root against them: The one positive scenario of Ohio teams dominating the Elite Eight: If Cincinnati, Ohio and Xavier make it, but the Buckeyes don't. The Ohio State campus will set a world record for speed in changing a subject. "Let's talk spring football and Urban Meyer!"

No. 2 -- Kansas
Root for them: Remember: entertainment value. If Kansas wins a national title, there's a chance Bill Self's hair could fall off in the celebration.
Root against them: You can never have enough Sad Jayhawk.

No. 1 -- North Carolina
[+] Enlarge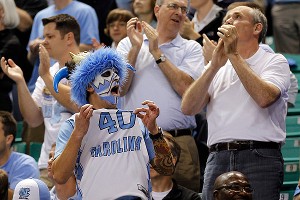 Mike Ehrmann/Getty ImagesThis fan was probably a McDonald's All-American.
Root for them: Say you're an unabashed front-runner but don't want to seem like it. Why not root for North Carolina now? Kendall Marshall is hurt. They're a huge underdog (is how you can try to spin it)!
Root against them: Yes, Kendall Marshall is hurt, but North Carolina has 17 McDonald's All-Americans on the bench behind him. There are 26 more on campus, but they got cut at tryouts.

No. 1 -- Michigan State
Root for them: Despite six trips to the Final Four, Tom Izzo has only one national title. It would be nice to see him win another championship.
Root against them: If Tom Izzo fails to win a championship, it will be entertaining to watch some media person somewhere try to make the case that Izzo is a choking failure who should be fired.

No. 1 -- Kentucky
Root for them: They have the most talent and John Calipari showed some refreshing and hilarious self-awareness earlier this year. And, yes, Kentucky is a factory for one-and-done players, but how is it their fault for working the system?
Root against them: The system stinks.

No. 1 -- Syracuse
Root for them: Hmm. Huh. Hmmmmm. Well … their mascot is funny to look at, and … well … yeah, let's just stick with the mascot thing.
Root against them: Just type "Syracuse basketball" into Google News and scroll through everything that comes up back to November.
DJ Gallo is the founder of SportsPickle.com. He has written a book and written for Comedy Central, The Onion and ESPN The Magazine. You can follow him on Twitter at @DJGalloESPN.