Commentary
It's Uni Watch's 2012 MLB preview!
Originally Published:
March 27, 2012
By
Paul Lukas
| Page 2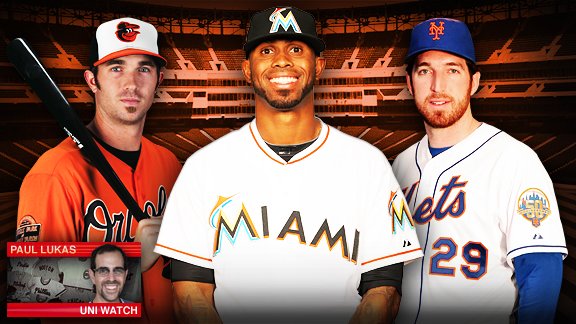 ESPN.com Illustration
Certain Uni Watch readers have occasionally accused your friendly uniform columnist of being too much of a naysayer. "You never like anything!" these readers say. "Whenever a team unveils a new uniform, all you do is complain about all the things wrong with it!"
Those readers -- and baseball fans in general -- should be very pleased with Uni Watch's 14th annual MLB season preview column, because the vast majority of the MLB uniform news over the past five months has been positive. In fact, this may have been the best offseason, at least from a uni standpoint, in MLB history.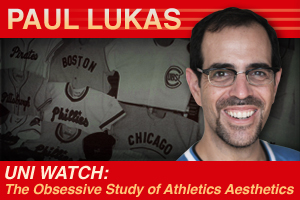 With the A's and Mariners set to begin the regular season with two games in Tokyo on Wednesday and Thursday (the other teams will start playing games that count on April 5 and 6), here's Uni Watch's alphabetical team-by-team rundown of what you can expect to see on the diamond this year:
• Whenever MLB has opened its season in Japan (Mets-Cubs in 2000, Yankees-Rays in 2004, A's-Red Sox in 2008), the teams have worn advertising patches and batting helmet decals. That unfortunate tradition will continue this year, as the A's will wear the logo of Gloops -- a Japanese gaming software company -- on their sleeves and helmets. Further info here. On a more positive note, the A's will wear Oakland Oaks throwbacks on July 8.
• Last year the Angels celebrated their 50th anniversary by changing the halo on their jersey and cap from silver to gold. This year it's back to silver. Also, you'd think the team already had enough iterations of its "A" logo scattered around the uniform, but they've added a new one with this sleeve patch. (One fan has joked that the team's 2013 uni will probably look like this.)
• The Astros came into existence 50 years ago (although they were called the Colt .45s back then), and they've come up with a doozy of an anniversary patch, which will be worn on all the team's jerseys and caps. They'll also be wearing throwbacks from their illustrious uni history for Friday home games. As you may have heard, there was some controversy back in February when it turned out that MLB had instructed the team to remove the gun from the Colt .45s throwback, but a storm of fan and media backlash led to the firearm being restored. Don't mess with Texas!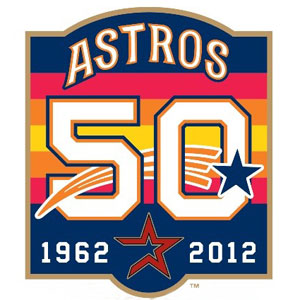 Houston AstrosThe Astros' anniversary patch draws upon various elements from their wide-ranging uniform history.
• The Blue Jays haven't done much right from a uniform standpoint in recent years decades, but they really nailed it this year. Imagine that, the Blue Jays wearing blue! At first glance, design looks like a straight throwback, but it's not -- they've modernized the original logo and the original uni. It all adds up to a sensational updating of an old design -- a textbook case of how to stay true to your roots without looking dated. Kudos all around. (As an aside, a pretty amusing rundown of Blue Jays logo history is available here.)
• The Braves have added a new alternate jersey, which will be worn for weekend home games.
• The Brewers will wear their Spanish-language Cerveceros jerseys on June 2 and Negro Leagues throwbacks on July 28. And in an apparent MLB first, on July 1 the Brew Crew will wear an Italian-language jersey. Initial reports indicated that the insignia would read "Birraioli," but that apparently translates to "heavy drinkers," so now the plan is to use "Birrai." No visuals yet, alas.
• The Cardinals will celebrate their World Series title by wearing gold-accented jerseys and caps for their home opener on April 13 and when they receive their World Series rings the following day (further info on the history of this trend here). They're also wearing a championship sleeve patch this season. Some fans think this is a bit too show-off-y, while others are fine with it, but there's one thing everyone should be able to agree upon: That's one miserable patch design. Look how the red border around the "L" bleeds into the white outline -- not exactly championship-quality design.
• The Diamondbacks will wear throwbacks on Sept. 15 and are letting fans vote on which design they should use.
• The Dodgers will mark the 50th anniversary of Dodger Stadium with a sleeve patch. They've also made some extremely subtle changes to their primary logo and even subtler changes to their cap logo.
[+] Enlarge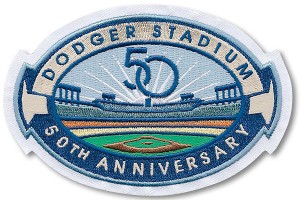 Los Angeles Dodgers The Dodgers will commemorate five decades
of playing in Chavez Ravine with this patch.
• Fans watching the Giants on the road will notice two changes. First, the team's standard road grays now have black piping on the collar and placket. And in an unusual move, the Giants have added an alternate gray design, hearkening back to the Will Clark era. Uni Watch has always loved that look -- so much better than the clunky "San Francisco" lettering that barely fits across the chest. Here's hoping the alternate becomes the primary in a year or two.
• Good moves by the Indians, who've scrapped some extraneous details and created a more no-nonsense, stripped-down look for their home whites and blue alternates. Addition by subtraction, in Uni Watch's view. Also: If you look closely, you can see that they've tweaked the jersey script just a hair (look at the "d" and the "s"). Also-also: Last year, the Indians' retro home alternate uni was accessorized with a red cap, blue undersleeves, and blue socks, but the plan this year is to use red sleeves and socks, to avoid clashing with the cap.
• Lots of small changes for the Mariners. First, they've added a 35th anniversary patch. Second, their green alternate home jerseys will now be paired with a green-billed cap. Third, their navy alternate jerseys, which used to have "Mariners" across the chest, will now have "Seattle" and be worn only on the road. And fourth, for the two season-opening games against the A's in Tokyo, the M's will wear a Gloops advertising decal on their batting helmets and a Boeing ad on their sleeves.
• The Marlins -- now the Miami Marlins -- have gotten a complete overhaul. Public opinion seems to be mostly along the lines of "Those sure look silly," but here's a little secret: Uni Watch thinks they look pretty good, especially the home whites. Sure, they used too many colors, but Miami is a colorful town, so why not? And did anyone -- seriously, anyone -- really love the old design? Yes, there are a few problems, mainly involving the ginormous cap logo and the absolutely brutal uni numbers, but I bet those get tweaked in a year or two. When you look at the whole package, the feeling here is that it's not so bad. Also: The Marlins have unretired one of history's more dubious retired numbers.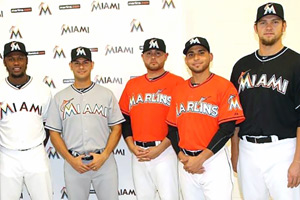 Miami Marlins Some observers have panned the Marlins' colorful new uniforms, but we see definite improvement.
• The Mets may lose a lot of games this season, but at least they'll look great doing it. As you can see in that photo, black has finally been excised from the team's uniform program: no more black drop-shadow on the letters and numbers, no more black sleeves or socks (not even on the road), no more black caps (ditto) and no more black belts. They are keeping the solid-black alternate jersey for one more season, but it will only be worn sparingly (read: just often enough to blow through the rest of the unsold inventory at Sports Authority), and probably just on the road, before being swapped out for a blue jersey next season. In addition, the Mets will be wearing two sleeve patches this year: one for the team's 50th anniversary and one for Gary Carter. The anniversary logo will also be worn on the back of the cap. Great job all around. True Mets = Blue Mets!
• Come on, Nationals -- no memorial patch for Gary Carter? The Nats used to be the Expos, after all. Disappointing.
• Great news out of Baltimore, where the Orioles have brought back the cartoon bird. It's not exactly the same cartoon as before -- they've tweaked it a bit -- but it still looks swell on the team's headwear. Other changes: a slight adjustment to the road jersey script, a new orange alternate jersey and a Camden Yards 20th anniversary patch. Nice work, gang.
• The Padres are in one of those periods where they're flailing about, trying to figure out if they're a newfangled-looking team or a traditional-looking team, and as a result they're now stuck uncomfortably in between. The new home jersey feels like a watered-down compromise -- not quite traditional, not quite modern. And the new road uni (the team's third in three seasons) is snoozers all the way. The new blue alternate is OK, but come on -- a team with such a rich uni heritage should embrace its quirkiness and double down on it. The club's current identity crisis is nicely captured by these two new logos: one trad, one mod. Make up your minds, people!
• The Pirates will wear camouflage uniforms on Memorial Day weekend.
• This year marks the Rangers' 40th anniversary, and they're marking the occasion with a beauty of a sleeve patch, plus they'll be wearing throwbacks from various points in their history for selected games throughout the season.
[+] Enlarge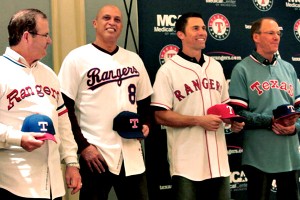 Texas RangersThe Rangers will mark 40 years in the Metroplex by wearing a throwback wardrobe in selected games.
• Fenway Park turns 100 years old this season, and the Red Sox are celebrating with a sleeve patch. They'll also wear a cap patch for the first homestand of the season and will suit up in 1912 throwbacks on April 20. And for good measure -- or maybe just extra merch sales -- they have a separate anniversary patch for replica jerseys.
• Are you one of those fans who think a team should never wear pinstripes on the road? If so, the Rockies have finally listened to you. They've also scrapped their pinstriped home vest.
• The Royals -- a very solid-looking club whose uniforms rarely get the respect they deserve because the team has been so bad for so long -- have made some minor adjustments that make a good uni program even better. For starters, they've tweaked their road jersey insignia (you can get a better sense of the changes here -- an upgrade, right?). They've also changed the script on their blue alternate jersey from blue to white (another upgrade), and they've added a very nice patch for this year's All-Star Game, which they'll be hosting in July. Further details here.
• The Twins will wear Minneapolis Millers throwbacks on June 30. The Millers were the team that Willie Mays played for before being called up to the Giants in 1951. No word on whether the Say Hey Kid will be part of the June promotion at Target Field, but that would certainly be a nice touch.
• The White Sox will be wearing snazzy 1972 throwbacks for Sunday home games.
• Here's a rarity: The Yankees will help mark Fenway Park's 100th anniversary by wearing 1912 throwbacks on April 20. To Uni Watch's knowledge, this will be only the second instance of the Yankees wearing throwbacks. The other time was in June 1996, when they wore New York Black Yankees uniforms as part of a Negro Leagues throwback game in Detroit.
• Two former MLB umpires -- Marty Springstead and Harry Wendelstedt -- passed away during the offseason. Umpiring crews haven't been wearing any kind of memorial to their fallen colleagues during spring training, but look for one to appear once the regular season starts.
• Remember last summer's Uni Watch column about bat knob decals? A few more teams have jumped aboard that train, and a few others have updated their designs. Details here.
• Maybe the subtlest change of all: You know how baseball caps have a little button on top? Batting helmets usually mimic this button with a little flat vinyl decal on the crown. But now the Mets and White Sox are experimenting with raised helmet buttons. Why? No particular reason -- just for fun. Further details here.
• As has been the case for several years now, all uniformed personnel will honor Jackie Robinson on April 15 by wearing No. 42. Broadcasters must hate this, but Uni Watch loves it.
• Another modern tradition: Teams will raise awareness for breast cancer and prostate cancer by wearing pink accessories on Mother's Day and blue gear on Father's Day.
• A tradition we could live without: Teams will once again wear those embarrassingly bad stars-and-stripes caps on Memorial Day and Independence Day (although it hasn't yet been decided whether they'll also wear them on Sept. 11, as they have in recent years).
• Last year, MLB tried something new during the run-up to the All-Star Game: Players named to the All-Star rosters wore little star patches on their jerseys during the week before the game. An MLB spokesman says it hasn't yet been decided whether this will be repeated this year.
There are probably a few throwbacks and other special promotions that haven't been announced yet, but that's part of the fun, right? Right. OK, now that you're all caught up on how things will look out there on the diamond, let's play ball.
Paul Lukas will be getting up early to watch the A's-Mariners games from Japan. If you liked this column, you'll probably like his daily Uni Watch web site, plus you can follow him on Twitter and Facebook. Want to learn about his Uni Watch Membership Program, be added to his mailing list so you'll always know when a new column has been posted, or just ask him a question? Contact him here.
ESPN.com
Sports journalism's foremost uniform reporter
ESPN.com columnist since 2004
Also blogs at uni-watch.com