Commentary
Nike's NFL unis only slightly different
Updated:
April 4, 2012, 1:11 AM ET
By
Paul Lukas
| Page 2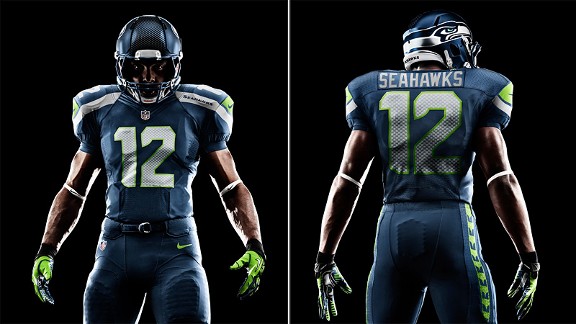 NikeAs shown at the Nike unveiling, the Seahawks were the only team to remake its uniforms.
Back in September, when everyone was freaking out over the thought of what a Nike-branded NFL might look like, a certain uniform columnist assessed the situation and declared: "The NFL is likely to look pretty much the same next year as it does now. … A few teams will no doubt go for a face-lift. … But a large-scale redesign? Ain't gonna happen."
Told you so:
After all the hype, Tuesday's much-anticipated unveiling event basically boiled down to this: a serious makeover for the Seahawks, and mostly more of the same for everyone else.
Uni Watch is still sifting through all the photos and details, but here are some quick reactions:
• The Seahawks were the one team that agreed to put their uniform into the Nike design centrifuge. Your assessment of the results probably depends on (A) whether you view football as a video game played by comic book superheroes in costumes, or as a sport played by human beings in uniforms, and (B) your tolerance for neon green. Uni Watch doesn't much care for the new look, but the team's old look was nothing to write home about either, so it's no great loss. In the grand scheme of things, call it a push.
• All of the other 31 teams either look exactly the same or almost the same. The biggest changes involve the collars, many of which now feature Nike's Flywire design, which has been used for the past few seasons on the college level. Some teams have also gone to a two-tone collar. But a few teams have stuck with traditional collars -- no Flywire, no changes.
• Teams with metallic-toned pants -- the 49ers, Saints, Cowboys, etc. -- now look a bit more subdued, because Nike's lightweight pants fabric has a more matte-ish finish.
• Many teams now have padded belt tunnels that interrupt their pants piping. Looks odd, and seems like a simple enough thing to have avoided.
• You know how a few NFL teams have logos on their hips? Those logos now seem to be positioned a bit lower:
• Pants striping panels, which used to be made of a stretch fabric, are now mostly mesh. You probably won't be able to see the difference on TV.
As you can see almost all of these changes involve the uniforms' physical design (fabrics, tailoring, construction, etc.), not their graphic design. The casual fan probably won't notice any of it, and the uni-aware fan will probably get used to all of it pretty quickly.
Why weren't there more momentous changes? A few reasons:
• Contrary to what many fans think, a uniform outfitter like Nike can't just walk in and make design changes without a team's permission. Nike is just a vendor supplying a service to a client, and in this case the client is the NFL, whose team owners are some of America's most conservative businessmen. They're not the sort of people who want their teams to look, for lack of a better term, wacky.
• The NFL has rules that keep a team from changing its uniform design more than once every five years. So many teams that have made recent uni changes aren't yet eligible for a redesign.
• A full-scale makeover, including getting all the product into the retail pipeline, takes time, and Nike's new relationship with the NFL is still very young. So we might see more redesigns next year, or the year after.
There's one big caveat, however: No alternate jerseys were shown Tuesday. Word through the grapevine is that several of them are in the works, including one for the Redskins. No word yet on when we'll see these (maybe at the draft?), but it might be that Nike and the NFL have decided to stick with conventional primary uniforms and push the envelope with the alternates.
But that's another question for another day. For today, the big storyline is that the NFL still looks like the NFL -- just as Uni Watch had expected.
Paul Lukas is probably the only member of the media who biked to the Nike unveiling. If you liked this column, you'll probably like his daily Uni Watch website, plus you can follow him on Twitter and Facebook. Want to learn about his Uni Watch Membership Program, be added to his mailing list so you'll always know when a new column has been posted or just ask him a question? Contact him here.
ESPN.com
Sports journalism's foremost uniform reporter
ESPN.com columnist since 2004
Also blogs at uni-watch.com