Commentary
Offerman, Robinson in New Era ads
Updated:
April 5, 2012, 9:36 AM ET
By
Zach McCann
| Page 2
Nick Offerman, better known as Ron Swanson from the NBC comedy "Parks and Recreation," grew up on a small farm in Minooka, Ill., watching Chicago Cubs games on his living room TV between tractor rides.
Craig Robinson, who most notably plays Darryl Philbin on "The Office," has fond memories of visiting Comiskey Park for White Sox games as a kid on the streets of the South Side of Chicago.
Put the two comedy stars in a bar together with baseball on the TV, and you'll see "jealousy and vengeance and bloodthirst bog the bar like cigarette smoke," Offerman said.
[+] Enlarge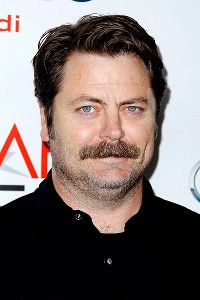 AP Photo/Matt SaylesNick Offerman of the NBC comedy "Parks and Recreation" grew up a Chicago Cubs fan.
That's what New Era did for its 2012 MLB marketing campaign celebrating rivalries and team pride, which will debut Friday in a series of 30- and 60-second commercials. Offerman and Robinson, wearing their respective teams' hats, sit side-by-side in a smoky bar exchanging barbs about the other's favorite baseball team.
"How old is Wrigley, anyway?" Robinson asks Offerman during one of the spots. "Do you even have electricity?"
"It's powered by tradition, my friend, something you wouldn't know about at Mobile Phone Park," Offerman zings back.
The promotion builds off the success of the 2011 Yankees-Red Sox New Era campaign, which starred Alec Baldwin of "30 Rock" and John Krasinski of "The Office."
"They took sort of the early prototype with the Red Sox and Yankees advertisements, and I'm given to understand they wanted to go more handsome, and then they immediately turned to Craig and myself," Offerman told Page 2. "We're giving each other a good-natured ribbing. Craig is representing the White Sox so he has a hard time coming up with any legitimate material, so it's a rather one-sided fight."
Robinson is quick to point out, however, that he's lived to see his White Sox win a World Series title in 2005, while the Cubs haven't won a championship since 1908.
"I think I got the best of him," Robinson said.
The rivalry campaign supports the brand's MLB Authentic Collection caps -- the same as those worn on the field -- and will consist of TV, social media, in-stadium and retail elements. The people at Funny or Die wrote and produced the commercials, which you'll see on all the major networks beginning Friday.
[+] Enlarge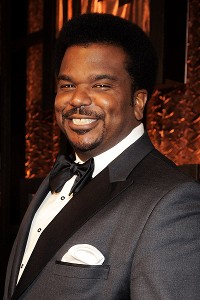 AP Photo/Frank MicelottaCraig Robinson of "The Office" grew up a fan of the Chicago White Sox.
The Cubs and White Sox make up baseball's oldest rivalry, having shared the city since 1901. They've played each other 84 times since the MLB instituted interleague play in 1997, with the White Sox leading the Crosstown Series 45-39. They also met in 1906 World Series, which the White Sox won in six games.
Growing up, Offerman's summers were made up of farm work, Cubs games and little else.
"We had a three-acre lawn out in the middle of the corn field and a tractor, a riding mower and a push mower," he said. "My sister-in-law and I would take turns doing loops around the road, and the other person got to sit inside and watch the Cubs. … We ate, drank and breathed Cubs. Our dad in the car would quiz us on statistics of the entire roster."
The biggest arguing point for Robinson's White Sox is that 2005 World Series victory, which Robinson watched from a sushi restaurant in Los Angeles.
"I was out here in Los Angeles talking a gang of stuff to everybody," Robinson said. "It wasn't a gigantic celebration at the sushi restaurant; the other people I don't think were even paying attention. But as long as I saw it, I was happy."
Both guys live in Los Angeles and haven't been to games in Chicago in years.
But they both still love talking a gang of stuff to each other, which you'll soon see on your TV or computer screen.