Commentary
Page 2's Greatest Hits: 2000-2012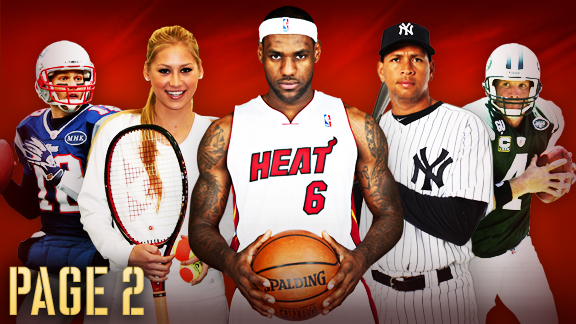 ESPN.com Illustration
Editor's note: Page 2 is closing its doors after nearly a dozen years of service at ESPN.com. Look for your favorite writers, original multimedia, magazine contributors and scores of other new features in a new section beginning Monday, April 16.
When my colleagues decided that the task of compiling the best material in Page 2 history would fall to me, I was honored. I've been working on Page 2 since 2002, so I was ecstatic that my years of wit, wisdom and perspective were not only being appreciated, but also put to proper use.
"No," said fellow Page 2 editor Thomas Neumann. "It's because you've been here the longest."
Fair point. So with that I will channel my wisdom through philosopher Charles De Mar, who in "Better Off Dead" famously declared, "I've been going to this high school for seven and a half years. I'm no dummy."
Before we open our vault, let me offer an apology in advance. As we all looked back at the millions of words posted on Page 2 through the years, we didn't run into a problem of where to start, but where to stop. So if we overlooked your favorite story, column, illustration or whatever, please mention it in the comments section.
Without further, ado, let's start at the beginning …
When we launched on Nov. 6, 2000, we looked like this. And we still did as an adorable 12-month-old, when we felt we earned the right to crown an MVP. Then as we hit the terrible 2s, we were congratulated by our favorite targets. But the time we hit age 3, we sported a new look. When all else failed in those first few years, there was always Nick Bakay's Tale of the Tape to keep us entertained.
SWAN SONG
After nearly a dozen years of cracking wise at the sports world, Page 2 closes its doors. We remember a golden era:
• Philbrick: Page 2's Greatest Hits
• Jackson: Founding editor bids adieu
• Caple: Memories of a road warrior
• Snibbe: Illustrated history of Page 2
• Philbrick, Gallo: Farewell podcast

From the beginning, there has been one constant on Page 2. [Pause to allow bloggers to say something derogatory]. That would be Jim Caple. We sent him everywhere we were pretty sure he didn't belong -- including the motorcycle rally in Sturgis and the wife-carrying championships in Finland. Then we asked him to compete in the wife-carrying championships with Mrs. Caple. With his University of Washington days in his rearview mirror, we even sent Jim back to school to soak up March Madness in the 21st century.
Caple has traveled to six continents to cover nearly every sporting event known to man. If he couldn't make it to one, he would write a parody of it. Here are a few of our favorites:
• Yankee Stadium
• "Hoosiers"
• "Seinfeld"
• "Bull Durham"
On April 5, 2001, a freelance contributor known as The Boston Sports Guy wrote the redemption of Nomar Garciaparra. Of course, I'm talking about Bill Simmons. I could go on and on with a few hundred Simmons links that helped countless readers survive tiresome work days, so instead I'm going to leave you with my two favorites:
• Idiot's Guide to Gold Club Trial
• The Atrocious GM Summit
Too often we had to take a break from not taking life and sports seriously to say farewell to colleagues. Ed Bradley of "60 Minutes" took the reins to say goodbye to the Good Doctor, Hunter S. Thompson. By the way, the X Games should totally include the concepts laid out in Thompson's last column.
When columnist Ralph Wiley passed away, the tributes poured in throughout the day. Ralph was one of our unique voices who could eloquently write on the Women's World Nude 9-ball Championships and the state of race and sports through the lens of O.J. Simpson.
SIMMONS SAYS ...

Page 2 alumnus and Grantland.com founder
Bill Simmons, on the
end of the Page 2 era:
"The page that gave me my start at ESPN folds shop today after 12 years. Here's my favorite thing that I ever wrote for Page 2 ... and the only column I ever handed in drunk. (No, really, this was the only one.)"
Let's just get to the greatest hits tracks, shall we? Without further narrative or lengthy explanation, here are some other memorable moments that captured the essence of what Page 2 has always tried to be [another pause for snarky blogger remarks]:
• We let a "sports figure" who won't ever appear in a box score talk about his naked truth.
• We dared to ask the question on everyone's mind: What's it like to run four miles while eating a dozen donuts?
• We offered valuable advice on how to survive as head coach of the Knicks.
• We dared to induct the inaugural class of the NFL Preseason Hall of Fame and celebrate the greatest moments in Pro Bowl history.
• We sent people in search of hallowed traditions you might have missed.
• We offered the reality TV producers of the world some new ideas for free.
• We offered the thinking fan a place to explore the topics of astronomy, cheerleaders, Christmas creep … and, oh yes, football in the greatest depth imaginable.
• We tried to tell a sports legend he was making a mistake, with a little help from a Pulitzer Prize-winning journalist and author.
• We often tried to let the pictures speak their 1,000 words, then decided to do the talking ourselves anyway.
• We got just a little obsessed with sneakers.
• We had a bizarre obsession with weddings, from Mia & Nomar to Anna & Enrique to Tom & Gisele to Khlomar.
• We thought you might need a little help, so we offered a guide on how to watch the Olympics.
• We did our best to try to turn you into our version of decathletes.
• We proudly hosted the fantastic work of Paul Lukas and his one and only Uni Watch column. Here are some of the most memorable items in that series, as selected by Paul himself: Bill Buckner and the Cubs batting glove, CC Sabathia and his pinstripes, a minor league team that wore the Confederate flag and the story behind a wild suggested design for a Kansas City Chiefs helmet.
• We watched some amazing video clips and decided to get the stories behind a stunning hit by Earl Campbell, the infamous 1971 Florida Flop, Jerome Lane's backboard-shattering dunk, Warren Morris' homer to clinch the 1996 College World Series, the Trinity-Millsaps 15-lateral Miracle in Mississippi, the coolest goal in hockey history and the greatest athletic competition ever.
• We offered a free game of Madden for those who didn't have the money for the real thing.
• We sent one of our editors out to see if people would believe he's an All-Pro quarterback.
• We attempted to motivate college graduates by using as many movie clichés as possible.
• We took one of the greatest rivalries in sports, Michigan-Ohio State, to see how their all-time rosters would stack up against each other.
• When NBA referee Tim Donaghy was arrested in connection with a gambling scandal, we got reformed mobster Henry Hill to explain what the mafia was thinking about the situation.
• We would occasionally lose perspective and get borderline creepy, like when we celebrated Maria Sharapova turning 18 in song and in each time zone.
• We often pulled back the Hollywood curtain to educate everyone on the difference in real life and in reel life.
• We helped anyone trying to go undefeated in the NFL by giving them directions to Mercury Morris' neighborhood.
• We put the Scripps National Spelling Bee contestants on the spot to see how they would make it in our world.
• We didn't blink an eye in 2003 when we asked Michael Vick what else he wanted to do and he told us, "I want to go on a safari trip. I want to go to a jungle where I can see all kinds of tigers and elephants because I love animals."
• We had something to say about every day on the MLB calendar -- more than once.
• We warned you about the opponents you will encounter in pickup basketball -- not once, but twice.
• We told you when it was OK to cry.
• We compiled the all-time NFL Power Rankings.
• We wondered where the line is between decency and pursuit of trophies.
• We woke up early ... or in some cases stayed up late to write the A.M. Jump.
• We offered up a year in review by celebrating only news that Page 2 would love.
• Our designated funny man, DJ Gallo, had this to say about his body of work on Page 2: "I don't remember many things after I write them. Once they're up, I move on and look for another idea. Everything I've written in the past kind of runs together. Here's my Page 2 archive. It has 58 pages. If you like my writing, you might find some things in there you like. If you don't like my writing, then don't waste your time. But for every piece in there, I tried my best. Except for one. I totally mailed one in. See if you can find it."
• We laughed out loud when Ralph Wiley wrapped up columns with his patented "thought balloons" -- such as this one and this one.
• We designed T-shirts and home accessories for the sports fanatic.
• We told the story of major league dreams on hold way out on Long Island.
• We wondered what was so wrong with a coach looking out for his players as they navigated the dangerous college party circuit.
• We didn't mock, but instead praised the concept of the mock draft by conducting one that would curl Mel Kiper Jr.'s hair.
• We offered tips to Patriots fans on how to deal with the grief of 18-1.
• We finally got to the bottom of the ubiquitous Tom Emanski's Defensive Drills commercial.
• We explained the damage that watching the Super Bowl can do to one's health.
• We re-envisioned NFL logos to better reflect the on-field performances of teams. Then we did it again.
• We were influenced by a certain inspirational quarterback to become Tebowists.
• We forayed into the world of competitive air guitar.
• We decided, once and for all, what is the greatest meat of all time.
• We did our best impressions of Bob Woodward and Carl Bernstein by putting all the football coaches of the SEC and the Pac-12 under the microscope in no-holds-barred interviews.
• We treated your eardrums to the wit and wisdom of the Page 2 Podcast.
• We got Chris Young and Justin Upton of the Diamondbacks to try their luck at cricket by hitting off a bowler.
• We fearlessly predicted the next 25 World Series champions.
• Finally, we saluted the brilliance and unintentional humor of regrettable statements by compiling the quotes of the year in 2009, 2010 and 2011.
So while Page 2 won't live to be 103 years old, we sincerely thank you for spending time with us during the past 11-plus years.
It was ball, and it was juice.
Page 2 editor Thomas Neumann contributed to the delinquency of this article.