Commentary
Charlotte fans abuzz about Hornets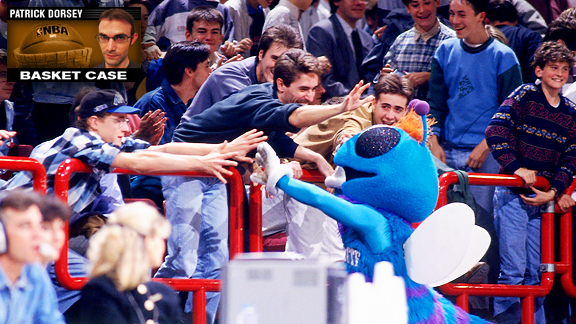 Getty ImagesBack in the day, Charlotte loved its Hornets. Can the city get the name back from New Orleans?
Two years back, Charlotte, N.C.-born John Morgan and his friends flipped their TV to a late-night Bobcats game.
"We were sort of marveling," Morgan said, "about how unenthused we were about the whole thing."
A year later, fellow Charlotte native Scotty Kent did the same.
His thoughts: "This is not exciting at all, and I'm a huge NBA fan."
Yes, the franchise's struggles -- it's made exactly one playoff appearance in seven seasons, and is a league-worst 7-50 this year -- played a role in those blahs. But there was more at work for these once-rabid fans, something else that inspired a profound lack of inspiration when it came to the Bobcats.
They weren't the Hornets. They're still not the Hornets.
Now these two -- plus Scotty's brother, Evan -- are trying to change that, trying to get the Hornets name returned from New Orleans to its original home in the Queen City. And although it's a long, long, long shot, these three have hope -- and some undeniable, ahem, buzz behind their movement.
BEELIEVE IN THE BUZZ
The "We Beelieve" campaign, created by Morgan in 2010, entered Friday with more than 3,300 Facebook fans -- up from about 800 in February. The Change.org petition boasted more than 3,600 signatures entering Friday as well.
Meanwhile, "Bring Back the Buzz," started independently by the Kents a year later but now working in tandem with "We Beelieve," is the Hornets-to-Charlotte campaign's non-Facebook hub. It hosts a blog, Twitter account, guestbook, links to Morgan's sites and general information.
But the buzz has stretched beyond the Web. In addition to numerous radio and TV interviews locally, nearly 200 of the movement's followers met at the March 30 Bobcats game against the Nuggets and -- well, we could describe it, but you might as well just see it:
"It was like something out of a cheesy, unbelievable inspirational film," said Morgan, a 30-year-old elementary school art teacher. "It was amazing."
"It was surreal," said Scotty Kent, 24 and also a teacher (at a middle school in nearby Greensboro). "We were the loudest people in the arena. There were people messaging us on Twitter and Facebook saying, 'I'm watching the game, I can hear you guys chanting.' And we were all the way up at the top, so that's pretty awesome."
WHY THEY WANT IT
Two reasons.
For the first one, let's ask someone who's a part of Hornets history:
"When we were first here, it was unbelievable support," said Muggsy Bogues, the diminutive guard who was on the 1988-89 expansion team and who still lives in Charlotte, coaching high school basketball at United Faith Academy and working with his daughter, Brittney. "The colors as well as the Hornet was very popular. [We had almost] 24,000 every night screaming and yelling."
Indeed, according to basketball-reference.com, the Hornets led the NBA in total attendance in eight of their first 10 years, and were second in the other two -- despite never getting past the Eastern Conference semifinals.
Naturally, Charlotteans want to recapture that magic (although it must be noted that attendance declined in the years before the team's move in 2002).
[+] Enlarge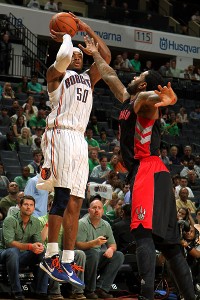 Brock Williams-Smith/NBAE/Getty ImagesIt can be cavernous inside Time Warner Cable Arena.
The second reason: The best sports nicknames carry local weight, and Bobcats -- while indigenous to the Carolinas -- don't pull the same amount as Hornets. During the American Revolution, British General Charles Cornwallis referred to Charlotte as "a hornet's nest of rebellion." Now that very hornet's nest can be seen on the seal and flag of Mecklenburg County, in the name of at least one elementary school and as the nickname of two professional sports franchises before the NBA's: a minor-league baseball team and a World Football League outfit (check this video for more).
"There's just so many things that go back to the 'Hornets' name," said Evan Kent, a 20-year-old student at Appalachian State. "It's our identity."
WHY IT CAN'T HAPPEN
But not anymore. And that's where it gets tricky.
When the Seattle SuperSonics moved to Oklahoma City, the franchise left the name and colors in its original town. Ditto the Cleveland Browns moving to Baltimore.
This wasn't the case when owner George Shinn moved the Hornets. Now that name, obviously, rests in New Orleans, and changing it would be costly and arduous.
That's why the Bobcats franchise and its affiliates can't address the situation in any way. Meanwhile, the NBA -- which took ownership of the Hornets in 2010 -- isn't ready to talk about potential name changes, either; when asked whether teams could trade names if all sides agreed, a league spokesman said via email that "we are not going to get into hypothetical questions."
And that's what it is at this point -- a hypothetical.
Even Bogues knows that, Hornets pride aside.
"I understand why they want the logo to be back associated with the city," he said. "But that's up to [Bobcats owner] Michael Jordan, in terms of his business [preferences] and what he thinks."
[+] Enlarge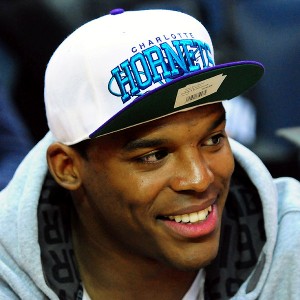 Jeff Siner/Charlotte Observer/MCT/Getty ImagesCam Newton is among many people who are still happy to rock Charlotte Hornets gear.
WHY IT CAN HAPPEN
Morgan and the Kents are aware, too, and know that without New Orleans giving up the Hornets, Charlotte has no chance.
Then again, certain signs are fueling this Buzz-worthy movement. For one, Charlotte Hornets merchandise still sells at a solid clip (check the Cam Newton picture at right; Young Jeezy also was spotted at the April 3 Bobcats game in a Hornets cap).
And then there's this: A recent Sports Illustrated report speculated that the Hornets -- if and when they're sold by the league (update: Saints owner Tom Benson is now reportedly in line to buy the team) -- would rebrand, including a name change. (On that front, the website HornetsReport.com itself hosts a thread with numerous submissions for renaming the Hornets as well.)
And the groups have that underground-quality popularity on their side, using strictly word-of-mouth (without support from the Bobcats, understandably) to spread the message. Coming up, it'll feature such things as another meetup (at the nationally televised April 26 game against the Knicks), a rally anthem (from one of Evan Kent's college friends), a Hornets-colored car from local racing team Riggins Motorsports, and more.
"It's just tapping into the zeitgeist," Morgan said. "It's something people want and have wanted for a long time, and with it being assumed that [New Orleans] is going to rebrand, we're trying to have the pieces in place to make the next step and bring the Hornets back."
A CHARLOTTE HORNETS RETROSPECTIVE
The beginning.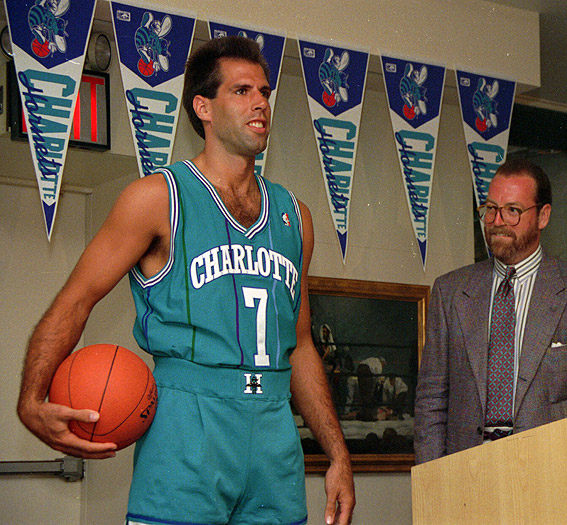 AP Photo/Marty Lederhandler
The core.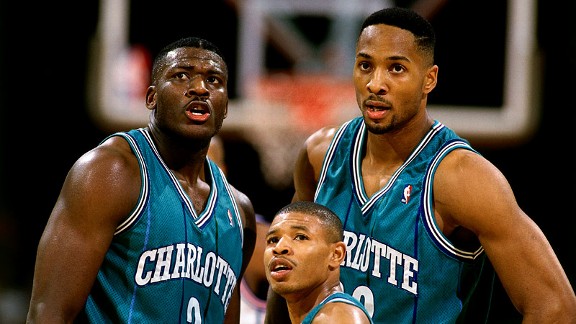 Andrew D. Bernstein/NBAE/Getty Images
The good times.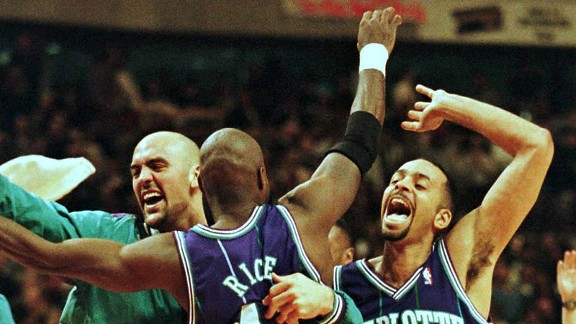 Brian Bahr/AFP/Getty Images
The bad times.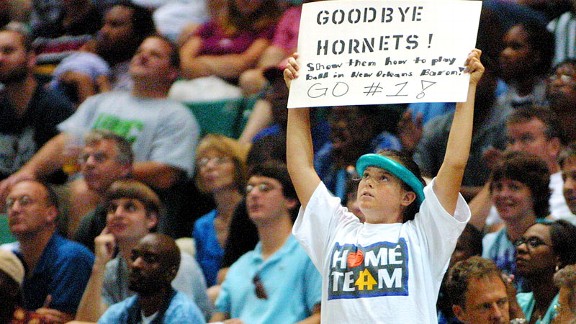 NELL REDMOND/AFP/Getty Images
The leader.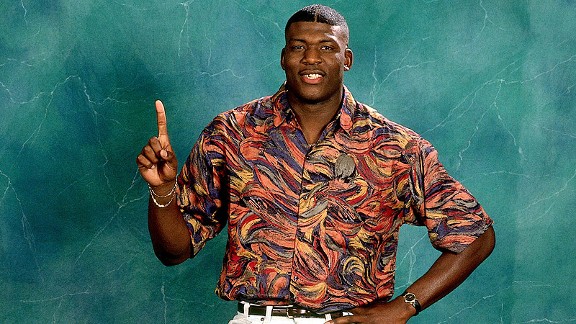 Nathaniel S. Butler/NBAE/Getty Images
And … the team grandma.
FORMER CHARLOTTE HORNET TWEET OF THE MONTH
This original Hornet (seen in the top "Retrospective" picture) asks a question with an easy answer: LeBron James long has been a little Amish … that's why the lights always go out in the fourth quarter!
(Note: It's going to be a sad day in this space when James hits a clutch shot to win a title.)
CRYSTAL (BASKET)BALL
Predicting the week ahead. Just one game, though.
Hornets at Bobcats, Monday: Uhhh …
Patrick Dorsey is a Page 2 editor. He averaged 12 points per game as a second-grader in YMCA hoops; all other basketball court records have been sealed. He can be reached at bypatrickdorsey(at)gmail(dot)com and is on Twitter (@DorseyPatrick).