Commentary
Pau Gasol ready for his dead close-up
Originally Published:
November 4, 2009
By
Sam Alipour
| Special to Page 2
LONG BEACH, Calif. -- Pau Gasol is dead.
Like, Nenad Krstic's hair follicles dead.
The 8-by-10 glossy in my hands says so. In the photo, which appears to have been shot at a morgue, the Lakers forward is lying on a gurney with his eyes shut, his skin a cold blue.
I'd be extremely upset about this news -- after dutifully filing a "breaking news!" report about Gasol's death to my editors, that is -- if it weren't Gasol himself who handed me the photo and we weren't on the set of "CSI: Miami."
"It's tough to see yourself dead," a bemused Gasol says of his souvenir from his workday. "Only in Hollywood, right?"
It's a warm fall afternoon, just a week before the Lakers tip off their season, and the 7-foot Spaniard is standing in the middle of a grisly scene, a once-sleepy suburban street beset by wrecked rides, police cars, fire trucks and a gas tanker that is leaking its contents onto the asphalt, the tableau of a fatal but fictional car crash that might've involved foul play.
This is Gasol's third and final day on set filming for the Nov. 16 episode of this popular CBS crime drama, which I'm told is the "CSI" that stars David Caruso's steely glare. The Lakers All-Star plays Victor Emparo, the wealthy head of a video game company and a person of interest in the crash investigation.
"It's a meaty role," he says, meatier than his rookie outing, a March episode of "Numb3rs," where he appeared in a hoops game rigged by the series' math geeks.
In this scene, Victor is interrogated by Eddie Cibrian, who plays Jesse Cardoza, one of those impossibly good-looking cops who drive around in yellow Hummers adorned with "Crime Scene Investigation" decals, Obama's stimulus money at work in Miami, it seems.
"I was just making a turn, and the car came out of nowhere," Gasol says, his character caught in a lie.
Victor's ride, Cardoza points out, is stolen.
"I want to consult with my lawyer," Gasol counters.
In the end, he's escorted away by a Miami-Dade County police officer.
"Pau came prepared, that's for sure," Cibrian says. "He knows his lines better than I know mine. He's definitely taking it seriously."
But does he have the skills? Between takes, the director pulls Gasol into a huddle. From the look on the Spaniard's face, the director's instructions are more complex than Phil Jackson's triangle offense.
After the powwow, Gasol paces around, animatedly mumbling his lines to himself, looking like he would after dunking an and-1. (Lakers fans might recognize the visage, which some might call an angry horse face.) Then, he claps his hands together and takes his mark. One take later, they're on to the next shot.
Gasol's dedication to the craft should be expected. He's well aware that he's following in the massive footsteps of great Lakers big men/actors Wilt Chamberlain ("Conan the Destroyer"), Kareem Abdul-Jabbar ("Airplane!" and "Game of Death") and Shaquille O'Neal ("Blue Chips," "Kazaam" and pretending to like the Cavs' offense). "I'm not at their level as far as acting goes or basketball," Gasol says. "Obviously, they were great centers. I'm just trying to do my part with this team and be as successful as they were."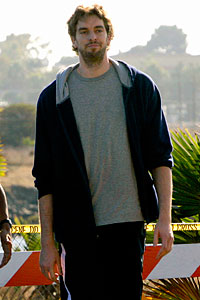 CBS The director was pleased with Gasol's performance when he played a living guy ... and a dead guy.
Until then, he says, a film career will have to wait, although he does allow himself to fantasize. "It would be fun to do a kung fu movie like Kareem," he says.
The Spaniard may be the unlikeliest Laker to go Hollywood. For one thing, dude wears corrective dental bling. (Although he feels it helps him. "I have a very unique look," he says. "There aren't too many 7-foot actors with braces.") For another, he's the straitlaced Laker, a moviegoer in a locker room of clubgoers. This season, six Lakers have publicists. Ron Artest, their big offseason acquisition, is admittedly consumed with his record label, upcoming album and reality TV aspirations. Lamar Odom is married to a reality star, which some derided as a publicity grab and others derided as marrying a reality star. Even Derek Fisher, the roster's bedrock, spent a portion of this past summer promoting a project. (His book, "Character Driven," is a solid read, but don't go in expecting Shaq-Kobe dirt.)
They are your 2009 Los Angeles Lakers, and they're coming to a gossip rag, record store, book shelf and, now, flat-screen near you, much to the chagrin of Angelinos. As I reminded Gasol, such side projects have Lakers fans fretting that, you know ...
"That we're distracted?" Gasol interjects, as if he's heard it before.
"Yeah, well, the good thing about our team is we're a veteran team," he says. "We understand what it takes to win, we have a great coaching staff and we understand how fortunate we are to have so many good players. We're not going to let our personal lives affect our performance. We're professionals."
Translation: Can we all give the "Lakers are distracted" storyline a rest? NBA players are big boys who, like pros in other industries, tackle hobbies in their downtime. And the Lakers, in particular, are well equipped to handle the commotion. As Artest himself told me recently, "I respect Kobe so much, you could call it fear. Step out of line, on Kobe's team? Hell no. I don't ever want Kobe mad at me."
Besides, these Lakers know that off-the-court stardom is tied to on-the-court success. Says Gasol, "When you're successful, good things come of it. This is one of them."
After a few close-ups, Gasol's shoot wraps to applause. He graciously signs autographs for crew members, then climbs aboard a production van that will take everyone to base camp. Standing along the van's route are dozens of savvy star seekers waving at the tinted windows, hoping to catch a glimpse of Caruso, no doubt.
Gasol is smiling. He could get used to this. I test his focus one last time.
"Which would you rather win," I ask, "second ring or an Oscar?"
"A ring."
"OK, how about a second ring or three Oscars?"
"A ring."
"Dude, three Oscars! Who the heck has three Oscars?!"
(Note: Jack Nicholson, Walter Brennan, Katharine Hepburn and Ingrid Bergman do.)
"I'm sure it's extremely hard to win an Oscar," Gasol replies with a chuckle, "but winning a title is something unbelievable, and you make hundreds of thousands of people happy."
Gasol had better win something for this role. He goes darn near Full Monty in that morgue scene. "Now you see why I wanted to try to keep this quiet," he says.
Sorry, pal. David Caruso doesn't do quiet.
Elsewhere at the nexus of sports, media and distractions ...
COMING NOT-SO-SOON: When Free Reign -- the metal rock band featuring Dallas Cowboys Marc Colombo, Leonard Davis and Cory Procter -- joins WWEer Chris Jericho's Fozzy in a spring tour to promote Free Reign's new CD, "Tragedy," you can follow from your couch. Production house Go Go Luckey! ("Laguna Beach") will film for a reality series it'll soon shop to various networks. ... On Nov. 22, Kevin Garnett guest voices on Fox's "Family Guy," when Peter interviews potential friends to replace Cleveland. ... Winky Wright is shopping to networks and, he hopes, starring in "Winky's Spot," a series loosely based on his life and set at his fictional namesake club. The boxer says promo clips, available at WinkysSpot.com, are causing confusion: "I got friends calling me, like, 'Yo, where's that club at? Hook it up!'"
COMING SOON: "The Blind Side," opening Nov. 20. Saw the flick about the miracle of Michael Oher, now a rookie lineman with the Ravens, at a media screening on Friday. More on this next week, but suffice it to say: The positive buzz surrounding the film is well warranted. Not a dry eye in the house.
COMING IN, LIKE, A FEW HOURS: DirecTV subscribers can peep Mike Leach's cameo on Wednesday night's episode of "Friday Night Lights" (9 ET). Coach Taylor gets a little advice from the Texas Tech coach at a gas station. ... Starting Wednesday night at 7:55 p.m. EST, Boston Celtics guard Eddie House and son Jaelen will be regulars on Cartoon Network. "My Dad's a Pro," a live action series of four-minute episodes unspooling over 10 weeks, follows the Celtics guard through the eyes of his biggest fan, his son. It's the first project from a multiplatform development deal between the NBA and the network.
Sam Alipour is based in Los Angeles. His Media Blitz column appears regularly in ESPN The Magazine and occasionally on Page 2. You can reach him at sam.alipour@gmail.com.
ESPN The Magazine
Sam Alipour (
@SamAlipour
) is a senior writer for ESPN The Magazine, ESPN.com and the host of Hang Time.