Commentary
Hall of Fame needs to rethink its ballot
Originally Published:
July 20, 2011
By
Jim Caple
| Page 2
Bert Blyleven pitched his last major league game in 1992. He appeared on the Hall of Fame ballot for the first time in 1998, and 17.5 percent of the baseball writers voted for him. The next year his total dropped to 14 percent (lower than Minnie Minoso that year). The baseball writers finally voted Blyleven into the Hall of Fame this past winter, 13 years after he first was on the ballot and 19 years after he threw his last pitch in the majors.
And what exactly did Blyleven do to improve as a pitcher in those years? "I think they finally counted my Little League wins, that's what they did," Blyleven said. "I was a hell of a Little Leaguer."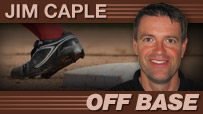 Robbie Alomar, perhaps the greatest second baseman I've ever seen, received 73.7 percent of the vote in his first year on the ballot in 2010, a mere eight votes shy of election. This year he was elected with 90 percent of the vote, a jump of 126 votes, even though there were only 48 additional voters. So what is it that Alomar did in the past year to convince 126 additional writers he was Hall of Fame material? "I don't know," he said. "You'll have to ask the writers."
Yeah, good luck getting a consistent response from writers who happily voted in Gaylord Perry -- who bragged about repeatedly breaking a very clear rule to gain an enormous advantage over batters -- yet who also grandly withhold their votes for Mark McGwire because he took a substance that wasn't banned.
What is wrong with us? As Alomar noted, the writers didn't elect Joe DiMaggio his first year on the ballot. Or as Philip Roth wrote in his brilliantly funny "The Great American Novel" regarding the BBWAA not electing anyone in 1971: "You should have heard those fools! How could they keep out Berra when back in '55 they let in Gabby Hartnett who was never half the catcher Yogi was! … It took Rogers Hornsby six years to make it, didn't it -- with a lifetime of .358! And Bill Terry and Harry Heilmann eleven years apiece!"
That we occasionally can take so long to elect obvious Hall of Famers isn't particularly surprising. Get a group of baseball writers together and we can take an hour to decide on what restaurant to eat at. And we can take even longer picking up the check.
But we're not the only voters who change their preferences. U.S. voters elect Democrats one cycle, Republicans the next, and then back to Democrats. Heck, if a presidential candidate required 75 percent of the vote for election like the Hall of Fame does, George Washington's body would still be in the Oval Office.
So rather than focus on what the BBWAA gets wrong, this year's induction highlights the fact that we do often get it right … just as long as we receive enough time to figure everything out.
Consider Blyleven. I didn't vote for him for several years before finally seeing the light, thanks in large part to blogger Rich Lederer's insightful writings pleading his case. And eventually, 80 percent of writers agreed with Rich and decided Blyleven belonged in Cooperstown. But we nearly ran out of time before coming to that conclusion. We elected Blyleven in his next-to-last year of eligibility, and Jim Rice in his final year.
This is why there should be two small but significant changes to the voting procedures.
One, get rid of the 15-year limit for when a player can appear on the ballot. Ron Santo, one of the most underrated players in history, received 43 percent of the vote in his 15th and final year on the ballot. In the years since, baseball began appreciating walks and on-base percentage. Those stats would boost Santo's chances today the same way evolving analysis helped Blyleven, but it's too late; we can't vote for him anymore. That's not right. If new statistical analysis allows us to appreciate a player more than in the past, we should still be able to vote on him.
Two, don't drop players off the ballot for receiving less than 5 percent of the vote. Lou Whitaker was a victim of this in his first year of eligibility. I'm not saying Whitaker belongs in the Hall -- I didn't vote for him -- but I've always felt he should have been able to stay on the ballot for further evaluation. We know writers' opinions change -- good lord, sometimes I change my mind from the beginning of a column to the end -- so let players stay on the ballot for three to five years as long as they receive some votes.
The veterans committee is supposed to be the backup for players bypassed by the writers, but it doesn't work that way anymore. A balding, overweight sportswriter wearing a stained, wrinkled polo shirt with a 1992 ALCS logo has a better chance of getting past a hip nightclub's velvet rope than a player has of getting past the veterans committee these days.
All this is especially necessary with the steroids controversy. I firmly believe we'll see steroid use quite differently in another decade, and players linked to their use deserve a chance to be evaluated at that time. Even if you disagree, longer periods on the ballot still should be preferable, because that would allow voters more time to learn whether a player did or did not take performance enhancers.
The bottom line is if it can take writers years to figure out that a player is a Hall of Famer, I don't see the harm in helping players build their case for as long as possible in the face of changing views and standards.
After all, Ralph Nader is still eligible to run for president.
CSI: BOX SCORE
You know the rules. You get a fragment from an old box score and the challenge of determining what game it is from and why it is significant. I give this one a difficulty rating of 8.0

Kurt Snibbe/ESPN.com
BOX-SCORE LINE OF THE WEEK
Wow, we had some amazing lines this week, as ESPN.com colleague Doug Kern points out. Chicago closer and human box-score line Carlos Marmol faced five batters Thursday, retired none of them and walked four (0 IP, 1 H, 5 R, 5 ER, 4 BB, 0 K). Kansas City reliever Blake Wood walked in a run and hit a batter to force in another run on consecutive pitches (1/3 IP, 1 H, 4 R, 4 ER, 3 BB, 0 K, 1 HBP). Pittsburgh's Andrew McCutchen drove in five runs despite going 1-for-2 thanks to two sacrifice flies and a three-run homer (2 AB, 1 R, 1 H, 5 RBI). Arizona's Daniel Hudson pitched a complete game, hit his first career home run and drove in three runs (9 IP, 5 H, 1 R, 1 ER, 0 BB, 3 K and 3 AB, 1 R, 2 H, 3 RBI). And Chicago's Edwin Jackson threw a shutout despite allowing 11 baserunners (9 IP, 9 H, 0 R, 0 ER, 2 BB, 2 K)
But this week's award comes from that 16-inning 1-0 marathon between the Red Sox and the Rays. Tampa Bay used nine pitchers and had just three hits in 50 at-bats, while Boston's Jacoby Ellsbury went 0-for-8. But the award winner is this line:
T-5:44.
Yes, five hours and 44 minutes. Sure, it went 16 innings, but there were only eight combined hits and just one run. It took more than three hours to play the first nine scoreless innings. In other words, this was slightly longer than the typical Red Sox game.
BALLPARK RANKINGS
PNC Park, Pittsburgh: Pirates fans haven't had a lot to cheer in recent years, but they did have this beauty. Regular readers know that I consider a key element of a ballpark's success to be how well it fits into the community, and PNC fits into Pittsburgh as wonderfully as fries on a Primanti Brothers sandwich (which, I am happy to say, are available at the stadium). Set on the banks of the Allegheny River, this cozy limestone and steel gem offers postcard views of the Roberto Clemente Bridge and the surprisingly gorgeous Pittsburgh skyline. It's the best view Pirates fans have seen since watching Clemente fire powerful throws from right field to third base. PNC isn't just in Pittsburgh -- it IS Pittsburgh. And now that the Pirates are in first place, more people are able to see that this is the best ballpark in baseball.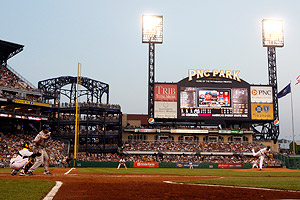 Justin K. Aller/Getty ImagesCongrats, Pittsburgh. You're first in the Central and our rankings.
Score: 98.

Current rankings:
1. PNC Park, Pittsburgh 98
2. AT&T Park, San Francisco, 94
3. Camden Yards, Baltimore, 92
4. Target Field, Minneapolis, 91
5. Wrigley Field, Chicago, 90
6. Dodger Stadium, Los Angeles, 88
7. Safeco Field, Seattle, 87
8. Comerica Park, Detroit, 87
9. Kauffman Stadium, Kansas City, Mo., 86
10. Progressive Field, Cleveland, 82
11. Busch Stadium, St. Louis, 78
12. Rangers Ballpark in Arlington, Texas, 77
13. Chase Field, Arizona, 76.5
14. Nationals Park, D.C., 76
15. Rogers Centre, Toronto, 75
16. Oakland-Alameda County Coliseum, 74
17. Tropicana Field, Tampa, Fla., 68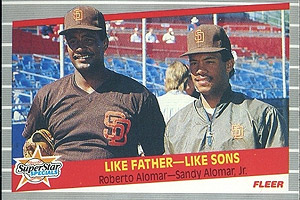 Courtesy of FleerWe won't think less of you if you get the Brothers Alomar confused.
BASEBALL CARD OF THE WEEK
This card (1989 Fleer, No. 630) shows brothers Robbie Alomar and Sandy Alomar Jr. posed side by side when they were still with the Padres. It's a nice card of two young future All-Stars who will proudly carry on their father's major league legacy. Except that the two are misidentified. That's Robbie on the right and Sandy on the left, the opposite of the way they are named on the card. Oh well. I bet they get Robbie's name right on his Hall of Fame plaque.
YEAH, WELL, THAT'S JUST LIKE YOUR OPINION, MAN
•Dutch Masters: When Mariners rookie outfielder Greg Halman tells people he's from Haarlem, they always assume he means the famous New York City neighborhood. "The way I look and the way I talk, people are not going to assume I'm from Holland," says Halman, who is black. He is, though, born and raised in Haarlem, the Dutch city from which our Harlem drew its name long ago, when New York City was still known as New Amsterdam. Halman is the ninth major leaguer born in the Netherlands, or the sixth if you count only those who played after 1900. The most famous, of course, is Blyleven, born in Zeist, Netherlands, to Dutch parents who emigrated when he was 2 years old. Blyleven may be the only Dutch Master hanging in Cooperstown for a while, but we will definitely see more major leaguers from the Netherlands. "Baseball's getting better every year. It just gets bigger," Halman says. "We've got a lot of Dutch kids playing in the minors. Like 50 or something, either born in Holland or in the Dutch Caribbean. It just keeps getting bigger every year. Kids get more into it with guys getting to the high levels and majors. It's just getting bigger. It's not as big as in the United States, of course, but Holland has always had that secret passion for baseball."
•Ernie Banks is Wrong: The Athletics hosted the first scheduled doubleheader in the majors in eight years over the weekend. There was a time when doubleheaders were a frequent and welcome date on the schedule. Of course, there also was a time when double features were welcome at the movie theater, too. But how many people want to sit through two movies anymore, even if you only pay one admission? Hell, the price of popcorn alone would require a sub-prime financing plan. The same is true for baseball games. Who wants to play or sit through two of them in one day? Twin bills are part of the past, and will stay that way until society develops patience again.
•Lies, Damn Lies and Statistics: Amazing but true: If the season ended today, the Pirates would be in the playoffs -- although, if the season ended today, you also would have many stunned fans looking for refunds on their season tickets. This is the latest the Pirates have been in first place since 1992. … Pity Seattle starter Doug Fister who is 3-11 despite a 3.18 ERA, due to the league's worst offense. … Rangers closer Neftali Feliz has never allowed a hit to the Mariners, who are 0-for-33 with 13 strikeouts against the Texas closer.
CSI: BOX SCORE ANSWER
This was a tough one. But with the trade deadline approaching, it's a good warning of the hazards of the deal. To identify this game you first needed to notice that (Lou) Brock and (Ernie) Broglio were in the lineups. And then you had to further notice from the surrounding names that Brock was in the Cubs lineup and Broglio was in the Cardinals lineup. Yes, this was a Cubs-Cardinals game played in early 1964 before the two teams agreed to one of the most notorious trades in baseball history. Chicago and St. Louis played each other after this game, but Broglio didn't pitch in any of those games. Thus, this is the last time Broglio pitched for the Cardinals against a Cubs lineup that featured Lou Brock.
Jim Caple is a senior writer for ESPN.com. You can follow him on Twitter at jimcaple.