Commentary
In role of Santa, Page 2 is here to help
Originally Published:
December 22, 2011
By
Jim Caple
| Page 2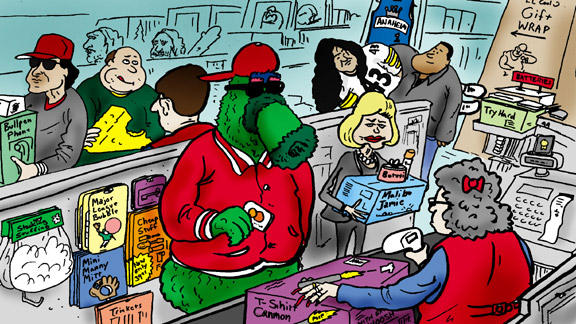 Kurt Snibbe/ESPN.com
Stressed over what to get for that special fan in your life? Relax! We have your back with the least popular Christmas presents for 2011, all available from the Page 2 Wish Book!
TOYS
Tackle Me Polamalu: Adorable meets painful when your child hugs our life-size 220-pound plush-toy safety! When his hair is pulled, Tackle Me Polamalu emits a blood-curdling howl and then collapses on the tot with all the force of a ferocious blindside hit. $89.95. (Not recommended for children under 6 feet tall.)
Fenwaygotchi Virtual Pet: A few years ago, the Tamagotchi taught children the unending demands and responsibilities of raising a pet. We take it to the next level with the irritating new toy that demands 24/7/365 attention. And even that isn't enough. The Fewnwaygotchi emits a horrible, ear-piercing whine demanding the manager's immediate firing whenever its beloved Red Sox lose a game, miss the postseason, raise ticket prices or senses that your complete, 100 percent focus is not on it and it alone. $39.95. (Unlike the Tamagotchi, no matter how many times you push the pause or re-set button, the Fenwaygotchi never shuts up, not even when the season ends, or when the battery runs dry.)
Malibu Jamie McCourt doll: If you loved Malibu Barbie, your daughter will loathe Malibu Jamie! To keep her happy, the middle-aged blonde doll requires $2.5 million dollhouses in Malibu, Vail, Cabo San Lucas and Cape Cod, plus a $150,000 yearly hair-care allowance and a personal astrologer. (Chavez Ravine Frank now sold separately.)
OUTDOORS AND RECREATION
T-Shirt Cannon: Why kill Bambi's mother when you can instead warm her up in an Arian Foster, Tim Lincecum or Kevin Durant T-shirt? Rather than kill defenseless animals, hunters can take aim with our line of cannons, just like the ones teams use to fire T-shirts into the stands. Finally, a weapon that both PETA and the NRA can embrace! $249.95. (T-shirts ammunition and scantily clad female cannon loaders not included.)
Tim TeBow-Flex Machine: The latest in home exercise equipment, our machine utilizes a unique system of resistance from NFL coaches and players to finely sculpt your body until you have the balance and grace to literally walk on water with the arm strength to complete up to four passes in a single game! You'll either love or hate it -- probably both! $1,299.
APPAREL
Turn Ahead the Clock Replica Jerseys: Anyone can wear a jersey from the past -- we enable you to wear a jersey from the future! Pick from our extensive collection of authentic future jerseys including a Clayton Kershaw New York Yankees jersey, an Andrew Luck Indianapolis Colts jersey, a Manny Ramirez Long Island Ducks jersey, a Tim Tebow Saskatchewan Roughriders jersey, a Los Angeles Vikings jersey and a Sacramento Kings of Anaheim jersey. $149.95.
Replica pants. Take Casual Friday to a new level! Everyone wears replica jerseys but you can set yourself apart by wearing our special line of replica pants. Your cubicle mates will be so impressed at the office they may dump the water cooler on you during breaks! Available for all NFL and major league baseball teams, plus most major college football programs. $79.95. (Replica baseball stirrup socks also available. NFL pants must be worn with mandatory replica knee-high socks.)
FOOD
Edible Cheesehead Hat: Now you can show your team support and avoid expensive concession stand prices at the same time! Just like the familiar foam cheesehead hats worn by Packers fans, except ours are made of actual cheese! Each hat has enough cheddar, Gouda, Swiss and dill Havarti cheese to last an entire season, plus the playoffs. Pay by the hat size or the ounce -- your choice! Note: The French brie cheesehead should not be worn until late autumn to avoid having the cheese melt into your hair.
Concession Stand Holiday Basket: Who needs another beefstick from Hickory Farms or bowl of pears from Harry & David? This December, give the basket that will instantly transport your favorite fan to the warmth of a summer day at the ballpark. Each of our baskets comes with a plate of soggy nachos and fake cheese dip, a cold hot dog in a stale bun, a 12-ounce cup of flat, warm beer, a slice of thin, cold pizza and a melting dish of Dippin' Dots (the ice cream of the future). $59.95. (Note: No delivery possible after Nov. 24 -- recipient must stand in line to pick up basket at the nearest stadium.)
HOME FURNISHINGS:
Tony La Russa Home Bullpen Phone: Is the game too exciting or are you simply too inebriated to get up and walk to the kitchen? Just reach for the Tony La Russ Home Bullpen to place a call to your spouse! Spotty cellular coverage is no longer a problem because we employ the same state-of-the-art hard-line technology used at your local fast-food drive-up window! "What the hell?!? I said beer and chips not hummus and carrot sticks!!!" $89.95, not including connection fee and monthly service.
Cro-Magnon Man-Cave: Need to truly get away from it all? Then retreat to our scrupulously authentic caveman experience! Dark, cold, damp and filled with infectious vermin, the Cro-Magnon Man-Cave guarantees your spouse will never bother you even during an entire weekend of games. Just stretch out across a couple boulders, grab a hunk of rancid meat and a gourd of rotting berries, then enjoy the big screen cave drawings that almost resemble a telestrator diagram of a play. Or surpass the typical Wii virtual game experience by bashing your friends over the head with actual clubs. Talk about a Yabba-Dabba-Doo Time! Beginning at $16,599.95. (Installation not included. Fire not available in basic cave units. Wooly mammoth replica pelts may by flea-ridden.)
Electric Bullpen Cart: Help stop global warming by running errands in our 1970-'80s era bullpen carts! Perfect for trips to the grocery store or the mound! $2,999. (Top speed is 8 mph. Range limited to approximately 500 feet per charge.)
ELECTRONICS
Hand of God Remote: Constantly confused by which remote to use amid the ever-growing pile on your coffee table? Frustrated by the stubborn workings of the "universal'' remote provided by your cable company? Then grab the Hand of God! The first truly universal remote, it controls every device in your house, including the TV, DVR, computer, wi-fi, stereo, microwave, heating and air conditioning, garage door, vacuum cleaner and toilet. Plus, it not only allows you to rewind to any point in a game, you can fast forward to portions of the game that haven't even been played yet! $599.95. (Requires advanced degree in engineering. Do not operate within 25 feet of pregnant women or anyone with a pacemaker. May cause male pattern baldness in females. Uses AAAAA Vibranium batteries that are not included and have not yet been invented.)
Closer Ring Tones: Tired of fielding calls from family and friends who waste your time and have nothing important to say? Then get the Closer Ring Tone which only plays when the call is a save situation! You'll know not to ignore that call from your boss on the weekend or that 1 a.m. call from your spouse while sitting at the bar when you hear "Enter Sandman.'' $2.99.
Where's Waldo? Phone App: Everyone knows "That Guy'' behind home plate who insists on calling his friend and waving when the TV camera is on him. Now you can be "That Guy'' no matter where you're sitting because our Phone App sends a signal to the nearest ballpark TV camera to automatically focus on you instead! $4.99.
Jim Caple is a senior writer for ESPN.com. You can follow him on Twitter at jimcaple.