Commentary
Flem File: Try Brady's boots on for size
Updated:
September 16, 2011, 10:16 AM ET
By
David Fleming
| Page 2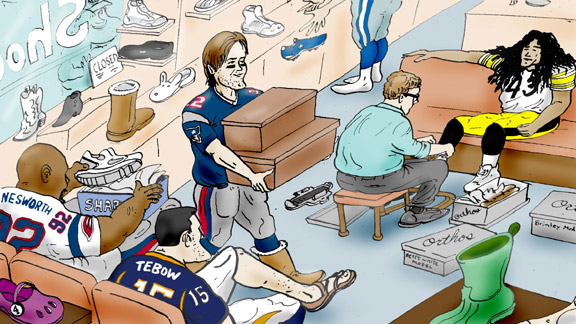 Kurt Snibbe/ESPN.com
"Ugh."
That was my response the first time I saw Tom Brady's new shoe commercial. Girlie, fuzzy boots on the NFL MVP -- really? I'll have to re-read it to be sure but I think Nietzsche's "Last Man" appears just before Armageddon wearing the same kind of super-fluffy man slippers. And let me ask you this: When was the last time Brady parked his car and hustled up a grungy, urine-soaked set of garage steps to get to work? The Patriots' practice facility is now on the set of "The Dark Knight," is that what you're telling me?
"We're shooting some steps for the commercial 'Steps,'" is what some guy named James from the global ad agency M&C Saatchi says on the behind-the-scenes footage for the commercial featuring this most unlikely of pairs. Footage that reveals that in the shot Brady appears to move and groove effortlessly in his new sheepskin slipper boots through a carefree urban landscape, when in reality, a burly commando-like security guard dressed in black was actually by his side the whole time, waiting to crack the skull of anyone who so much as giggled at Brady's footwear. Oh, wait, sorry, James is still talking, "… but, it's not all about steps as in the stairs' steps. It's actually about people taking steps, Tom Brady in particular." James, come on, you're making this too easy, I thought.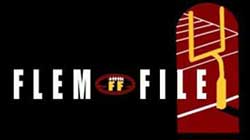 Then Brady went out in Week 1 and led the New England Patriots to their eighth straight season-opening win with 517 yards passing (the fifth most in NFL history) and four touchdowns, including a 99-yard score to Wes Welker that might be the best thrown football I've seen in 15 years. (And I once spent an entire week at the Manning Passing Academy.) I mean, Welker didn't catch it as much as it just materialized in the crease of his left elbow in full stride after zipping past the right ear hole of the defender with, oh, at least 1/8 of an inch to spare.
When you're this good you could show up for the ESPYs wearing Borat's neon green bathing suit and no one would say a word.
So of course, I watched the commercial again.
Oh, hey, that's a Mos Def beat in the background. "Life's a game, I heard the homies say, but I came to win, so I'm. Not. Here. To. Play." Pretty good. Those "Chukkas" aren't too bad, either, I guess. Tom says, "It's an amazing product on your foot." Did you know these things were originally created for surfers in Australia to keep their feet warm between sets of wicked waves? Or that while Peyton Manning seems to endorse everything from Billy's Burger Shack to jock straps, this company is one of only two that Brady is aligned with? Or that Brady gave them all to his linemen as Christmas gifts and instead of beating him up they thanked him?
I watched it one more time and instead of saying, "Ugh," at the end I actually said, "Hmm … UGG."
And just like that, they had me.
Out of desperation I called the one place I was sure would back me up: the men's shoe department at Nordstrom's in the Circle Center mall in downtown Indianapolis, just one or two Manning throws (or now, 10 or 11 from Kerry Collins) away from Lucas Oil Stadium and the epicenter of all Patriots enmity. This would be a shoe in.
"We love 'em, we sell a ton, they're our No. 1 seller," said a salesperson we'll call Dan.
"With women, sure," I responded. "But what about with …"
"No, no, with men," Dan said. "I haven't noticed a big upswing since Brady started endorsing them, but most of the guys who work here are sports fanatics and it means a lot to have a sport star endorse our product, even if it's Tom Brady and we are all Colts fans here. We love the Colts, but you gotta respect the Patriots, ya know?"
[+] Enlarge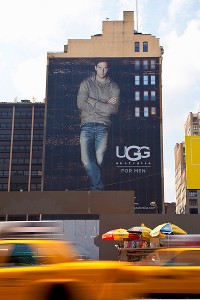 AP Photo/Chelsea MatiashTom Brady's image even ventures into Jets territory in this UGG ad in New York.
Sure. Of course. No doubt. OK. But even the ones endorsing slippers and constantly tucking their long bangs behind their ears like a self-conscious, teenaged pop star? Am I the only one around here who remembers Johnny Unitas? OK, fine, Dan's right. I gotta respect the Patriots. We all do.
But what about men in general?
I pressed on. "Are you telling me, Dan, that it's your professional opinion that when it comes to loyalty, men secretly put footwear above football?"
Dan thought for a while and then said: "Have you ever worn these boots?"
I haven't. I'm not really a shoe guy. I'm more of a hat guy myself and a full-blown hockey equipment junkie. As I contemplated just how far I was willing to go in the name of journalism, I wondered, if this deal has worked out so well for Brady and UGGs, what other footwear could we pair up with NFL stars?
Like, I'm talking Albert Haynesworth and Skechers Shape-ups.
I'm sure fans in Denver who have already purchased billboards to implore the team to start Tim Tebow would like a line of savior sandals from Birkenstock. I can see the ad already: Keeps your feet dry, even when walking on water.
You saw the Steelers' run defense, right? And after the way Ravens tight end Ed Dickson ran right past Troy Polamalu for a TD catch Sunday, maybe an orthotic shoe company should sponsor the entire defense.
Do they make glass slippers big enough to fit Ndamukong Suh?
Adam "Pacman" Jones and Nike Frees? Or, how about the Chiefs and Hugo Boss "Loafers"?
(What do you think? Got an idea for a player and a shoe pairing? Send it along via Twitter hashtag #flemfile or check out the poll on my Facebook page, which also includes everything you ever wanted to know and much, much more about the remake of the so-bad-it's-good "Point Break.")
Does UGG make a steel-toed shoe for Sebastian Janikowski?
Tony Romo and Ariat cowboy boots should pair up and introduce a new safety lasso you tie around your leg so you don't lose them in the fourth quarter.
[+] Enlarge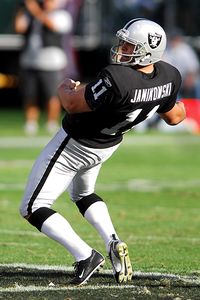 Kirby Lee/Image of Sport/US PresswireOakland Raiders place-kicker Sebastian Janikowski could use a little more protection on his left foot.
Gotta be moon boots for Bills fans and QB Ryan Fitzpatrick, who is playing (wait for it …) out of this world right now. Fratelli "Spectators" for the Miami defensive backfield.
Timberland Pros for the Colts, because I heard those are good for working in the basement. Or, the Texans should endorse Reebok Zigs since they'll be stepping into Manning's shoes pretty soon this season anyway.
Air Jordans or Gravati shoes for Lambeau leaping Randall Cobb.
Dr. Martens for the banged up Rams. And Crocs for Browns fans, since that's what the latest rebuilding job feels like in Cleveland.
And finally, how about an endorsement deal between Raiders fans and Vibram FiveFingers, because that's what I see whenever I look into the Black Hole in Oakland.
After all this shoe talk, I decided to take Nordstrom Dan up on his challenge to walk a mile in Brady's UGG boots (the classic short Australian model that retails for $149.95.)
Because, once I did that I would be free to totally rip …
Oh, dear lord.
It's like stepping into a shoe made of warm, formfitting marshmallows. If you could wear a Steph Curry jump shot or a Jay-Z rhyme on your feet, this is what it would feel like. It's so good but feels a little wrong, like a tax refund for your toes. What do they look like? That's the genius of these things, I guess. The second you put them on you don't care what they look like, or what you look like, anymore. You don't care about anything.
Maybe that should be the theme for Brady's next commercial.
No more steps or stairs or garages. This time it's just Brady napping on a couch in the player's lounge in New England. There's chaos all around him. Belichick storms past in one direction, Vince Wilfork walks by the other way, growling. And Brady? Nothing. He's still fast asleep on the couch in his fuzzy man boots, smiling and dreaming away contently. Narrator: "How comfy are UGGs?"
Wham, tag line.
So comfortable they can even make Tom Brady forget about the Patriots' pass defense.



Editor's note: Looking for Flem's top five, his music riffs and weekly reader email WHYLO (who helped you log on?) awards? Check 'em out on Facebook and on Twitter at @daveflemingespn.
David Fleming is a senior writer for ESPN The Magazine and a columnist for ESPN.com. While covering the NFL for the past 16 years at Sports Illustrated and ESPN, he has written more than 30 cover stories and two books ("Noah's Rainbow" and "Breaker Boys"), and his work has been anthologized in "The Best American Sports Writing."