Commentary
Flem File: Chock-full halfway through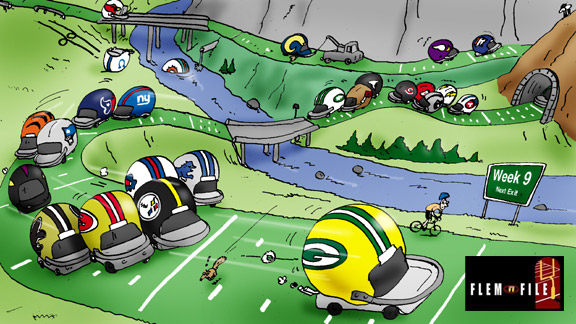 Kurt Snibbe/ESPN.com
Some half-decent (and some half-baked) observations at the halfway point of yet another half-crazy NFL season.
A HALF-DOZEN GREAT PLAYS FROM THE FIRST HALF -- (6) Darren McFadden's 70-yard TD run against the Jets; (5) Tom Brady on a string to Wes Welker for 99 yards against the Dolphins; (4) WR Calvin Johnson in Week 3, 4 or 5 -- take your pick; (3) Randall Cobb's 108-yard kick return; (2) TIE: Cowboys reality star Jesse Holley's 77-yard catch to set up the game-winning kick in OT against the 49ers and WR Dwayne Bowe's miracle TD catch; (1) No. 1? It's a no-brainer: 325-pound Patriots nose tackle Vince Wilfork's interception return against the Chargers, which some seismologists believe altered the tectonic plates of the Northeast and therefore set off the rash of natural disasters that have struck the area.
HALF A DECADE -- How long the 49ers waited for QB Alex Smith to develop, which kinda puts Tim Tebow's five starts in perspective, right?
THE WINDOW IS NOW WAY MORE THAN HALF-CLOSED -- San Diego Chargers.
HALF ASLEEP -- The Browns' offense has scored fewer than 17 points six times this season. For the next snoozer, they should change out the seats in the Dawg Pound for those cute little puppy beds.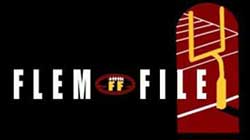 HALF-ASSED -- The Redskins' offensive line, under genius Mike Shanahan, gave up nine sacks against the Bills.
WAIT HALF A SECOND -- The Rams' win over the Saints was just the second time in 30 years that a team with the worst offense beat the team with the best offense.
HALFWAY TO THE SACK RECORD -- Vikings DE Jared Allen.
BEST HIT OF THE FIRST HALF -- QB Michael Vick's torpedo tackle on Troy Polamalu on an interception return during the preseason. Vick reacts to a meaningless pick by recklessly launching himself full speed at the Steelers safety. It was crazy, wild and irrational -- that's why I loved it.
HALF A BRAIN -- In Weeks 11-12, schedule makers created a scenario where the Ravens' entire season will be determined in a four-day span with games against the Bengals and the 49ers.
NOT EVEN HALF AS GOOD -- Pearl Jam's lumbering, formulaic "20" compared to U2's "From the Sky Down."
SUPER BOWL HALFTIME -- Right now it's the Packers and everyone else, and unless a worthy contender emerges in the next two months, we could be in for a Super Bowl blowout where Madonna's performance ends up being the most compelling part of the game.
[+] Enlarge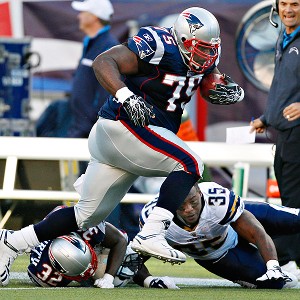 AP Photo/Charles KrupaWe're still feeling the effects of Patriots nose tackle Vince Wilfork's Sept. 18 interception return against the Chargers.
HALF TO LOVE DEFENSE -- The AFC North has four of the top five defenses in the NFL right now.
HALF RIGHT -- Broncos QB Tim Tebow is the game's biggest star and the game's biggest flop.
HALF THE RUNNER FOR TWICE THE CASH -- Chris Johnson, the 34th-ranked rusher in the NFL, is making $13 million this season.
HALF BLINDED BY STATS -- It says a lot about how much we love fantasy football and stats in general that people are fawning over Cam Newton's amazing numbers instead of focusing on his record as a starter, his nine picks or the handful of bad choices/poor throws he's made that have led to losses.
HALF THE CREDIT GOES TO THE RAMS' DEFENSE -- Dallas running back DeMarco Murray leapfrogs Emmitt Smith and Tony Dorsett with 253 yards rushing against the Rams.
MORE THAN HALFWAY TO A BYE -- QB Alex Smith and the 49ers are 5-1, with three of their next four games at home.
I'M ONLY HALF JOKING -- Part of the 49ers' success has been their trips to the East Coast. They seem like brutal travel schedules, but for a team on West Coast time, kickoffs in the East are at 10 a.m. And everyone knows testosterone levels peak in the morning and then plummet after lunch. Advantage: SanFran.
HALF SAD -- The idea that coach Marty Schottenheimer's first pro football title came in the UFL.
HALF HIS PAYCHECK -- What Bengals coach Marvin Lewis owes defensive coordinator Mike Zimmer.
HALF A LEG TO STAND ON -- Saints tight end Jimmy Graham (713 yards receiving and 11 catches of 20 yards or more) has been so good I don't think coach Sean Payton even minds that the guy wrecked his knee in a sideline collision. On a side note: You can call Payton heroic for continuing to coach through the pain, but if he were a player his career would pretty much be over now.
[+] Enlarge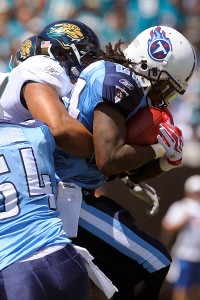 AP Photo/Phelan M. EbenhackSlowing down Titans running back Chris Johnson has never been so easy until this season.
HALF A TON OF FUN -- There is nothing better in sports than fat guys "running" with the football. This year Vince Wilfork joins the pantheon of prancing pudge alongside teammates Sam Adams and Dan Connolly, Shaun Rogers of the Lions, Keith Traylor of the Bears and, of course, the Packers' B.J. Raji, who added a little Beyonce booty shake to his TD return last year that, quite frankly, I may never be able to fully scrub from my brain.
YOU HALF TO BE KIDDING -- Agent Drew Rosenhaus said the NFL would fall apart without him just days before organizing a tryout for his client, Terrell Owens, where no actual NFL teams showed up.
HALFWAY TO CANTON -- QB Aaron Rodgers sets NFL record of seven consecutive games with a passer rating above 110.
MY BEST TWEET FROM THE FIRST HALF OF THE SEASON -- @daveflemingESPN: "The triumph of Steve Jobs life work 2 integrate humans/technology can be seen in the odd ease we have using our computers 2 grieve his death."
HALFWAY TO MVP -- Aaron Rodgers, Calvin Johnson, Charles Woodson, Peyton Manning's neck, and my new all-time favorite back and D-III Coe College alum Fred Jackson, who has given new hope to every 5-foot-8, 185-pound second-stringer in high school.
WAIT HALF A SECOND, MANNING'S NECK? -- Uh, yeah, have you ever seen a player's value more perfectly represented than the Colts' utter collapse without Manning?
DOING TWICE AS MUCH WITH HALF THE TALENT -- Titans, Bengals and Bucs.
DOING HALF AS MUCH WITH TWICE THE TALENT -- Jets, Bears, Cowboys, Redskins and Chargers.
WAIT HALF A SEC -- Aren't the Chargers and Cowboys on this list every year?
HALFWAY TO A PARODY OF PARITY -- Twelve teams are either at or within a game of .500, which means this could be the year all 32 teams finish 8-8 and all tie for both first and last place.
Tweet It Or Post It
So let me know if any of my half-season report was half-baked or not by tweeting it (@daveflemingespn #FlemFile #nflhalfway) or posting it on my Facebook page (DavidFlemingESPN).
HALF HIS FAULT -- On one level, the only difference between Cam Newton and Tim Tebow is that one quarterback plays in a system that perfectly suits his style, talents and development. The other plays for John Fox.
HALF FELL OUT OF MY SEAT -- During the scene in "A Football Life" when Bill Belichick just blasts wideout Derrick Mason on the sidelines. Has Mason talked trash since then or did Belichick scar him for life? This is the second-best thing I've seen on TV this season after the return of "Beavis and Butt-Head" where the duo perfectly mocked the "Jersey Shore" and the "True Life" episode "I'm Addicted to Porn."
HALF A TEAM -- The Pats (5-2) are giving up 424 yards a game on defense. The three other teams playing this poorly on defense are a combined 4-20.
HALF A CENTURY -- You have to go back to the days of QB Otto Graham and receiver Dante Lavelli for an accurate comparison to what the rookie combo of QB Andy Dalton and A.J. Green have done so far in Cincy.
HALFWAY DONE -- This column.
HALFWAY TO DEPLOY -- Woodson, DeMarcus Ware, Jared Allen, Darrelle Revis and Kyle Vanden Bosch.
HALF WHAT HE WOULD HAVE PAID -- He probably would have gone higher to get out of Cincinnati, but QB Carson Palmer took a $5 million pay cut to get to Oakland; just a few years ago, WR Randy Moss gave up even more than that to get away from the Raiders.
HALF ROOTING FOR SCHWARTZ -- Anyone who's been slapped on the back like that by a father-in-law, a boss or an older brother was kinda hoping Lions coach Jim Schwartz would actually find a way to reach 49ers coach Jim Harbaugh during ShakeGate 2011.
HALF A LIFETIME AGO -- How long it's been since T.O. was relevant.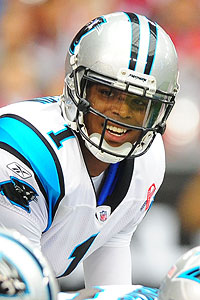 Mark J. Rebilas/US PresswireCam Newton is smiling because John Fox doesn't coach the Panthers anymore.
HALF TO BE KICKING HIMSELF RIGHT NOW -- T.O., for letting his attitude and ego drain away so much of his unique talent during his peak years.
HALF THE RESPECT IT DESERVES -- RB Fred Jackson and LB London Fletcher are both products of D-III college programs, and the best football play I've seen so far this season was a 99-yard TD catch by Davidson College's Lanny Funsten.
HALF THEIR LINEBACKERS -- The Panthers (2-6) would be .500 if not for the season-ending injuries to stud LBs Jon Beason and Thomas Davis.
HALF THE GAMES -- What the Bears (4-3) would have won without RB Matt Forte's 5.4 yards per carry.
HALFWAY TO INDY -- My dream Super Bowl matchup between the Bills and Lions.
BENT HALF BACKWARDS -- QB Matt Ryan's ankle during the Lions game, but he miraculously missed only a few snaps. With Matty Ice in his veins, Ryan came back in, stood tall in the pocket and under intense pressure delivered on a 47-yard strike down the field that sparked a gutsy road win. Afterward, the players in his locker room were calling Ryan's performance a season-changer.
HALF THE TIME HE PLAYS -- Tony Romo is a Pro Bowl QB. The other half? Not so much.
GOTTA PLAY BOTH HALVES -- Just ask the Cowboys, Vikes and Cards, all victims of comebacks of 20 points or more.
HALF AS LONG -- The time I thought it would take for the Lions to go from bad (awful) to supa bad (nasty good).
HALFWAY AROUND THE WORLD -- How does the NFL play a game in London every year without anyone ever knowing about it?
[+] Enlarge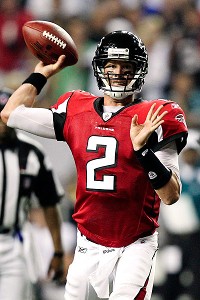 Daniel Shirey/US PresswireMatt Ryan quite likely saved the Falcons' season from imploding in Week 7.
HALFWAY TO THE PLAYOFFS -- The Browns. With that defense, and the other teams in this division knocking each other off, it could happen.
HALF THE CREDIT HE DESERVES -- Giants coach Tom Coughlin.
YOU DIDN'T HALF TO DO THAT -- It was the most amazing act of the first half and no one paid any attention to it. In Week 5 the Jags trailed the Bengals 23-20 with the ball on their own 42 with around a minute to play. On third-and-1 veteran center Brad Meester's snap flew past rookie QB Blaine Gabbert. The Bengals fell on it and essentially ran out the clock. Afterward, guess what Meester did? Did he run from the media and hide? Did he rip the rookie QB? Did he hem and haw and blame the sun, the grass, the mascot or the crowd noise? Nope, he did what no one seems to do anymore: He stood up, took responsibility, said he was sorry and moved on. "It was completely my fault,'' he said to reporters. "Blaine made a check on that play and at the end of the check apparently he was still signaling, and I thought that I heard something. Obviously, it was defensive. That's my fault. I've got to know it was him and I snapped it and he wasn't ready. It was 100 percent me.'' In an age where nothing is ever anyone's fault -- you know, like, the Bengals blaming Pacman Jones' troubles on his college -- this was a refreshing and rare stand-up moment.
HALF THE PASSES THROWN -- Seem to be dropped this season. Hall of Fame WR Jerry Rice once equated the drops in football to a golfer getting the putting yips. Well, Dallas Clark, Roddy White, Brandon Marshall and Dwayne Bowe have all had 'em so far this season. Last year Wes Welker led the league with 13 drops. This year seven players could reach that mark.
HALFWAY TO MAKING MY TURKEYS OF THE YEAR LIST -- Vikes defensive end Brian Robison was fined $20,000 for kicking Packers lineman T.J. Lang in the 'nads. Twenty grand? For a kick that won't even make our list of the top testicle injuries in sports? That really does smart.
LESS THAN HALF OF US NOTICED -- When Montreal Alouettes QB Anthony Calvillo, 39, became the most prolific passer in pro football history by breaking the previous mark of 72,381 yards set by Damon Allen (Marcus Allen's brother). Brett Favre, by the way, is third on the list with 71,838 -- for now. There are rumors he's taking French lessons. (Plaisanterie, people.)
HALF AS EFFECTIVE -- The new kickoff rule. In light of all the touchbacks, though, has the NFL ever considered allowing the receiving team to make one free pass out of the end zone? If they take a knee they get the ball at the 20 but if the free pass gets picked or incomplete they get it at the 10. Absurd? Have you seen the new overtime rules?
[+] Enlarge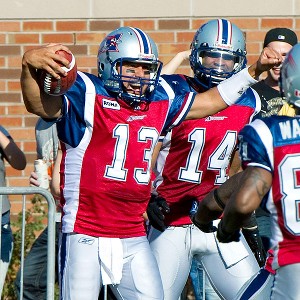 AP Photo/Paul ChiassonWho's this? Just the all-time leading passer in professional football history.
HALF AS PHYSICAL AS LAST YEAR -- The Jets.
HALFWAY THROUGH DECEMBER -- Is when Cam Newton should break the rookie passing record of 3,739 yards set by Peyton Manning and -- who knows? -- maybe get his third win of the season.
I'M ONLY HALF JOKING -- I miss Ochocinco.
HALFWAY TO 0-32 -- The Dolphins are a better team but the Colts have an easier second-half schedule. Won't that be a proud moment for the NFL, when these two teams flip a coin before the draft?
FIRST HALF WHYLO (Who Helped You Log On?) AWARD -- Goes to Facebook friend Howard E. Halvorsen who, after Tebow's performance against the Lions, defended him by saying he plays better than Drew Brees. He does, as long as you don't count the Pro Bowls, the Super Bowl MVP Award, the 5,000-yard season, the NFL record for completion percentage, the current 71-to-46 disparity in accuracy percentage, and the fact that Brees can probably throw two passes in the time it takes Tebow to make it through just one of his dry-heave throwing motions.
GAMES I'M MOST LOOKING FORWARD TO IN THE SECOND HALF -- I'm usually in a food coma by then, but the Green Bay-Detroit matchup on Thanksgiving will have major implications, for the playoffs and the 1972 Dolphins. There's also the best rivalry in football, Steelers-Ravens, this week; Eagles-Pats in Week 12; and Raiders-Chargers on New Year's Day.
David Fleming is a senior writer for ESPN The Magazine and a columnist for ESPN.com. While covering the NFL for the past 16 years at Sports Illustrated and ESPN, he has written more than 30 cover stories and two books ("Noah's Rainbow" and "Breaker Boys"), and his work has been anthologized in "The Best American Sports Writing."