Commentary
Flem File: Newton pushes the limits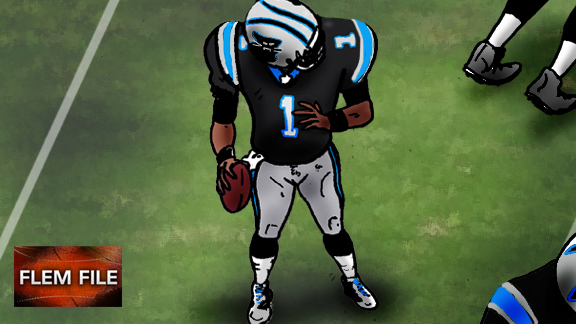 Kurt Snibbe/ESPN.com
You are Cam Newton. You're 22. It's a quiet Monday morning after Week 12 of your rookie NFL season and you're inside Bank of America Stadium sitting across from Panthers owner Jerry Richardson, a guy who, just a few years ago, fired two of his top team executives -- two guys who also happened to be his sons. Despite his occasional superciliousness, Mr. Grumpy Pants has never produced back-to-back winning seasons, and after 16 seasons his team remains largely a non-factor in the NFL. That's why he drafted you and forked over a cool $22 million. He expects you to change all that -- while, of course, remaining tattoo- and piercing-free. And so far, well, you're 3-8.
So you meet periodically to discuss your progress, the team's performance and issues around the league. And today the topic of conversation turns to Detroit's brash All-Pro defensive tackle Ndamukong Suh, who is about to be suspended for two games for trying to Dougie across half the Green Bay Packers' offensive line.
Forget breaking Peyton Manning's rookie record for passing yards. Forget breaking Steve Grogan's 35-year-old record for rushing TDs by a quarterback. Forget your selection as a first alternate in the Pro Bowl, or the fact that with 107 yards in the season finale you'll become the first QB in league history to throw for 4,000 yards and rush for 500 in the same season.
How you respond to the subject of Suh with your boss will come to define your emerging, game-changing star power as much as anything else you do as a rookie.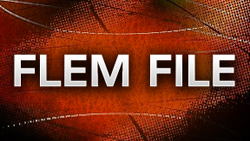 So what do you do?
This week, in Times Square and then online, Newton was unveiled as ESPN The Magazine's choice for NEXT -- our annual award given to the athlete whom we believe is poised for greatness. And during our conversations for the corresponding cover story, I found out the answer to that question.
Instead of taking the company line on Suh, the real Cam Newton defended him to his boss. Well, no. Wait. That's not quite right. Newton says he didn't just defend Suh to his Vince Lombardi-white socks-and-black shoes boss, Newton applauded Suh. Said he had the utmost respect for him. Then, the rook looked Richardson right in the eye and told him that the Panthers needed more players just like him.
Lots more.
"I've played against Suh and he's not dirty -- he just wants to dominate his opponent, and that's just how it has to be on the football field," Newton says. "If you took a survey across the league if people wanted Ndamukong Suh on their team, I guarantee it would be unanimous across the league that he would be an excellent teammate and a person you can count on. I know he's gonna give his all, are you? Suh puts pressure on everybody else. His level of play makes everybody else get on his level. You gonna be a part of that? I say, 'Look at that, that ain't how we play.'"
As Newton told me about this conversation I couldn't help imagining the priceless, dumbstruck look on Richardson's face. Newton's had that effect on a lot of people this season: defenses, draft experts, naysayers, teammates, record-holders and, especially, Charlotte, a great little town so utterly devoid of actual sports stars that even the monumentally pathetic Ric Flair still passes for a semi-celebrity. Not anymore. Newton wants to do for the Panthers and for quarterbacks what Suh did for defensive tackles, what Deion Sanders did for cornerbacks and Devin Hester did for kick returners: He wants to make them feared again; he wants to make them scary good.
"You know how kids create custom players on video games?" Newton says. "How you can make a guy 7 feet and 340 pounds and fast enough to run a 4.2? I want to be that kind of juggernaut type of player."
Newton has taken a few pretty massive steps toward that goal this season. But we missed most of it. While we were busy worshiping Tim Tebow, a guy who found success by brilliantly deconstructing the position to its prehistoric form -- Rolling Stone's Matt Taibbi says Tebow trying to throw a pass "looks like a moose trying to [impregnate] a washing machine" -- Newton has been effortlessly rewriting the rookie record books and revolutionizing what we once thought was possible at quarterback. "He's gold," a Panthers official gushed while watching Newton during his photo shoot for The Mag, "and he's all ours."
Now, I know it's only been 15 games and things will only get tougher for Newton next season, but right now he seems destined to become the player who completes the evolution of the multidimensional quarterback started by Fran Tarkenton, Randall Cunningham, Steve Young and Michael Vick. I've done a half-dozen cover stories with Vick over the years, and in my short time with Newton I was blown away by the differences between the two. For starters, Newton is half a foot and 40 pounds bigger than Vick but almost as elusive and explosive in the open field. The difference? Against the Bucs, when Newton went airborne at the goal line and got jacked by a safety, he bounced up smiling like a little kid from the kind of hit that always seems to sideline even a warrior such as Vick.
Tweet It Or Post It
What do you think will happen before the Super Bowl? Tweet them (@daveflemingespn #FlemFile) or post them on my Facebook page (DavidFlemingESPN).
Another difference: All the pre-draft criticisms Newton endured have given him a drive and an edge that most pampered No. 1 picks never have, or never need to develop. Newton won't say it, but his face and his body language give him away: He is loving the chance to shove every last completion, every TD and every record straight down the throat of his critics. "Most guys just want to come out, be the No. 1 pick and get paid a lot of money," Panthers tight end Jeremy Shockey says. "There have been a lot of guys taken as high as Cam in the draft and they just didn't care like he does. He has something extra -- it's his hatred for losing."
After observing Brett Favre, Donovan McNabb and others, Andy Reid once told me that all great, transcendent QBs have a little of the joker and the general in them. They can be loose and funny when needed, and they can be firm and ultra-serious and take command when the situation calls for it, too. (Think Joe Montana pointing out John Candy during the game-winning drive in the Super Bowl or, my personal fave, Aaron Rodgers photobombing the Packers' team captains just moments before taking the field in some of the biggest, most pressure-packed games of his career.)
As Steve Smith hissed at me inside the Panthers' locker room, the best thing about Cam Newton is that he's still evolving and unfinished. He's right, and a large part of Newton's success moving forward will come down to whether Richardson shells out the kind of coin and control needed to keep offensive coordinator Rob Chudzinski around for a few more years. But right now, with the data we have to work with, Newton sure seems to have all the tools and then some, including the essential mix that Reid referred to.
I'll give you an example: the first thing Newton (the joker) and I discussed was the proper milk-to-marshmallow ratio for Lucky Charms cereal. Honest. Newton likes to add his own full-sized marshmallows until there is a considerable risk of diabetic coma -- and then he adds a few more. I, on the other hand, proclaimed this to be cereal sacrilege. The return of the green clovers in 2004 was more than sufficient, I argued, for proper sugar coating. There was a short, silent standoff. Then we simply agreed to disagree, and moments later we had moved on to other much more serious topics, like the odd notion that one of the last things Newton (the general) has to conquer as a pro is learning how to lose.
[+] Enlarge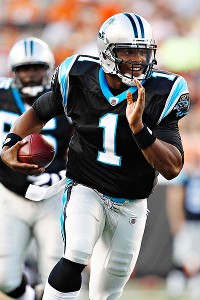 Frank Victores/US PresswireCam Newton is turning out to be a bigger and more durable version of Michael Vick.
After piling up a 25-1 record as a starter in college Newton found himself wanting to explode when the overmatched Panthers lost five of their first six games. He'd hide under that Gatorade towel of his and remain deathly silent after games. Draft experts warned that he was immature, disingenuous and a me-first guy who would poison a locker room. Yet Newton understood that despite the best of intentions, an emotional outburst by a rookie on a 1-5 team would do way more harm than good. So he kept his mouth shut.
Heading straight home after losses didn't help, either, since his house was usually crowded with family and friends gathered for a big happy feast. Unable to make small talk, to watch TV, to eat or even to sleep, Newton would pull on his running shoes and actually head out the door for a long run late on Sunday night.
It didn't matter to him that the three rookie QBs taken No. 1 overall since 1998 who started all 16 games their first season -- a group that includes Peyton Manning -- went a combined 14-34. (Troy Aikman started only 11 games as a rookie, and he lost all 11.) Newton expects more -- of himself and his team. Always. "There have been more moments of frustration than anything," Newton says when asked about the highlights of his rookie season. "Even in my wildest dreams I never imagined a way where I could [start] 3-8. People handle things differently, and I handle losing extremely different than anyone else because I'm not used to it and I won't get used to it and I want that type of mentality to be unanimous around this whole franchise."
Imagine if Newton somehow manages to pull that off?
What would his ceiling look like then? He's won six games and thrown for 4,000 yards, rushed for 500 and scored 35 combined touchdowns as a rookie with a mediocre supporting cast. So what could he do in two or three or four more years with a healthy defense and a few more targets downfield? What's the limit? Could we someday see a quarterback throw for 5,000 yards, rush for 1,000 and score 50 times? Is he the guy who will take our beloved video games from the TV screen to the actual playing field?
Newton wouldn't answer.
He would only say, "I don't see no ceiling. I don't see no breaking point."
And that's the best part, I suppose.
After what we've seen so far out of Newton, there's really no telling what's coming NEXT.
David Fleming is a senior writer for ESPN The Magazine and a columnist for ESPN.com. While covering the NFL for the past 16 years at Sports Illustrated and ESPN, he has written more than 30 cover stories and two books ("Noah's Rainbow" and "Breaker Boys"), and his work has been anthologized in "The Best American Sports Writing."