Commentary
46 things happening before Super Bowl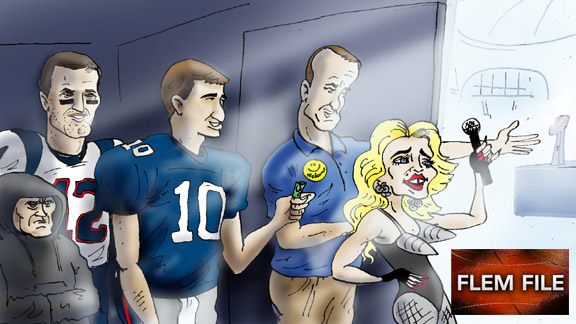 Kurt Snibbe/ESPN.com
The New York Giants had barely touched down back on the East Coast when I was hit with the first bit of Super Bowl hype from something called the National Chicken Council.
In an urgent, three-page email, I was informed by the National Chicken Council (a bit of a misnomer, if you ask me, or any chicken, for that matter) that on Super Bowl Sunday, Americans will consume more than 100 million pounds of chicken extremities. And, if the discarded limbs were then laid end to end, the trail of dismembered poultry parts would -- gag, yurp, ack -- circle the Earth more than twice.
A little while later I got an invitation to a Super Bowl wedding being held at a White Castle in Indianapolis. With more than 300 hours left until the actual kickoff, the ridiculous, raunchy roller-coaster ride of pre-Super Bowl hype had officially started.
"It. Has. Begun." I tweeted.
Fear not. Because the FlemFile is, first and foremost, a public service, I've decided to spare you all this pregame hype and give you back the next 10 days of your life by sharing with you the 46 things that we know will happen between now and Super Bowl XLVI.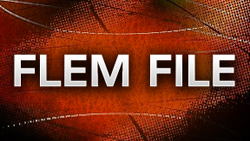 1. For starters, this is guaranteed: There will be an overabundance of "clever" usages of Roman Numerals. I mean, like C's and C's of them.
2. The Giants will rush through the last 15 minutes of Media Day and later blame the mixup on the Patriots' time keeper.
3. At some point in Indy, MC Hammer, Joe Piscopo, Dennis Haskins and two of the Kardashians will wind up on the same dance floor.
4. The idea that these are two completely different teams than the ones that faced each other in 2008 in Arizona won't ever fully and completely catch on.
5. Tim Tebow will get more attention than Tom Coughlin.
6. After the game comes down to the Pats' Tiger formation on offense versus the Giants' Four Aces and Big Nickel on defense, Roger Goodell will appoint a top-secret, blue-ribbon linguistics team to help teams come up with cooler nicknames for their schemes.
7. After clamoring for years, we will finally get to learn more about this Manning family.
8. Most of the kids who sign up for Pop Warner football in the next 10 days will ask to play tight end.
9. Fans on their way to NFL alumni events will spot old-timers hunched over in pain and shuffling along slowly due to myriad injuries and ailments suffered during their playing days -- in 2005.
10. The Mara women will steal the show. After feisty Giants matriarch Ann Mara, 82, broke her shoulder at church, her son, John listed her as "probable" for the Super Bowl. Meanwhile, one of her 42 grandchildren, Rooney Mara, was nominated for an Academy Award for best actress for her mesmerizing performance in "The Girl with the Dragon Tattoo," in which she expertly, exhaustively and effortlessly, teetered her character between pure power and vulnerability.
11. A player will get in trouble for something, and the coverage, some of it blown out of proportion, will eclipse all the good the other 95 percent of the league is doing.
12. You will remember, vaguely, something about the Pro Bowl taking place.
13. Some will argue that the most compelling performance in Indy in February won't take place at Lucas Oil Field but at Bankers Life Fieldhouse when, two weeks later, a reunited Van Halen takes the stage along with opening act Kool & The Gang and their new bass player, Jim Irsay.
14. We will continue to believe the adage that Defense Wins Championships even though the average defensive ranking of the past six Super Bowl teams was 18th.
[+] Enlarge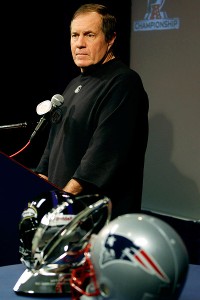 AP Photo/Stephan SavoiaHow open will Bill Belichick be in the coming weeks before the Super Bowl?
15. Receivers from the Patriots and Giants will wake up in a cold sweat in the middle of the night in Indy, but will calm themselves down by remembering to get both feet down in the end zone before realizing and/or starting their celebrations.
16. There will be many acts of leadership, maturity and professionalism in Indy, but none will surpass what Ray Lewis did after the Ravens lost in the AFC Championship.
17. You will sense the anguish and uncertainty that Peyton Manning is going through with his neck and his future, and, for the first time, he will appear sympathetic and fully human to us. Then the commercial will start up again.
18. I will receive at least 17 reminders from the assistant media relations intern to the liaison for the VP of the Super Bowl host subcommittee on Hoosier pride that the official and correct name of the town is Indianapolis, not Indy.
19. I will walk 13.7 miles total on indoor skywalks and, despite the occasional feeling of being a human hamster, I will call upon all cold-weather Super Bowl cities to begin construction of similar walkways.
20. An actual poll will reveal that 15 percent of Americans would miss the birth of their own child to attend the Super Bowl, and instead of proving the awesome power of this game it will actually have the opposite effect on you.
21. You will watch Tom Brady and come closer than you would ever care to admit to buying Uggs.
22. It will be revealed, through numerous media outlets, that Indianapolis is cold during the winter.
23. Roger Goodell will celebrate the new extension that will keep him NFL commissioner through 2018 and no one will listen when James Harrison correctly wonders why the commissioner is allowed to discipline players who have no say whatsoever in hiring him, firing him or the terms of his employment.
24. The coolest people in Indy will be musicians, not athletes.
Tweet It Or Post It
What do you think will happen before the Super Bowl? Tweet them (@daveflemingespn #FlemFile) or post them on my Facebook page (DavidFlemingESPN).
25. At some point Belichick will be asked, individually, about each and every one of the 4,703 passing yards his defense allowed during the regular season.
26. More proof will be given about the long-term, debilitating effects of repeated blows to the head suffered during football games and this information will be very interesting, helpful and scary to everyone associated with the game except the people suffering the actual repeated blows to the head during football games.
27. If Giants center David Baas can't get healthy, the unblockable Vince Wilfork will more than likely leave Indy as a cult hero.
28. There will be national outrage about the voting process for the Pro Football Hall of Fame and then, after nearly 27 full minutes of concern, contemplation and indignation, one of those funny beer commercials will come on and we'll get distracted and forget about it for another 364 days.
29. The Patriots defense will make us rethink an idea Packers cornerback Tramon Williams suggested to me a few weeks ago: that if a defense gives up 80 yards on a drive but then forces a turnover in the red zone, maybe those negated yards should be subtracted from the team's total yards allowed to create ADR adjusted defensive ranking.
30. The Super Bowl commercials will feature cute animals, funny old people, half-naked women and dumb, emasculated men -- sometimes all at once.
31. The difference in the game will come down to the way Eli Manning seems to get bigger and better after four sacks and Tom Brady seems to get much smaller.
32. Victor Cruz will exploit the lack of speed and athleticism in the Patriots secondary, and after the game Belichick will hire a scout to do nothing but find him a dozen undrafted and overlooked gems each spring.
33. The Bucs will finally hire a head coach online after scouring local football message boards for posters with really insightful comments about the team.
34. During halftime, Madonna will sing "Express Yourself" and someone will tweet that she stole that song from Lady Gaga.
35. At some point even the pass-happy Patriots will realize that the 5.4 yards per carry given up in the NFC Championship Game by the Giants defense is just too great a weakness not to exploit.
36. At some point so will anyone thinking about betting the astronomical "over" on this game.
37. Nick Saban will watch Brandon Jacobs run the ball hard for 4 yards on first down and will think, "I was wrong to ask him to play defensive end in college." On third down Saban will watch Jacobs get bounced back for a 6-yard loss by a cornerback and a stiff breeze and think, "No, maybe I was right."
[+] Enlarge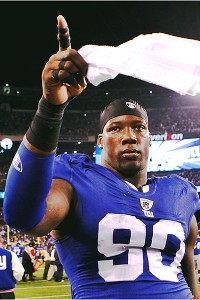 Tim Farrell/The Star-Ledger/US PresswireThe emergence of Jason Pierre-Paul has helped the Giants overcome injuries.
38. Tom Coughlin's notions on "offensive balance" will be placed in a time capsule following the game for a time when, in a few short years, defenses are no longer allowed to touch quarterbacks and 6,000 passing yards will get you benched or fired for being inadequate and boring.
39. We will think it both cool and sad that Chad Ochocinco has finally made it to the Super Bowl and then, after being deactivated, he will leave Indy to cover the GOP primaries for CNN.
40. At some point the tired routine of Rodney Harrison and David Tyree will make us all wish the greatest play in Super Bowl history never happened.
41. There will be math, lots and lots of math: such as, after starting 10-0 in the postseason Tom Brady is 6-5 in his past 11 postseason starts with 16 picks and a near career-low 57.5 passer rating in the AFC title game.
42. The NFL will look brilliant for allowing players to tweet during the Pro Bowl, because, ya know, there's no way that could ever go wrong.
43. Belichick will bring in Joaquin Phoenix to give his TV interview walking off the field after the first half.
44. There will be comparisons: Indy to Dallas; Eli to Peyton; Coughlin to Parcells; Brady to Montana; Raji to Wilfork; "Hoosiers" to "Breaking Away"; and Kelly Clarkson's national anthem compared to whatever that was Steven Tyler sang.
45. After performances by Jason Pierre-Paul and BenJarvus Green-Ellis, agents will instruct their clients to add a third name and a hyphen before the NFL combine.
46. And finally, the astronomical TV ratings for the NFL will get to the point where after the game it's just easier for the league to point out, by name, the handful of people in North America who did not watch the Super Bowl.
Or eat any chicken wings.
David Fleming is a senior writer for ESPN The Magazine and a columnist for ESPN.com. While covering the NFL for the past 16 years at Sports Illustrated and ESPN, he has written more than 30 cover stories and two books ("Noah's Rainbow" and "Breaker Boys"), and his work has been anthologized in "The Best American Sports Writing."