Commentary
Brian Wilson's onesie is star of ESPYS
Updated:
May 23, 2012, 5:49 PM ET
By
Lynn Hoppes
| Page 2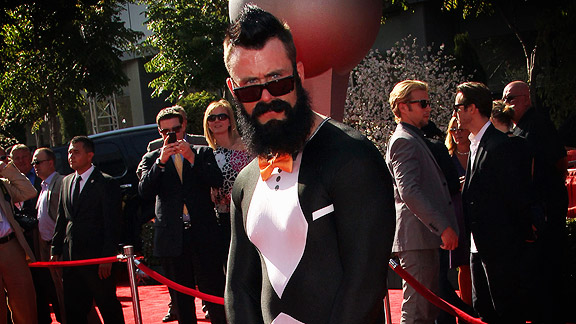 Frederick M. Brown/Getty ImagesBrian Wilson wore a skin-tight suit to the ESPYs. Now baseball needs that.
LOS ANGELES -- ESPYs host Seth Meyers said the biggest understatement of the night:
"He was a gold mine."
On a night when ESPN was celebrating the best in athletic competition, the real star of the show was the wardrobe of San Francisco Giants closer Brian Wilson.
Every athlete was talking about the outfit. Everyone in the media was trying to figure out what it was. And fans were cheering his name inside and outside the Nokia Theatre LA Live.
Let's just let Wilson explain.
"It's not a wrestling singlet like people think. I call it a onesie," said Wilson, an eccentric 29-year-old who previously was known for his strange beard. "If I wasn't going to wear this outfit, I would be wearing Saran Wrap. But I know how ESPN wants things PG-13."
Wilson wanted to make a splash at the awards show -- "I'm an impulse guy when I wake up. Who knows where it takes me." -- and did some research online.
"I looked up onesie, skin-tight and tux," Wilson said with a very serious face. "You add my cougar cane and my bracelets and I'm really hoping for positive results."
And he got that.
That's the kind of night it was going to be. A lot of positivity and not much negativity -- unless you're talking about some of the shots by Meyers, who once again took his gloves off slicing and dicing the big stories of the past year.
"I thought overall the jokes hit their mark," said Meyers, who returned for his second stint as host. "I was happy with the results."
Meyers made fun of the Vancouver couple who were seen making out during the hockey riots, took a few shots at LeBron James and last year's "Decision" and even made fun of the retired Brett Favre.
On the positive side, the Dallas Mavericks made the big haul, winning best team, Dirk Nowitzki winning Best Male Athlete and Best NBA Player and Rick Carlisle winning best Coach/Manager.
"This is just an amazing night for us," Nowitzki said. "It's been very unreal for all of us. This award tops off our year."
And, even though the NBA is in a lockout, it didn't seem to matter to the players as they walked step-in-step with owner Mark Cuban.
"I think he might get fined. Is it $1 million now?" Mavericks guard Jason Kidd said.
Here are some other highlights of the telecast: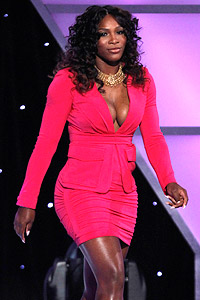 AP Photo/Matt SaylesSerena Williams' dress was a show-stopper.
BEST DRESSED: Wilson was a no-brainer for best outfit but Serena Williams was a close second. Her tight red dress was a show-stopper and left little to the imagination. Adrian Peterson was another flashy player wearing a bright, plaid jacket that resembed a checkerboard. And swimsuit model Brooklyn Decker wore a red leather mini-skirt, she said, hoping to stay cool. Not sure that worked.
BIGGEST OVATION: Pop superstar Justin Bieber, who said he's a huge fan of hockey, had the crowd outside screaming his name. He even jumped into the throng to sign a few autographs (and that totally freaked out his security team). He and auto racing pioneer Danica Patrick messed up the delivery of the joke at the end of the show.
Here's how it was scripted:
Bieber: "I am thrilled to be here tonight, because ... I won't lie, I'm all about two things: fast cars ... and fast-"
Patrick stops him and says, "Whoa! Justin. Fast women, really? Is that how you think of me?
Bieber retorts: "Uh, I was going to say food. Fast food. I'm like 17, lady."
Patrick: Sorry. Here are the nominees for best team."
Other big cheers went to hearthrob Ryan Reynolds, who roared through the red carpet not doing many interviews. He did a few photos but he wanted to get to his seat inside. Also, since the event was in Los Angeles, it was no surprise that Clippers superstar Blake Griffin got a huge cheer.
BEST MOMENTS: There were plenty to remember. Anthony Robles of Arizona State winning the Jimmy V Award and talking about the sacrifices his mother made; the speech of Dewey Bozella, who was sent to prison in 1983 for a murder he did not commit and won his release in 2009 and won the Arthur Ashe Award for Courage; and the classy speech by Aaron Rodgers, who won for Best Player and was very humble.
"I was raised to focus on team and not as an individual," said Rodgers, who was there with several teammates. "I'm a pretty private person and I like to keep it that way. So I stay very humble and take everything in stride."
BIGGEST SHOCKERS: Actor Jonah Hill showed up pretty svelte. He's lost about 40 pounds for several upcoming movie roles and because he thought he looked too sloppy. Another shocker was that Selena Gomez, Bieber's girlfriend, didn't walk the red carpet and instead came in the back entrance and sat in her seat. Another was "Tonight Show" host Jay Leno returning the favor for inviting Meyers on his show recently by appearing as a presenter himself. And, it's always surprising to me to see stars leaving the show after making their presentation and not staying at least 30 minutes into the show. The first two to leave were Reynolds and Jason Bateman. Justin Timberlake filmed his segments and then bolted for the door.
WHO WILL HOST NEXT YEAR? Meyers seems a natural but it's really hard to say whether he'll be back in the same capacity. He isn't ready to make a decision at this point. Actor Samuel L. Jackson hosted the show a record four times, and Meyers is tied for second with actor/singer Jamie Foxx and TV host Dennis Miller. Timberlake, who hosted in 2008, said Meyers is a great host and "he did an awesome job tonight." Leno was impressed by the crispness of the monologue.
And Meyers was so happy to have Wilson in the crowd -- "You are the wind beneath my wings" -- that he and his writing buddies kept going back to the well and rewriting the script to come up with more jokes.
Wilson didn't seem to mind. He stayed to the very end of the show, meeting many of the athletes and taking photos with fans.
"The one thing I didn't think through was how do I plan to go to the bathroom? That's why I'm having some bladder problems right now," Wilson said. "And I didn't have my phone to get my calls. Where could I have put that phone anyway?"
Lynn Hoppes is senior director for Page 2 and Commentary. He can be reached at lynn.hoppes@espn.com.