Party of Five goes All-Star crazy
Updated:
February 22, 2012, 2:58 PM ET
Page 2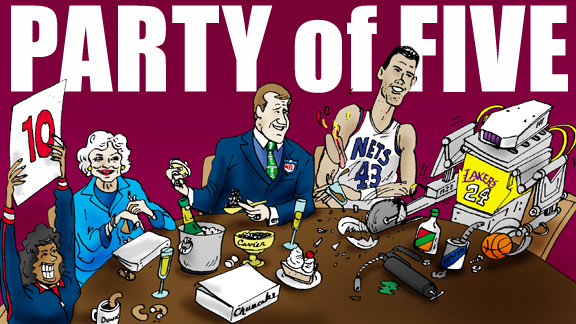 Kurt Snibbe/ESPN.comDwight Howard is hosting this week's party -- but look at all the guests! We certainly give them a '10.'
Who doesn't love, cherish and take 100 percent seriously an All-Star Game?
Don't answer that.
Instead, join the party, as our esteemed panelists prep for the coming weekend by discussing all things All-Star -- from the Orlando-Dwight Howard relationship to a robot battle between two of the NBA's biggest stars (with a surprise visit from Charlie Hustle).
And don't forget: Each week Party of Five becomes a Party of Six! Just leave your best (read: funniest and/or most entertaining) answer to Question No. 5 in the comments section, and the winner will get to answer a question in next week's Party of Five. The winner will be picked by Thursday afternoon; please check your ESPN Messages Inbox to see if you're the one.
Until then, put on that Superman cape and read up …
1. How will Orlando treat Dwight Howard on NBA All-Star Weekend?
DJ Gallo (@DJGalloESPN): I'm sure they'll be brutal. People think Philly fans are tough? Don't dare cross an Orlandoan. Cities get no tougher than Orlando, Fla. It's a world of laughter? Sure. But also: a world of tears. A world of hopes? No doubt. But, alas … a world of fears.
Vincent Thomas (@VinceCAThomas): Controlled disdain and begrudged faux-love. The same way you'd treat an in-law if they were in the process of a divorce but hosting a holiday dinner … while knowing that, if the divorce happens, your brother/sister/mother/father/son/daughter would crumble into a dysfunctional mess.
[+] Enlarge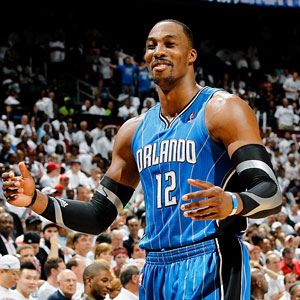 Kevin C. Cox/Getty ImagesWill Dwight Howard feel the love this weekend?
Sarah Phillips (@SarahPhilli): Some like Lex Luthor, and others like Lois Lane.
Zach McCann (@ZachMcCann): The same way the city has all year: Like they're an on-the-rocks couple trying to hold it together at a dinner party. The crowd will cheer him and hide behind its smiles during the game, knowing later on they'll be sleeping in separate bedrooms and Dwight will be returning Orlando's calls with texts that read: "Out, can't talk. Sup?"
Steve Etheridge (@stetheridge): Spitefully, without a doubt. He's been such a jerk to them! Did you hear he gave 200 new winter coats to needy children in humid, subtropical Florida? What a cruel joke.
2. Who will be the star of NBA All-Star Weekend?
Gallo: The shoe companies, same as always.
Thomas: Rihanna and Chris Brown. You didn't hear? They're reportedly back together, again. If the reunion is just a rumor (couldn't possibly be, right?), then I'll go with Jeremy Lin jerseys.
Phillips: The "10" sign during the dunk contest.
McCann: The "7" sign during the dunk contest.
Etheridge: The drivers of the NASCAR Sprint Cup Series, whose audience for the Daytona 500 will comparatively make the All-Star festivities feel like a Pistons home game.
3. Who else should have been included in the celebrity game?
Thomas: You ever watch Zooey Deschanel's "New Girl"? Lamorne Morris plays Deschanel's roommate and his character is supposed to be a failed former pro basketball player. It's a grand charade. No way that dude was fictionally good enough to play ball overseas. To reinforce the ridiculousness of that casting, I'd like to see him physically hoop.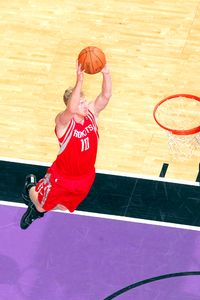 Rocky WidnerChase Budinger: dunk superstar?
Gallo: It doesn't matter which "celebrities" show up. They will all be outshined by the star power of the Chase Budinger/Paul George/Jeremy Evans/Derrick Williams dunk contest.
Phillips: E! reality TV stars, Lamar Odom and Kris Humphries.
McCann: Justin Vernon of Bon Iver should've gotten an invite. Dude's so mainstream now there's no way he would've turned it down.
Etheridge: Betty White's pretty ubiquitous these days, why didn't she get an invite? I'm feeling a bit of discrimination toward women born during the Harding administration.
4. What's the best all-star-related event (e.g. dunk contest, home run derby, Roger Goodell post-Pro Bowl interviews, etc.)?
Thomas: Whatever party P. Diddy throws during NBA's festivities is the king of all All-Star games. But on a larger scale, it narrowly loses out to the Playboy Super Bowl party. Puff knows how to throw a party, but Hef is still the don.
Gallo: The NHL All-Star Game draft, simply to see which star player is considered the worst star player by his peers.
Phillips: The dunk contest, only because TNT usually shows Vince Carter's dunks from 2000. Carter's replays should be the champion every year.
McCann: The Pro Bowl, of course. It's the perfect event. Not sure why they keep messing with it.
Etheridge: I love anything where the athletes' kids are wandering around on the field, when you can look at them and imagine them Hulk-morphing into their dads. It's such a psychologically tender time for them, because all their lives they've believed their dads were invincible -- the best -- and now alluva sudden it's like PUJOLS MAKES YOUR DAD LOOK LIKE A CREAM PUFF.
5. READER QUESTION: How can leagues persuade players to try hard in all-star games?
Thomas: Well let's just focus on the NBA All-Star Game, since that's what is immediately upon us. Although NBA millionaires like to spend big, they can be miserly sometimes, too. And we all know that the Cheesecake Factory is the preferred dinner destination for many of these cats. So something like a year's worth of Cheesecake Factory takeout is going to engender some inspired, competitive ball.
Gallo: The quality of play in last month's Pro Bowl embarrassed the NFL. Roger Goodell expressed as much after the game -- but before the game, Goodell encouraged players to tweet from the sideline. I can't believe league encouragement to tweet in-game didn't signal to the players that the game was supposed to be played with the utmost intensity. Crazy, right? So if someone as smart as Roger Goodell can't solve this riddle, what hope do we have?
Phillips: Leagues can increase competition by offering larger cash incentives for the winning team. According to the Million Dollar Man, everybody has a price.
McCann: Instead of providing incentive for a win to athletes who have everything, wouldn't it be more effective to punish the losers? The NBA should mandate the losing team perform community service from 11 p.m. to 2 a.m. on Sunday night after the All-Star Game. You're saying LeBron & Co. are going to dog it with one of the NBA's biggest party nights of the year at stake? Problem solved. NBA cares.
[+] Enlarge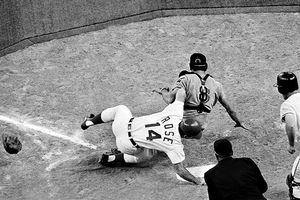 AP PhotoHey you all-stars -- want to take on Charlie Hustle?
Etheridge: Since no one wants to risk getting injured, why not let players design and operate their own BattleBots to do the dirty work for them? You can't say it wouldn't be fun to watch Carmelo's buzz-saw-bedecked Roomba running a fast break on Kobe's detpack Furby.
And our special guest panelist …
Justin McIlwee, Harrisonburg, Va.: If a player is found to not be trying hard in an all-star game, then each one has to go back to the 12th inning of the 1970 MLB Midsummer Classic. There, each player who didn't play hard will take the place of Ray Fosse: They must stand there, guarding home plate, while Pete Rose shows them what playing hard in an all-star game is all about.
Page 2's Party of Five is a rotating cast of characters answering all of sports' most important questions. Check back next week to see who has joined the Party. No RSVP required.