By Bill Simmons
Page 2 columnist
Editor's Note: The Sports Guy is writing a running blog from Super Bowl XXXVIII in Houston, and he will be updating it a couple of times each day.
Other days: Tuesday

Updated: Monday, 11:45 p.m. ET
HOUSTON -- In honor of Norv Turner getting hired by the Raiders today, I'm running an excerpt from a Vegas column that appeared on my old website (posted on May 7, 2001). In the column, I'm describing a Sunday breakfast at Mandalay Bay with three of my buddies -- including our friend Hopper, who played blackjack until the wee hours with Turner, who had been recently fired in Washington. It's one of my favorite stories ... and it's absolutely, 100-percent true.

Late Sunday morning ...
We're eating breakfast (Bish, Hopper, Mike and myself) as Hopper recounts his blackjack experience with Norv Turner -- or as he likes to call it, "My Brush With Non-Greatness": "Norv was up about two grand," Hopper explains. "Suddenly he scaled down his bets from $100 to $25 and started playing conservatively, like he had taken a pill that turned him into a giant wuss. I couldn't believe it. He stayed on '16' against a (dealer's) face card three times in a 10-minute span. All three times, he screwed me, and I ended up with his crappy card. All three times, the dealer ended up crushing us. And Norv's just sitting there with this dumb smile on his face, counting his hundred-dollar chips. Meanwhile, I'm losing a hundred a hand. "So after the third time it happened, I leaned back, looked at the ceiling and muttered, 'The coach ... is ... KILLING me ...' Just like that. The coach ... is ... KILLING me. Up until that point, he didn't know that I knew who he was. He stayed for two more hands and bolted. I drove him away." The mental image of a failed football coach mangling a blackjack table and driving Hopper insane was just too good ... for the next 15 minutes, we couldn't stop talking about it. How could a man get hired to coach an NFL team when he can't even play blackjack? We were flabbergasted by this. For instance, would someone like Mike Shanahan ever stay on "16" when the dealer had a "10" showing? I mean, EVER? Of course not. "Norv seemed like a nice enough guy," Hopper said, "but there wasn't anything 'coach-like' about him. Can you imagine someone like Parcells just sitting there and taking it while I bitched about him at a blackjack table, right in his face?" "How many teams has Norv coached?" Mike asked. "He was an assistant in Dallas and the head coach in Washington," I answered. "In both places, he lost respect of the players pretty quickly." "I can see why," Hopper sneered. We started talking about something else. About 10 minutes later, Hopper started shaking his head again. He couldn't stop thinking about Norv. "If I owned an NFL team," Hopper said, "before I hired a coach, I'd take him to Vegas for a weekend and play blackjack with him. That would tell me everything I needed to know about the guy. Everything." One final note: I guess Al Davis wasn't reading my column back then. Updated: Monday, 4:30 p.m. ET
Heading down to Texas for the Super Bowl, my original choice was to drive from California to Houston in a stolen van -- with Jackie Earle Haley behind the wheel, obviously -- but negotiations fell through at the last minute. So I had to fly down. And there's a story about the flight, but the details will probably anger you, so I'm warning you ahead of time. We might as well get everything out in the open, anyway. Here's the deal ...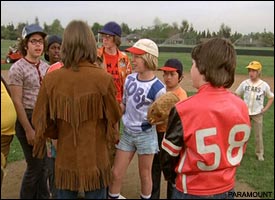 Gas up the stolen van! The "Bad News Bears" are coming back to Houston.

Because I'm working for Jimmy Kimmel's show this week, I could upgrade to first class -- it's one of the little-known perks that members of the Writer's Guild get when working for a TV show. See, this is the part I warned you about -- the part where you would start to hate me. And yes, I know ... I'm the same man who once wrote the line, "I've never walked through first class on an airplane without wanting to punch someone in the face."

I'm still that same guy. You have to believe me. We can work through this. It's just that in first class, you have more legroom, and they gave you edible food, and they even give you free liquor and those hot towels that feel like a million bucks. You can't turn that luxury down when it's your contractual perk; that would simply be shortsighted. Plus, there's a better-than-good chance that you might be sitting near a random celebrity, especially when you're flying out of L.A. So I upgrade to first class. Again, I feel terrible about this -- you have to believe me. I'm sitting in an aisle seat in Row 5. My friends Sal and Paul, fellow writers for Jimmy's show, and equally uncomfortable to be sitting in first class -- are sitting in Row 2. There's nobody sitting next to me. Paul asks the lady sitting across from him if she'll switch with me, so we can sit together, talk loudly and make inappropriate jokes about everyone else in first class. She agrees. We switch seats. She takes my seat in 5E. Now ... With about 45 minutes left in the flight, Paul and I are throwing down Bloody Marys and trying to decide whether our stewardess looks more like Susie Essman or Mercedes Ruehl. For some reason, "Nurse Betty" is playing as our in-flight movie. Suddenly someone comes out of the bathroom -- a breathtakingly gorgeous older woman -- and we stop talking because we can't breathe, and then it hits us. My God, it's Jaclyn Smith! One of Charlie's original Angels! Indisputably one of the most memorable babes of my lifetime! Even in her mid-50s, looking damn good and laying the smack down in first class! GOOD GOD ALMIGHTY, IT'S JACLYN SMITH!!!!!!! Time for a quick tangent. When you're figuring out stuff like "Who were the best-looking babes of my lifetime?", I think it comes down to three factors: 1. How did they look at their absolute peak? Like Farrah Fawcett in 1977 ... good God. She was like the Gale Sayers of hot chicks. You really had to be there. 2. Were they able to sustain their beauty over a period of time? Someone like Pamela Anderson flamed out pretty quick -- she now looks like she's about to be introduced on Stage No. 3 at Mons Venus. But Heather Locklear has been getting it done for 20 years. She's like Karl Malone -- you can't even believe she's still in the league (and producing). 3. They have to resonate. And that's an interesting word -- you can take it in about 20 different directions. For me, the word defines someone who achieved something -- as an actor, a musician, an athlete, a writer or whatever -- and they become inexorably tied with their era, to the point where just about everyone agrees, "Wow, they were something." Like Bird and Magic in the '80s -- they resonated. Nirvana and Pearl Jam in the early-'90s -- same thing. Gabe Kaplan in the late-'70s -- ditto. And the list goes on. So here's my Pantheon of watershed babes from my lifetime. They were all chosen carefully, and it's an insult to rank them, and I shouldn't even have to explain my reasoning. But I will. Heather Locklear: Put herself on the map with "T.J. Hooker" and "Dynasty" ... and then pushed it to another level with "Melrose Place." She singlehandedly saved that show. And even now, she still looks good. I'd like to think that Amanda Woodward had more than a little to do with the fact that it's perfectly acceptable for women to dress like hookers now. Cheryl Ladd: Just delightful. My all-time favorite. She always seemed like she would be fun to hang out with. Plus, when you think about it, stepping into Farrah's shoes on Charlie's Angels -- at that moment in time -- was like replacing MJ, Pedro, Elway and Gretzky combined. And she pulled it off. There wasn't nearly enough made of this at the time.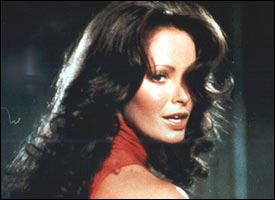 Here's that little hair flip from Jaclyn Smith that drove The Sports Boy crazy.

Jaclyn Smith: I can still see her taking the helmet off in the "Charlie's Angels" opening credits, then doing that little hair flip thingie. Geez. The best thing about her? Even other women agree that she's gorgeous. Those are always the fun ones, when they can't even get mad at you for ogling another chick.

Kathy Ireland, Christie Brinkley, Elle MacPherson (tie): Representatives of the days when SI's Swimsuit Issue actually meant something. It's like a race between the Swimsuit Issue and the NBA Slam Dunk Contest to see which event can become more obsolete. (When I was in the 11th grade, I actually got a speeding ticket driving home before basketball practice so my teammates and I could scour the latest Swimsuit Issue. That's how important it was. Now we're getting this stuff every month from Maxim and the other 120 magazines who rip off Maxim. Not that this is a bad thing.) Sharon Stone: Hey, it's my list. And this isn't just a "Basic Instinct" thing, although that was certainly one of the defining "sexy female" roles of my lifetime. I was with her from "Irreconcilable Differences" to "Action Jackson" to "Above the Law" to "Total Recall" to "Year of the Gun." And she still looks great, as she proved at the Golden Globes last night. Even if she's going Farrah-level crazy on us. Randi Oakes: Put herself on the map in "C.H.I.P.S.", took things to the next level in every dunk tank scene from "Battle of the Network Stars." Again, you really had to be there. Just trust me.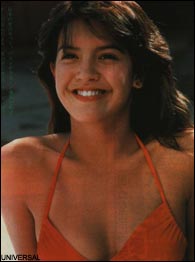 Some weird curse kept Phoebe Cates from reaching the next level.

Phoebe Cates: She's the Bernard King of babes -- you never hear her name mentioned with the all-time greats, but mention her to the right guy, and they go crazy. Has it ever been explained why she didn't become a huge star? Was it the "Blue Lagoon" ripoff with Willie Aames that killed her? Was she one of those actresses who just wanted to have kids and didn't like the limelight? Did the same mysterious force derail her career that ended up derailing Jamie Gertz's career for 10 years? I need to see a one-hour documentary about this.

Donna Dixon: (I'm leaving this blank in protest of the fact that she married Dan Aykroyd.) Charlize Theron: Seeing her make herself ugly for that serial killer role. ... I mean, somebody needs to draw up laws to prevent this from ever happening again. Seriously. Maybe Gov. Schwarzenegger could make this one of his platforms. Jennifer Aniston: Especially in those first two seasons of "Friends," when she had a little more weight on her and was able to pull off the "Extremely Hot Chick Who You Feel Like You Could Actually Have a Chance With" dynamic. That's the best. Then she went Elisabeth Shue on us and got skinny ... she still looks great, but it's not the same. So there you go. Some more recent celebs (like Jessica Alba and Katie Holmes) need a few more years on the map before becoming Pantheon-eligible. But that's my list for now. (And yes, I know I'm married. But you know what? For the past two weeks during "The Bachelorette," I had to listen to The Sports Gal saying "Oh, he's cute!" and "I hope she keeps him, he's cute!" and even "I love him, he's my favorite." It's like Adam Carolla's joke to his wife, under similar circumstances, "So how many people would you have slept with out of the 25 guys? Ten? Fifteen? Give me the final tally so I can hang myself.") Back to Jaclyn Smith, the whole reason for this column. So she breezes by us. Paul and I are practically in shock. Even Sal glances up from the 45 pages of Super Bowl props he printed out from a gambling website. We turn around and watch her head back to her seat. 5F. Right next to 5E ... the seat I gave up. And everyone in first class witnessed a new face for the Pantheon of Faces: The Bill Simmons "I Can't Believe I Gave Up A Seat Next To Jaclyn Smith Face." It was like a cross between Peyton Manning's "I Can't Believe I Just Threw Another Interception" Face from last weekend, crossed with the Mike Sherman "I Can't Believe They Just Completed Fourth-and-26" Face. With a little of Matt Hasselbeck's crying after the Packers playoff game mixed in. Fortunately, Sal was there to cushion the blow. "If it makes you feel better," he said, "the year is 2004, not 1977." Yeah, but still.

Updated: Monday, 11 a.m. ET
Guess who's back ... back again ... Shady's back ... tell a friend ... guess who's back, guess who's back, guess who's back, guess who's back, guess who's back ...

That's right, I'm back at the Super Bowl. You probably remember my previous appearance at the Big Game, when the Pats toppled the Rams to win their first championship ... and I managed to infuriate the entire city of New Orleans along the way. There were even some death threats. OK, maybe a lot of death threats. I found out that I like to have sex with animals; that my mother was a prostitute; that my Dad molested me when I was young; that I enjoy pleasuring other men; that I deserve to choke to death on my own vomit. And that was some of the nicer stuff. Well, I learned my lesson. As it turned out, I ended up loving the city of New Orleans. That city gave me one of the best nights of my life -- Patriots 20, Rams 17 -- and I can never return because everyone hates me there. It's practically tragic. And all because I had the gall to point out that downtown New Orleans was unsafe and unclean ... which it is. I just got a little carried away. Now I never get to eat Cajun gumbo again. (Mmmmmmm ... gumbo.)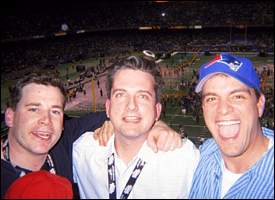 You might remember Bill Simmons' last trip to the Super Bowl ... even if Bill can't remember it all.

That's why any premature Houston-bashing this week will be coming in the form of harmless barbs and passive-aggressive digs. As colleague Jim Caple wrote in one of his columns from San Diego last January, "The predictable, patented formula for an early Super Bowl column is for the writer to fly into town and immediately rip the host city. You won't read that here though."

And he's right. Sure, Caple is the same guy who bashes George Steinbrenner and the Yankees every time he runs out of column ideas -- making him one of the world's pre-eminent authorities on predictable and patented formulas. But in this case, he's right. He's definitely right. Besides, I could never attack the city that brought us so much joy in "Bad News Bears in Breaking Training." Does this mean Houston should be hosting a Super Bowl? Of course not. It's ridiculous. There should be five trademarks for every Super Bowl experience. This is not negotiable. Here are the five:
Warm weather.
Serviceable stadium.
A downtown that's easy to get around.
Fun things to do at night.
A city that gives you that "Wow, what a city!" feeling.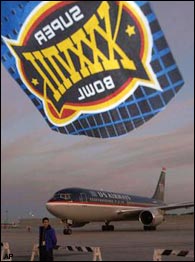 Despite his pleas with the ESPN travel department, Simmons was not allowed to fly to Houston on the Patriots' team plane.

Under this logic, only three cities should ever host the Super Bowl: San Diego, New Orleans and Miami. And you know what? I'm fine with that! Seriously, who isn't OK with those cities? So we rotate between the three of them ... and if they ever allow Vegas to host a Super Bowl, then we make it a foursome.

This isn't like the "Today Show," where you can move the show around to different cities and everyone gets one week in the spotlight. It's the damn Super Bowl! This is a huge deal! And yet Houston gets the Super Bowl this year, and Detroit gets it in two years -- which should be fun because I've always wondered what it would be like to get shot -- and by 2008, we'll be playing this baby in Newark, N.J. Here's my suggestion: Super Bowl sites should be held to the same scrutiny as the selections of "Real World" seasons. Houston seems like a nice enough town, but they would never have a "Real World: Houston." I mean, EVER. So why have a Super Bowl here? There's a reason that the three best "Real Worlds" of all time took place in Las Vegas, New Orleans and San Diego. (And yeah, I know it's early, but this San Diego season has all the makings of a tour-de-force -- especially with people working on a sailboat who either can't swim or have a phobia of boats). Those are great cities. Fun things happen when you're spending time in a fun place. Whether Houston turns out to be fun ... well, that remains to be seen. Supposedly Houston is known for its strip malls, steak joints and strip joints, and I enjoy two of those three things. Then again, when I visited two years ago (for my Galleryfurniture.com Bowl column), the traffic was terrible. It was hard to get around. I didn't feel safe at night. The sports scene seemed pretty disjointed. And there didn't seem to be a discernable downtown. I remember standing in the airport on the way out of town, looking around and thinking, "I can't think of one reason why I would ever come back here." Now, I'm back. From what I can sense so far, it's a city desperate to put itself back on the map -- they lost a sizable chunk of their identity after the Oilers fled town and the Astrodome started falling apart, and they've always been in Dallas' shadow here (there's a reason CBS didn't stick the Ewing Family in Houston). Now they have an up-and-coming NFL team, and they've opened three new pro stadiums in the last couple years, and they expanded the highway, and Yao Ming is doing his thing for the Rockets ... and everything has been building toward this week.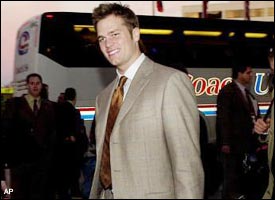 The Sports Guy was happy to pick up Tom Brady's luggage for him.

So in that sense, maybe it's not so terrible that the Super Bowl is here. The locals seem nice. The weather is fine. There's stuff to do. Would I rather be in San Diego, Miami, Vegas or N'Awlins? That goes without saying. Believe me, nothing would make me happier than being surprised by the city of Houston. And they have one week to pull it off.

Still, I can't shake something. When we landed in Houston on Saturday -- and you'll be getting the complete story of that flight in the next SuperBlog entry -- my buddy Sal asked an interesting question. "Do you think anyone has ever spent nine straight days in Houston without actually living there?" He was serious. And I couldn't answer him. Whether Houston rises to the occasion ... we're about to find out. What to expect in this blog
Here's the deal with my column schedule: During these next eight days, I'll be filing reports from Houston blog-style, which means you'll be hearing from me two or three times per day (and at all hours, so there will be no rhyme or reason for when anything goes up). They won't read like columns as much as e-mails from me to you, the home reader. I'm giving myself 120-150 minutes to write each entry. That's it.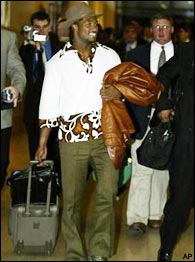 They call Carolina's Rod Smart "He Hate Me" -- and that sums up Simmons' feelings about all the Panthers.

Since I already covered the Super Bowl two years ago, this time around I'm looking to answer one simple question: "What's it like to be here?" And there's really only way to do that -- give you as much information as possible, write as much as possible, hit the town as much as possible, and forget about constructing standard columns every day. Most of the entries won't even be as long as the one you're reading right now.

So we're trying this blog thing. Hopefully it will work. I'm also working for "Jimmy Kimmel Live" this week -- not only are we filming four bits, we're doing a live show from somebody's house here Friday. That's right, I'm pulling double duty all week. All month I've been psyching myself up, like I'm running a triathlon or something. Remember the one where Julie Moss crapped all over herself on "Wide World of Sports" back in the '80s, which would have won the ESPY for "Most Horrifying Moment Ever" if they had the ESPYs back then? Basically, I hope I don't pull a Julie Moss this week. But it's possible. Especially with the Pats involved. (And yes, we'll be getting to the Pats later this week. Repeatedly. And gleefully.) Other topics we'll be tackling over the next seven days (and much like any old-school WWF event, this card is subject to change):
Leftover thoughts from Championship Weekend.
Reports from the NFL Experience, Media Day, and every major party (including the Maxim party).

Folks in Houston are mighty proud of Reliant Stadium.

Tales of debauchery and male bonding in Houston.
As many celebrity sightings and encounters as you can possibly stomach.
Some good old-fashioned Carolina bashing.
Behind-the-scenes tidbits about working for a TV show.
My dream night of throwing eggs at Roger Clemens' house.
My first appearance in a Celebrity Poker tournament.
An extended review of the city of Houston.
My big Super Bowl pick (don't forget, I'm 8-2 in the playoffs).
And, finally, a post-Super Bowl column (hopefully a happy one).
That's it for now. Coming later today: That aforementioned story about my flight to Houston (with special guest star Jaclyn Smith). Bill Simmons is a columnist for Page 2 and ESPN The Magazine, as well as one of the writers for "Jimmy Kimmel Live." He'll be updating his Super Blog two or three times per day from Houston.