By Bill Simmons
Page 2 columnist
Editor's Note: The Sports Guy is writing a running blog from Super Bowl XXXVIII in Houston, and he will be updating it a couple of times each day.
Updated: Sunday, 1:30 p.m. ET
HOUSTON -- This actually felt like a Super Bowl city Saturday night. People crowded the Main Street area. Everyone was drinking. Some women were flashing on balconies ... it was just like New Orleans. Of course, with much, much crummier weather. And if you extended it by 50 miles, then put a total of 20 cabs in the entire city. And if the traffic was reprehensible and caused you to re-evaluate your will to live. Then it was just like the Big Easy. I've been thinking about it ... I'm going to miss Houston. Remember when the SLA kidnapped Patty Hearst, and she started to identify with them, and pretty soon she was robbing banks? That's how I'm feeling. I like being miserable. I love traffic. I don't need to see the sun ever again. I might never leave. Here's how I spent my Saturday night before the big game. We went to the Playboy party, had VIP access, stood in line with all the other VIPs ... and the line never moved. So much for VIP access. Hey, at least we were standing outside in the freezing cold. Like everyone else, we wandered around aimlessly, eventually giving up and hopping in our rental car. Somehow we ended up at the Men's Club ... where it was a $75 cover charge and standing room only. Good times! One of our friends had a "$3 off" hotel discount for the group, so the horrible lady behind the desk told us, "Wait over there" and took the discount, as if we were getting a huge break. About five minutes later, she called us back by saying, "Where are the hotel guys?" Now we're thinking we might get a huge deal. Then she tells us, "The total will be $504." For eight of us. So, we could walk inside a crowded strip club and basically stand up. We thought that was hysterical. We laughed and laughed. She was dead-serious. As we were leaving, the bouncer yelled, "Guys, it's $95 at Treasures, and the girls have (something awful that I can't mention, but it was so random that I wish I could)!!!" Classy place. I wish I could bet on things like "The Men's Club will become a 'Crank Yankers' target within the next few months." Now we're back in the car ... and sitting in another hour of traffic. Because that's what you do in Houston. You sit in traffic. At least we created a new game -- "Hooker or Bimbo?" This involves watching the women walking around in the Super Bowl epicenter, then deciding by how they're dressed whether they're a hooker or just a bimbo. With the way women dress these days, it's almost impossible to tell. I don't think I've ever had that much fun while moving two mph. (Note: When I'm running ESPN6 some day, this will definitely be one of the specials on Super Bowl Week -- we'll use celebrities as contestants and everything. This can't miss.)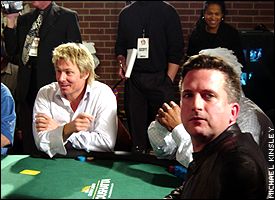 Spot the B-list celebrity: It's either Kato Kaelin, left, or Bill Simmons.
By the time we get back to our hotel, it's nearly 1 a.m.. So much for a big night out. Everyone headed their separate ways. Me and my friends Sal and Matt went back to the room of Hollywood super-agent James "Baby Doll" Dixon, where we ordered a $150 worth of room service and gleefully charged it to his credit card. Sal even ordered shrimp cocktail, always like the ultimate insult when you're charging things to someone else's credit card. And then we watched highlights of Super Bowl VII, VIII and IX -- arguably the worst threesome ever -- and called it a night.
So much for our big rocking night before the Super Bowl. The afternoon was a little more fun. There were two marquee events on the docket: A celebrity go-cart race and a celebrity poker tournament. The go-cart race featured a number of stars, including the Hilton Sisters, Jimmy Fallon, Shannon Elizabeth, Ice Cube and many others, as well as some funny moments:
1.
Jimmy Kimmel losing control of his go-cart, then barreling into a pile of hay and nearly taking out Paris Hilton -- she was standing innocently on top of the haystacks, pit in charge of waving the flag. A couple feet either way and our ratings would have gone through the roof -- would any Super Bowl story top Jimmy running over Paris Hilton? Definitely would have made the cover of Us Weekly.
2.
Speaking of Paris, during the final race, Paris waved the green flag that alerted everyone they were heading into the final lap. Unfortunately, she waved it one lap early. "At least the flag matched the color of the video she made," our friend Matt hissed.
3.
Adam Carolla lost to Leanne Tweeden in the Finals. I can't possibly describe to you how funny this was -- this guy owns eight cars and dreams about becoming one of the Andretti Brothers some day. The best part happened after the race, as Carolla blamed the weight difference for his loss: "Here's the deal: I'm not making excuses, but these go-carts only have like 20-horsepower engines. ... I outweigh her by 70 pounds. Let's see her put a 70-pound bandwagon in her car and see who wins." He went on for about 10 minutes.
4.
After Tweeden won the race, she stood on the victory stage with the top-10 winners, gave a little speech, then shook a bottle of champagne and sprayed it all over everyone. You have never seen Ice Cube run so fast -- it looked like when he was running from bullets in "Boyz 'N the Hood." That might have been the highlight of my week.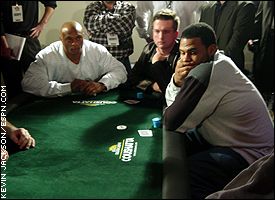 Eddie George, left, Simmons and Jerome Bettis, right, wait for the next card.
As for the other event, I played in this celebrity poker tournament at Clyde Drexler's restaurant. Yeah, I know, I'm not a celebrity. But they didn't know that. I ended up sitting at a table next to Eddie George and Kato Kaelin, and that sentence is funny enough in itself. You could feel the tension at the table when Marcus Allen sat down with us. Either there was some residual bitterness from the whole O.J.-Nicole thing, or Marcus couldn't believe he was in an event with me and Kato Kaelin.
So, here's what happened: They gave us $5,000 of fake chips. We had about an hour of warmup hands. Poor Eddie had no idea what he was doing. We talked a little football between hands, and he told me how he loves the Panthers over the Pats. Hmmmm. I told him I was a Pats fan, so we talked about the Round 2 game. He still seemed bummed out about it. He's a good guy. Then he and Kato talked a little football, leading to this exchange:
Eddie: "How 'bout you, what's up with you?" Kato: "Nothin', man, nothin."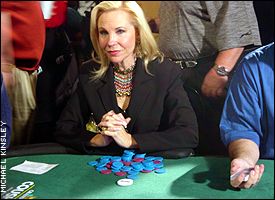 Houston socialite Carolyn Farb had plenty of chips after beating The Sports Guy's full house.
Let's just say that there weren't a wide variety of potential answers for that question.
Midway through the warmup hands, I became convinced there was no way I could lose. So naturally, when I drew two sixes, I struck early -- $500 to start with, then another $2,000 when I hit a full house on the sixth card. There was some Houston socialite named Carolyn Farb sitting across from me -- she raised me to $3,600 by going all-in. This was beautiful. We flipped over our third cards -- she had a jack-10 (giving her three jacks); I had a full house with sixes high. As we waited for the final card, the only ones that could beat me were a fourth jack or a 10. Well, you can guess what happened: The last card was a 10. This was so bad, so egregious, other players were coming over and consoling me. I turned bright-red and didn't smile for the next hour. I think there are even pictures. Poker is just an evil, evil game.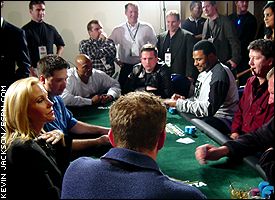 Poker can be the cruelest of games -- even when playing with complete neophytes.
Somehow I treaded water for another hour, even winning a hand with my last $300, getting back up to $1,600, then doing some more treading. I was folding just about every hand to stay alive. Bottom line: You can't really recover from something like that. I ended up finishing fourth. To make matters worse, Eddie and the Houston socialite made the finals. Go figure.
"I thought you had no idea what you were doing," I asked Eddie. "I don't, man, I don't." Perfect. On the bright side, I lasted longer than Kato.
Let's talk football
Anyway, it's time to make a Super Bowl pick ... and for whatever reason, everyone loves the Panthers. This always happens when there are two weeks between games -- everyone talks themselves into the underdog. Well, there's a reason the points seem appealing. Vegas wants you to take them. Even though I'm a Patriots fan, I'll try to understand the perspective of these Carolina supporters (as misguided as they are). Yes, there
is
a way to beat the Patriots this season. Parcells figured it out before that Sunday night game in Week 11, the one where Dallas ended up getting shut out. His players just weren't good enough. You forget this now, but the Cowboys were hanging around for that entire first half. It was a classic Parcells Game.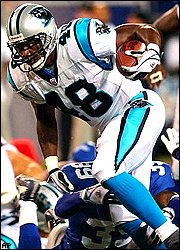 The Panthers might have a shot if Stephen Davis can eat the clock ...
Don't take any needless chances. Run the ball and chew up clock. Don't give up a big play defensively. And take two or three gambles during the game -- thought-out, decisive gambles, whether it's a play-action bomb, a fake punt, a double reverse or whatever.
Basically, he tried to lull the Pats to sleep -- boring runs up the middle, dink passes, 40 seconds between plays. Defensively, they gave up one biggie (a 43-yarder to Deion Branch) and shut down everything else. Midway through the second quarter, the Pats were only leading 3-0. And everything was leading to one play. You could feel it coming. If you followed Parcells at all during his career, you knew he was about to use one of his three bullets. Here's what happened: The Cowboys started the possession at their own 8, then ducked and dinked it to the 44, a nice little seven-play drive. Now it was first-and-10, the perfect time to take a chance. Suddenly, they went play-action, and Antonio Bryant was streaking down the field, and he had a step on the d-back ... and Carter missed him. Would have been seven. That was the game. The Cowboys eventually punted. New England rolled down the field for a touchdown on its next drive. Down by 10, Dallas had to open things up ... and that was it. The Cowboys couldn't do anything. I'll bet you anything that when Parcells thinks about the 2003 season, Carter missing Bryant on that pass is one of the first things that pops into his head. Anyway, that's how you beat the Patriots. Grind the game to a halt. Don't make mistakes. Don't give up any big plays. Get one big special teams play and one big defensive play. Take a couple of controlled chances. When you need to throw the ball, spread the field with three receivers and pick on one of their rookies. And in a best-case scenario, it's 13-10 or 17-14 in the fourth quarter, and you need to make one play to win the game. If any of that sounds familiar ... well, it just happened. Tennessee tried the same thing in Round One. When Phil Simms was saying how confident Jeff Fisher felt heading into the game, he wasn't kidding. Fisher's a good coach -- he knew what to do. And with the weather nullifying any semblance of a homefield advantage, that game was about as even as you can get. If McNair didn't miss those two home-run passes (one to Bennett in the first drive, one to Mason later in the game), and if Bennett didn't drop that wobbler at the end, the Titans are probably favored by seven over the Panthers right now. So that's what this game comes down to. Everything I just described was exactly the way Carolina plays. I guarantee Fox has watched that Titans tape and that Cowboys tape about 300,000 times over the past two weeks, thinking to himself, "We can pull this off." And with all of that said ...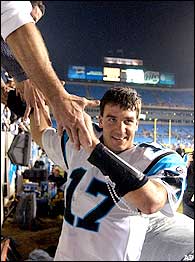 AP/Mark Humphrey
... but then again, Jake Delhomme is under center.
They can't beat the Patriots. They just aren't good enough. It's mostly about the conferences -- I just feel like New England, Tennessee and Indy were the three best teams in the league. Nobody else was on that level. They spent the last four months beating up on each other, Miami, Denver, K.C., Baltimore ... meanwhile, the Panthers were playing Arizona, New Orleans and Chicago week after week. It's too big of a jump.
If this wasn't the Super Bowl, this game would follow the script of that Cowboys game -- low-scoring, boring to watch, both teams just sort of hanging around. But things get out of hand in the Super Bowl. Mistakes become magnified. Players self-destruct. You feel the air going out of an entire team once they fall too far behind. If Dallas and New England played that November game in the Super Bowl, the Pats probably win 30-0. Carter would have completely self-imploded. So with Jake Delhomme ... I mean, you can't convince me that he's up to the task. He had happy feet in the first quarter of the last two playoff games, almost imploding in the Rams game with that fumble TD play, then settling into a semi-groove. In the Eagles game, he only made one big throw -- an up-for-grabs heave into double coverage that Muhsin Muhammad caught for a TD -- before Fox shut him down. He's a meltdown waiting to happen. Remember his game against Dallas (9-for-24, 175 yards, one killer INT), or even the one in Atlanta (13-for-25, 154 yards, 2 INTs, including the game-ender in OT)? Good old Jake has it in him. If Bill Belichick can disrupt Peyton Manning with one week of preparation, something tells me he can disrupt Jake Delhomme in two. And if that's not enough, there are multiple gambling rules from my "Playoff Manifesto" involved here, including "When in doubt, seek the popular opinion and go the other way," "When in doubt, look at the quarterbacks again," and the special Super Bowl rule of thumb, "Always beware of the team that seems like they're happy to be there." I see the Pats jumping out to an early 3-0 lead, clamping down on Stephen Davis, spreading the field with multiple receivers and throwing on that semi-shaky Panthers secondary. Eventually, Carolina will be forced to throw the ball, which is when we'll find out the thing Fox doesn't want anyone to know -- that the Panthers can't play from behind. Delhomme will make some dumb mistakes, and that will be that. I even see a touchdown for one of the Patriot d-backs. So for a chance to finish 9-2 against the spread in the playoffs, as well as a chance to remain unbeaten against the spread in the Super Bowl since 1995 ... I'm taking the Pats and the points. The Panthers are happy to be here. The Pats want to put themselves on the map for the entire decade. There's a difference.
My Super Bowl pick: Pats 36, Panthers 10.
Bill Simmons is a columnist for Page 2 and ESPN The Magazine, as well as one of the writers for "Jimmy Kimmel Live." He'll be updating his Super Blog two or three times per day from Houston.