By Bill Simmons
Page 2 columnist
Editor's Note: This is the final entry of The Sports Guy's running blog from Super Bowl XXXVIII in Houston.
Updated: Monday, 5 a.m. ET
HOUSTON -- Pats 32, Panthers 29. Maybe the greatest Super Bowl ever. This one felt different than the one against the Rams. I didn't black out for 10 seconds. Didn't see any Pats fans crying and muttering to themselves. Didn't make 900 cell phone calls. Didn't hug total strangers. Didn't stay out partying until 4 a.m. You always hear people say that the second one is better. It's not. You can't top the first one, just like you can't top your first wedding, or even your first Shannon Tweed movie. Here's what you feel when you win that second one ... Relieved. Utterly, completely relieved. It's different being the favorite -- you spend the whole time hoping things don't get screwed up. With something to protect -- in this case, one of the most memorable seasons in NFL history, as well as the chance to become the defining franchise of the decade -- you become a parent. You worry. You fret. You cringe on every big play. It's like having a child leave for a sleepover. You worry all night, then you're just happy to see them return safely in the morning. You reach a point where failing feels 10 times worse than succeeding feels good, if that makes sense. And then when it's over, and you survive all the ups and downs, and things finally turn out OK in the end ... you're just a mess. A giddy, overwhelmed mess. It's like surviving a brush with death. Then, and only then, can you appreciate everything that happened. It's been that way all season. Now it's over. Thank God.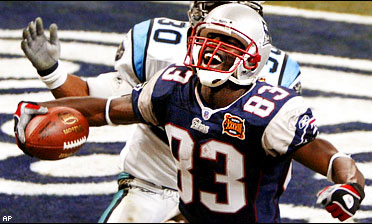 AP Photo
Deion Branch and the Pats looked in control early.
Believe me, I'm not complaining. The Patriots prevailed -- again -- and a bunch of things happened in the process. They wrapped up one of the most remarkable seasons in any sport -- 15 straight wins, 10-0 against 10-win teams, an incredible 17-2 against teams with a .545 winning percentage. Tom Brady evolved into a superstar. Bill Belichick cemented his reputation as one of the best. The asterisk was permanently removed from Super Bowl XXXVI. Deion Branch became a household name. And Adam Vinatieri ... I mean ... two Super Bowl-winning kicks? Two? Will that ever happen again?
This one was beautiful. It was epic. Nobody scored for nearly 27 minutes. As usual, the Pats allowed the other team to hang around, a bizarre trait for a team working on such a long winning streak. Vinatieri missed two field goals, fueling those "He's not the same as he was two years ago" doubts. Jake Delhomme looked like he was one more play from completely unraveling into Craig Whelihan. And then the points started coming, a bunch of them -- 14 for the Pats, ten for the Panthers -- and we went into halftime with our heads spinning. I'll admit it: By the time P. Diddy was hopping around in that Panthers jersey, I felt physically ill. Everything felt different about this season, scary vibes all around -- the crummy week in Houston, Troy Brown losing that stupid "NFL GameDay" game to Steve Smith, all the experts touting Carolina's virtues all week. Before the game, when the Panthers sprinted onto the field as one, the comparisons between them and the 2001 Pats were downright disturbing. Even my tickets were a bad omen -- we were sitting close to midfield in the lowest section on Carolina's side, unequivocally the first time in my life where I had phenomenal seats for a football game ... except we were surrounded by Panthers fans and corporate yahoos.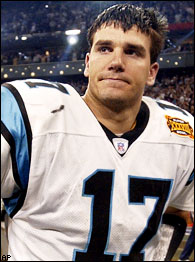 AP Photo
Jake Delhomme got past those early jitters and put the fear of God into The Sports Guy.
Nobody made noise all game. It was like sitting in a noise vacuum, watching the game on the greatest HDTV plasma screen of all-time. The guy in front of me had his arm wrapped around his wife all game, like they were sitting at the opera. Every time we stood up on third down, somebody asked us to sit down. It was unbelievable. Has anyone ever sat at the 50-yard line and longed to be in crappier seats before?
Then things got weird. Janet Jackson's breast popped out when she was singing with Justin Timberlake, a pierced nipple on the Jumbotron for everyone to see. A streaker posing as a referee delayed the second-half kickoff, as security took about 35 seconds to run out and grab him (with a comical assist from Mike Chatham). A surreal haze of residue fireworks smoke filled the air. By the time the Pats were forced to punt and one of Ken Walter's punts bounced backward by 10 yards, it felt like anything could happen. Delhomme had survived that first wave ... you could feel him gain confidence with every play. "There's too much weird crap going on right now," my buddy Sully muttered. We were terrified. Seconds later, the Stones song "Here comes your 19th nervous breakdown" started blaring from the loudspeakers. And that's when my heart started pounding. Finally.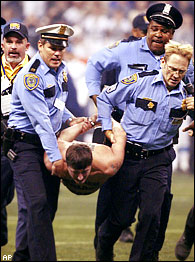 AP Photo
Things got really, really weird at halftime.
When it came right down to it, I didn't want to lose. Losing meant another year of hearing about the Tuck Rule, how the Rams were better that year, how the 14-game winning streak was more luck than anything. This was a great team. Nobody believed it. You reach a point where you just get ticked, and you want to shove it in everyone's face. Maybe that's the most satisfying part of rooting for a champion -- not the first title, but the second one, and the third one, and then the one after that, when you actually have something to protect.
Anyone can win one title. Few teams win two. Even fewer win three. And after awhile, everyone just has to shut the hell up. So that's what was at stake. And when the Pats launched another prolonged drive, capped off by a 33-yard video game catch from Daniel Graham (right up the middle, a la Cap Boso in Tecmo Bowl), followed by an Antowain Smith TD run at the beginning of the fourth (21-10), the Panthers were practically done. You could see that vaunted front four fading. You could hear their fans giving up. Through three quarters, the Pats had made six trips inside the 30; the Panthers had none. They doubled Carolina's time of possession, doubled their total yardage. What was left?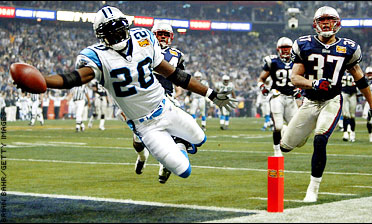 Getty Images
DeShaun Foster and the frisky Panthers simply refused to go away in the fourth quarter.
Plenty. Delhomme caught fire in the no-huddle; no matter what happens from now on, he's permanently removed from the "Shaky QBs" group. The guy wouldn't let the Panthers quit. Seeing him slap pads on the sidelines and improvise broken plays was downright inspiring, and three times more improbable than James Van der Beek leading the way in "Varsity Blues." Suddenly it was 21-16 ... and Fox went for the two. And missed it.
"He panicked!" my friend Sal screamed. "That's gonna come back to haunt him!" Maybe. The next few minutes were a blur. Brady drove the Pats down for the potential clinching score, getting a first down on the 9-yard line, and my buddy Sully says, "I can't believe we're about to win our second Super Bowl in three years." "Take it back!" I screamed, my eyes bulging! "You just jinxed us!" He took it back. But was it a coincidence that Brady threw an interception three plays later? I think not. I can still see Delhomme hooking up with Muhammad for that 87-yarder, the ball hanging in the air forever, then glancing down and seeing that Muhammad had about six steps on everyone else. Touchdown, Panthers. Now my friendship was Sully was officially on the line. Meanwhile, the Panthers fans were finally making some noise (to be fair, they were outnumbered by about 6-to-1). The scoreboard flashed a "This is the first time the Patriots have trailed in the last 478 minutes this season" graphic, sending chills down everyone's spine (especially when we realized that the last time was in Houston). Even when Carolina missed their second two-pointer of the game, I couldn't breathe.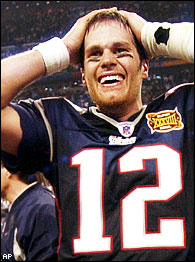 AP Photo
Tom Brady has reached the point where we expect him to pull out a miracle finish.
Except for one thing ...
We still had Brady. I would never compare him to Bird and Orr, simply because he doesn't have that same capacity to bring his fans to a higher place. But Bill Russell ... now there's a comparison. Russell never overwhelmed anyone. His special qualities weren't obvious to casual fans. He always saved his best for the biggest moments. Maybe it wasn't pretty, and maybe he didn't put up mind-blowing stats like Wilt, but his teams always came through in the end. He was a galvanizing force. Brady isn't as great as Russell -- not even close -- but clearly, there's something happening here. 40-12 as a starter? 6-0 in playoff games? Come on. With the team reeling at 22-21, Brady calmly marched them down the field, almost like it was an intra-squad scrimmage. When an athlete reaches a point where you
expect
them to come through, now you're getting somewhere. Against the Panthers, we reached that point with Brady. Officially. Then something really weird happened: The always-dangerous (to both teams) Charlie Weis called two perfect plays in a row: the tackle eligible to Mike Vrabel, then the sneaky snap to Kevin Faulk for the two-pointer. 29-22, Patriots. Still, you just knew the Panthers weren't dead. You knew it. Delhomme had transformed into a cross between Fran Tarkenton and Dan Marino. Maybe having Rodney Harrison hobbling around helped, maybe he just went into the zone. But the guy couldn't miss. Within minutes, he hooked up with Ricky Proehl for the tying touchdown -- with a little more than a minute left on the clock, just like Super Bowl XXXVI. Here's where fate intervened. John Kasay screwed up, slicing the kickoff out of bounds. Whether Cousin Sal was responsible, we'll never know ... all I knew were three numbers: 30 (yards from field-goal range), 68 (seconds), three (timeouts). More than enough time for Brady. And he came through again. Huge third-down passes to Brown (in traffic!) and David Givens (a frozen rope!) set up the improbable: another potential game-winning kick from Vinatieri.
How could this be happening?
The Panthers tried to ice him. During the timeout, Sully asked me, "Does he make this?" I thought about it for a second. Finally: "Yes. He makes this. He's Adam F------ Vinatieri."
Back in New Orleans two years ago, I was sitting in the end zone -- I just remember seeing the ball spiralling toward me, waiting for it to hook left or slice right, realizing it was dead-on, then feeling my legs practically give out on me. Then everything went white. I'm not kidding. For about five seconds. And then I hugged the guys behind me.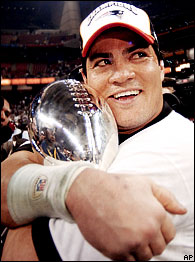 AP Photo
Tedy Bruschi earned a second dance with the Lombardi.
In Houston, I remember the flashbulbs ... thousands and thousands going off at once, all of them capturing history. And then that baby passed through the uprights with room to spare.
He did it. Again. This time I stood there with my arms raised for awhile. Then I had to sit down. Then I stood up again. I didn't know what to do. Two Super Bowls? Two? And I went to both games? How can you prepare for something like this? What's the adequate reaction? What happens when dreams come true twice? Well, here's what happens: You want to go back. Again and again. You want to keep winning. You want to make history. You want everyone to remember this team, this particular group of guys. You want to protect your turf. Every time someone tries to come along and take it, you want to fight back. You won't lose. You can't lose. Those are the teams that people remember. For instance, I remember when the '98 Bulls were sweating out Game 7 of the East finals against the Pacers, just an old team running on fumes. Pippen's back was killing him. MJ's legs were shot. They were ready to take that knockout blow. And then Jordan just started getting to the line -- time and time again, crashing into bodies like a running back -- and both he and Pippen grabbed every huge rebound, and that was that. Like Michael Myers, they wouldn't die. To me, that's what sports is all about. Anyone can win one championship. Few teams can keep coming back for more. And that's what I want: for the Patriots to reach that point. I want true greatness. I want immortality. I want a revolving door of veterans coming to New England, all searching for their first ring. I want Brady to become the next Russell. I want Belichick to become the modern-day Lombardi. I want the world to believe. I want to be sitting in a Jacksonville hotel room next year, trying to write another one of these columns after Championship No. 3, wondering if they have another one in them. And on that note ... I bid you a fond farewell from Houston. Maybe this city wasn't so bad after all.
Bill Simmons is a columnist for Page 2 and ESPN The Magazine, as well as one of the writers for "Jimmy Kimmel Live." He'll be updating his Super Blog two or three times per day from Houston.