By Hunter S. Thompson
Page 2 columnist
"As the camel falls to its knees, more knives are drawn."
We had a suave sporting crowd out here for the Super Bowl this year, and most of the bastards beat me and won big ... despite the odd fact that I'd predicted the outcome of the game almost perfectly in the column last week.
The operative word in that sentence is "almost." It is a profoundly dangerous word in the Gambling business, where the difference between a field goal and a touchdown can be the difference between getting rich and having your little finger chopped off.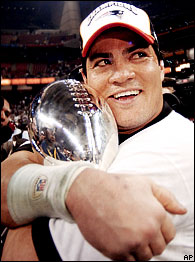 AP Photo
Thanks to Adam Vinatieri's kick, Tedy Bruschi (above) and the Patriots won the game -- though they didn't cover the spread.
The score was 29-29 with nine seconds left when I felt people clawing at my back and calling me a loser.
"Okay, big boy," my attorney sneered at me. "Let's see some green money moving my way." Then he laughed out loud and punched me on the collarbone. "How does it feel to get your ass kicked, Mr. Sportswriter Man?"
"You arrogant swine," I said, just as Adam Vinatieri redeemed himself by finally kicking a field goal with two seconds left.
The lawyer was ignorant, so I ignored him. That was it for the Panthers.
Once again, I had bet my heart instead of my head. Just like last year. They had lured me into taking huge risks -- not because I loved New England, but because I craved action. That can be a fatal weakness in the gambling business.
This time around was not especially good football in the classical sense; but it was at least close, so nobody felt embarrassed. The Panthers were definitely not disgraced by their loss, and they will likely be back in the hunt next year.
One thing we can say about this year's Super Bowl: It sure as hell was a lot more exciting than last year's farce between Tampa Bay and Oakland, which was more like a psychotic episode than a football game. And it wasn't even close. It was excruciating to watch and embarrassing to pay off.
For the Raiders, it was a terrifying beating that began the drastic collapse of the whole "Raider Nation," as Al Davis liked to call it; and it led to this year's miserable 4-12 finish on the bottom of the AFC West, where they are fated to stay for a while.
For the first time in more years than most people can remember, Oakland will have either the first or second pick in the Draft this year -- which is nice, but it won't be much help to a team that needs more than just one Franchise talent next season. Al might as well go back to L.A., or even Bakersfield ASAP. They will not sell many season tickets in the Bay Area next season. Possibly none at all.
As Sunday's game demonstrated, the NFL action has moved South and East for the moment. The perennial Western powers -- Raiders, 49ers, Denver, Seattle and K.C. -- are no longer the class of the league, and may not even make the playoffs next time.
The new elite is obviously New England and Carolina, along with Indianapolis, Dallas, Tennessee and maybe even New Orleans. The AFC South suddenly looks like a powerhouse division, and New England will rule the AFC East for as long as Tom Brady doesn't opt for Free Agency. Ho ho ho. That is the ultimate wild card in the NFL.
In truth, I won all the bets that mattered to me. The others were just show business -- a result of last week's shrewd decision to lay off the Patriots and start taking Carolina with seven points, which turned out to be the decisive ones. The Panthers beat the spread, and New England did not. The Patriots won, but not by enough -- despite Brady's spectacular MVP performance and some of the most elegant fingertip catches by Pats' receivers in the second half.
New England did look like the best Team in the league on Sunday, but not by much. Carolina would have won the game if they hadn't missed twice on ill-advised two-point conversions in the second half, which cost them four points. They only lost by three. Maholo.
We had some big winners in the kitchen this week. Anita was one. Michael Stepanian, Esq., of San Francisco and Pittsburgh was another. And young Matthew Goldstein of Aspen ran the pool betting, as always.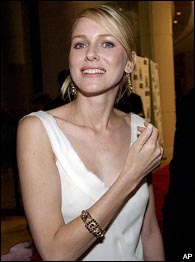 Naomi Watts scored a role in "The Curse of Lono".
There were some unusual names on the big board this year. The late Warren Zevon had two squares, for instance. Doug Brinkley had three. Keith Richards had his usual two slots, along with local veterinarian Randi Bolton, songwriter Marilyn Manson, Ed Bradley and Allison Pederson (the famous "stunning hotel concierge" from the Kahala Mandarin Oriental in Honolulu).
Sean Penn called at halftime to say he was feeling disillusioned about Hollywood and wanted to take a year off to concentrate entirely on becoming an expert surfer on Oahu's intimidating North Shore. I had planned to study with him out there, but this huge, dirty, 40-pound cast on my left leg won't work on a surfboard. So I have devoted my "spare time" to writing the screenplay for a movie based on my long-lost, super-strange novel called "The Curse of Lono," which will start shooting in Hawaii before the end of this year.
Yes sir, I am a little too busy for my own good these days, and my boys are doing pretty well in the movie business. Johnny Depp is the Sexiest Man in the World. Benicio is a new Oscar winner. And Sean is about to nail a huge Academy Award for Best Dramatic Actor. Josh Hartnett was with me at the savage Honolulu Marathon. John Cusack made a scandalous movie about how it feels to catch syphilis in Norway, and Naomi Watts has a major roll in "The Curse of Lono."
The football season is finally over and good riddance.
The hottest sporting event for 2004 is clearly the Presidential election. That will be Big, very Big, and I will be on it like a shark on fresh meat. But that is another story, and we don't have time for it now. It is 4:22 a.m., and Anita has gone to see the sandman.
Next week, we will discuss the book of Revelation and what it means to John Ashcroft. Okay, that's it for now.
Res Ipsa Loquitur.
Dr. Hunter S. Thompson was born and raised in Louisville, Ky. His books include "Hell's Angels," "Fear and Loathing in Las Vegas," "Fear and Loathing: On the Campaign Trail '72," "The Great Shark Hunt," "The Curse of Lono," "Generation of Swine," "Songs of the Doomed," "Screwjack," "Better Than Sex," "The Proud Highway," "The Rum Diary," and "Fear and Loathing in America." His latest book, "Kingdom of Fear," has just been released. A regular contributor to various national and international publications, Thompson now lives in a fortified compound near Aspen, Colo. His column, "Hey, Rube," appears regularly on Page 2.
Hunter
S.
Thompson
HEY, RUBE