By Alysse Minkoff
Page 2 columnist
Walk into Alumni Memorial Fieldhouse on the campus of Saint Joseph's University in Philadelphia and the first thing you notice is a whole lot of people smiling.
Jameer Nelson, Saint Joseph's 22-year-old senior guard is smiling. Delonte West, the junior guard who makes up the other half of the best backcourt in the nation, is also smiling. Even coach Phil Martelli is smiling. Everyone in the program is so darn happy, that it's . . . well, it's laughable. And why the heck not? With 19 wins, no defeats, and with two bona fide All-American candidates on the team, there's a whole lot to be happy about on Hawk Hill.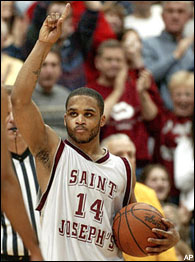 Jameer Nelson and St. Joe's are aiming for No. 1.
The love of basketball and the joy of playing it -- coupled with the giddiness that comes along with an undefeated season -- seem to ricochet across Philadelphia. It's a soothing balm for a whole bunch of seriously unhappy Eagles fans. Alumni Memorial Fieldhouse may very well surpass Disneyland as the Happiest Place On Earth. The Hawks work on staying happy the same way they work on their free throws. Or the high-post. It's an integral part of the Hawks' overall success: Joy is often more important than the stat sheet.
Martelli wants the entire state of Pennsylvania, and eventually, the entire nation, to love his team the way he does. No closed practices at St. Joe's. No question is out of bounds. Everyone is totally accessible. Unscripted. Genuine.
Martelli might be intense on the sidelines, but off the court he's just a happy human who wants to share. "I believe that we have really good people on this team," he says. "This is a special moment for this school, and for these players -- and why not share it if you can? We don't have to go into a cave. We are what we are. We have our flaws and it's OK for everybody to see them. But we're going to enjoy this. There is no reason not to."
So says the self-described "ordinary man with an extraordinary job." While the coaching ranks this year have been riddled with stress-related illnesses, Martelli manages to goof on himself while remaining deadly serious about the game. A deliciously successful combination.
Martelli is steadfast about infusing joy into his players. "The college basketball experience is a once-in-a-lifetime thing," he explains. "To be this gifted. And to be in situations where they have talent enough to be going to college -- going to a school of this caliber with this kind of passionate following for basketball. Then why shouldn't it be fun?"
Fun? What a novel concept. Sure, it's easy to smile when your team is undefeated in February, but these Hawks absolutely had me at hello. I first stumbled upon this team last December, at the Pete Newell Challenge in Oakland, Calif.. It's pretty hard not to adore a head coach who describes his own television show, "Hawk Talk," as "so bad, it's good."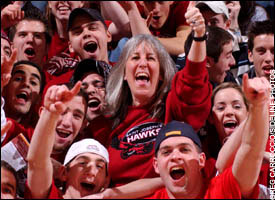 Hawks fans -- and guest -- have had 19 reasons to cheer loudly this season.
But it's not all one-liners and zingers. During the shootaround before the Hawks dismantled California, senior guard Robert Hartshorn, a former varsity cheerleader at St. Joe's, was yelling and hooting and hollering the minute he ran onto the floor. Within seconds, all of the Hawks were yelling and hooting and hollering, too. They were so loud I couldn't even hear the man sitting next to me.
Jameer Nelson explains Hartshorn's unique role: "Robert does a great job of motivating us. The noise protects us. We play a lot of road games, so we have to bring our own energy. Our own voice. One voice." What Hartshorn may lack in playing time, he certainly makes up for on the sidelines. On all fours. Slamming the court and cheering as loudly as the deafening roar emanating from the student section.
Saint Joseph's is a Jesuit institution with an enrollment of 3,850 very happy and very loud students. The kids on Hawk Hill certainly give the Cameron Crazies a run for their money in the volume department. I gleefully accepted a seat in the student section at a recent game, wearing a sweatshirt that Delonte West helped me pick out; I stand for the entire game. Two weeks later and I'm still hoarse, and having trouble hearing out of my left ear.
Everyone is subject to good-natured ribbing. Even visiting journalists get mocked. "You don't dress old school," Jameer laughs when I tag along on a trip to the local mall. "You dress old. What's up with the cashmere?" Point taken. "You have to get an Iverson jersey 'cause you're in Philly. Old-school Iverson." He looks at the prices. "Buy one, get one 50-percent off. So you gotta get the old school and the new school."
Before we launch into an episode of "Straight Eye for the Old Broad," I decide to point out that he's not wearing a throwback. "I don't wear throwbacks," the national player of the year candidate says. "You see so many people wearing jerseys. It's like everywhere you go, somebody has a jersey on. I'm not the type to wear something because everybody else is wearing it. So I just stay basic."
Soon, it's apparent: I'm hopeless and he knows it. I'm Neiman Marcus and he's Street. But he tries to school me and cool me, nonetheless: "I like Rocaware. That's Rocafeller, Jay Z's company. And Sean John -- that's Puff Daddy. A lot of people in Philly wear white T-shirts; it's the so-called style here."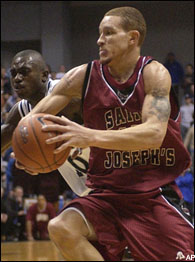 Delonte West
Nelson helps me into a Rocaware jacket, and smiles. And I hate to admit it: I don't look as awful as I thought I would. I actually feel, vaguely, hip.
Nelson, who is averaging 20.4 points, 5.2 assists and 4.6 rebounds per game, passed up NBA-financed Bling to return for a final season as Big Man on Campus. He says it was a business decision and has absolutely no regrets about pulling out of the NBA Draft. "Who knows what would have been going on if I was in the NBA -- emotionally, physically, anything. I am actually glad that I'm not in the NBA right now. This is one of the most fun years that I've ever had in my life. Probably one of my best years."
"I just hope the NBA is this much fun," he adds.
While Nelson is aware of the fortunate circumstances swirling around his senior year, he's not unaware of what's next. "A lot of players -- and it's unfortunate -- they are playing for the money. Just to get a check. And a check is fine to me. But it's about having fun. Everything's working out me for the moment. I'm having more fun than probably anybody playing basketball. Nineteen-and-0 doesn't hurt, either."
I tell him that West has offered to take me to the student store to help me pick out what I'm going to wear to the UMass game, and Nelson breaks down West's game. "Delonte thinks he is a smooth guy. Silky smooth. But that's his personality. Nice guy. Dresses nice. Always wearing ties and dress slacks. I stick with my khakis. I'm just not used to wearing them. I'd rather have my clothes a little baggy."
Fashion advice inevitably gives way to basketball. "No one wants to believe that you can have two All-Americans on a team at Saint Joseph's and I say, 'Why not?" Jameer asks. "Look, winning is definitely fun. You're playing to win. But everything we do is fun. If you're up by 40 or 50 because of the work you put in practice, that's going to be fun. It's definitely fun for me to see other guys who don't have a chance to get playing time, to get 20 minutes." True enough. Sitting on the bench a few nights later, the 92-67 win over UMass well in hand, with ice bags strapped to his knees, Jameer Nelson is & smiling. And Hartshorn is cheering and pounding the hardwood.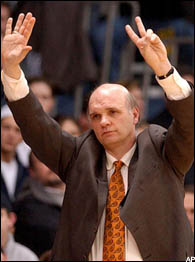 Martelli has masterminded the Hawks' 19-0 start.
Delonte West is a study in contrasts. A fierce competitor who is incredibly soft-spoken, West is averaging 18.8 points per game and, like Nelson, is shooting over 50 percent from the field. He's as gifted with a paintbrush as he is with the dunk. And while Jameer tends to dominate the headlines, it's worth mentioning that West had a perfect game against Xavier on Jan. 17. West scored a career high 33 points: 12-for-12 from the field, three-for-three from three-point range, six-for-six at the charity stripe. Not to mention six rebounds, five assists and three steals. Hellloooo! Following a two-and-a-half hour practice the Monday following the Xavier game, what was West doing? He was playing four-on-one with a bunch of fifth-and-sixth graders from Saint Simon and Saint Jude in West Chester, Pennsylvania. Stephen O'Hara was laughing: "We lost like 10-zip. He's really good at dribbling." His friends Brian McCaughan, Andrew Radmomicki and Jeff Hughes bubbled breathlessly, "And shooting. And dunking. He's really good."
"I just do me," the unassuming art major puts it simply. "I remember when I was a younger kid. I had to find my own way. I remember when I used to see older guys that were good and I would wonder why didn't they just come over and say something to me and give me some information. And they never did. I know how long that can go for a kid trying to get somewhere playing basketball."
Hard to tell if it's a case of nature or nurture. "Saint Joseph's is a great atmosphere. It's a family environment," he says. "Everybody is humble here. We have so many characters here and that's what makes us special. Coach's personality trickles down to the players and that makes it a great atmosphere to come to work in. He allows players to let their personalities come out. If you walk into coach Martelli's office right now, you will hear laughter coming through the hall. With all of the winning and all of the media and everything around it, it makes it that much better. It brings everyone so much closer together."
True fact: Phil Martelli's unique personality and press conference banter generates great copy. But Jameer Nelson, who has started every game he's played at Saint Joseph's, will take from coach Martelli life lessons that are more valuable than a national championship. And they have everything to do with parenting.
Jameer Nelson's two-year-old son, Jameer Jr., or Deuce, is a fixture at Hawks games. Postgame will usually find him dribbling out on the court until a security guard takes the ball from him. Then he wanders into the locker room and looks for another ball. The toddler's footwork and ballhandling skills are awesome.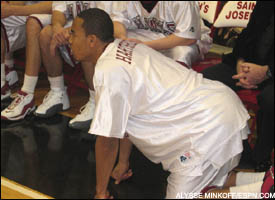 Robert Hartshorn leads the cheers from his usual place on the floor.
Think very tiny, and very vocal sixth man. "It's fun. Even though he's two, he understands the game and what's going on," Nelson says. "He chants 'No. 14.' Daddy Nelson. The first thing he does when he comes into the house is to take off his jacket and go straight to the basement and play on his little Playschool court. He'll play for hours."
It's hard to believe that this gifted 22-year-old single father turned down NBA money to return to college -- except that college is Saint Joseph's "Coach Martelli has helped me stay on track with life. He doesn't get enough credit for being a good person," Nelson says. "Everyone wants to talk about his sense of humor. But it's his values, definitely, that make him so different.
"One day when my son was not even one, coach Martelli sat me down and explained to me that I had to become a little more mature. I had to be careful what I do and with what I say. All of my actions. At the same time, he stressed to me that I had to balance things out. He broke things down. He put my son first. Then school. And then basketball. It was well-needed, because I was getting off-balance and into something that was going to be difficult. And coach, being so wonderful and caring, he took the time to explain it to me."
And Martelli is ever mindful of the demands that are placed squarely on Nelson's shoulders and is fiercely protective of him: "He has to have the opportunity to be a college senior. And to enjoy this experience. That's important to me. Because he sacrificed a lot to come back to school. Obviously, he's the focal point of people saying, 'They are undefeated. They're ranked.' But we're much more than that as a basketball team. We are that because of his persona."
Martelli is especially proud of Jameer's decision to step up as a single father. Nelson keeps his own apartment, separate from his girlfriend, who lives with her parents and Jameer, Jr. Jameer's parents bring 'Deuce' to the games when she doesn't.
"Listen, a lot of these young guys walk away from it, sad to say," Martelli says. "And we need more young men like Jameer, because they have to raise the next generation with male figures. They need to grow up with some semblance of family."
But he is quick to give credit where credit it due. "He has tremendous values from his family. It's not us. We have enhanced his basketball ability. His visibility. His ability to deal with the outside pulls. But they put the character in him."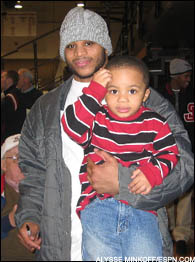 Jameer Nelson and son are all smiles after another victory.
About the only thing that makes Jameer Nelson and Delonte West squirm, at this moment, is which moniker to use to refer to their magical on-court pairing. Dynamic Duo? Mantle and Maris? Batman and Robin is a bit ... problematic. "Me and Jameer have a joke about it," West laughs. "OK, if we're going to be Batman and Robin, then who is going to sit in the little cart beside the motorcycle? And I said, 'I ain't!' When the media says it's the Jameer Nelson and Delonte West show at Saint Joseph's, they have it all wrong: It takes five to make two. You can say it's Batman and Robin. Tango and Cash." West takes a long, theatrical pause, "How about ... Jordan and Pippen?" And cracks himself up.
"I think we both have to get a big car," Nelson laughs. "It's a Batman and Superman thing. We're both equals here," adds Nelson.
I ask Martelli what he thinks, and I get an answer that sounds like a Rick Majerus metaphor: "They're like a soft pretzel with mustard. But people wouldn't understand what a Philly soft pretzel is. So they're a Philly Cheesesteak with onions. That's what they are. And the bun has got to be toasted."
Something tells me that when March Madness rolls around, they are going to have to make way for The Philly Cheesesteak. With onions. And the bun will be toasted.
Alysse Minkoff has written for Ladies Home Journal, Cigar Aficionado Magazine and MSNBC and can be reached at AGirlReporter@aol.com.