By Darren Rovell
ESPN.com
DANBURY, Conn. -- On the day he was introduced as president and managing partner of a new professional sports franchise, A.J. Galante dusted off the gray suit in his closet and stood before a crowd of 200 mostly curious onlookers at the local ice rink.
On his best behavior, wearing his Sunday best and hoping not to stumble over his own words, Galante was nervous and seemed out of place as he outlined his game plan to compete for the United Hockey League title. Picture the Frosted Mini Wheat commercial of a few years gone by, the one with the businessman who is suddenly transformed into a kid in an oversized suit.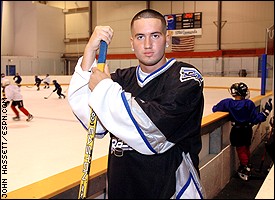 For now, the Danbury Ice Arena is mostly a kiddy rink, but A.J. Galante envisions professional hockey there later this season.
Nice picture, but looks can be deceiving. The reality is that Galante is more Mark Cuban than Theo Epstein, preferring T-shirts and baggy jeans to pinpoint oxfords and silk ties. After all, he's just 18 years old, and still a little wet behind the ears to be handed the key to the executive washroom at the family franchise.
But though his team has yet to play its first game, Galante, like Cuban, already possesses a love for his own and a hatred for all opponents.
"I'm going to have my rivals," Galante explains. "I hate the Red Sox. I hate the (New York) Rangers. I hate the New York Giants. And one thing about being Italian, you don't know what's going to happen with my attitude."
Everything has its price
Just about anything can be bought, from an at-bat in a minor league baseball game to a round of golf with Tiger Woods.

For decades, sports fans have second-guessed their favorite teams' decision-makers. In the Internet age, fans have tested their managerial skills in online fantasy leagues. But few have put real cash on the line so they can play the part of an executive for an actual professional sports team, to experience fandom on such a seldom-realized level of commitment.
Luckily for Galante, he's using his father's money.
"A lot of people thought it was an April Fool's joke," admits UHL commissioner Richard Brosal, recalling the reaction when Jim Galante, a businessman who made his fortune picking up what others left behind, explained that he wanted to buy the franchise so his son could learn the ropes of managing a professional sports team.
The obstacles seem innumerable, and the prospects for failure are real. The league has seen franchises come and go, the Columbus Stars most recently folding in January, less than halfway through their first season. After the 2001-02 season, the Asheville Smoke and Knoxville Speed were shuttered, and the New Haven Knights, Port Huron Border Cats and Broome County Icemen all were forced to suspend operations.
Galante hopes to keep his Danbury Trashers from meeting a similar fate, but the team faces its share of hurdles.
Not only will the Trashers play in the undersized Danbury Ice Arena, a 600-seat facility that's been home to pee-wee league games, birthday parties and teeny-bopper date skates, but its team president only turned voting age in August. Galante was 17 years old and still months shy of his high school graduation when his father forked over $500,000 for rights for the franchise.
With the NHL headed toward a lockout in the collective bargaining squabble between owners and players, Galante hopes his team can make some headlines this fall. But what Galante and his father have done this summer is hardly a publicity stunt.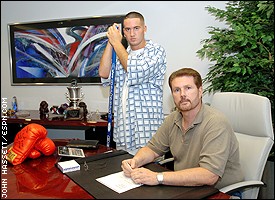 "This team is for A.J.," Jim Galante says. "He'll manage the team in order to get the best on-the-job training he could possibly get."
A.J. enlisted the help of his two best friends to design the team's logo -- eyes in a trash can with a hockey stick -- then began scouring the Internet and studying game film, looking for players. Eventually, he filled the Trashers' roster with a collection of minor-league nomads that include Jim Duhart, the league's leading scorer last season, and Brent Gretzky, brother of the greatest hockey player of all-time.
"Dealing with agents, now that is very tough," said Galante, who must divvy a league-mandated salary cap of $260,000 among 20 players to fill out the Trashers' roster. "He's like a middleman, and you have to get in touch with him before you can get to the player. Sometimes, I feel like I got a better chance of contacting (Osama) bin Laden than some of these guys."
Making his job more difficult was a high school policy that forbade the use of cell phones during classes.
Galante, a former hockey player whose high school career was cut short by injury, fancies himself a hard hitter -- he was named the toughest player on his New Fairfield High School team. So it's no surprise that Brad Wingfield, who amassed 357 penalty minutes last season with the Corpus Christi Rayz of the Central Hockey League, was among the first players added to the Trashers' roster.
"We want to be the Evil Empire of the UHL," Galante said. "We want that bad-boy image."
Todd Stirling, son of New York Islanders head coach Scott Stirling, was tabbed to coach the Trashers, but not until A.J. became comfortable with Stirling's style.
"One thing that sealed the deal for me was the fact that he said that a successful hockey team starts from the net on up, and I was a defensive-minded player," Galante said.
And about that arena ...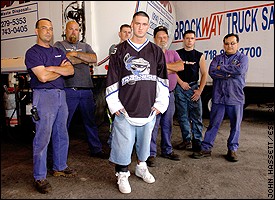 When Galante's Trashers begin to talk trash during the season, these are the guys who will back it up off the ice.
Jim Galante, whose waste management companies in New York and Connecticut gave rise to the team's moniker, has pumped in $1.5 million worth of renovations. He's purchased two video scoreboards from Canada, and hopes to have 1,400 more seats in place for the team's home opener on Oct. 15.
After A.J. went down with a serious knee injury just three games into his senior season, his father asked if he would be interested in owning a professional team.
"I've done what I've had to do in business," Jim Galante said. "This team is for A.J. He's going to school to learn about important business principles. He'll manage the team in order to get the best on-the-job training he could possibly get."
Soon, A.J. will head off to study business at Manhattanville College. The 40-minute drive will make it easy for him to come back for home games.
More challenging than the drive will be fending off the ribbing Galante is bound to get from his college friends over having a father who bought him a team. Since being named team president, his high school buddies have been calling him "Mr. President."
"All my life, everyone has to say something. 'A.J. this,' and 'A.J. that,' " Galante said. "I have to jump on my opportunities. My dad taught me that if I worry about what everyone else thinks, I'm going to be nowhere."
"This is not one of these things Daddy bought his kid to treat as a toy," said Jim Galante, who had dabbled in sports by sponsoring regional stock cars before he financed the Trashers. "And so far, he's done more with the team than anyone will ever comprehend."
Despite his young age (of which he constantly reminds league executives when he addresses them as "Mister"), A.J. already has impressed those who've seen his work.
"I would take 20 A.J. Galantes if I could find them," Brosal said. "He's understandably a bit naive, but you can tell he's ready to prove the naysayers wrong by showing the fans that a young person with passion and drive can work better than a mature man who has been in business for 20 years."
If things go as planned, that passion might get Galante in hot water, just as it occasionally has with Cuban over the years. Galante already has declared his hatred for the Adirondack Frostbite, a UHL team owned by ESPN hockey broadcasters Barry Melrose and Steve Levy. The Frostbite and the Trashers both play in the four-team Eastern Division, and will face off in the Trashers' home opener.
"We're going to have fun this winter," Melrose said. "When they come into town, we're going to take out the trash."
And if Galante goes to some road games this year to catch his team in action, he'll have no problem standing up to the trash talk from opposing fans, according to Bobby Stearns, Galante's high school coach and now an assistant for the Trashers.
"He's a tough kid," Stearns said. "But I have to say that because he's my boss now."
Darren Rovell, who covers sports business for ESPN.com, can be reached at darren.rovell@espn3.com
Darren
Rovell
FANTASY OF REALITY