By Darren Rovell
ESPN.com
Every once in a while, when Luis Gonzalez finishes a snack before a game and tosses away the wrapper, his teammates scurry to retrieve it amid a flurry of chuckles and shoves.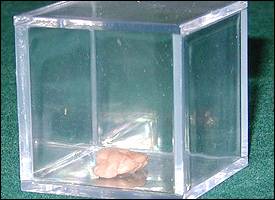 That annoying glob of gum on the bottom of the shoe might be worth a small fortune.
If a chewed wad of gum, spit out by Gonzalez during a spring training game three seasons ago, can fetch $10,000 in an online auction, then practically anything discarded by the Arizona Diamondbacks' slugger might be worth something too.
"They were following me around with a plastic bag," he said. "If I would eat potato chips, they would have a bag for it. If I would throw it in the garbage, they would pull it out and mock me.
"To this day, I still go to ballparks ... and people ask me for my bubble gum."
In a sports collectibles industry saturated with autographed game balls, souvenir caps and other not-so-memorable memorabilia, a premium has been placed on items of unique value and unusual story lines. One-of-a-kind artifacts, whether an undergarment worn during a historic game, a personal effect used in everyday life or even a body part that has been surgically removed, have become coveted commodities that command mind-boggling sums when placed up for bid.
After all, what better conversation piece is there than, say, owning the jockstrap Nolan Ryan wore when he pitched his seventh and final no-hitter?
Unless it's owning Ty Cobb's false teeth. Or the bone spurs removed from journeyman Jeff Nelson's pitching elbow. Or the white Ford Bronco that O.J. Simpson rode in during his infamous slow-speed chase.
Ryan's jock reportedly went for $25,000. Cobb's choppers sold for "a tad over $8,000." Nelson's bone fragments brought $2,000. And the new owner of the Bronco claims he paid $75,000 in a private sale for the vehicle that forever will be associated with Simpson on that memorable day in 1994.
While "fetish" memorabilia has periodically circulated among sports collectors in search of the unusual, the craze for the items entered the realm of the bizarre when a man leaned over the railing at a Cactus League game in 2002 to retrieve a wad of gum that Gonzalez had spit to the ground. Jason Gabbert drew more than national headlines when he placed the souvenir up for bid on his Web site. He sold it for $10,000 to the owner of a sports gum maker, who used it to attract publicity for his business. Subsequent DNA tests proved that the gum was chewed by Gonzalez.
BILL VEECK'S LEG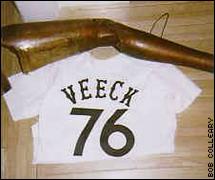 Bill Veeck's leg is now the trophy for a fantasy baseball league.


"Ripley's Believe It Or Not" wanted to display Bill Veeck's wooden leg in its museum, but Bob Colleary had another idea on how to pay tribute to Veeck, the marketing genuis turned baseball team owner.


Colleary, a television writer, paid $8,500 to outbid Ripley's in an auction for Veeck's wooden leg, then made it the centerpiece for a fantasy baseball league called, appropriately enough, "Bill Veeck's Leg."


When it isn't leaning against the wall in Colleary's living room, it is used to draw lots to determine the order of each year's draft. Come season's end, Colleary said, the winner is given the trophy to show off to friends and family, a la a Stanley Cup champion.


"Bill Veeck was a legend," Colleary said. "But this isn't sacrilegious or ghoulish because he was sort of in on the joke."


Veeck's right leg was amputated in November 1946 after it was injured while he was in the Marines.


Attached to the leg, Colleary said, is a note from Veeck that talks about how much mileage he got out of the piece of wood.


In the showmanship spirit of Veeck, Colleary and his buddies lugged the trophy with them to Las Vegas , where they held their draft.


"Even in Las Vegas, people just aren't use to seeing someone carrying a wooden leg," Colleary said.

-- Darren Rovell
"I was coming off the 2001 World Series, 57 home runs and a game-winning hit [in Game 7 against the Yankees]," Gonzalez said. "I would have thought somebody wanted my cleats, my bat, my hat. I would have never thought in my wildest days that it would have been my bubble gum."
The hardened wad, along with another that Gonzalez ceremoniously supplied before a regular-season game at Coors Field, now sits on display in a bottle in an office building in Prairie de Sac, Wis.
"It's not like I can sell it again," said Curt Mueller, chief executive officer of Mueller Sports Medicine, maker of Quench Gum. "Who would want to buy it?"
Perhaps someone like Karen Shemonsky.
Shemonsky, the daughter of a dentist, bought Ty Cobb's dentures in a Sotheby's auction in 1999. Appraisers estimated its value at between $300 and $500. The winning bid, including tax and commission, topped $8,000.
It has been well worth the cost, said Shemonsky, who sought the item only for the publicity that came with it. Shemonsky calls it the price for her 15 minutes of fame.
"The next three days, I could not leave the house," she said. "There were phone calls from every sports [radio] station across the United States. I usually go out every day, but every 10 minutes I had an interview."
Cobb's teeth have since been on display at the National Baseball Hall of Fame in Cooperstown, N.Y., and are now on loan to the Ty Cobb Museum in Royston, Ga.
"The mainstream collector would rather buy a nicely framed, signed photo of Marilyn Monroe for $6,000," said Doug Allen of MastroNet, a sports auction house. "But there are collectors who collect these fetish-type things for the shock value of it all."
Allen should know. He sold a stocking worn by Monroe when she married Yankees great Joe DiMaggio for $5,600 and eccentric baseball team owner Bill Veeck's wooden leg for $8,500.
"How many Don Mattingly signed photos can you show someone?" asks Josh Evans, chairman of Leland's, an auction house that has sold more than $100 million in sports memorabilia. "But if you have Don Mattingly's jock strap, I mean that's something that I think people are going to say, 'Wow, that guy's strange. But that's really interesting.' "
Richard Tschernia raised a few eyebrows when he paid $6,900 for Thurman Munson's pilot's license that expired only days before the Yankees catcher died in a plane crash.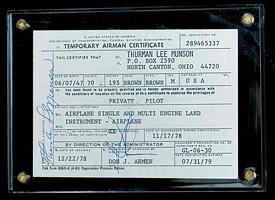 This Thurman Munson pilot's license expired four days before the Yankees catcher crashed his plane and died.
"Most people think it's cool, but some people think it's morbid," said Tschernia, a 48-year-old mortage banker from Merrick, N.Y., who has an expansive collection of Yankees memorabilia. Among the many items is the first dollar collected by a concessionaire at Yankee Stadium, Roger Maris' hand-written player questionnaire, one of Derek Jeter's first gloves, as well as a game-used jersey and cap worn by Munson.
"I don't think it's morbid," Tschernia said. "It's part of Thurman; that's what he loved to do.
"This is as close to Thurman as you can get."
Diane Munson, the catcher's widow, included the pilot's license among 40 items she auctioned last year, the 25th anniversary of his death. She decided to sell off the collection, including the catcher's mitt Yankees owner George Steinbrenner returned to the family after Thurman's death, to create a trust fund for her six grandchildren.
"There used to be a black cloud over how the market was going to perceive some of these items," said David Kohler, president of SportsCards Plus, which recently auctioned items from the estates of Pee Wee Reese, Wilt Chamberlain and George Mikan. "Getting a couple hundred dollars for an oddball item wasn't worth it to some of these families, but when you tell them that now it could be worth thousands of dollars, things tend to change."
So what once might have been considered trash could now be someone else's treasure.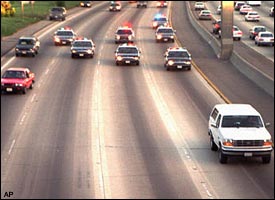 O.J.'s slow-speed getaway captured America. Now the infamous white Bronco is garaged for safe keeping.
A half-smoked cigar could be worth $385 – if it's signed by Red Auerbach.
A used toothpick could be worth $440 – if it's found in the pocket of Tom Seaver's game jacket that he wore while a starting pitcher with the 1969 Miracle Mets.
A stale piece of wedding cake could be worth $715 – if it's left over from DiMaggio's first wedding, to actress Dorothy Arnold in 1939.
Even a letter to a player could be worth $18,400 – if it's a death threat written to Mickey Mantle, circa 1953.
Of course the more salacious the letter, the more it's worth. A handwritten note from Babe Ruth to his mistress, penned on hotel stationery in 1922, sold for $75,000.
When Al Cowlings, O.J. Simpson's longtime friend and owner of the infamous white Ford Bronco, was short of cash, he sold the vehicle to a friend for $75,000. Its present owner, who discussed the sale with ESPN.com on the condition that he not be identified, said he has stored the SUV for safekeeping but has no immediate plans to sell it.
"Do you think it has any value?" he asks.
Ask Luis Gonzalez.
Darren Rovell, who covers sports business for ESPN.com, can be reached at darren.rovell@espn3.com